Festas Juninas, or the June Festivals, are now taking place in Brazil once again. As we explained last year in our posts on Pamonha Cake and Munguzá Doce or Canjica de Milho (Sweet Corn-Coconut Pudding) during this month Brazilians essentially celebrate the abundant corn harvest while thanking St. John for the rain. We also drink quentão, the typical beverage of these festivities...Quentão is precisely our recipe for today. 
As I child, I always eagerly looked forward to participating in Festas Juninas every year.
Festas Juninas were and still are one of my favorite Brazilian celebrations. The excitement of this tradition is something that I am trying to pass on to my children, as you will see below.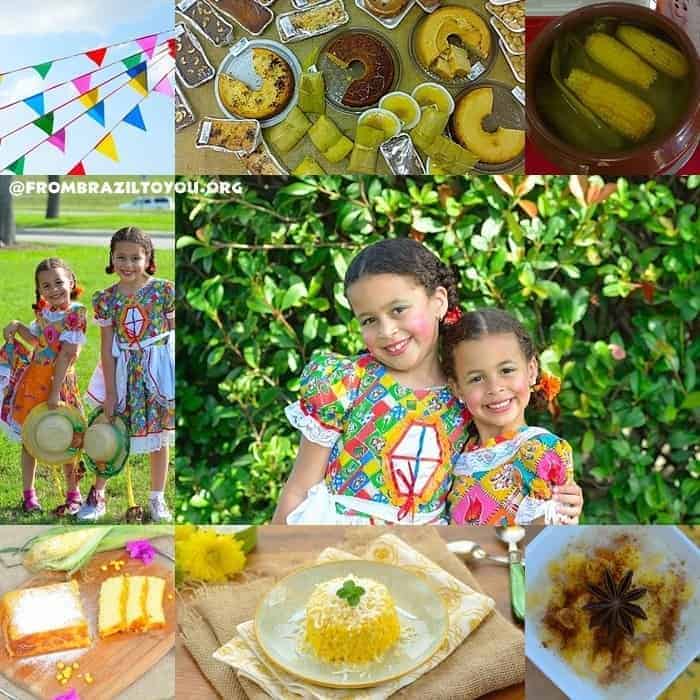 Since we are planning to visit Brazil next June, they will finally have the opportunity to experience these festivals more fully than just enjoying corn dishes and dressing up as matutas (hillbillies)... I hope that they are enchanted by the sky lanterns,  showers of  fireworks, and bonfires just as I was... I hope that, just as I did when I was a girl, they get to dance quadrilha folk dances under an arraial (huge event space brightly decorated with strings of colorful flags and paper balloons, and filled with tents or rough stalls)... I hope they don't mind listening to a few quirky superstitious rituals called simpatias which are carried out by single ladies in order to catch that special someone -- although they are not yet at the age for that, fortunately. 

  I don't believe in simpatias, but I have a lot of fun listening to them. 
I am sure that they will be able to recognize and appreciate many of the corn dishes that they will encounter there, such as sweet popcorn, canjica nordestina or curau, pamonha (pronounced pah-MOH-nyah), mungunzá doce, Brazilian cuscuz, fubá cake, as well as our treat for this year: Quentão, which can be translated as "Big Heat". Before someone accuse me of serving alcohol to my children, I have to explain that  quentão de vinho is suitable for children because all the wine alcohol content will be evaporated during the boiling process. If you wish, you can use grape juice instead of red wine.
Quentão de vinho or Brazilian mulled wine consists basically in a heated mixture of red wine, ginger, sugar, and spices such as cinnamon and cloves... Well, at least in southern Brazil where the largest production of wine is located. In northeastern Brazil, quentão is made from cachaça instead, a distilled alcoholic beverage made from fermented sugarcane juice. For this post, we are making quentão de vinho or Brazilian mulled wine as I said earlier.
Enjoy!!!
Quentão deVinho
(Brazilian Mulled Wine)
Yield: About 5 cups
Segment: Brazilian cuisine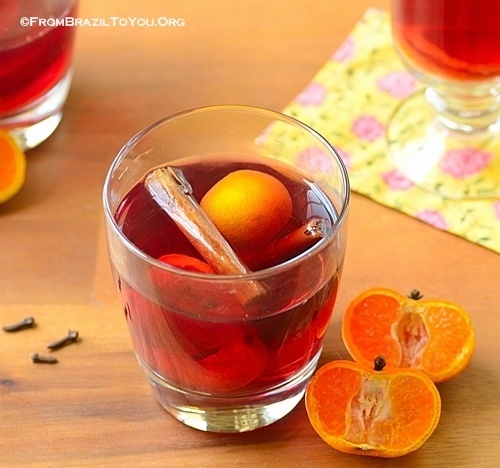 Ingredients:
34 fl. ounces (1 liter) red wine such as Merlot or Cabernet Sauvignon (or grape juice if desired)
17 fl. ouces (½ liter) of water
1 orange, sliced
2 slices of fresh ginger, peeled
6 cloves
3 cinnamon sticks
1 cup sugar (or more, if desired)
Directions:
Place all the ingredients into a large saucepan and bring to a boil over high heat, stirring constantly just until sugar has dissolved (about first 2-3 minutes of heating). Let boil for additional 10 minutes. Strain and serve warm. Garnish as desired.
You might also enjoy other corn dishes:
Creamy Polenta with Rustic Chicken Stew (Xerém com Frango Ensopado)
NEVER MISS A DELICIOUS RECIPE!!! SUBSCRIBE BY EMAIL: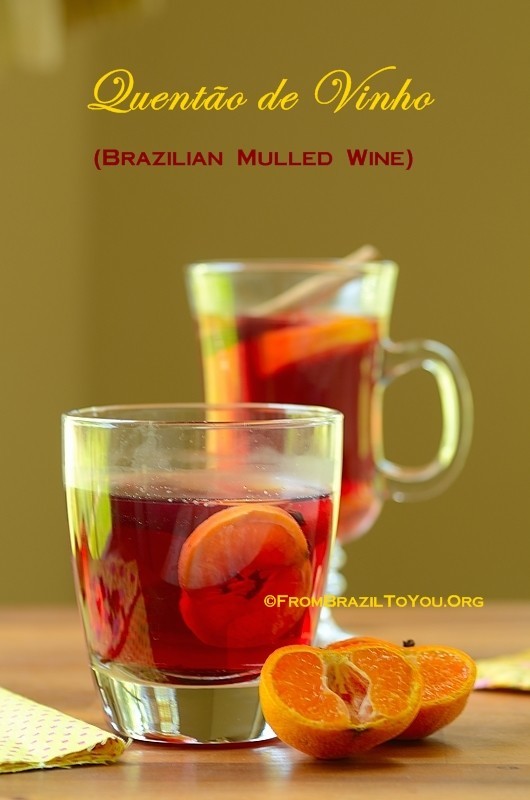 ** A big thanks to my friend, Ana Caldas Maciel, for having taken two of the pictures above and sent them to me to be featured in this post: Boiled corn on the cobs and Table with several corn treats such as pamonha, canjica or curau, and cakes.