Butternut squash beef jerky souffle is an easy and comforting portion-controlled dish that can be made with leftovers. So good!
I always have lots of ideas for things to cook and post here — so many that sometimes is hard to decide what to publish first. So this time around, I decided to look at my recipe index and see in which categories I had not posted a recipe here yet. That is when I noticed that no soufflé recipe has been posted so far.
OK, but with so many flavor choices, which one to choose first? One dish specifically stuck out in my mind: Quibebe com Carne Seca (Butternut Squash Beef Jerky Souffle). Why? Maybe because this was one of my dad's favorite combinations. As you may have noticed so far, love and my family play an important role in my kitchen.
Also, this particular combination of flavors is very popular to use in several of our dishes in Brazil– from rice to tapioca (a white flat disc made from cassava flour that can be filled with a variety of either savory or sweet fillings). However, I had never tried combining butternut squash and jerked beef in a soufflé before, so this was to be a first.
I had no doubt about how the flavor would turn out. 'But how about the texture?' I pondered. Well, when it was finally prepared, the dish reminded me more of a casserole than a soufflé per se, although it did truly puff up with air  immediately before leaving the oven. This is because the components result in a texture that is not quite as light as one usually encounters in a traditional soufflé. However, it is still delicious and a bit airy. "No problem!" say my happy taste buds. 🙂
Butternut Squash Beef Jerky Soufflé: What a treat after a busy morning!
I hope your taste buds are as thrilled as mine because of this butternut squash beef jerky souffle. Have a blessed week, my dear reader. I'll be waiting for you with next extremely cheese-rich post.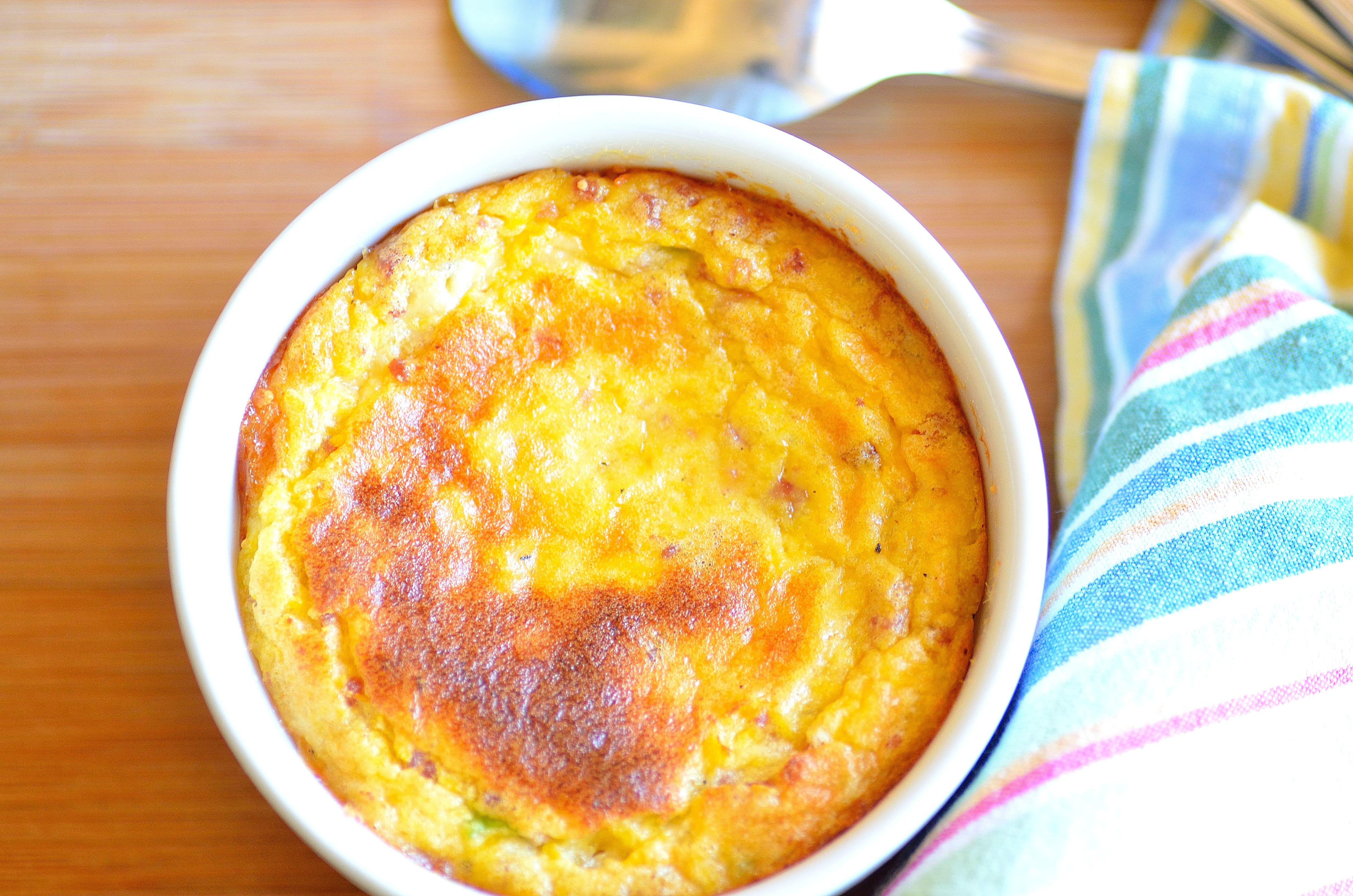 Butternut Squash Beef Jerky Soufflé
Butternut squash beef jerky souffle is an easy and comforting portion-controlled dish that can be made with leftovers. So good!
Ingredients
9

tablespoons

unsalted butter

plus extra for greasing the ramekins

Enough finely grated Parmesan cheese for sprinkling

1/2

medium white onion

small diced and divided

4

oz

beef jerky strips

not the rolls (about 115 gr.), rehydrated and finely shredded

2

cloves

garlic

minced

2-1/2

cups

butternut squash

peeled, deseeded, and cubed

1-1/4

cup

vegetable broth

1

bay leaf

Salt and black ground pepper to taste

2

tablespoons

heavy cream

2

large egg yolks

1/4

cup

green onion

finely chopped

6

tablespoons

all-purpose flour

2

cups

whole milk

warm

1/8

teaspoon

freshly grated nutmeg

4

oz

provolone cheese

shredded, about 115 gr.

4

large egg whites

1/2

teaspoon

cream of tartar
Instructions
Boil the beef jerky for about 30 minutes or until soft (to rehydrate). Drain and shred in a food processor. Sauté 1/2 of the onion with 1 tablespoon of butter over medium-high heat and then add the shredded beef jerky and sauté. Reserve.

Melt 2 tablespoons of butter in a medium sized non-stick saucepan over medium heat. Add 1/2 of the onion and sauté for approximately 2 minutes. Then, add the garlic and sauté for 30 seconds. Add the cubed butternut squash and sauté for 2 minutes, stiring occasionally with a wooden spoon. Add the broth, bay leaf, 1/4 teaspoon salt and 1/8 teaspoon pepper. Bring to a boil over medium-high heat, cover and reduce heat to low. Let simmer for about 12 minutes or until butternut squash is tender.

Remove bay leaf and drain. Let cool down for about 3 minutes and mash with a fork or potato masher. Stir in enough salt and pepper to taste, cream, and then the egg yolks, beef, and green onions. Reserve.

Meanwhile, melt 6 tablespoons butter in a small saucepan over low heat. With a wooden spoon, stir in the 6 tablespoons of flour and cook, stirring constantly, for 2 minutes to make a roux. Turn off the heat, whisk in the warm milk, the nutmeg, 1/2 teaspoon salt and 1/8 teaspoon pepper. Cook over low heat, whisking constantly until smooth and thick. Remove from heat, stir in the cheese, let cool down a bit, and mix with the mashed butternut squash mixture.

Preheat the oven to 400º F (205º C). Butter the inside of 10-12 souffle dishes or ramekins (3 1/2 inches or 8.9 cm in diameter by 2 inches or 5 cm deep) and sprinkle evenly with Parmesan, rolling the Parmesan around the mold to cover the sides. Cover with plastic wrap and place into the freezer for 5 minutes.

In a separate clean and dry stainless steel bowl, use a hand mixer to whisk egg whites with a pinch of salt. Beat at low or medium-low speed until frothy. Add the cream of tartar and gradually increase the speed to high, beating until the beaten egg whites hold a stiff peak.

Whisk one quarter of the egg whites into the butternut squash mixture to lighten and then gently fold in the rest with a rubber spatula. Ladle or spoon the mixture into the soufflé ramekins (only fill 3/4 full, as the soufflé will rise), then smooth the top. Place the ramekins on a sheet pan on the middle rack of the oven. Turn the temperature down to 375º F (190º C). Bake for 18 to 22 minutes without opening the oven door or until puffed and brown. Serve butternut squash beef jerky souffle immediately by itself or with a fresh salad.
DID YOU MAKE THIS RECIPE?
Comment and rate the recipe. Also follow us on Pinterest at @easyanddelish for more delish recipes.