A Low Carb Cauliflower Curry Soup that can be prepared in 30 minutes and makes for a perfect, healthy weeknight dinner. It's also vegan, vegetarian, paleo, Whole30, dairy-free, and gluten-free.
I have been eating healthier lately. How about you? No matter your diet approach is, I bet this low carb cauliflower curry soup is for you!
It's our latest weeknight meal creation which is wholesome, full of flavor, and can be prepared in 30 minutes.
And more... yes, it's vegan, paleo, vegetarian, gluten-and-dairy-free, and even Whole30.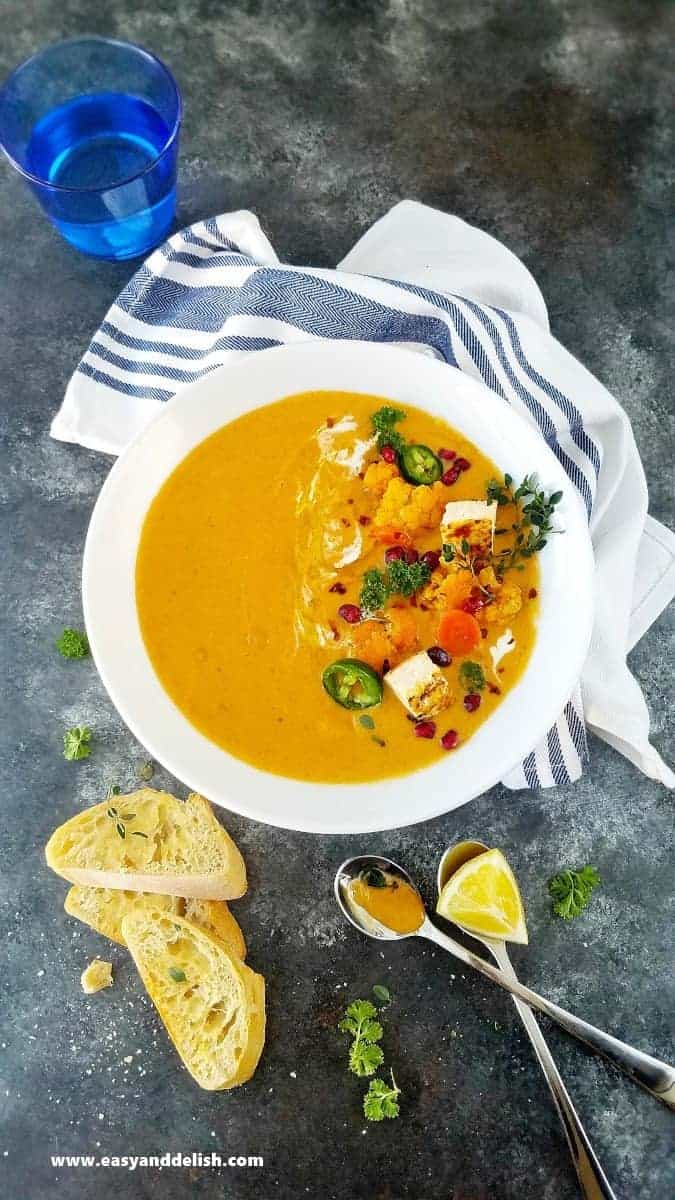 A miracle in a pot! 😉 Don't believe me? Well, check it out!
It all started with a visit from my sister during the holidays. She shed more than 70 pounds and got into the habit of eating healthy all year long.
She really made me rethink my eating habits, I've gotta say.
Since then, I have been continuing to exercise but I have also introduced more healthy foods into my daily diet -- hoping to lose some weight and feel energized without starving myself.
Good news! I've shed 2 pounds in the past week.
I am just grinning from ear to ear and I've got a plan to continue losing those extra pounds that I put on over the years.
When I cooked this cauliflower curry soup I knew that tastiness was not something to compromise on...
... otherwise it would be hard to continue eating healthy and satisfying my family's demanding taste buds.
To my children and husband's surprise, the soup was not only good but plate-licking delicious. A real victory for this cook!
And you know what? The recipe is freaking simple.
HOW TO MAKE LOW CARB CAULIFLOWER CURRY SOUP
To make this curry soup, all I had to do is stir-fry fresh cauliflower...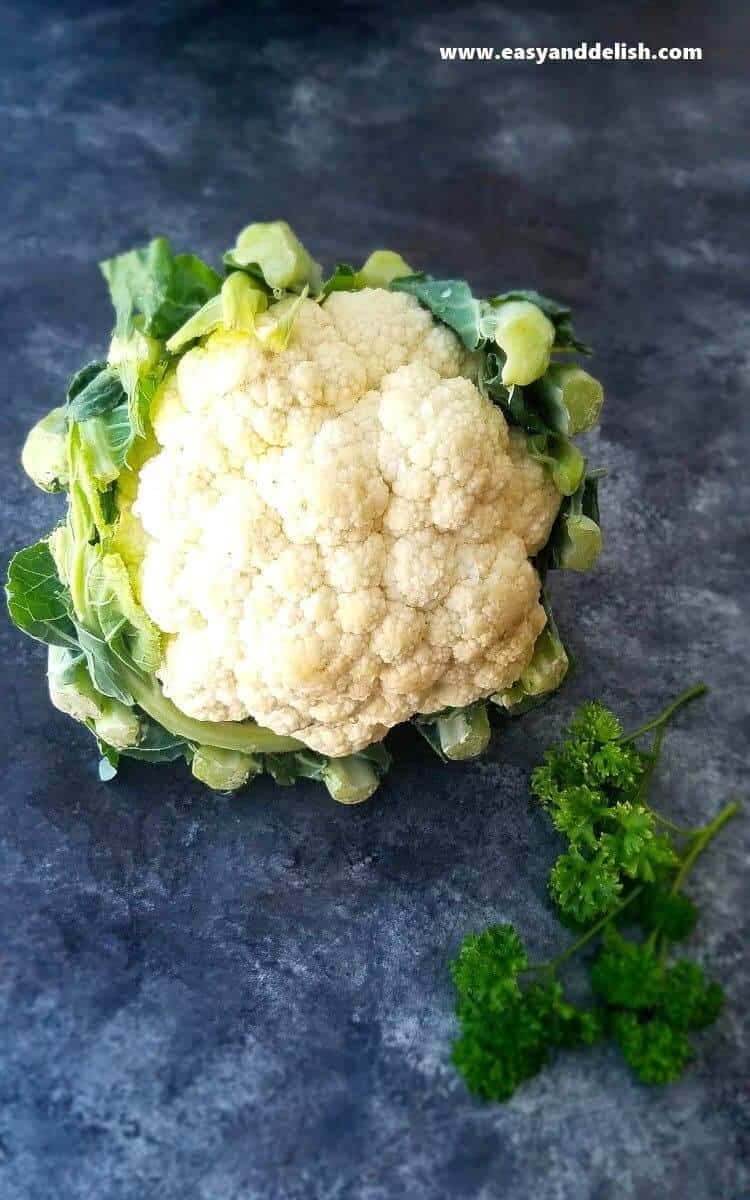 ...carrots, and a slice of jalapeno. Then, sweat an onion and garlic in vegetable oil, stir in spices, tomato sauce, broth, and seasonings.
Bring to a boil and then reduce heat and let simmer for about 10 minutes, covered.
Next, blend with coconut milk in a blender until smooth. Stir in lemon juice and serve with chopped cilantro or parsley while it is still hot.
Folks, it just can't get any easier than that!
I accompanied this Cauliflower Soup with toasted baguette slices, but you can serve yours by itself or...
... depending on your dietary needs/wants/restrictions, you can garnish with cooked seafood, tofu or shaved Parmesan, cooked rice noodles, eggs, etc.
It's up to you!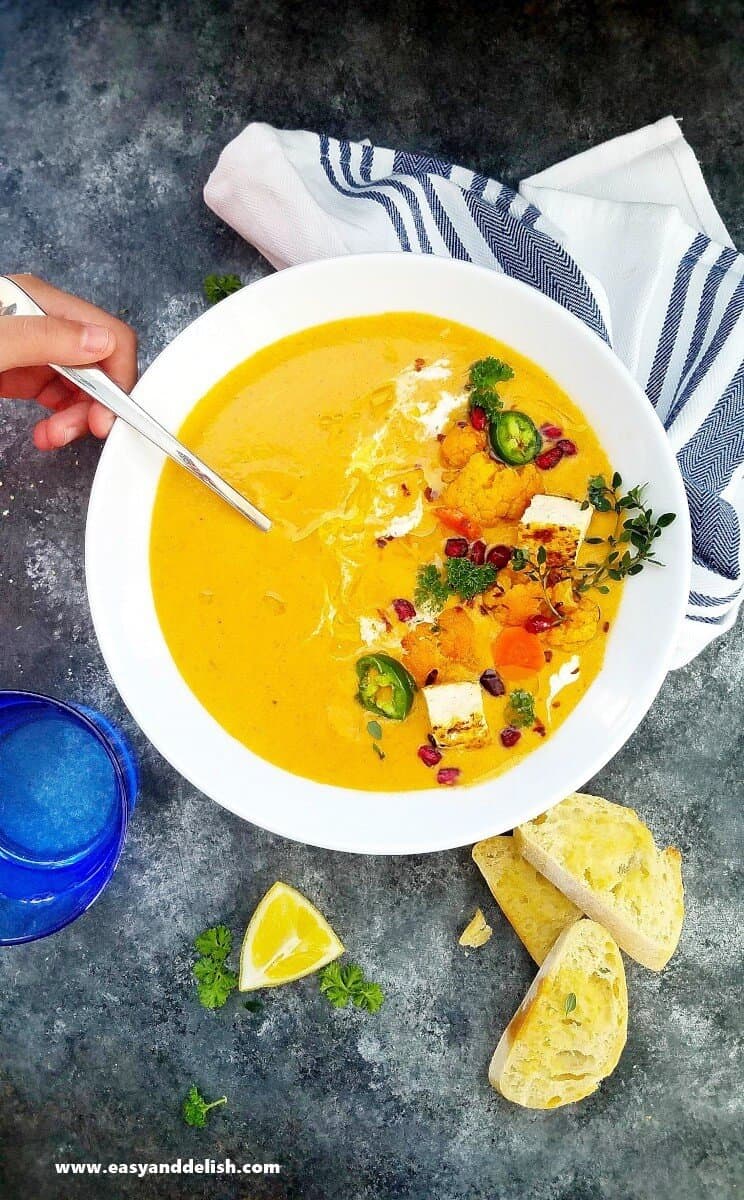 This means you can come home from a tiresome day at work and still fix yourself or your family a healthy meal without all the stress and the time usually required.
You are making magic in the kitchen, hon! Your body will thank you... and the scale will be your new friend! 🙂
Making your life (and mine) simple is my mission. 😉
And that is so true that we have many more quick and easy weeknight dinner ideas awaiting for you here.
Don't be shy to sub ingredients and adapt our recipes to make them lighter.
If you enjoy quick and healthy curries, please also try our vegetarian Lentil Coconut Curry.
I hope you get some well-deserved rest and enjoy this comforting and warm Curry Cauliflower Soup...
... a real treasure for those who work hard on a daily basis, but are determined not to neglect healthy eating.
Also, take a look at these 30 quick and easy low carb dinners and also these other low carb vegan recipes. They'll help you plan your monthly meals.
See ya soon!
OTHER CAULIFLOWER RECIPES
Keto Cauliflower Mac and Cheese
TO PIN & ENJOY!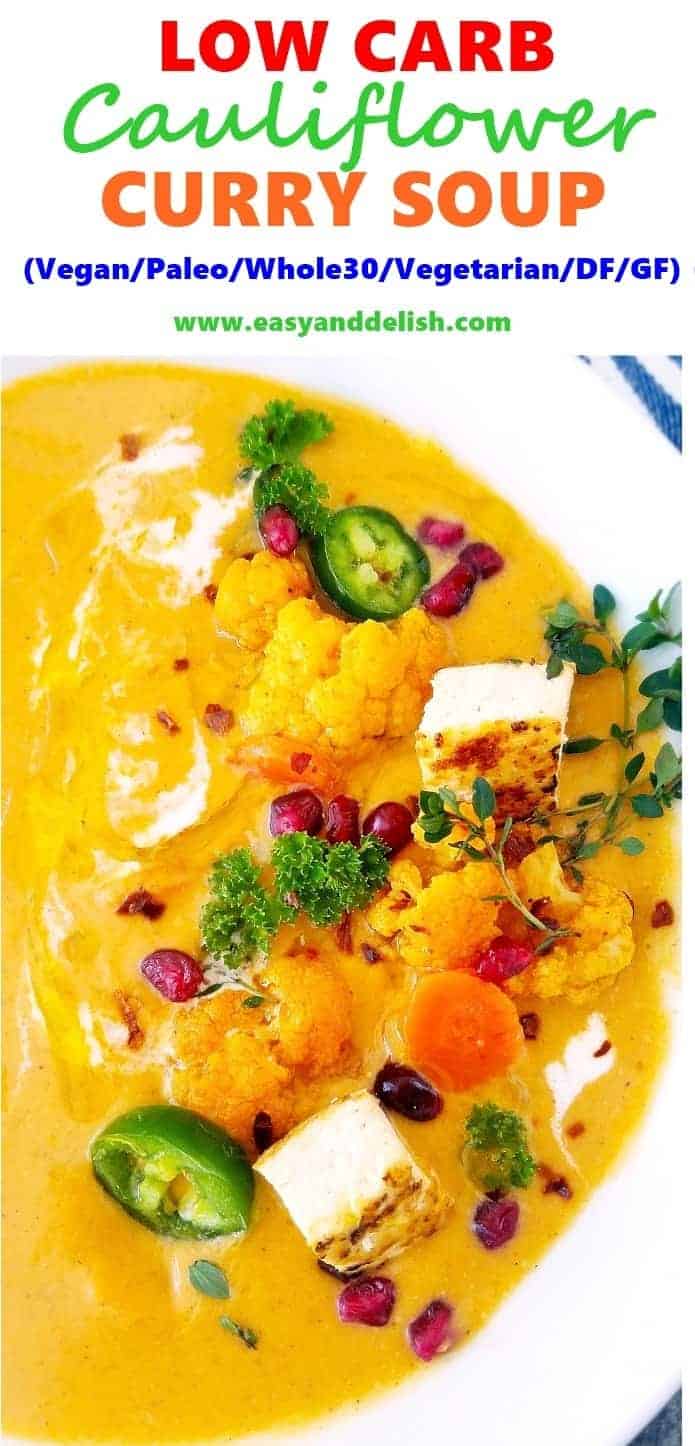 Low-Carb Cauliflower Curry Soup
A Low Carb Cauliflower Curry Soup that can be prepared in 30 minutes and makes for a perfect, healthy weeknight dinner. It's vegan, vegetarian, paleo, Whole30, dairy-free, and gluten-free.
Ingredients
2

Tablespoons

vegetable oil, divided

1

head fresh cauliflower, cut into florets

1

small carrot, peeled and sliced into rounds

2-4

slices fresh jalapeno (optional)

1

small onion, roughly chopped

5

cloves garlic, roughly chopped

1

Tablespoon

curry powder

2

teaspoons

ground cumin

1

teaspoon

ground ginger

14

onces

tomato sauce

2 ½

cups

vegetable broth

2

teaspoons

salt (or more if desired)

1

teaspoon

ground black pepper

14

ounces

canned coconut milk

1

lemon, juiced

chopped cilantro or parsley
Instructions
Heat a medium non stick saucepan or wok over high heat, add 1 tablespoon oil and stir-fry the cauliflower, half of the onion, and jalapeno until florets start to lightly brown. Stir or swirl the pan occasionally.

Add the remaining oil, reduce heat to medium, and sweat onion for about 3 minutes and then cook garlic for about 1 minute, stirring now and then. Do not let brown!

Stir in the curry, cumin, ginger for about 10 seconds. Then, stir in the tomato sauce and broth, salt and pepper. Increase heat to medium-high and bring to a boil. Next, reduce heat to medium-low, cover, and let simmer for about 8-10 minutes.

Carefully transfer soup to a blender and blend until smooth. Pour soup back into the pan, add the other half of the sliced carrot, stir in coconut milk, and let cook for about 3 minutes or so.

Remove from the heat, and stir in the lemon juice. Serve with chopped parsley/cilantro while hot.
Recipe Notes
Suggested accompaniments

(depending on your diet restrictions/needs): naan, hard-crusted bread, tofu, shaved Parmesan, cooked shrimp or other protein, eggs, rice noodles, etc.

Storage:

refrigerate leftover in a clean airtight container for up to 2-3 days. 
Love curry?  Try also our Vegetarian Lentil Coconut Curry .
Nutrition
Calories:
342
kcal
|
Carbohydrates:
17
g
|
Protein:
4
g
|
Fat:
31
g
|
Saturated Fat:
26
g
|
Sodium:
1798
mg
|
Potassium:
503
mg
|
Fiber:
5
g
|
Sugar:
7
g
|
Vitamin A:
775
IU
|
Vitamin C:
41.7
mg
|
Calcium:
58
mg
|
Iron:
3.3
mg
** Nutrition labels on easyanddelish.com are for educational purposes only. This info is provided as a courtesy and is only an estimate, since the nutrition content of recipes can vary based on ingredient brand or source, portion sizes, recipe changes/variations, and other factors. We suggest making your own calculations using your preferred calculator, based on which ingredients you use, or consulting with a registered dietitian to determine nutritional values more precisely.
Please note that health-focused and diet information provided on easyanddelish.com is for educational purposes and does not constitute medical advice, nor is it intended to diagnose, treat, cure, or prevent disease. Consult with your doctor or other qualified health professional prior to initiating any significant change in your diet or exercise regimen, or for any other issue necessitating medical advice.
DID YOU MAKE THIS RECIPE?
Comment and rate the recipe. Also follow us on Pinterest at @easyanddelish for more delish recipes.