Fricassée is a French dish but that doesn't mean Brazilians can't have their own version -- a much simplified and quicker version, transformed into a complete "one pot" meal. Busy or not, you must try this Brazilian chicken fricassée (fricassé de frango) -- which is topped with shoestring potatoes! 😉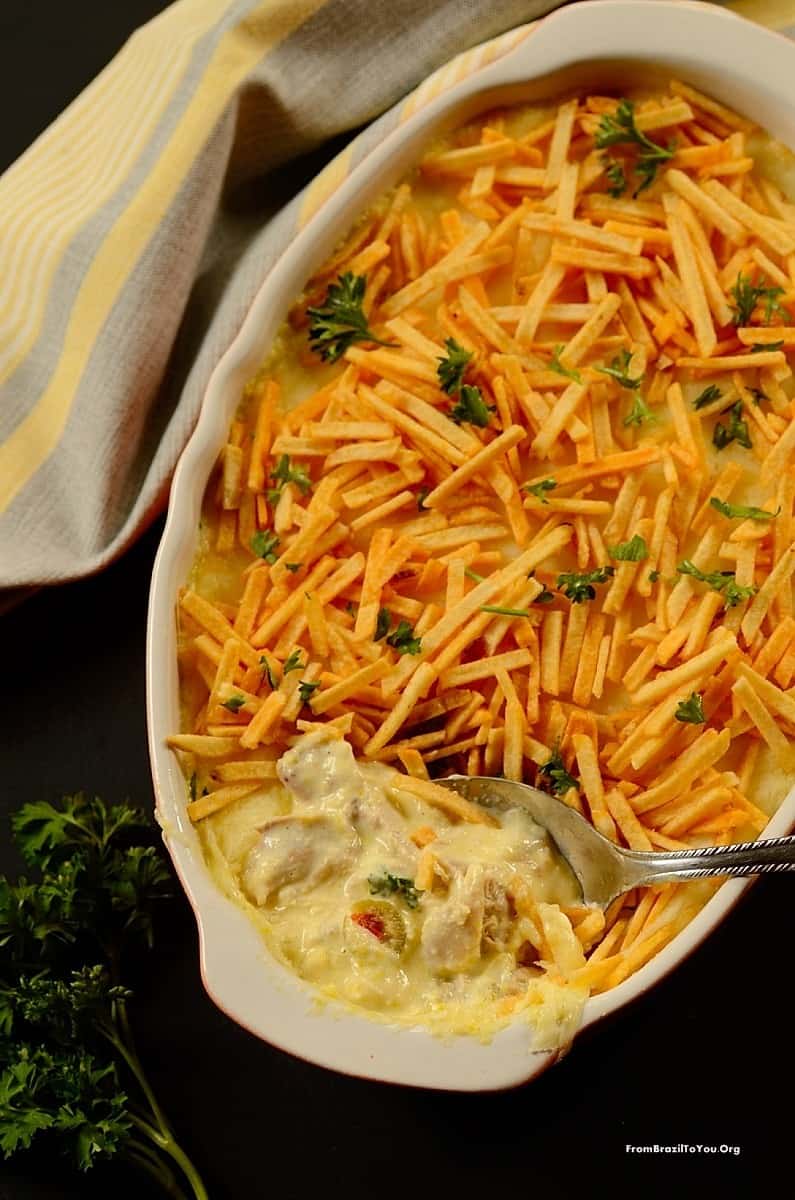 The French version basically consists of poultry cut into pieces, gently sautéed in oil or some other type of fat, deglazed with wine, and then stewed in gravy. It is a white stew -- without any browning or caramelization. It was said to have been one of Abraham Lincoln's favorite dishes.
The Brazilian version is much simpler to prepare, as I mentioned earlier. Boiled chicken is shredded, quickly heated in a blended, creamy mixture of heavy cream, cream cheese, and corn, topped with cheese and shoestring potatoes, and then baked. The result? Both a time-saving and crowd-pleasing dish!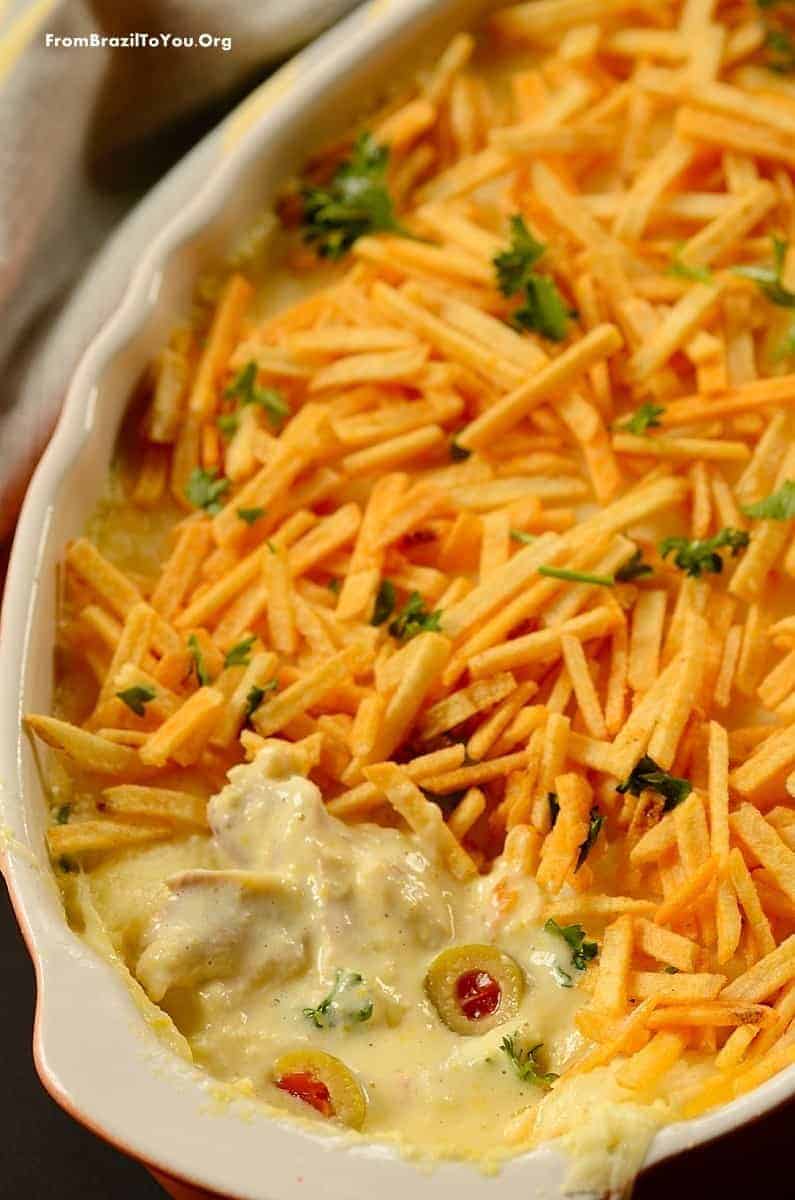 But Brazil isn't the only country in the world to create a version of the dish. In the Spanish Caribbean, pollo en fricasé (chicken fricassee) incorporates a tomato-based sauce and red wine.
I am not a country, but I also have my own version. 🙂 It is the Brazilian version, of course, but with a couple of modifications based on my family's taste preferences. First, corn is not blended into the heavy cream/cream cheese mixture; instead whole corn kernels are simply added to the stew in order not to overpower the creamy sauce. Second, shoestring potatoes are added as a topping to the chicken fricassée -- but only after it is removed from the oven (to keep the potatoes from getting too browned and soggy). If desired, chopped fresh parsley or cilantro can be sprinkled on top right before serving.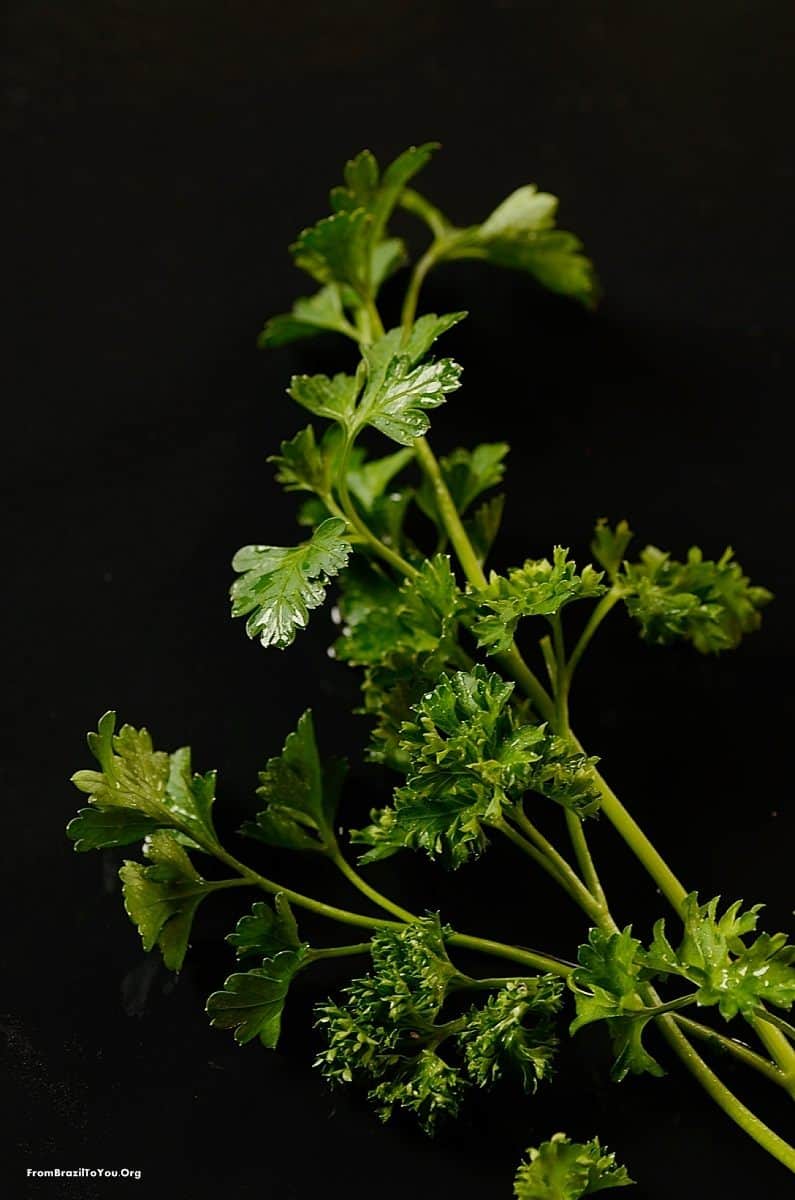 My advice? Try both the traditional Brazilian version and also mine. Even better, giving it your own personal twist could be a real plus. After all, a great dish can always become better.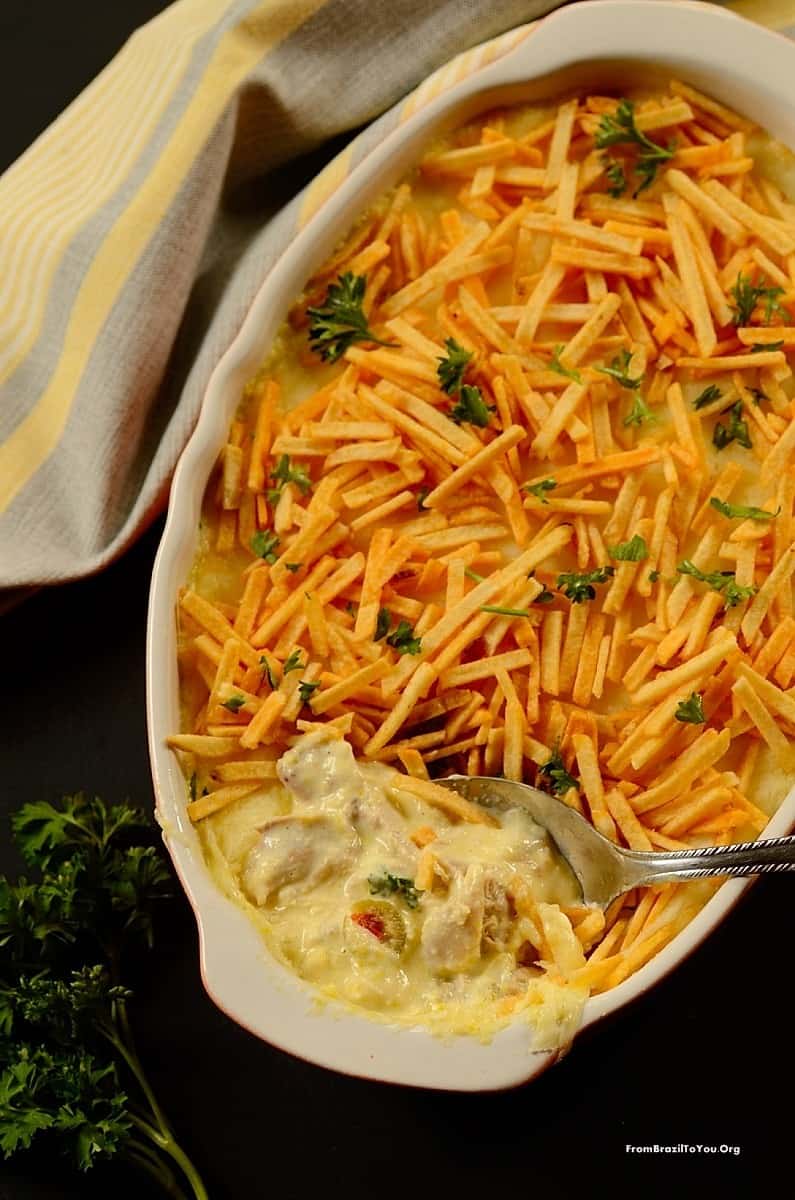 Enjoy and have a great Spring break (my children are already super-excited!).
P.S: What are your plans?
Chicken Fricassée with Shoestring Potatoes
Shredded chicken, quickly heated in a blended, creamy mixture of heavy cream, cream cheese, and corn, topped with cheese and shoestring potatoes, and then baked.
Ingredients
2.2

lbs

chicken thighs

or 1 kg

1

cup

heavy whipping cream

1

can

whole corn kernel

drained, 15.25 oz or 432 g

1

package cream cheese

softened, 8 oz

½ to ¾

sliced green olives

Salt and ground black pepper to taste

2

cups

shredded mozzarella or other melting cheese of your choice

Store-bought shoestring potatoes

enough to form a single layer
Instructions
Preheat to 350 degrees F.

Boil chicken in either chicken stock or water with salt and ground black pepper until fully cooked. Remove from the liquid, let cool enough to handle, and roughly shred. Place into a medium pot and reserve.

Blend heavy cream, corn, and cream cheese in a blender until obtaining a thick, creamy, homogeneous mixture. You may need to stop blender more than once and stir. Pour over the chicken, add the sliced olives, salt and pepper to taste, and cook mixture on medium heat, stirring, for 2-4 minutes.

Place mixture into a medium baking dish, top evenly with the shredded cheese, and bake for about 20 minutes. Remove from the oven and top with the shoestring potatoes. Serve by itself, with white rice, or a fresh salad. Enjoy!
Recipe Notes
1. My personal preference is to add about ½ cup whole corn kernels to the creamy heavy cream/cream cheese sauce instead of blending corn in it -- because I think the blended corn overpowers the creamy sauce.
2. Many add the shoestring potatoes before baking the dish. Instead, I prefer to add them only after removing the dish from the oven -- preventing potatoes from becoming overbrowned and soggy.
** Nutrition labels on easyanddelish.com are for educational purposes only. This info is provided as a courtesy and is only an estimate, since the nutrition content of recipes can vary based on ingredient brand or source, portion sizes, recipe changes/variations, and other factors. We suggest making your own calculations using your preferred calculator, based on which ingredients you use, or consulting with a registered dietitian to determine nutritional values more precisely.
Please note that health-focused and diet information provided on easyanddelish.com is for educational purposes and does not constitute medical advice, nor is it intended to diagnose, treat, cure, or prevent disease. Consult with your doctor or other qualified health professional prior to initiating any significant change in your diet or exercise regimen, or for any other issue necessitating medical advice.
DID YOU MAKE THIS RECIPE?
Comment and rate the recipe. Also follow us on Pinterest at @easyanddelish for more delish recipes.