Oreos cookies, vanilla ice cream, and chocolate ganache.... Yummm! Believe or not, this is the formula for one of the easiest yet most scrumptious BRAZILIAN desserts ever: Torta Holandesa com Oreos -- which I so enthusiastically named Cookies and Cream Dutch Tart. Confused? Don't be! Despite the DUTCH word included in its name, this treat is actually very Brazilian.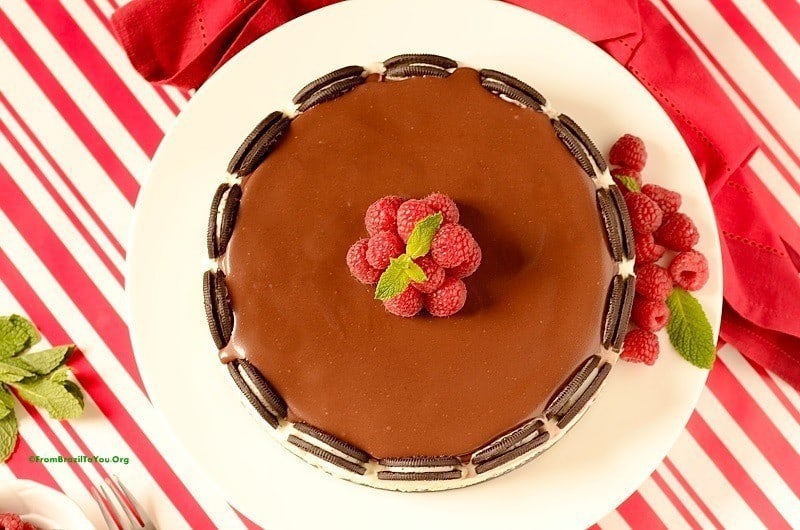 You heard that right... Dutch Tart (Torta Holandesa, in Portuguese) is Brazilian. It was invented in 1991 in the city of Campinas, which is located in the interior of the state of São Paulo. The creator of this dessert was Silvia Leite, the owner of the company Holandesa & Cia. Sílvia ran a café in the city where the tart was produced for the very first time. Some say that she created this tart to honor some European friends while others say it was to pay homage to the time she spent in Europe.
Another curiosity is that the original recipe is quite hard to find. Both the internet and books are filled with different variations. That is why there is more than one way to prepare torta holandesa or Dutch tart. Maria or Maizena cookies are usually used to make the crust, either as a crumbly crust or soaked in milk and then layered. The filling also varies: the most common variants are a vanilla ice cream mixture, a condensed milk mixture with gelatin, or a cream cheese-gelatin mixture. The chocolate topping is either made with a cocoa-milk-sugar mixture thickened on the stove-top, or with chocolate ganache. Finally, the cookies that surround the tart are generally covered on one side with chocolate (Calipso is the name of the cookies often used for this tart, although Maria cookies covered on one side with chocolate can also be used).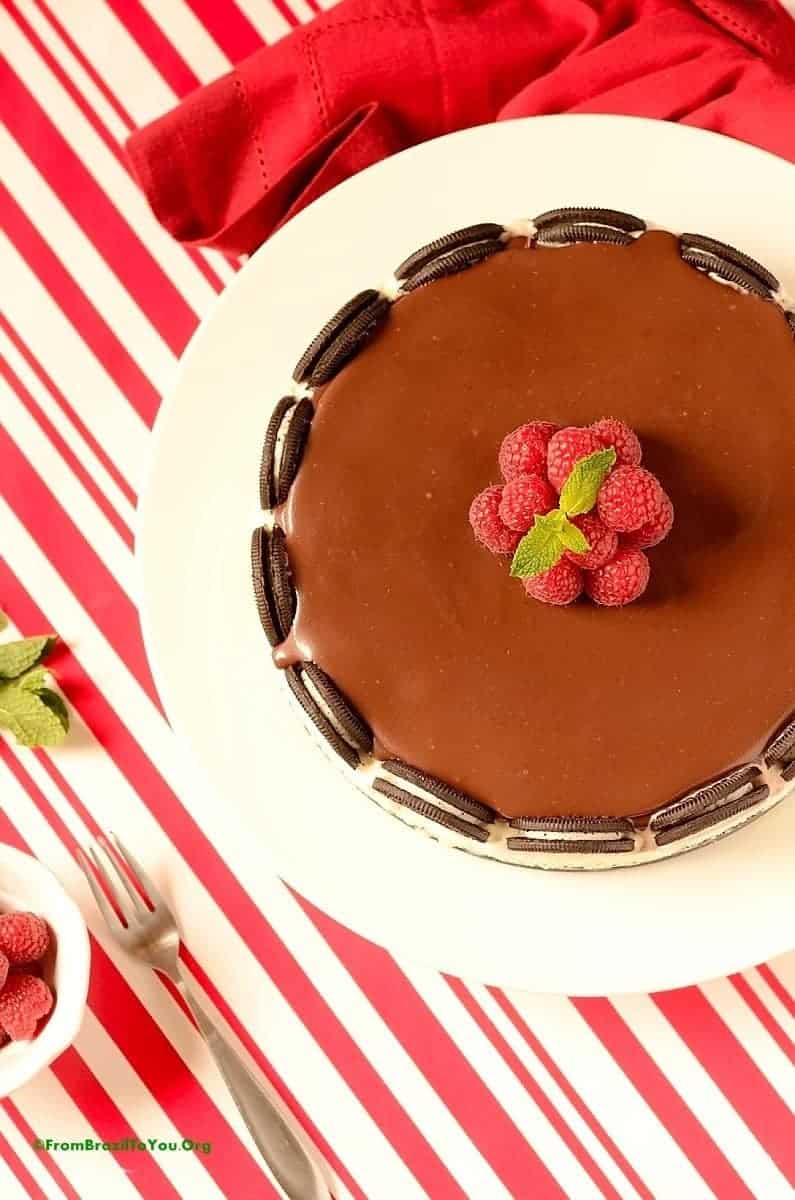 Our Cookies and Cream Dutch tart is made with Oreo cookies (or rather with Oreo-like cookies that don't have the name on top). 🙂 These cookies are used both to make the crumbly crust and to surround the tart. The filling is prepared with beaten vanilla ice cream, heavy cream, and sugar, and a semi-sweet chocolate ganache tops the tart. So ours is pretty much a cookies 'n cream Dutch tart, you see? 😉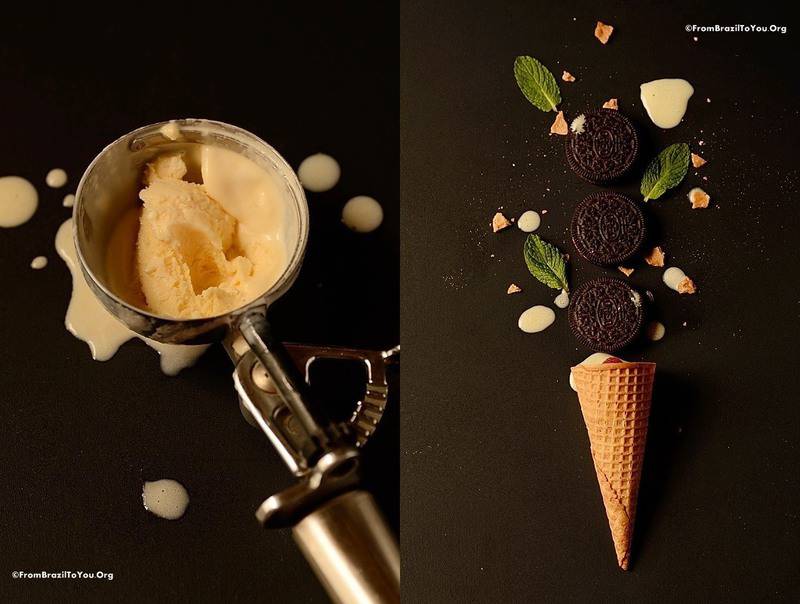 Easy to prepare, rich, fun, festive, a crowd-pleaser for its ingredients, and a year-round treat: our cookies and cream Dutch tart is all of those things! There is only one problem: prepare yourself and both the adults and children in your life to get hooked on it. Yes, it is that addictive! But what else would you expect from a treat that has cookies, ice cream, and chocolate as its main ingredients, hmm?
Don't dream about it! Make it and be merry... for Christmas or any other time of the year.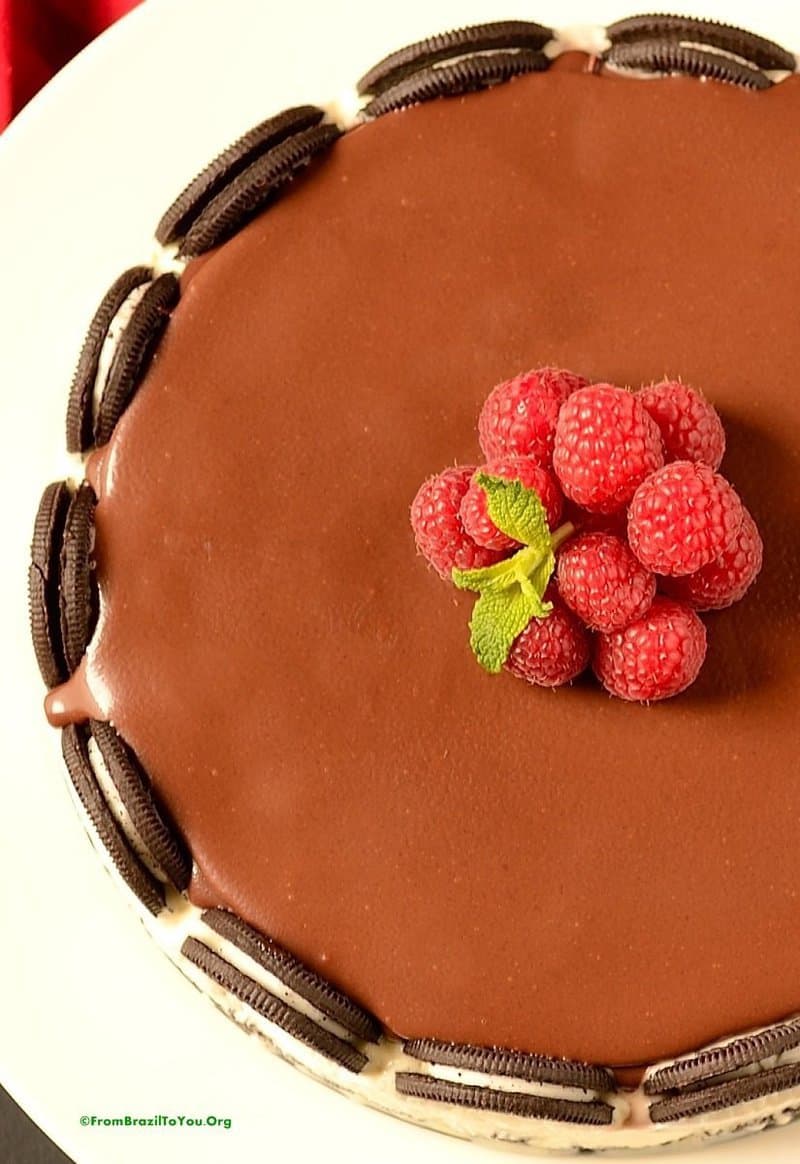 Cookies and Cream Dutch Tart
This Cookies and Cream Dutch Tart is made from layers of Oreo cookie crust, a vanilla ice cream mixture, and chocolate ganache. A must-have for any time of the year!
Ingredients
1

package

Oreos or Oreo-like cookies

14.3 oz or 405 g, I used Great Value Twist & Shout which doesn't have the brand name printed on top of the cookies

6

tablespoons

unsalted butter

at room temperature

3

cups

of your favorite vanilla ice cream

¼

cup

sugar

1-¼

cups

heavy whipping cream

divided

1

cup

semi-sweet chocolate chips

about 150 g
Instructions
Prepare the crust: In a food processor, grind 22 Oreo cookies (or Oreo-like cookies) until obtaining a flour-like texture and then pour into a medium bowl. Using your hands, mix in the softened butter with the ground cookies until obtaining a homogeneous yet lumpy mixture. Place mixture into a 9-inch springform pan, distributing evenly over the bottom of the pan until forming a layer, but without pressing down hard against the bottom of the pan. Make sure there are no gaps in the bottom crust layer. Place the remaining cookies (about 14) all around the pan, keeping a minimal and equal distance between them. If necessary, press the whole cookies against the edges of the crust so they will stay upright. Set pan aside.

Prepare the filling: In the bowl of a mixer, beat together the ice cream, sugar, and ½ cup of heavy whipping cream for about 1 minute. Pour ice cream mixture into the springform pan, cover pan with a sheet of aluminum foil and freeze for at least 12 hours.

When that time has passed, prepare the chocolate ganache by mixing chocolate chips with the remaining ¾ cup heavy whipping cream in a medium microwaveable bowl. Microwave in 30-second intervals until chocolate has melted (about 1-2 minutes depending on your microwave potency). Stir well to obtain a homogeneous mixture. Let cool a bit and then, while still soft, pour chocolate ganache on top of the frozen ice cream filling, forming a layer. You may need to spread chocolate ganache with the back of a spoon gently towards the edges.

Cover pan and place back into the freezer. Five to ten minutes before serving, remove pan from the freezer, remove the outer ring of the springform pan gently, slice the Dutch tart (slice between the cookies) and decorate as desired (I used fresh raspberries and mint). Enjoy! INACTIVE TIME: 12 hours. YIELD: 8-12 slices.

STORAGE: Leftovers should be stored, covered, in the freezer.
Recipe Notes
Get creative and make some variations of this Dutch tart as well! If desired, you can use any type or flavor of cookies to substitute for the Oreos. You can add ground peppermint candies to the vanilla ice cream mixture, small pieces of Oreos (cookies and cream), gingerbread cookie pieces, or use a different flavor of ice cream with or without chopped berries for this Dutch tart filling. Just keep in mind that whatever you add to this tart, it will harden once frozen. Our Dutch tart is pretty much a cookies and cream tart due to its ingredients. For further information about more traditional versions of the Brazilian "Dutch" tart, please read our post above.
** Nutrition labels on easyanddelish.com are for educational purposes only. This info is provided as a courtesy and is only an estimate, since the nutrition content of recipes can vary based on ingredient brand or source, portion sizes, recipe changes/variations, and other factors. We suggest making your own calculations using your preferred calculator, based on which ingredients you use, or consulting with a registered dietitian to determine nutritional values more precisely.
Please note that health-focused and diet information provided on easyanddelish.com is for educational purposes and does not constitute medical advice, nor is it intended to diagnose, treat, cure, or prevent disease. Consult with your doctor or other qualified health professional prior to initiating any significant change in your diet or exercise regimen, or for any other issue necessitating medical advice.
DID YOU MAKE THIS RECIPE?
Comment and rate the recipe. Also follow us on Pinterest at @easyanddelish for more delish recipes.