I grew up eating tapioca. It is one of the most comforting foods in the world for me... so comforting in fact, that after spending my first two weeks in the United States, I started to crave Tapioca Nordestina -- and most lately these tapioca crepes with chocolate fudge sauce (tapioca com brigadeiro mole)...
My husband, who was my boyfriend at that time, wanting to see me smile, took me to a buffet where I could supposedly eat tapioca. Oh, I was so happy!!!!! But the time passed, and we ate several different dishes, but no tapioca. So finally I asked him about the tapioca and he pointed it out on a dessert table. I looked and looked... Then, I came back and said that I could not find it. He took me to the dessert table and showed me "the tapioca." To my surprise, it was tapioca pudding! Although I do enjoy tapioca pudding, I could not hide my disappointment. I had to explain to him what the word tapioca means to Brazilians--  and now to you as well.
TAPIOCA -- or at least the tapioca from Northeastern and Northern Brazil-- is a white, flat, naturally gluten-free "crepe" or "taco" made from a fermented and moistened coarse starch powder extracted from manioc root (also known as yuca or cassava). This goes by the name of Sour Starch, or Polvilho Azedo. The powder is passed through a sieve onto a hot, non-stick skillet where the heat makes its starchy grains bind and fuse into a tortilla/crepe. Then, it is simply buttered and eaten (very common at breakfast time), or can be filled with either a savory or sweet filling.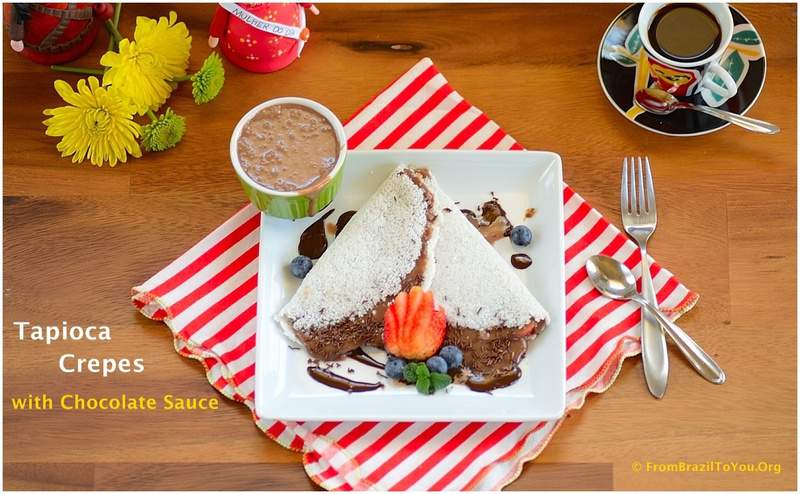 Ah, the fillings... The most popular savory fillings are cheese (just like a quesadilla), coconut, cheese and coconut, shredded dried beef sauted in onion and coalho cheese, and pretty much anything else that you might have a taste for... 🙂  As for sweet fillings: banana with dulce de leche, brigadeiro mole, strawberry with chocolate sauce, coconut with sweetened condensed milk, tapioca rolled and soaked in sweetened coconut milk and sprinkled with ground cinnamon, fruit compotes, etc.
Tapioca is an iguaria or treat that can be eaten at breakfast time, as an afternoon snack, or as a dessert. It is so popular that it is served in cafés and also on the streets by the tapioqueiras (women that make a living selling tapioca).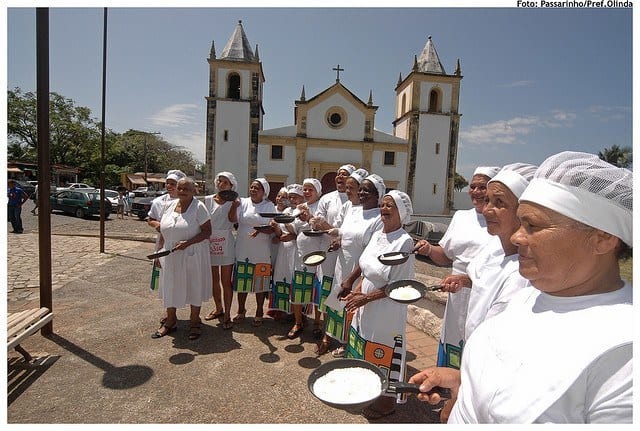 When left unfilled for several hours, tapioca starts to harden, which is then called beiju. Just so you know, if you go to Rio and ask for tapioca, you may get tapioca pudding... But if you ask for beiju, you will get Northeastern tapioca. I know it is confusing, but this confusion reflects regional difference in the names by which many foods that originated in Northeastern Brazil have come to be known in other regions of Brazil.
Recently I read a very well-written and instructive article at Saveur Magazine about cassava/yuca, titled Taking Root: Cassava Claims its Place at the American Table by Dorothy Erwin  -- which I do recommend you read!!! There the author explains the degree to which cassava/yuca and its subproducts have played a major role at both Central American and wider Latin American tables -- and increasingly at the American table as well.... The only thing that the article was missing, in my opinion, was mention of Northeastern Brazilian tapioca, which I imagine she may have been unaware of, as are many people in the US.
Well, now you know... And hopefully Dorothy as well. I do hope that you try it and spread the word!!! There is no fancy food that I would want in exchange for tapioca. It's heaven on Earth.
Enjoy our tapioca crepes with chocolate fudge sauce!
xx
P.S: This post is dedicated to my beloved Pernambuco state -- my home, sweet home-- which I miss every single day...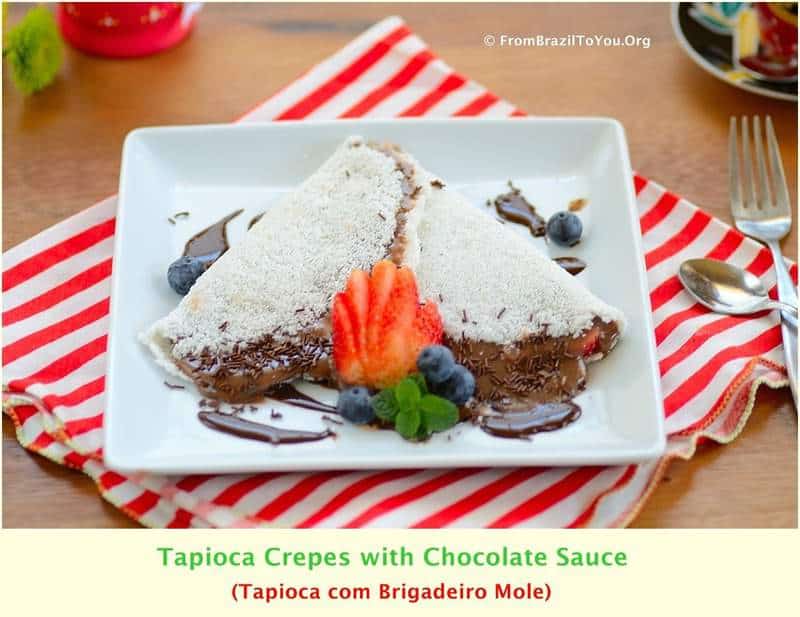 Yield: 2 (5-½ inches) tapiocas
For the Tapioca Crepes:
⅓ cup sour manioc starch (polvilho azedo)**
2 tablespoons water
Brigadeiro mole as filling -- or any other filling that you desire (for a vegetarian or dairy-free version, skip this chocolate filling. You can use your favorite jam instead)
For the Chocolate Fudge Sauce:
½ (7 oz or 200 g) can condensed milk
¼ cup semi-sweet chocolate chips
1 tablespoon unsalted butter, softened
½ tablespoon pure vanilla extract
4-6 tablespoons heavy cream
1-2 tablespoons good quality chocolate sprinkles or chocolate vermicelli (optional)
** Polvilho Azedo/ Sour Starch/ Almidón Agrio is available at local Latin Markets, Brazilian Stores, and online (Amazon.com). It is naturally gluten-free.
NOTE: Just to let you know, there is another starch called Tapioca Starch or Polvilho Doce which is made from yuca/cassava as well, but has a very fine texture and is not fermented as the Sour starch is. Please, use the SOUR starch to make Northeastern tapioca. Both starches can be used to make pão de queijo and are extracted from manioc/cassava/yuca, which is grated and washed, and has the juice from its pulp squeezed into a bucket. The starch that accumulates in the bucket is then dried and sifted. The big difference between Manioc Starch/Polvilho Doce (fine texture) and the Sour Starch/Polvilho Azedo (coarse texture) is that the sour starch is left for about 2 weeks at room temperature to undergo to a natural fermentation process.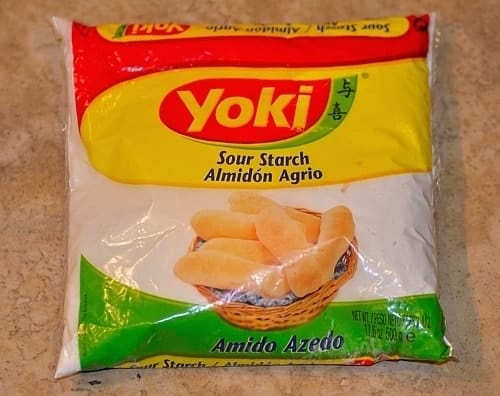 Directions:
1. Place the starch in a small bowl and sprinkle the water over it. Stir well using one of your hands so that the starch gets wet but does not become liquid. Then using the tips of your fingers, gently rub the wet starch to obtain a loose, granulated texture.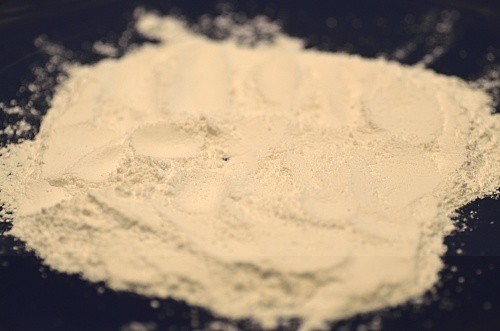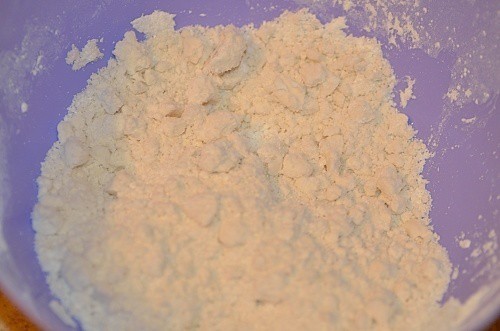 2. Heat a small (5-½ inches diameter) non-stick skillet over medium-high heat. Place wet starch in a small strainer. Use one hand to hold the strainer over the skillet and the other to press/rub the starch through the strainer. Strain starch in such a way that when it falls into the pan it forms a uniform circle.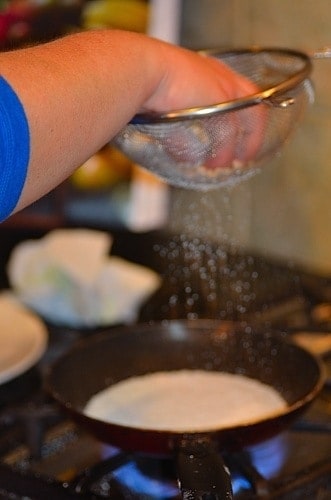 3. Let the heat bind/glue the grains so that the starch solidifies and forms a crepe/tortilla (pay close attention, because crepe/tortilla will be ready in 10-30 seconds). Tip: make sure that the edges have as much starch as the center, so that edges will not be prone to breakage.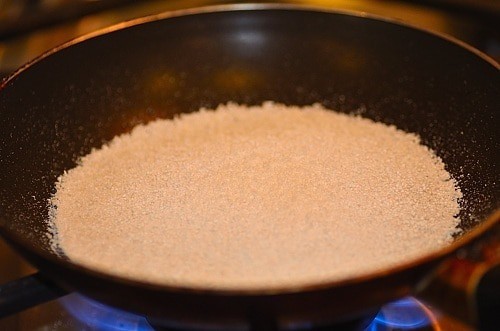 4. Flip the tapioca over using a metal spatula (or with experience, a large spoon) and cook very briefly on the other side.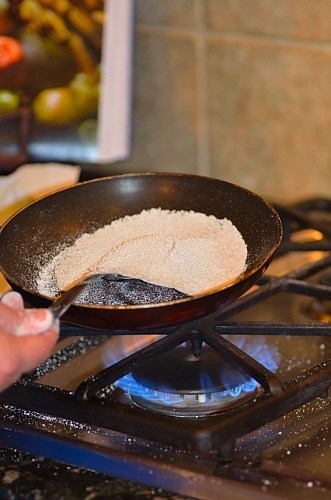 5. Fillings: At this point, you can either simply spread butter on the tapioca or fill with cheese or any other filling that you desire. I use brigadeiro mole in mine, so I filled my tapiocas outside of the skillet. But if you are using cheese to fill yours, you can place shredded cheese in the middle of the open tapioca circle while skillet is still over the heat, then fold the tapioca like an omelette, and press in such a way that the cheese melts. Spread butter on the outside of the tapioca and enjoy!
6. To prepare the chocolate fudge sauce:  In a saucepan, mix together well the condensed milk, chocolate chips, and butter. Cook mixture over medium heat, stirring until it has thickened (approximately 6-10 minutes). Remove from heat and stir in both the vanilla and the heavy cream. Brigadeiro should be thickened and creamy, not hardened. Let cool a bit (warm) and then spread generously inside the tapioca. Sprinkle the chocolate sprinkles if desired, fold the tapioca, and enjoy! If deisred, the brigadeiro mole (chocolate sauce) can also be combined with sliced bananas or strawberries.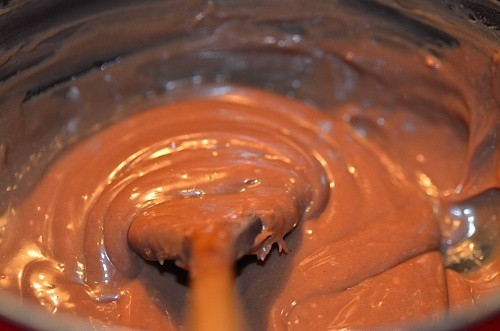 Note: Between making one tapioca and another, please remove the skillet from heat and wipe both the bottom and sides of the skillet clean with paper towel (being careful to not burn yourself), so that the next tapioca won't be browned by the singed leftover grains of starch.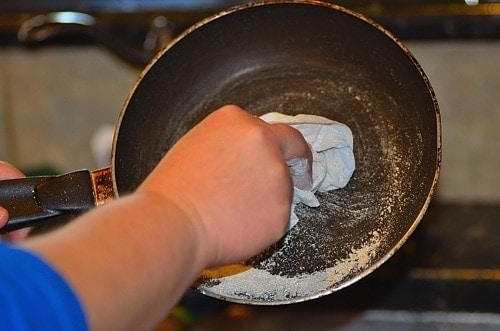 Storage: Once cooled, the non-filled tapiocas may be stored in jars to be used later as canapés (called beiju). They won't be soft like when they were first made. I personally do not enjoy beiju (hardened tapiocas) but you are welcome to form your own opinion.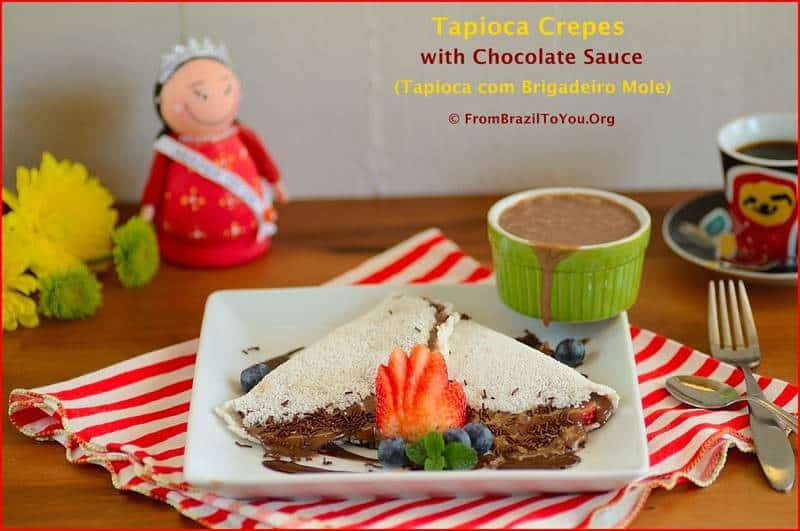 ** Image of Tapioqueiras from Creative Commons by Passarinho/Prefeitura de Olinda.