Super creamy Acai Smoothie made from frozen acai pulp, which can be enjoyed both for breakfast and at snack time. Plus, tips for the perfect smoothie!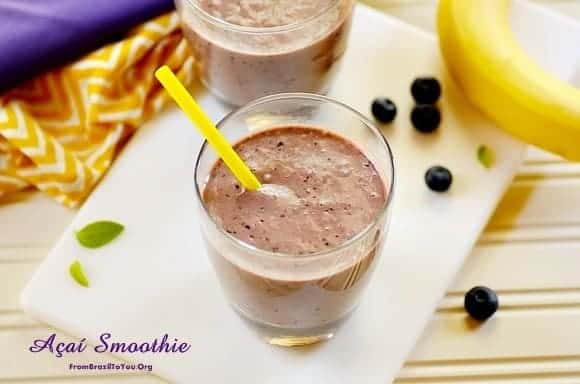 Smoothies? These, along with fresh fruit juices are what we drink a lot of in Brazil.
All on account of its hot climate and natural abundance of a wide array of fruits -- some of which I bet you have never heard of!
Lately the healthy and creamy Acai Smoothie has become all the rage. Smoothies are easy to make, I know!
The question is, do you know how to make the perfect one?
If not, then today we will learn what are the perfect ingredients, ratios, and latest trends, among other things.
I can still remember that as a child growing up in Brazil the most popular smoothies were banana, papaya, guava, and avocado.
And I enjoyed all of them both at breakfast and at snack time.
Although one can use many other fruits as a base for smoothies, acai smoothie in a bowl is the latest craze. This is because acai berry is a superfruit (fights free radicals).
As if that weren't enough, boosters (i.e. guaraná powder) and plant-based proteins such as wheat germ and nuts have been added into the mixture.
Even leafy veggies have become more common as additives to smoothies in the last 3 to 5 years.
Milk still provides the base for most smoothies, although it isn't the only one anymore.
Fresh coconut water and yogurt are great as subs in the smoothie blends.
Well, we'll find out what really makes a perfect smoothie below.
How To Make The Perfect Smoothie, Such As Acai Smoothie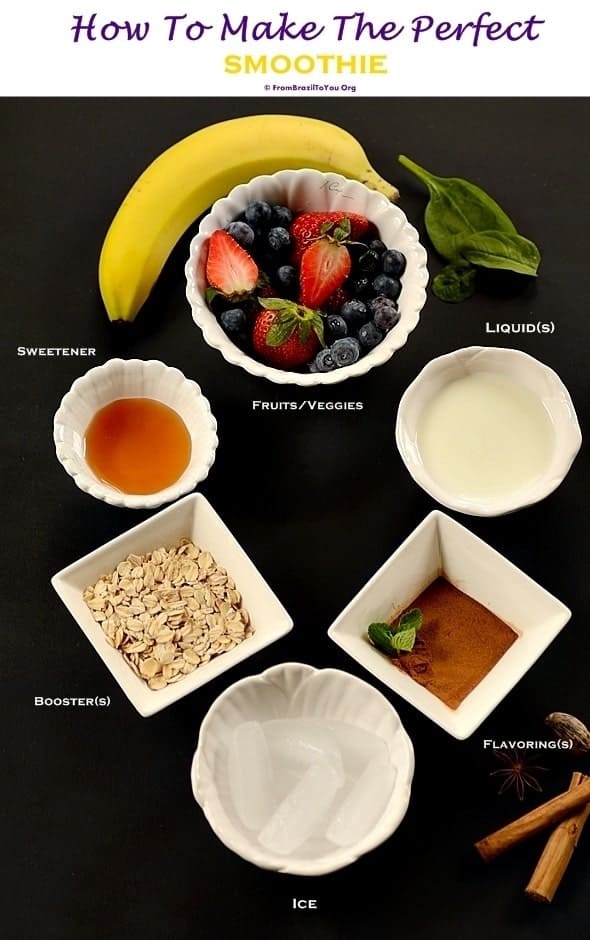 1) LIQUID(S) -- Milk, dairy-free subs such as soy/almond milk, fruit juices, low-fat coconut milk, coconut water, tea, and yogurt, either used alone or in combination (e.g. milk and yogurt or fruit juice and coconut water).
To start, add liquids to the blender before the fruits/veggies in order to avoid damage to the blade.
Although cream cheese is of course not a liquid, it adds extra creaminess.
A delicious example is our Piña Colada Cheesecake Smoothie!!!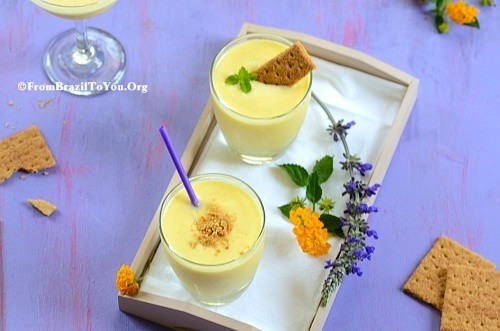 2) FRUIT(S) & LEAFY VEGETABLE(S) -- bananas, açaí and other berries, mangoes, avocados, peaches, papayas, guavas, pineapples, plums, grated apples or pears, and melons provide the creamiest textures.
Although the ratio depends on the used fruit, the general rule of thumb for the best ratio is 1 part fruit to 1 part liquid.
However, the most important thing is for the final texture to be creamy and smooth. FROZEN fruits such as bananas and avocado help with creaminess!
Since fresh acai berries are not available in the US, we used frozen acai pulp/frozen puree/acai packets to make our açaí smoothie, also blending in bananas for a creamier texture.
But give preference to unsweetened acai, though. Please see our acai bowl.
3) SWEETENER -- sugar, honey, maple syrup, sugar substitute, or agave syrup.
The correct ratio varies according to each person's own taste and also according to which type of sweetener.
For instance, since honey has a slightly higher amount of fructose than sugar, it tastes sweeter, and requires less for similar sweetness.
The amount of various sugar subs will also depend on the type of sweetener, as each has a different sweetness profile.
4) FLAVORING -- These are optional components since the base -- which is the fruit/vegetable-- already contains flavor!
Cocoa powder, coffee, vanilla extract, a few drops or small amount of citrus juice such as lemon or orange, mint, cinnamon, nutmeg and other spices are some items that can really put a tasty spin on a smoothie.
However, take care to not let them overpower the fruit that you use.
There are also some flavorings that don't pair well with certain fruits... such as coffee with guava.
But almost all the mentioned above do go well with banana. Try our banana coffee chai smoothie!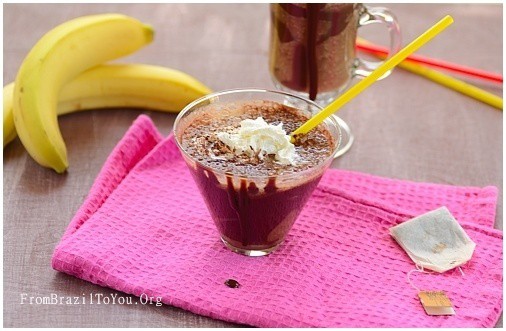 5) BOOSTER(S) -- These are also optional add-ins, yet they seem to be a must for gym-goers!
Among them are peanut butter, boosters such as guaraná and açaí powder, and plant-based proteins such as wheat germ, chia seeds, oats, flax seeds, and nuts.
6) ICE --If frozen fruit is used, adding ice is not needed.
Well, enjoy our Healthy Acai Berry Smoothie and start making the perfect smoothie today!!!
xx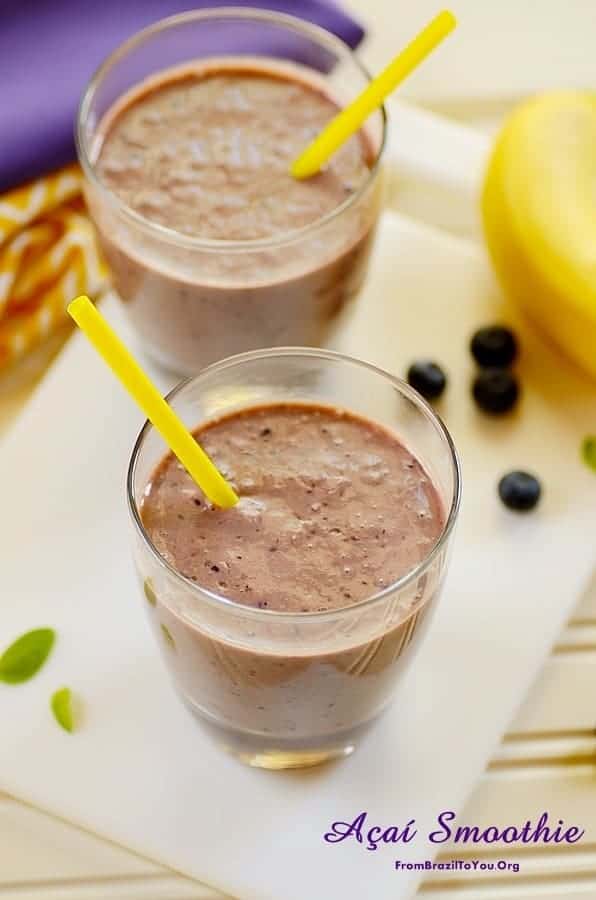 ALERT: The electric blender gave birth to the smoothie.
But did you know that health food stores on the West Coast of the U.S. began selling "puréed fruit drinks" in the 1930's, based on recipes that started in Brazil?
PIN & ENJOY!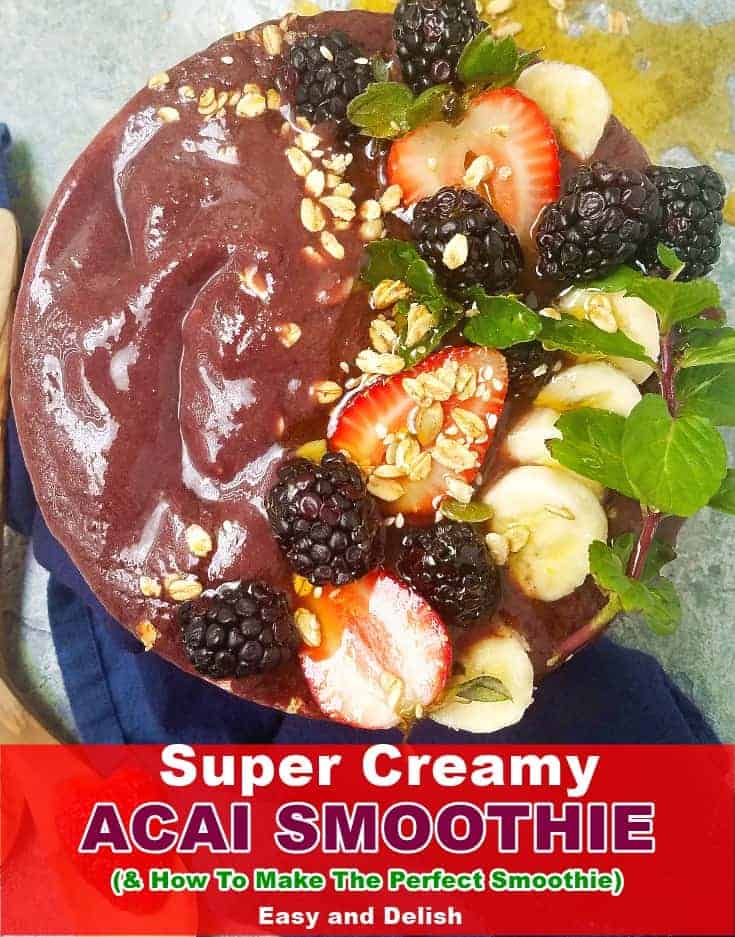 Acai Smoothie and How to Make the Perfect Smoothie
Super creamy Acai Smoothie made from frozen acai pulp which can be enjoyed both for breakfast and at snack time. Plus, tips for the perfect smoothie!
Ingredients
1

cup

fat free milk

(whole, fat-free, almond, soy, etc)

6

oz

low fat Greek yogurt

7

oz

frozen açaí pulp

(available at Sprouts, Whole Foods, and some Latin Markets), 200 g

2-3

frozen bananas

2

tablespoon

honey

or sugar or other sweetener to taste

2

tablespoon

wheat germ

(optional) Skip if you are gluten-intolerant
Instructions
Blend all ingredients in a blender until the acai smoothie is creamy and smooth. Pour açaí smoothie into medium glasses and serve while still chilled. Enjoy!
Recipe Notes
If desired, you can add ¼ cup frozen strawberries. It makes this acai smoothie tastier and creamier!!!!
Nutrition
Calories:
141
kcal
|
Carbohydrates:
27
g
|
Protein:
6
g
|
Fat:
1
g
|
Cholesterol:
2
mg
|
Sodium:
37
mg
|
Potassium:
277
mg
|
Fiber:
1
g
|
Sugar:
20
g
|
Vitamin A:
200
IU
|
Vitamin C:
4.8
mg
|
Calcium:
112
mg
|
Iron:
0.4
mg
** Nutrition labels on easyanddelish.com are for educational purposes only. This info is provided as a courtesy and is only an estimate, since the nutrition content of recipes can vary based on ingredient brand or source, portion sizes, recipe changes/variations, and other factors. We suggest making your own calculations using your preferred calculator, based on which ingredients you use, or consulting with a registered dietitian to determine nutritional values more precisely.
Please note that health-focused and diet information provided on easyanddelish.com is for educational purposes and does not constitute medical advice, nor is it intended to diagnose, treat, cure, or prevent disease. Consult with your doctor or other qualified health professional prior to initiating any significant change in your diet or exercise regimen, or for any other issue necessitating medical advice.
DID YOU MAKE THIS RECIPE?
Comment and rate the recipe. Also follow us on Pinterest at @easyanddelish for more delish recipes.