I grew up drinking fruit smoothies at breakfast time. Banana smoothies used to be some of my favorites (besides guava, papaya, and avocado smoothies)....It has been a while since I have had one. So this morning I decided to remember old times -- but with a little difference. Instead of making a simple banana smoothie -- which in Brazil is basically prepared by blending bananas with milk and sugar -- I decided to spice mine up by adding chai tea and a bit of coffee (Brazil's most popular drink). Oh, boy, what a wonderful Banana Coffee Chai Smoothie! 🙂
If you are a chocoholic, you'll love the addition of either a homemade or good quality store-bought chocolate sauce to this banana coffee chai smoothie. However, if health or weight is a concern, you could skip the chocolate sauce and use skim milk and/or a sugar substitute to prepare your banana coffee chai smoothie, as I prefer to do with mine. Since gluten is not a concern in my diet, I have also added wheat germ to my banana coffee chai smoothie, which is a great source of both vitamin E and folic acid.
Well, enjoy this healthy, refreshing, and delicious banana coffee chai smoothie!!!
xx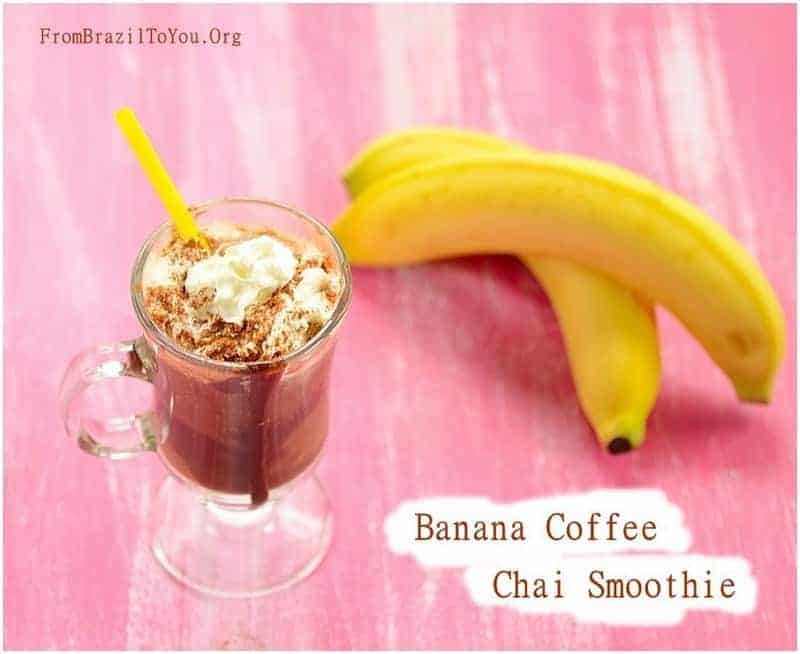 Banana Coffee Chai Smoothie
Serves 2
Segments: From My Table To Yours/ Brazilian cuisine (Inspired)
Ingredients:
½ cup water
1 chai tea bag
1 teaspoon instant coffee
1 large frozen or fresh banana, cut into chunks (frozen bananas make a thicker, frostier smoothie)
½ cup milk**
Pinch of cinnamon
Pinch of nutmeg
Pinch of ground ginger
2-4 tablespoons sugar, honey or sugar substitute
1 tablespoon wheat germ (optional)*
4 ice cubes
Chocolate fudge sauce (optional), store-bought or homemade 
** For a dairy-free version, use soy, rice, or coconut milk instead of regular milk.
* For a gluten-free version, skip the wheat germ
Directions:
1. Bring the water to a boil. Pour ¼ cup water in a small mug and add the teabag. Let steep for 3 to 5 minutes or until the tea is strongly brewed. Squeeze out the teabag and discard it. Add the instant coffee to the remaining ¼ hot water and stir.
2. Pour both the brewed tea and prepared coffee into a blender, and add the milk, banana, spices, sugar, and wheat germ if desired. Puree until smooth. Add the ice cubes and blend just until the ice is crushed. If desired, pour a bit of chocolate fudge into a glass and swirl. Then, pour smoothie into the glass, sprinkle with additional cinnamon or ginger if you wish. Enjoy Banana Coffee Chai Smoothie!
Note: Recipe adapted from About.com Herbs and Spices.
You might also enjoy: 
Coffee with Guaraná (Café com Guaraná)
Açaí MilkShake (Milk Shake de Açaí)