Get the best 20 back to school kids' lunch ideas that are quick and easy to prepare, healthy, and mostly no-cook. Plus a printable chart to mix & match lunches, creating endless combinations.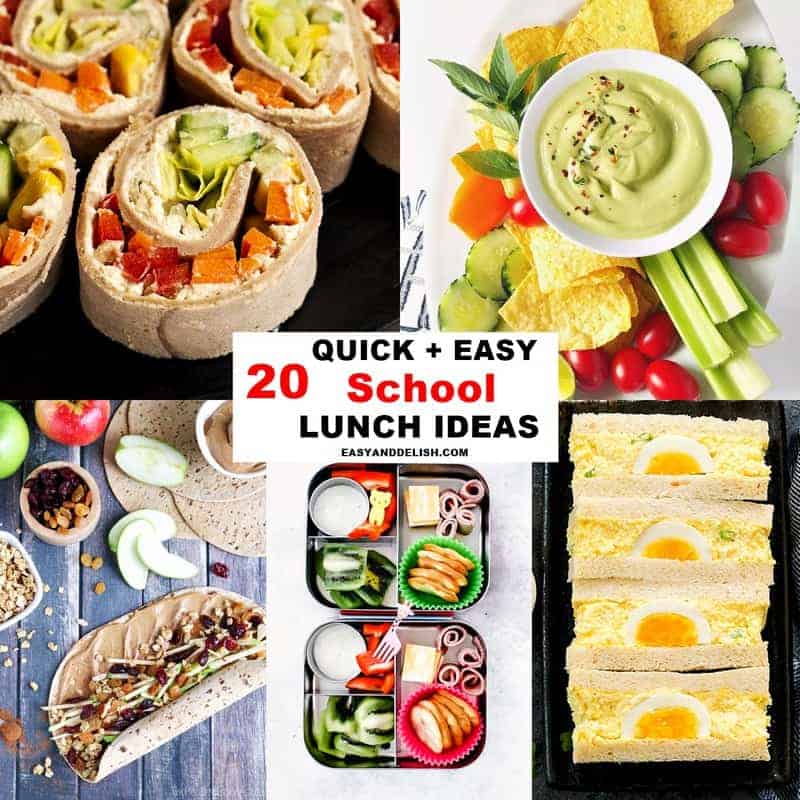 It's time to go back to school! Due to the current health situation, some will receive in-person learning while others will have virtual classes, a mix of both, or homeschooling. Whatever your school learning setup may be, these kids lunch ideas are great for them all!
There are several options to choose from -- with room to switch things up if your kids' tastes change on a whim. All of our 20 back to school lunch ideas are easy to put together (most by your own kids) and healthy.
Most are no-cook lunches, while others can be cooked and assembled in less than 30 minutes.
Because of the health crisis, I would suggest for alcohol prep pads or mini sanitizer gel to be an essential companion for packed lunches or bento boxes – so that the kids can clean their hands properly before eating without crowding into a restroom at school.
If you love bento boxes, you can also bring in cute accessories such as fun food picks and silicone baking cups.
I am sure your kids will also appreciate encouraging/thoughtful sticky notes or mini cards.
Wishing you and your kids a great school year!
20 BACK TO SCHOOL KIDS LUNCH IDEAS:
OPTION #1
Hummus + Mini Pita Bread
Grape Tomatoes
Baby Carrots
Apple slices
OPTION #2
Sliced Oranges
Yogurt Tube
Baked Chips
OPTION #3
Cheese Quesadilla
Creamy Avocado Dip (LINK)
Celery Sticks
Tortilla Chips
Fresh Berries
OPTION #4
Grape Tomato + Cheese Kabobs
Pita Pockets + Hummus
Pear
Red Pepper Slices
OPTION #5
BLT Sandwich
Baby Carrots + Ranch
Pretzels
Peaches or Applesauce
OPTION #6
Kale Pasta Salad (LINK)
Yogurt
Granola Bar
Blueberries
OPTION #7
Any Nut Butter & Jelly Sandwich
Yogurt
Apple
Baby Carrots
OPTION #8
Crackers
Cheese Cubes
Raspberries
Protein Bar or Protein Cookie
OPTION #9
Bagel + Cream Cheese
Chocolate Milk
Celery Sticks
Raisins or Dried Fruits
OPTION #10
Baby Carrots
Grapes
Granola Bar
OPTION #11
Broccoli
Applesauce
Rice Krispies or Rice Cakes
OPTION #12
OPTION #13
Cheese String
Cheez it
Cucumber
OPTION #14
Blueberries
Yogurt
Pita Chips
OPTION #15
OPTION #16
OPTION #17
OPTION #18
DIY Nachos Lunchbox which includes:
Tortilla Chips+ Lettuce+ Cheese+ Tomatoes+ Guacamole
Apple
Goldfish
OPTION #19
Fruit Leather
Flavored Milk
Berries
OPTION #20
Pudding cup
Baby carrots
Banana
List of Kids Lunch Ideas
MAIN MEAL (Carb + Protein/Healthy Fat)
Pita Bread + Hummus
Cheese + Crackers
Turkey Wraps
Any Nut Butter + Jam Sandwich
Hard-Boiled Eggs + Cheese
Kale Pasta Salad
Cheese Quesadilla
Bagel + Cream Cheese
Cucumber Sandwich
Tomato + Cheese Kabobs
Apple Peanut Butter Sandwich Wrap
Japanese Egg Salad Sandwich
BLT Sandwich Peanut Butter & Apple Roll-Up
Veggie Cream Cheese Pinwheels
Broccoli, Ham, and Cheese Pop Tarts
Chickpea Avocado Sandwich
Ham & Cheese
Orzo Salad
Nachos Lunchbox
Chicken Salad Sandwich
FRUITS & VEGGIES:
Oranges
Banana
Apples
Pears
Berries (all types)
Grapes
Peaches/Nectarines
Raisins/ Dried Fruits
Natural Applesauce
Mangoes
Melon
Watermelon
Baby carrots
Celery sticks
Cucumbers
Corn Kernels
Grape tomatoes
Snap Peas
SIDES & SNACKS:
Chips
Granola Bar
Pretzels
Cheese String
Yogurt
Trail Mix
Protein Bar or Protein Cookie
Fruit Leather or Snacks
Popcorn
Cheez it/ Goldfish
Fruit Cup/ Pudding Cup
Graham Crackers
Rice Krispies or Rice Cakes
DRINKS:
Water Bottle
100% Juice Boxes
Flavored Milk
Smoothies
CHART: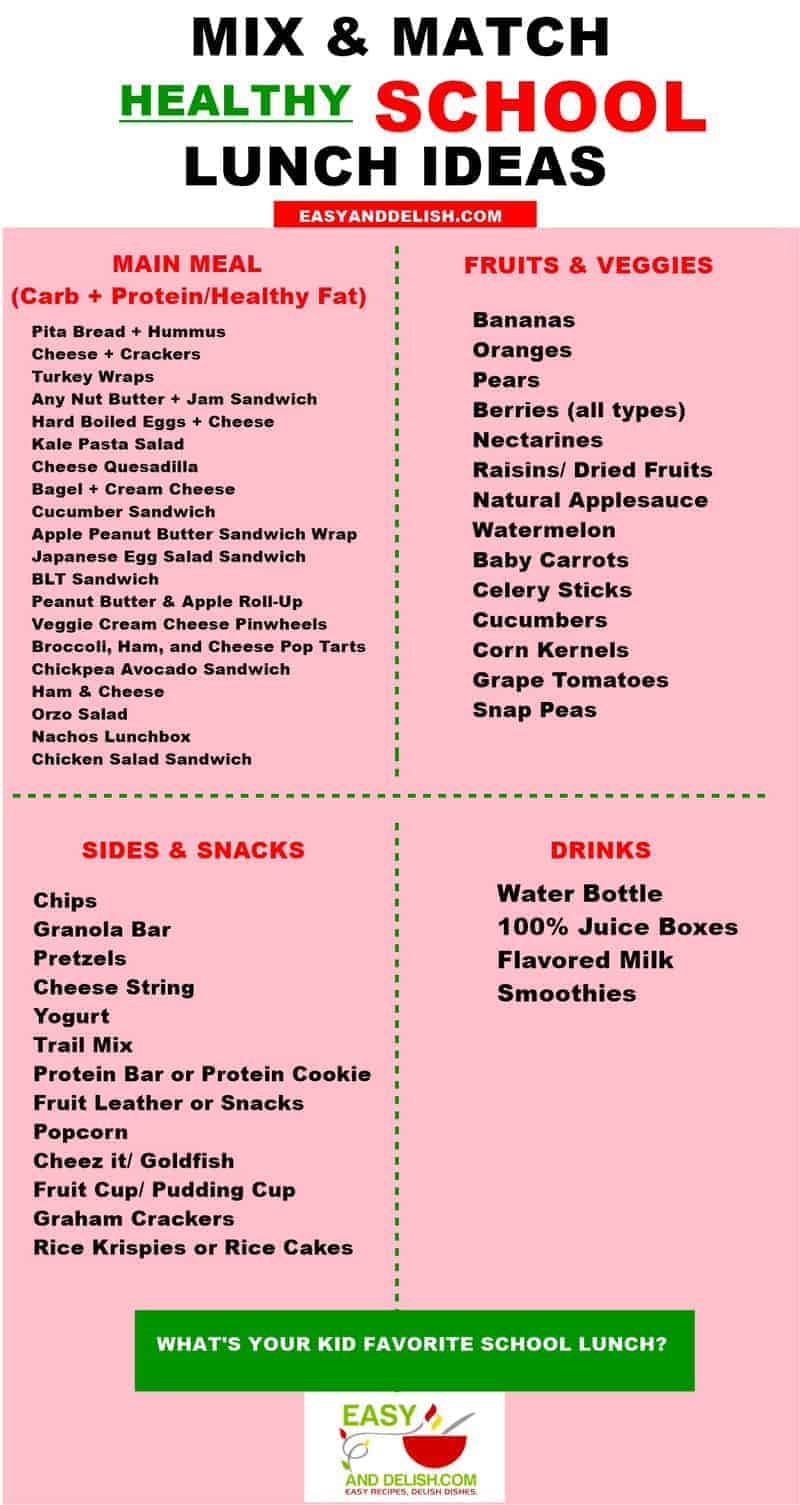 SCHOOL KIDS LUNCH IDEAS PRINTABLE:

What do you serve in your kid's lunchbox?
I hope our list of back to school kids lunch ideas gives you enough inspiration to pack a variety of healthy lunches in a short time… and that with the list in hand you can mix and match them, creating endless combinations.