When I was attending culinary school many years ago, I remember several different lessons that my peers and I received about how to cook eggs properly…. I have to confess that at the time I asked myself why in the world we had to have a lesson specifically focused on how to hard boil eggs, since supposedly everyone knows how to hard boil eggs, right?  Duh!!!!
To my surprise, I came to understand that not even I really knew how to hard boil eggs — at least not perfectly.  Yes, hard-boiling an egg is much more than cooking it in boiling water… There are several tips on how to hard boil eggs in such a way so that every single time their shells will not end up cracking open in the pot, they will not wind up overcooked or hard to peel, and their yolks will not turn out a disgusting greenish color, among others.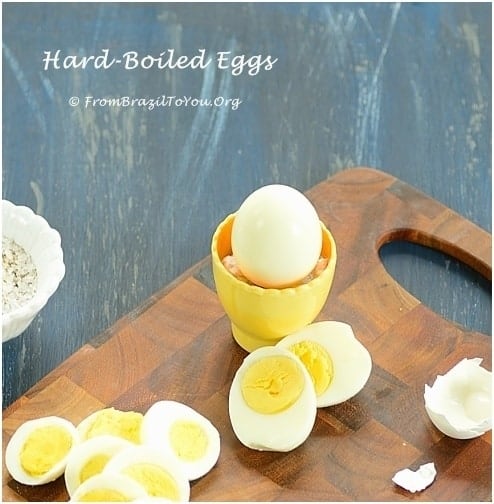 Who would have known that boiling an egg is not as obvious as one might have thought?! 🙂  Well, I would love to share with you this and many other lessons that I learned at my culinary school.  There just are never enough cooking techniques and tips out there…. I speak for myself because after all those years, I continue to learn new things and improve what I have learned.  I am one of those people who enjoy doing things properly and also seeing others doing them properly as well.
I do hope you appreciate our HOW-TO lessons as much as I enjoy sharing them with you.  Please, grab a pot and some eggs, and let's hard boil eggs… See you soon in the kitchen for our first lesson.
xx
How to hard boil eggs properly
Segment: How-to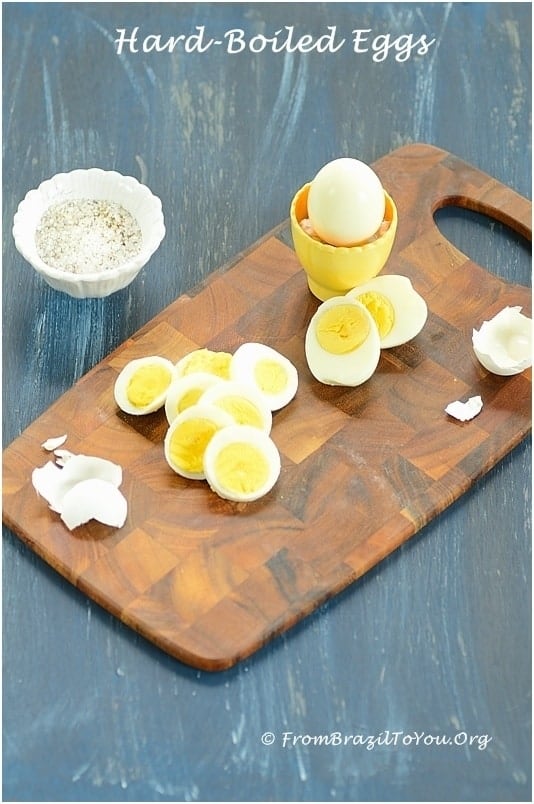 1. Sorting the eggs: Place uncooked eggs in a bowl with salt water.  If an egg floats it means that it is not recently laid.  Great!!!  That is right — because eggs that are freshly laid are hard to peel.  Give preference those which are not freshly laid, or if you have to boil a batch of recently laid eggs anyway, try putting the boiled eggs in the refrigerator for a few days before peeling them.   In case you need to hard-boil freshly laid eggs and consume them right away, steaming them for about 20 minutes will make them easier to peel, or boiling them in cold water with 1/2 teaspoon of baking soda per quart of water will also make them easier to peel.
2. Hard-boiling the eggs: A) Place eggs in one single layer in a pot (it's important not to overcrowd the pot, or it will make them crack easier.  If the eggs crack, putting a little bit of salt or vinegar into the water will make the proteins coagulate faster, preventing or stopping the egg whites from leaking). B) Fill the pot with enough cold tap water to cover them over by about 1 inch/2.5 cm depth of water (Putting eggs in hot water will make their shells crack and they will not cook evenly).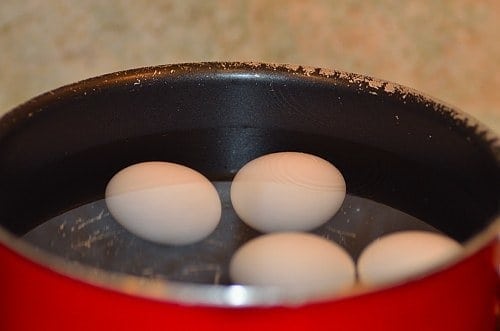 C) Over medium-high heat, bring eggs to a boil. When water just begins to boil, remove pot from heat, cover tightly, and let sit for about 12 minutes (medium eggs), 17 minutes (large), or 19 minutes (extra-large).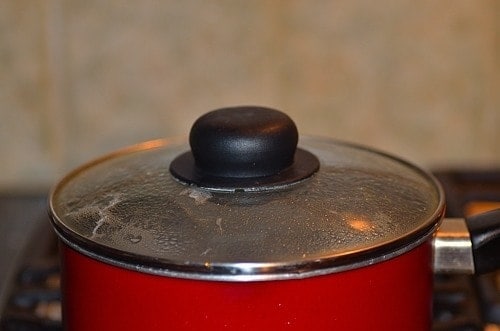 Watch the cooking time closely because overcooked eggs can become rubbery and show a greenish or purplish ring around the yolk!!  Before stopping the cooking process, test to see if the eggs are hard boiled. Remove one of them and spin it around fast on a plain surface.  If it turns fast, it is hard boiled.  But if it turns slowly, it is soft boiled.
3. Stopping the cooking process of the eggs:  Remove hard boiled eggs from the pot with a slotted spoon and place them carefully in a bowl filled with ice water. Let sit for 10 -15 minutes and then either peel and serve, or refrigerate in a covered container for up to one week.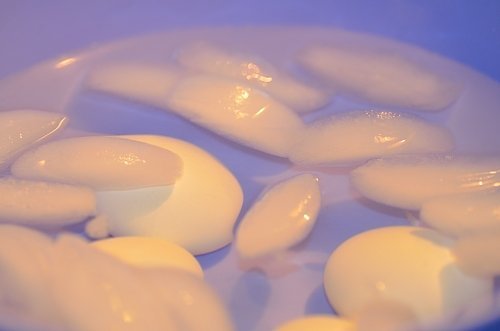 4. Peeling the eggs: Once hard boiled eggs are cool enough to handle, roll them on a flat surface to crack their shells slightly.  Then, peel them under cold running water.  In order to not clog up the sink's pipes with egg shells, peel eggs under running water but with a colander placed underneath, so that the shells will fall into the colander.  For extra safety, cover the sink drain with its drain stopper, just in case any tiny pieces of shell pass through the colander.   If hard boiled eggs are not to be consumed within a few hours, they will have to be refrigerated.
You might enjoy our latest recipe that takes hard-boiled eggs:
_________________________________________________________________________________________
how to hard boil eggs…Learn how to hard boil eggs properly!
How to hard boil eggs properly
How to hard boil eggs.