Brazilian chicken salad (salpicao) is quickly made with shredded chicken, apples, carrots, raisins, mayo, and lime juice and served chilled topped with shoestring potatoes.
What a crazy week! Both my daughters will be finishing their classes by Friday. My eldest will be graduating from kindergarden while the other will be finishing preschool. Salpicão (Brazilian Chicken Salad) looked like a great meal for such a busy and hot day.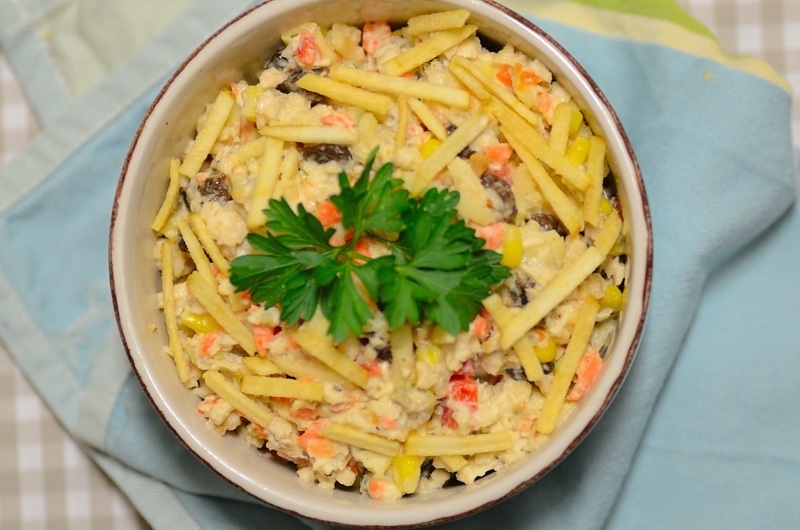 On top of all the things that I normally have to do, I have also been working harder to prepare all the posts not only for this week but also for the next one. Yep! We will be spending more time in family... How I do love that!
The twenty-four hours in a day seem not to be enough to accomplish everything that I need to get done. Truly, I am exhausted and running a little behind. This day in particular, passed by so quickly that before I even realized it, it was already almost time to serve dinner.
"What can I make?", I thought.
"Salpicão (Brazilian-style Chicken Salad), of course!" It is quick, nutritious, delicious, and refreshing at the same time. Ideal for the high temperatures here in Texas.
"OK, but why not use this traditional Brazilian salad to make sandwiches?", I asked myself. That way I would not have to prepare any other dishes to serve along with it -- as on the other hand we would traditionally be required to do in Brazil.
So I baked french bread rolls, let them cool down, and filled them with the salad. Oh, yum!
Dinner was ready to be served in just a snap. This was one of those ideas that made everyone happy -- especially myself! It was indeed a perfect fix...
I hope that you enjoy this Brazilian chicken salad recipe as much as I do.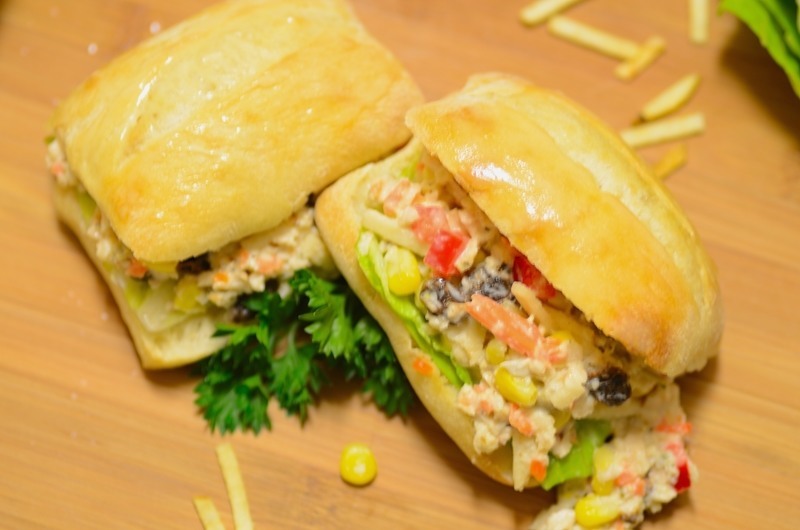 Brazilian Chicken Salad/Sandwich (Salpicão de Frango/Sanduíche)
Brazilian chicken salad is quickly made with shredded chicken, apples, carrots, raisins, mayo, and lime juice and served chilled topped with shoestring potatoes.
Ingredients
1

lb

skinless boneless chicken breast

fully cooked and shredded (½ kg)

1

large apple

peeled, cored, and grated

1

small white onion

grated

1

large carrot

peeled, grated, and cooked al dente

⅓

cup

black or green olives

chopped

½

cup

raisins

¼

cup

corn

cooked

½

small red bell pepper

deseeded and small diced

2 - 3

tablespoons

fresh lime or lemon juice

Salt to taste

1

dash

ground black pepper

½

cup

mayonnaise or plain yogurt

(for a dairy-free version, use mayonnaise)

5.3

ounces

shoestring potatoes

(150g)

1

spring

fresh parsley to decorate

optional

leaves

Fresh lettuceto

to decorate (optional)
Instructions
In a large bowl, mix the 8 first ingredients, season with salt, pepper, and lime or lemon juice. Then, mix the mayonnaise or plain yogurt gently. Cover the bowl and refrigerate for about 2 hours or until chilled.

Right before serving, mix ¼ of the shoestring potatoes into the chicken salad. Place the salad into a serving bowl and decorate with the lettuce leaves on the sides and with a sprig of fresh parsley on the top.

Note: This salad is often served as a side dish for Christmas, but we also enjoy it all year round in Brazil. It can also be used to make sandwiches. In this case, use french bread rolls (preferred in Brazil), any other hard-crusted bread, or croissants. It will serve many more than 4 to 6 people, depending on the size of bread as well as the amount of filling per sandwich.
** Nutrition labels on easyanddelish.com are for educational purposes only. This info is provided as a courtesy and is only an estimate, since the nutrition content of recipes can vary based on ingredient brand or source, portion sizes, recipe changes/variations, and other factors. We suggest making your own calculations using your preferred calculator, based on which ingredients you use, or consulting with a registered dietitian to determine nutritional values more precisely.
Please note that health-focused and diet information provided on easyanddelish.com is for educational purposes and does not constitute medical advice, nor is it intended to diagnose, treat, cure, or prevent disease. Consult with your doctor or other qualified health professional prior to initiating any significant change in your diet or exercise regimen, or for any other issue necessitating medical advice.
DID YOU MAKE THIS RECIPE?
Comment and rate the recipe. Also follow us on Pinterest at @easyanddelish for more delish recipes.
You might also like:
Crostini with Cheese, Prosciutto, Chimichurri Sauce, and Nuts
Tropical Fresh Salad with Grilled Mangoes and Pineapple tossed with Spiced Citrus Vinaigrette Dressing