December is here... Yay! Along with it comes many scrumptious Christmas recipes, such as these Brigadeiro Cookies or Chocolate Fudge Sandwich Cookies (Biscoito Brigadeiro). These are a real hit in my household. Shhhhhh! Come closer and please, don't tell anyone our secret: these are effortless to prepare, yet people think we slaved away in the kitchen to make them. Hehe! Love Oreos? How about some with a customized filling? 😉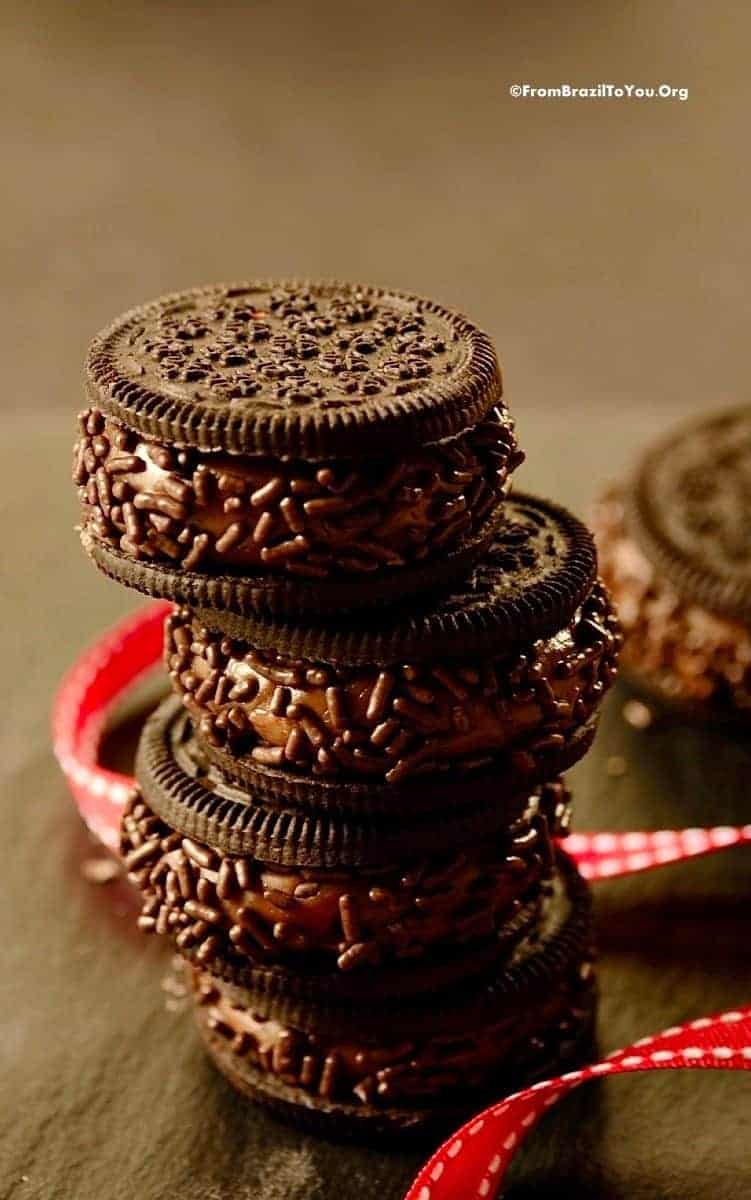 Here you have them! Our brigadeiro cookies are no bake, 5-ingredient cookies made from store-bought Oreo-like cookies, filled with homemade brigadeiro dough and covered with chocolate sprinkles. The required ingredients? Oreo cookies or Oreo-like cookies (your choice), sweetened condensed milk, cocoa powder, unsalted butter, and chocolate sprinkles. Yes, that's it!
My children, husband and I went crazy for them... and so will you! Looking for something scrumptious yet quick and easy to prepare? These are for you! Looking for a great yet economical edible Christmas present to give away? These are it!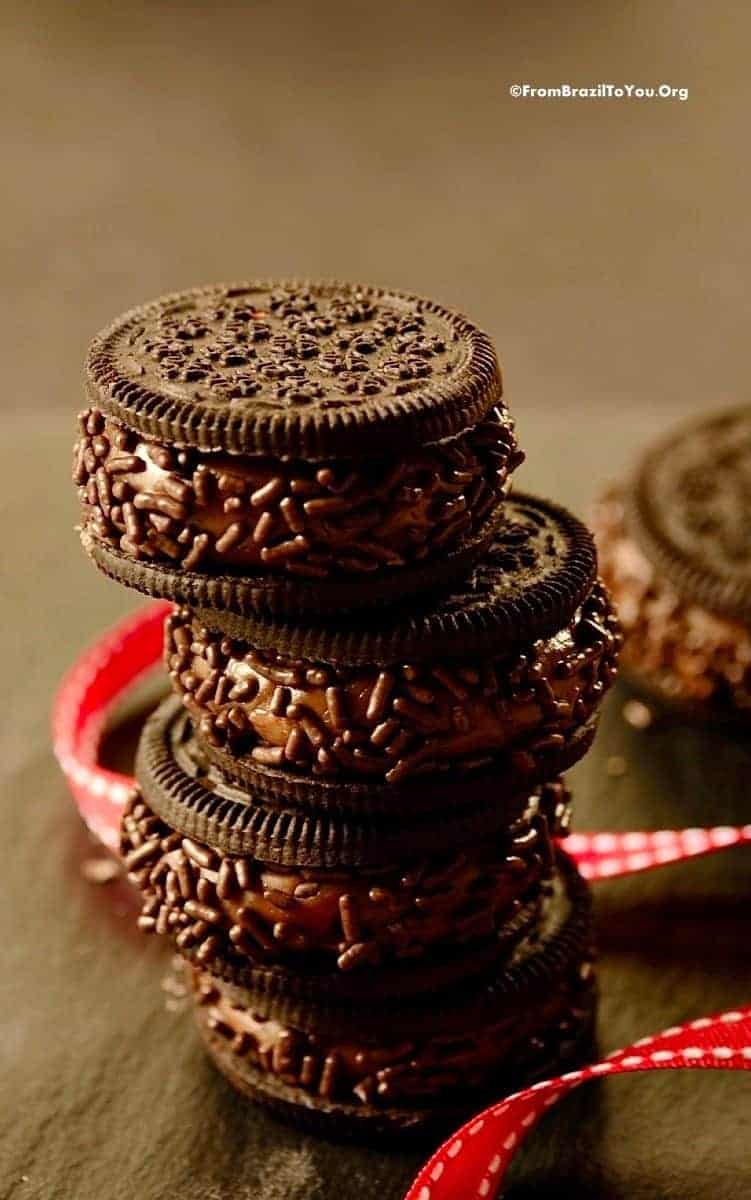 Love Oreos? So do I, as well as the rest of the world! But these are no ordinary Oreos. No, no, no! These are Oreos with a SUPERB filling that not even Nabisco will offer you. This is exactly what happens when we combine two beloved and popular treats: Oreos + Brigadeiros = THE BEST COOKIES EVER! A precise equation guaranteed to please even the pickiest palates.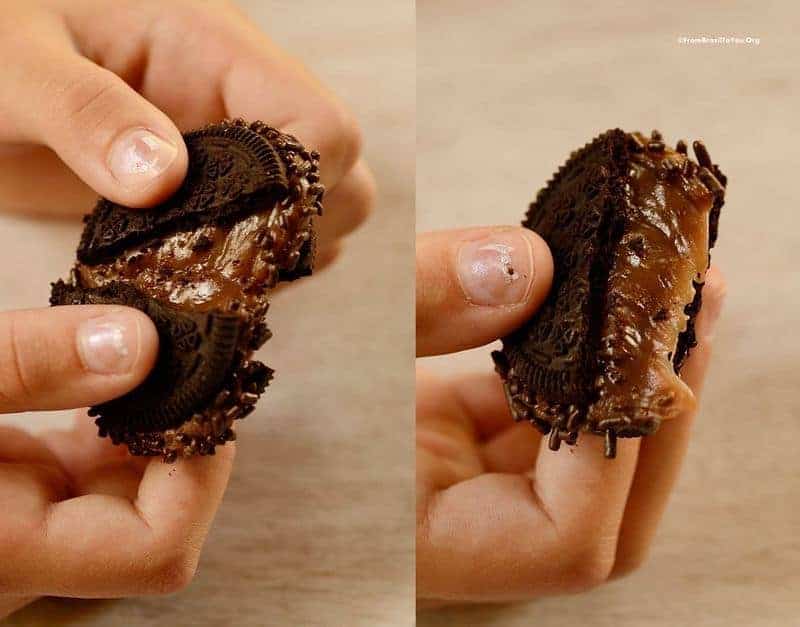 The secular part of the Christmas holiday in Brazil is about Christmas trees, Santa Claus, presents, traditional savory dishes and treats made from chocolate such as torta holandesa, panettone, and rabanada (Portuguese French toast). Although there we don't have a tradition of giving away cookies around this time of the year, as we do here in America, you can bet we would be happy to receive them.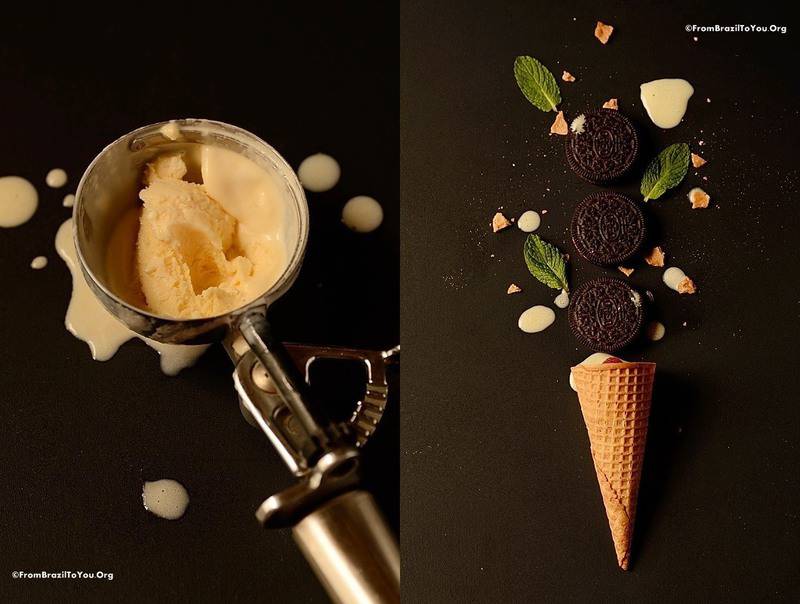 I will be making about 5-6 batches to give away to my children's teachers and their school staff... Who will be your lucky recipients? Shhhh! I promise I won't tell anyone!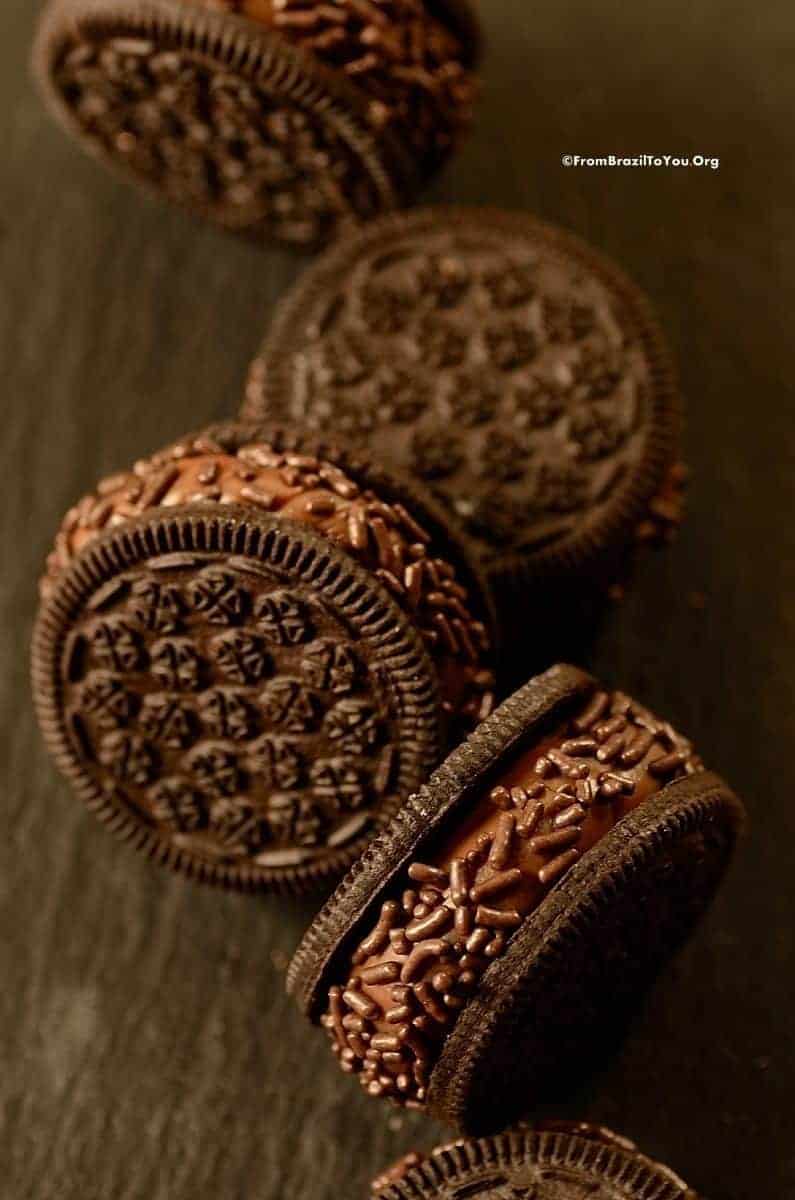 Learn all about brigadeiro here.
You may also enjoy Cookies and Cream Dutch Tart.
Brigadeiro Cookies (Chocolate Fudge Sandwich Cookies)
Brigadeiro cookies are Oreo-like cookies filled with superb chocolate fudge and covered with sprinkles. A MUST-HAVE!
Ingredients
1

can

sweetened condensed milk

14-ounce

¼

cup

baking cocoa powder

2

tablespoons

unsalted butter plus extra to grease plate and hands

softened

1

tablespoons

pure vanilla extract

optional

14

Oreo sandwich cookies

( I used Great Value Fudge-Filled Chocolate Sandwich Cookies which don't have the brand name printed on top, yet taste similar to Oreos)

Chocolate vermicelli or good quality chocolate sprinkles
Instructions
Prepare the filling: In a medium non-stick saucepan, whisk the condensed milk and cocoa powder together until obtaining a homogeneous mixture without cocoa lumps. Add the softened butter. Cook over medium heat, stirring constantly with a wood spoon, until the mixture starts to show the bottom of the pan when you scrape it with your wood spoon (about 5-8 minutes). The brigadeiro mixture should be thick enough to reveal the bottom of the pan for a couple of seconds before the mixture levels out again. Remove pan from the heat and stir in the vanilla extract if desired. Spread brigadeiro mixture onto a greased plate and let cool to room temperature. For direction photos, click

here

.

While brigadeiro mixture is cooling down, separate the two rounded halves of the sandwich cookies with a gentle twisting motion, taking not to damage or break them in the process. Gently slide a paring knife or other small sharp knife beneath the filling layer in order to lift it off from the cookie and remove it. It's OK if a bit of the filling remains. Reserve separated and denuded cookie rounds, placing them on a flat surface.

Once brigadeiro mixture has cooled, grease your hands with softened unsalted butter and roll into balls. Use a 1 Tablespoon as measurement (If you prefer less filling, use a ½ tablespoon as measurement when rolling the brigadeiro filling. It will yield 28 sandwich cookies instead. I do prefer mine with lots of filling, though).

Place each brigadeiro ball on top of a cookie round, cover this with another of the cookie rounds to form a sandwich, and press down on the top to flatten the brigadeiro filling a bit.

Gently dredge each brigadeiro cookie sandwich in a bowl filled with chocolate sprinkles, rotating so that the brigadeiro filling that is exposed all around the sides gets covered with sprinkles. Enjoy!

STORAGE: Brigadeiro cookies should be stored in an airtight container at room temperature for up to 3-4 days.
Recipe Notes
If you prefer to make your chocolate cookie batter from scratch, here is a recipe.
** Nutrition labels on easyanddelish.com are for educational purposes only. This info is provided as a courtesy and is only an estimate, since the nutrition content of recipes can vary based on ingredient brand or source, portion sizes, recipe changes/variations, and other factors. We suggest making your own calculations using your preferred calculator, based on which ingredients you use, or consulting with a registered dietitian to determine nutritional values more precisely.
Please note that health-focused and diet information provided on easyanddelish.com is for educational purposes and does not constitute medical advice, nor is it intended to diagnose, treat, cure, or prevent disease. Consult with your doctor or other qualified health professional prior to initiating any significant change in your diet or exercise regimen, or for any other issue necessitating medical advice.
DID YOU MAKE THIS RECIPE?
Comment and rate the recipe. Also follow us on Pinterest at @easyanddelish for more delish recipes.
TO ENTER OUR GIVEAWAY: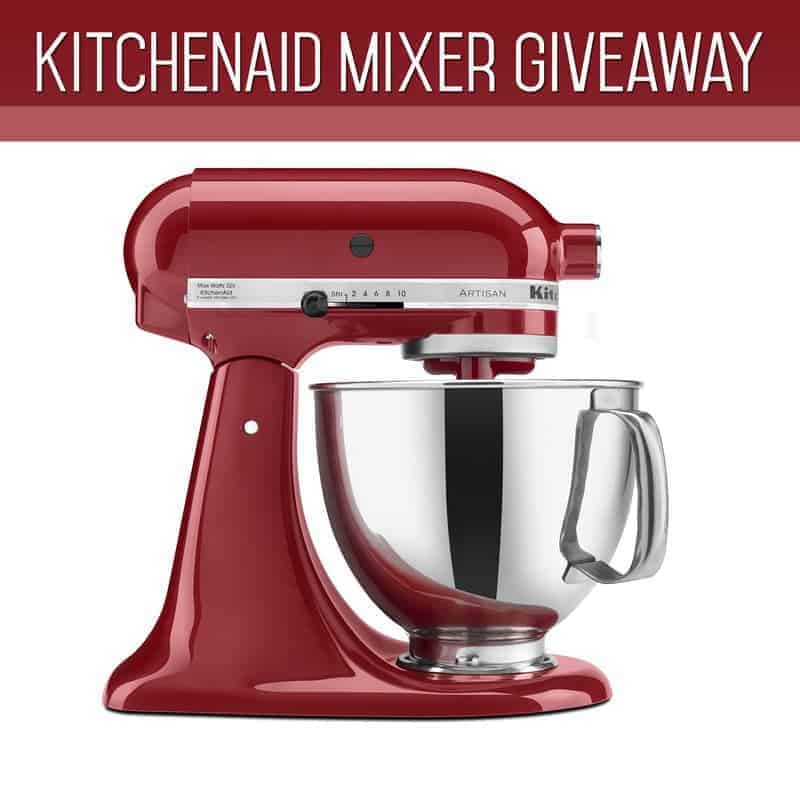 Disclosure:
 No purchase necessary to enter sweepstakes. Entrants must be 18 or older and reside in the United States. The giveaway begins on 12/1/15 at 12:00am CST and goes through 12/10/15 at 11:59pm CST. Approximate retail value for price package is 300 dollars. The color of the mixer may vary. The number of eligible entries received determines the odds of winning. The winner will be selected and emailed after the giveaway is over and entries have been verified. The sponsors will not be held liable for any malfunction or damage of the products received. If winner does not contact respond back to Cake Whiz within 48 hours of winning, a new winner will be chosen. We have the right to publish the name of the winner and which entry was selected. The prize will be sent within two weeks. Facebook, Twitter, Pinterest and Instagram are not involved with this giveaway at all. This giveaway is sponsored by Cake Whiz, Diethood, That Skinny Chick Can Bake, Tastes of Lizzy T, Savory Experiments, From Brazil to You, Rose Bakes, Pint Sized Baker, Sugar Hero and The Decorated Cookie.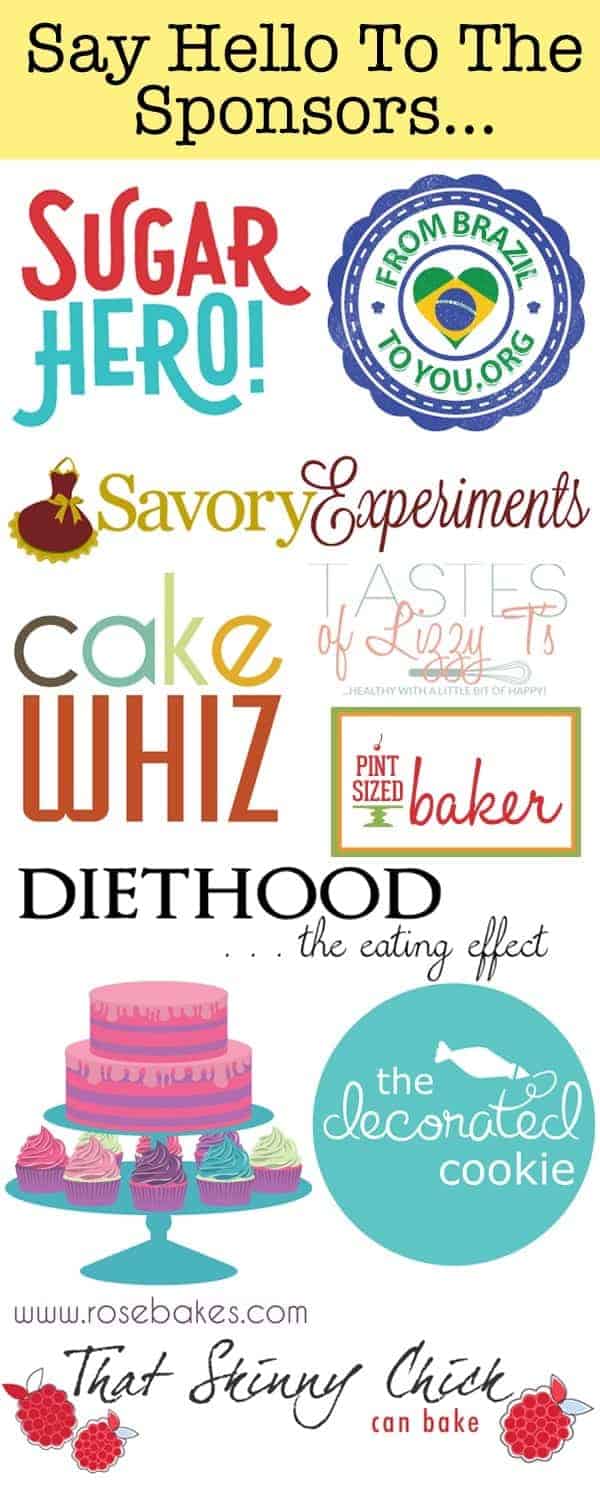 Cake Whiz Diethood That Skinny Chick Can Bake Tastes of Lizzy T Savory Experiments From Brazil to You Rose Bakes Pint Sized Baker Sugar Hero The Decorated Cookie