Brigadeiros (singular. Brigadeiro, pronunciation bree-gah-DAY-roh) are a traditional Brazilian chocolate candy. The candy emerged in the mid 1940's, in the state of São Paulo, yet is popular all over Brazil. They are must-have treats at just about any birthday party, and many other events.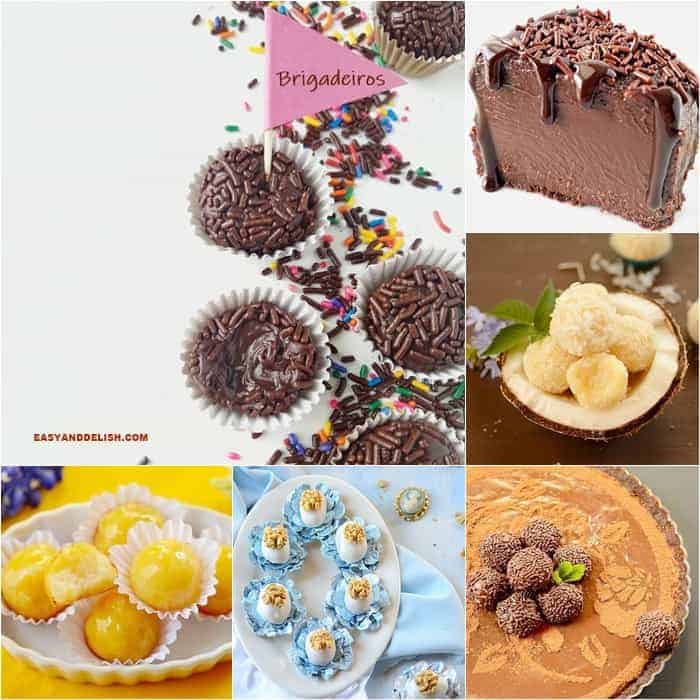 The name brigadeiro means "Brigadier." However people of the state of Rio Grande do Sul also know the treat as "negrinho." It is a true Brazilian icon -- as dear in Brazil as brownies or mac and cheese in the USA.
Brigadeiros Ingredients
The ingredients that go into making classic brigadeiros are sweetened condensed milk, cocoa powder, and unsalted butter. Once cooked and rolled into balls, they are covered with chocolate sprinkles.
One can make brigadeiros either on the stovetop or in the microwave.
Confectionery Class
Brigadeiros fall into the category of sugar confections (sugar candies or sweets), since the main ingredient is sugar.
Further, it falls into the sub-category of fudges since its components are sugar, butter, and milk (or sweetened condensed milk). Just like other fudges, it heats to the soft-ball stage at 240 °F (116 °C), gets mixed, and is allowed to cool. This process gives the treat a smooth, creamy texture.
You could raise the objection that they are not made from milk and sugar, but from sweetened condensed milk.
But what in fact is sweetened condensed milk? It's pasteurized cow's milk from which water has been removed and sugar added until a 9:11 ratio of sugar to (evaporated) milk is reached.
Recipe & Nutrition Facts
Based on this brigadeiro recipe, Brazilian chocolate fudge balls contain (per serving): Calories 52 Calories from Fat 9/ % Daily Value* Total Fat 1g 2%/ Sat. Fat 1g 5% /Chol. 5mg 2% /Sodium 18mg 1% /Potassium 64mg 2% /Total Carbs 8g 3% / Sugars 7g /Protein 1g 2% /Vit. A 1% /Vit. C 0.4% /Calcium 4.1%/Iron 0.7% (* % Daily Values are based on a 2000 cal. diet).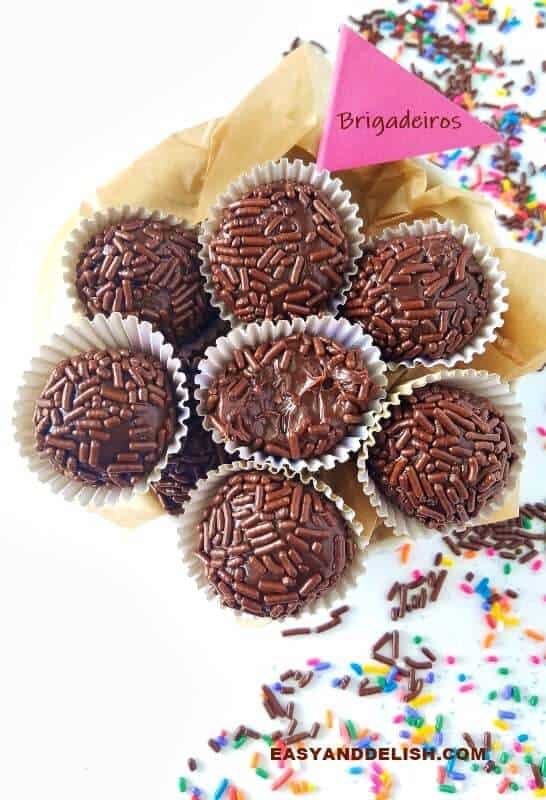 Storage of Brigadeiros
At room temp: for up to 2 days in an airtight container.
In the fridge: for up to 4-7 days, also in an airtight container.
In the freezer: for up to 30 days in a sealable bag. But bring them to room temp before serving.
Challenges
These "truffles" are very simple to make. The only real challenge is in how to get the right consistency.
But by following these brigadeiro useful tips, one can obtain the correct, fudgy consistency, even the very first time.
In Brazil, when the texture is too soft, there are a couple of common fixes:
Serving in shot glasses or other little cups (brigadeiro mole or brigadeiro de colher)
Piping onto little serving spoons.
History of Brigadeiros
The origin of the name "brigadeiro" traces back to the Brazilian presidential campaign of Brigadier Eduardo Gomes. In 1945, after a coup removed dictator Getúlio Vargas, Gomes was the candidate for the now-defunct National Democratic Union (NDU) party.
The brigadier had many female admirers, who even came up with catchy slogans for the campaign like: "Vote no Brigadeiro que é bonito e solteiro".... Vote for the brigadier because he's handsome, and he's single! During his first candidacy, a group of women from the Sao Paulo neighborhood of Pacaembu organized parties to promote his run.
These ladies allegedly created this sweet treat as a means of fundraising for the race. Afterwards, the candy quickly gained popularity and spread to the rest of the country, along with the brigadier's campaign.
Since invites to the parties of fellow members and campaign workers were a hot item with the public, they soon started calling up their friends to come and eat some of "the Brigadier's candy" (o docinho do brigadeiro).
Over time, the word "brigadeiro" gained such a close linkage with the treat that people began to call it simply by that name. Despite the support that he received, Eduardo Gomes lost the elections. Instead the winner was the then-general, Eurico Gaspar Dutra.
Support for a Sao Paulo Connection
This version of events finds a couple of pillars of support. First, there was the political context of the time. São Paulo, with the recent memory of the Revolution of 1932 freshly in mind, was against Getúlio Vargas and the candidate that he backed, General Dutra.
Plus, a second factor was the very economic setting at that time. It was in the state of São Paulo that the only two Brazilian condensed milk factories (Nestlé, in Araras and also in the city of Sao Paulo, both founded in 1921) were located.
What's more, the city of Sao Paulo was the home of the factory that made the famous "Chocolate do Padre." This was the popular name of the chocolate mentioned in most of the oldest recipes for brigadeiro. The Gardano Factory, also founded in 1921, produced that chocolate.
As food historian Daniela Ferreira has related, the recipe suggest brigadeiros to have originated in Sao Paulo. This is largely on account of the Gardano and Nestlé factories both being located there, making the creation of brigadeiros possible in the state of São Paulo.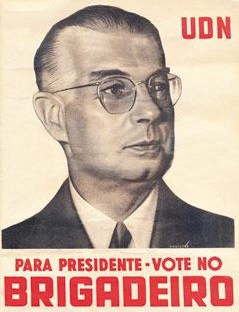 Disputed Origin
Other versions that seem to derive from the history above spread during the 1980's. They tell similar stories linking the treat to Eduardo Gomes' campaign.
However, those versions change the place of origin and allege that ladies from Rio de Janeiro State created it. This was the brigadier's state of birth, in the city of Petrópolis in 1896.
One of these accounts figures a certain Heloísa Nabuco, from a known family in Rio that supported the brigadier. She created a type of candy, slightly different from the present-day version, that used milk, eggs, butter, sugar, and chocolate, and then named it after the military rank of her chosen candidate.
Still other versions, also stemming from the original story, point toward different areas in the state of Minas Gerais.
However, the version with links to Rio shows signs of having arisen after the creation and popularization of the candy.
This is in light of the fact that it conflicts with another version of the story which foes of Brigadier Gomes put out at the time of the election.
They alleged that the name of the candy was "brigadeiro" on account of it having no eggs. This was a malicious reference by them to a story that in 1922 Eduardo Gomes, having received a gunshot to the groin during the Revolt of the Copacabana Fort Eighteen, had lost his testicles.
Since in the version with the socialite Heloísa Nabuco the confection did have eggs, it's clear that the two tales are mutually exclusive.
Where did the name negrinho come from?
The southern state of Rio Grande do Sul calls brigadeiros by a different name than the rest of Brazil. There its main name is "negrinho" (little dark thing or little "brownie").
This fact, as NDU politician Hercílio Deeke recounts in his memoirs, also stems from political factors related to the candidacy of Eduardo Gomes.
Strong political ill will came from the dictator Getúlio Vargas, dear to Southern Brazilian politics and opposed to Gomes' candidacy. This fact made it so that in Rio Grande do Sul, the term "brigadeiro" for the candy didn't gain traction.
Instead, the term "negrinho" was politically acceptable to the news media, which were mostly supporters of Vargas. They were hostile to Eduardo Gomes from the NDU.
Brigadeiros' Cultural Importance
Brigadeiros are the most loved and celebrated dessert in Brazil. In fact, it is a great part of many special occasions such as birthday parties and weddings. Plus, it is even the object of many an expectant mother's cravings!
It has hundreds of flavor variations, even including a caramelized version known as bala baiana that contains coconut fudge inside, with a crunchy caramel outer shell.
At birthday and wedding events, brigadeiros and its variants appear in great quantities in beautiful set-ups and displays on dessert tables.
Brigadeiros Variations
Just as with traditional fudge, brigadeiros have many variations. The most well-known are:
Other Toppings
While chocolate sprinkles are the most common topping for brigadeiros, granulated sugar, cocoa powder, coconut flakes, or chopped nuts and dried fruits are suitable substitutes.
Healthy Versions
Although brigadeiros are gluten-free, they contain dairy. For those who are lactose-intolerant or on a plant-based diet, the traditional recipe with condensed cow's milk poses a challenge.
But there are dairy-free brigadeiro (coconut milk based) as well as vegan/paleo brigadeiro recipes (nut butter based) out there.
Around the World
You can find brigadeiros at bakeries and cafes all over Brazil.
Moreover, in the USA and several other countries, specialized shops have started popping up, such as Brigadeiro Bakery and My Sweet. These shops sell mostly brigadeiros and related items, such as brigadeiro cakes and Easter eggs.
In fact, a while ago Haagen Dazs partnered with My Sweet to launch a Tres Leches Brigadeiro ice cream, with great success. The recipe is based on a deconstruction of the candy.