Christmas is truly the best time of the year! At my Grandma's house and many other Brazilian households that means it is time for rabanada(s), fatia dourada, or fatia parida. Huh???  I mean, it's time for Brazilian French Toast, accompanied by a good cup of coffee. What's so special about that?  Well, it's small and thick, round or oval, custardy inside, and crunchy on the outside. It is simple, comforting, goldenlicious… and more!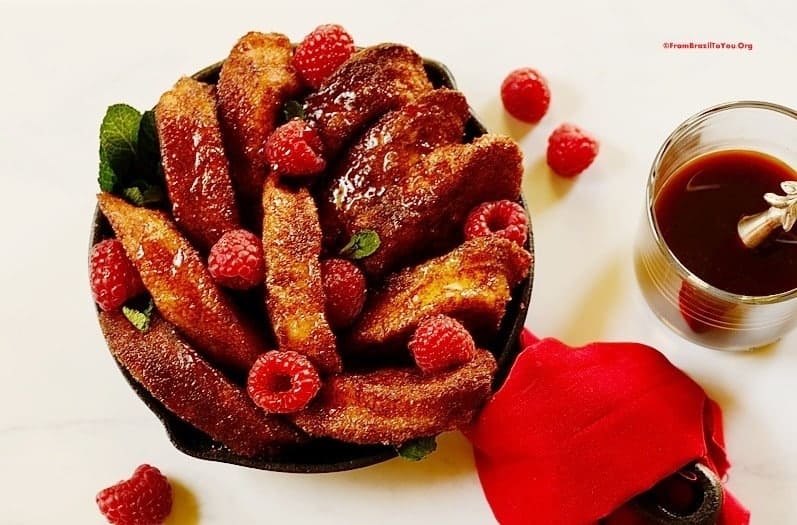 Brazilian French Toast (or rabanada, as it's known in Brazil) is different from its cousin, American French toast.  How so?  Well to start, the bread used to make Brazilian French toast has to be stale, usually has either a round or oval shape, and is cut thick. The way it is prepared is also different!  Bread slices are first soaked in milk (or in a milk mixture) and then coated with beaten eggs, fried in oil, and then sprinkled with a sugar cinnamon mixture — instead of being briefly soaked in a milk-egg mixture and cooked in sizzling melted butter, as the standard American French toast is. The result? The Brazilian French toast is much custardier inside, crunchier outside, and overall sweeter than its American counterpart.
Its sweetness may explain why it is served as a dessert or an afternoon snack instead of for breakfast.  If you have never tried this, now is your chance! Your simple ingredients — a French baguette or other round/oval bread, milk, sugar, cinnamon, eggs, and oil — are available pretty much in any corner of the world.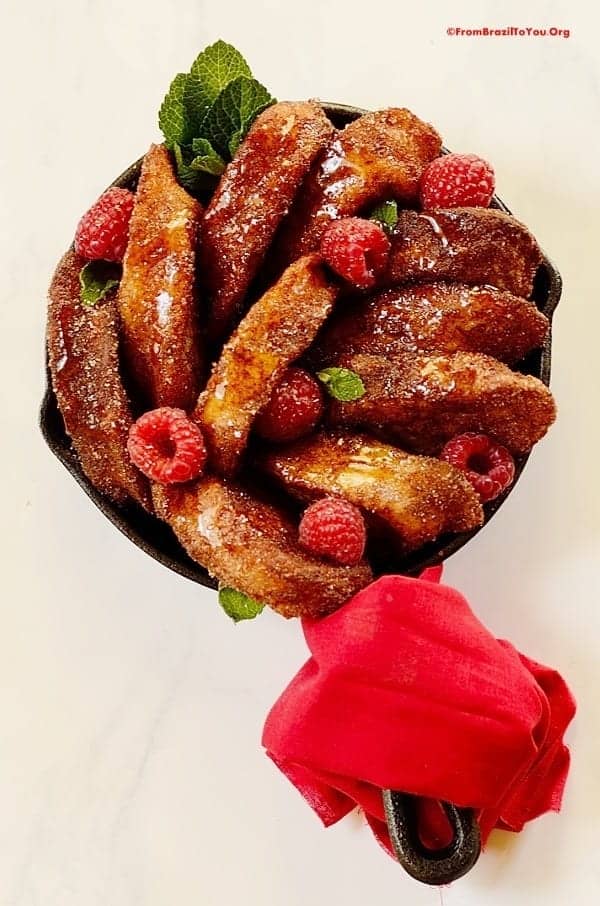 Rabanada makes its first documented appearance in the 15th century, as mentioned by Juan del Encina: '…honey and lots of eggs to make rabanadas…' evidently referenced as a dish helpful for recovery from childbirth.  This is why it is also known as fatia parida or fatia-de-parida (i.e. slices for the new mom).
The first recipes trace back to the cookbook of Hernández de Maceras (from 1607) and the "Arte de cozina, pastelería, vizcochería y conservería" by Francisco Martínez Motiño (from 1611).  By the beginning of the twentieth century rabanada was very common in the taverns of Madrid where it was served with jugs of wine.  The dish came to be associated with the Lent festival in Spain, while in Portugal it came to be associated with the Christmas feast.
From Spain to Portugal… and then from Portugal to Brazil, which was of course once its main colony.  You may see some designate this treat as Portuguese French Toast while others, like us, designate it as Brazilian French Toast.  Although the Portuguese and Brazilian preparation are essentially the same, there are some variations in the ingredients. In Portugal, their French toast is soaked in milk (flavored with spices and/or orange or lemon zest), wine (Minho province uses vinho verde, red or white), or a sugar syrup.  In contrast, Brazilian rabanada is often soaked in either plain milk or a mixture usually made from milk, sugar, and vanilla.  There are also differences in the way that they are served. In both countries they are often served plain…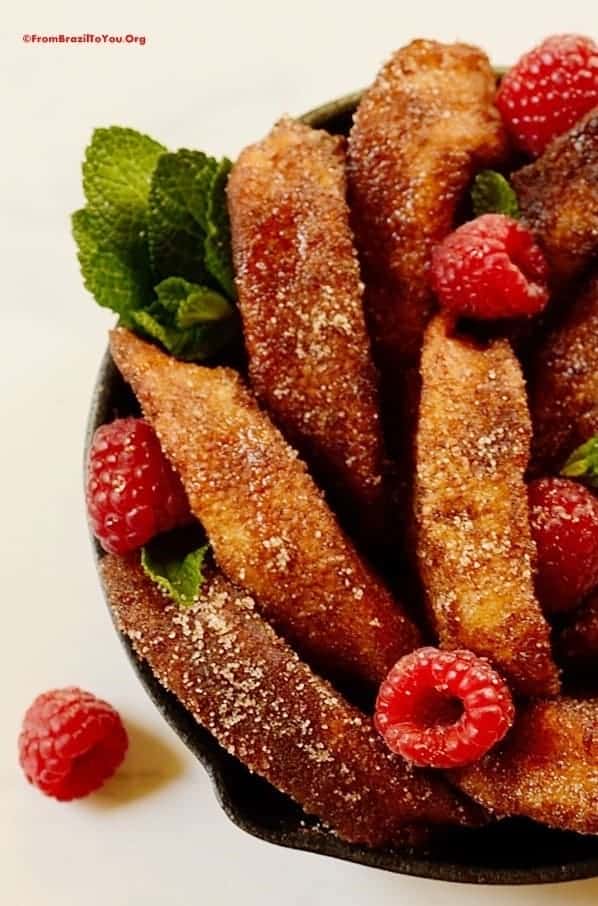 …Yet, in Minho province they may be drizzled with a wine syrup, while in my home country, they may be drizzled with honey, sugar syrup or maple syrup (xarope de bordo)…
I can still vividly remember watching my maternal Grandmother, Socorro, standing at her stove as she carefully prepared this treat.  The aroma coming from her kitchen still fills my mind with delicious memories. As an adult, I treasure all of the moments that I spent as a child in her kitchen and in her company — back then so heedless of time and the simple happiness of those moments. I would give anything to go back in time and have her hand me a slice of rabanada with that big smile on her face.
Time can be quite ruthless… that is why I have started my own memories, this time with my own children. From my grandma to me, and from me to my little ones (and hopefully to my grandchildren)… What I truly want to do is to create fond memories with my loved ones and fill them with all the happy, comforting thoughts that will stay with them even when I too have long become a memory.
From my family to yours, MERRY CHRISTMAS!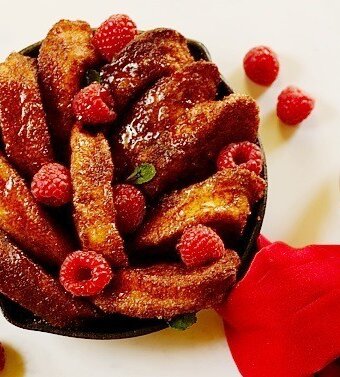 Brazilian French Toast (Rabanada)
Brazilian French Toast (rabanada) is a dessert or afternoon snack soaked in flavored milk, coated in beaten eggs, fried, and sprinkled with sugar-cinnamon. It is custardy inside and crunchy outside.
Ingredients
24

slices

stale French baguette

3/4-inch thick (about 1-½ baguettes)

2

cups

whole milk

1

tablespoons

pure vanilla extract

1/2 to 3/4

cup

granulated sugar

4

large eggs

lightly beaten and homogeneous

Vegetable oil for frying

1/2

cup

sugar

1

tablespoons

ground cinnamon

Honey or maple syrup to serve with

optional
Instructions
Line a large baking sheet with a double layer of paper towel. Set aside.

Divide bread slices between 2 large, shallow baking dishes, arranging them in one single layer each. In a jar or pitcher, mix well the milk, vanilla, and sugar. Pour milk mixture over the bread slices, distributing the liquid evenly over all the slices. Let bread slices soak for about 20 minutes, allowing it to soak up as much of the milk mixture as possible.

In a large heavy skillet, heat about 2 inches of vegetable oil over medium-high until oil is hot enough that it sizzles.

By hand, pick up each one of the milk-soaked bread slices (handling it gently) and dip it into the beaten eggs, coating both sides and allowing the excess to drip back into the egg bowl. Place the bread into the hot oil, and cook until well-browned on one side, about 1 to 1-1/2 minutes. Flip the bread and cook until both sides are golden brown. Carefully transfer rabanadas to the sheet lined with paper towels. Repeat with remaining slices of bread, cooking several simultaneously if the skillet is large enough. NOTE: Cook in batches and do not overcrowd the pan! You may have to lower the heat a bit for the next batches or cook slices in less time since temperature will be higher.

In a medium bowl, mix sugar and cinnamon together. Dredge all sides of the bread slices into mixture. Any excess cooked eggs threads can be removed before dredging bread slices into -sugar cinnamon mixture. Brazilian French toast can be served either warm or at room temperature, by itself or drizzled with honey or maple syrup. I garnished mine with berries. In Brazil, it is served as a Christmas dessert or an afternoon snack, but it can be enjoyed any time of the year! INACTIVE TIME: 20 minutes