Have you ever sought comfort in food specifically because you were missing  someone special? I know I have! Every time that I eat Caramel Flan or make Canja de Galinha (Chicken Soup), it is because I am longing for the presence of one of the most special people in my life: my Grandma Socorro!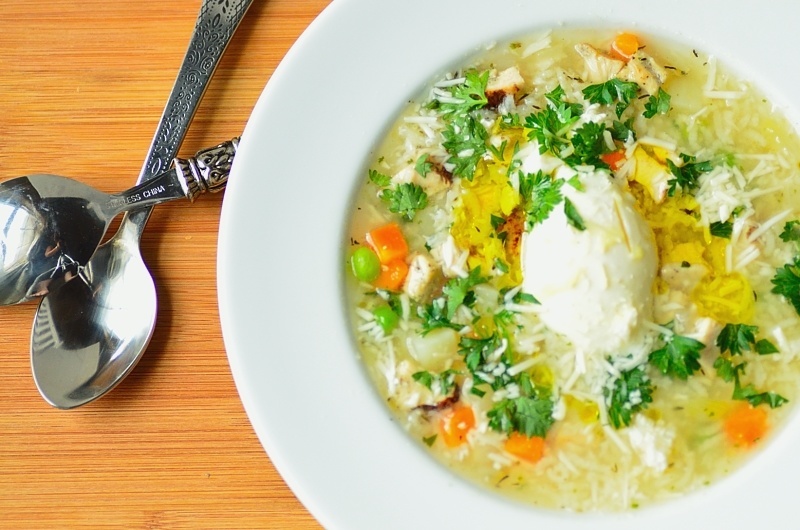 There are a multitude of reasons why she was so beloved to me...
She used to sew beautiful embroidered dresses for me, cut my hair, spoil me with presents, make me the most delicious caramel milk balls.... Ah, how could I forget the countless times that she got me out of punishments and spankings whenever I ran to her house. How handy it was to have her living nearby! 🙂  And time would fail me to tell of those unforgettable afternoon coffees every day at her house.... By simply closing my eyes, all the aromas from her kitchen seem to spring to life again.
I also will never forget how she defended me as a young adult, when after innumerable generations I became the first non-Catholic member of our family--  although she remained lifelong one of the most devout of Catholics. Such support is priceless!
Yes, she left me her handwritten recipe book and her century-old bed, although I wasn't her only grandchild, but was in fact one of her 27 grandchildren.... However, the best gift that she ever gave me was her unconditional love. Without a doubt, Vovó Socorro brightened my childhood in countless ways. You see-- how I could not miss her?! How I could not seek out the comfort of those dishes that remind me of her? As you know, a few days from now we will be celebrating Mother's Day. Although I am blessed to have a phenomenal mother, it is impossible not to also remember my grandma.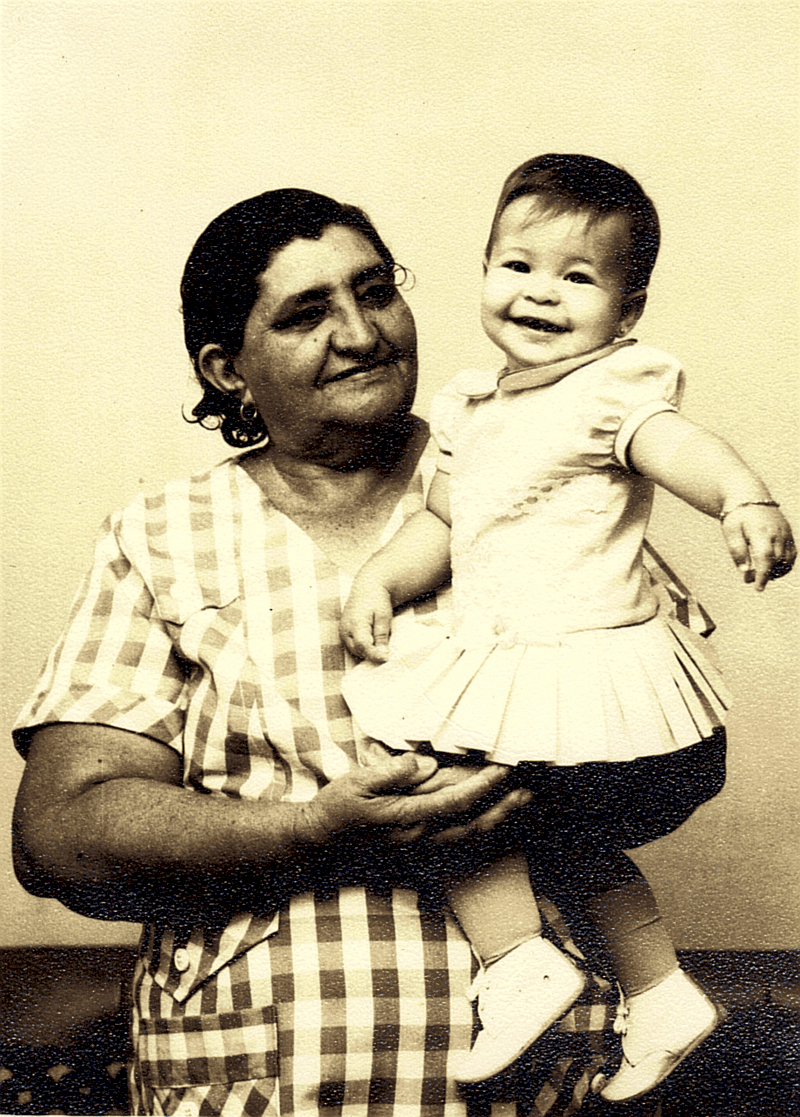 By coincidence, it is a stormy, rain-soaked night in Texas. What better than to be settled in here at home with the warm comfort of my Grandma's chicken soup?
The recipe was not of her creation, but she made it so many times that it became one of our family dishes. This was the chicken soup that she used to make whenever someone in the family was sick. I never asked her why, but can only imagine it is because the soup is so nutritious, wholesome, and comforting...
So comforting, in fact, that nothing prevented my Grandma from preparing  it at times when all of us were healthy, too. 🙂  The tradition of making this chicken soup was passed down to my mom. And as you can see, it then was passed down to me, too. Three generations (at least as far as I know)... the same simple, comforting chicken soup.
OK, I am getting more and more sentimental. Time go to the kitchen before the downpour streaming from my eyes becomes greater than the one pouring down outside....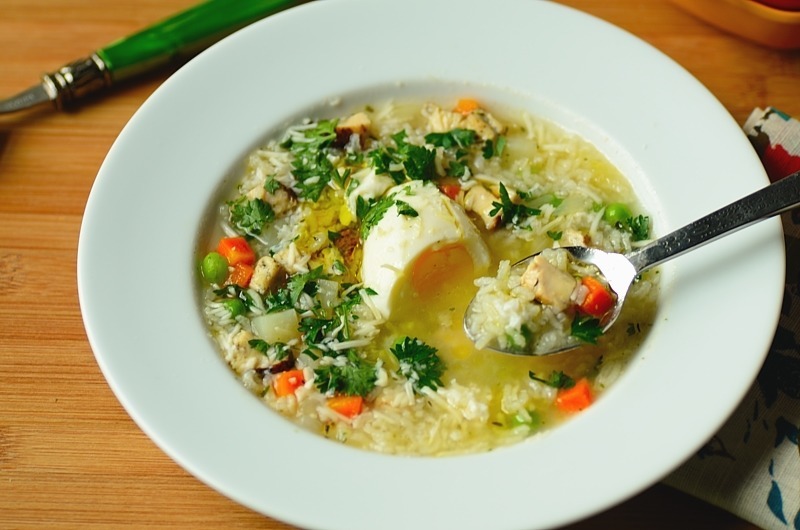 Grandma's Chicken Soup (Canja de Galinha)
Recipe of my Grandma's chicken soup with rice, eggs, and vegetables. It is a complete, nutritious, and tasty meal!
Ingredients
2

tablespoons

olive oil

1

medium yellow onion

small diced

2

garlic cloves

minced

10-½

ounces

skinless and de-boned chicken breast

cubed, 300 grams

¾

cup

raw long-grain rice

rinsed

2

tablespoons

dry white wine*

10

cups

chicken broth

¾

cup

potato

peeled and cubed

¾

cup

carrot

peeled and cubed, fresh or frozen

¾

cup

peas*

fresh or frozen

Salt and ground white pepper to taste

1

teaspoon

dried thyme*

1

bay leaf *

4 - 6

eggs

¼

cup

fresh parsley

chopped

Finely shredded Parmesan cheese to sprinkle *

optional
Instructions
Heat a medium pot over medium-high heat, add the 2 tablespoons of olive oil and sauté the onion until translucent. Add the garlic and sauté for about 20 - 30 seconds. Then, sauté the chicken breast for 2-3 minutes, stirring occasionally.

After that, add the rice and sauté for 30 seconds. Add the wine and let evaporate. Finally, add the chicken stock, the vegetables, the salt, pepper, thyme, and bay leaf. Stir.

Bring to a boil, cover the pot, reduce the heat to low, and let simmer for approximately 12 minutes. Uncover the pot, separate eggs from the shells, and add gently into the soup, letting simmer for 8 minutes (they will be firm, not soft poached). Remove the bay leaf. Serve chicken soup warm with chopped parsley sprinkled on top. This chicken soup can also be drizzled with olive oil and sprinkled with Parmesan cheese. Garlic bread makes an excellent accompaniment. Enjoy!!!
** Nutrition labels on easyanddelish.com are for educational purposes only. This info is provided as a courtesy and is only an estimate, since the nutrition content of recipes can vary based on ingredient brand or source, portion sizes, recipe changes/variations, and other factors. We suggest making your own calculations using your preferred calculator, based on which ingredients you use, or consulting with a registered dietitian to determine nutritional values more precisely.
Please note that health-focused and diet information provided on easyanddelish.com is for educational purposes and does not constitute medical advice, nor is it intended to diagnose, treat, cure, or prevent disease. Consult with your doctor or other qualified health professional prior to initiating any significant change in your diet or exercise regimen, or for any other issue necessitating medical advice.
DID YOU MAKE THIS RECIPE?
Comment and rate the recipe. Also follow us on Pinterest at @easyanddelish for more delish recipes.