Happy Cinco de Mayo... with this super duper refreshing Frozen Pineapple Mint Margarita! The drink itself is so good that it can spell 'viva', 'olé, or any other celebratory word in Spanish and many other languages. 🙂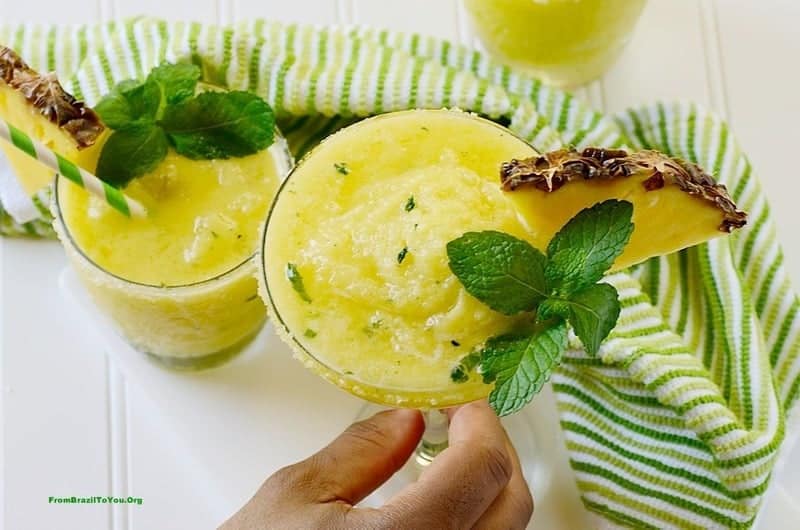 Cinco de Mayo or May 5th is a Mexican day of celebration, very popular in the USA, which commemorates the victory of the Mexican army over French forces at the Battle of Puebla-- not Mexico's Independence Day, folks! The celebration includes music, dance, great food, and of course, drinks.
You may be asking yourself what this has to do with Brazil and this blog, right? Well, besides the fact I live in the United States where the celebration is popular, nothing at all. I don't usually celebrate the date... until this year, when my fellow blogger, Kate from Hola Jalapeno, invited me and a bunch of other Latin and American bloggers to celebrate this fiesta with Margaritas. So yes, babe, it is #margaritaweek... and there is a flavor for everyone.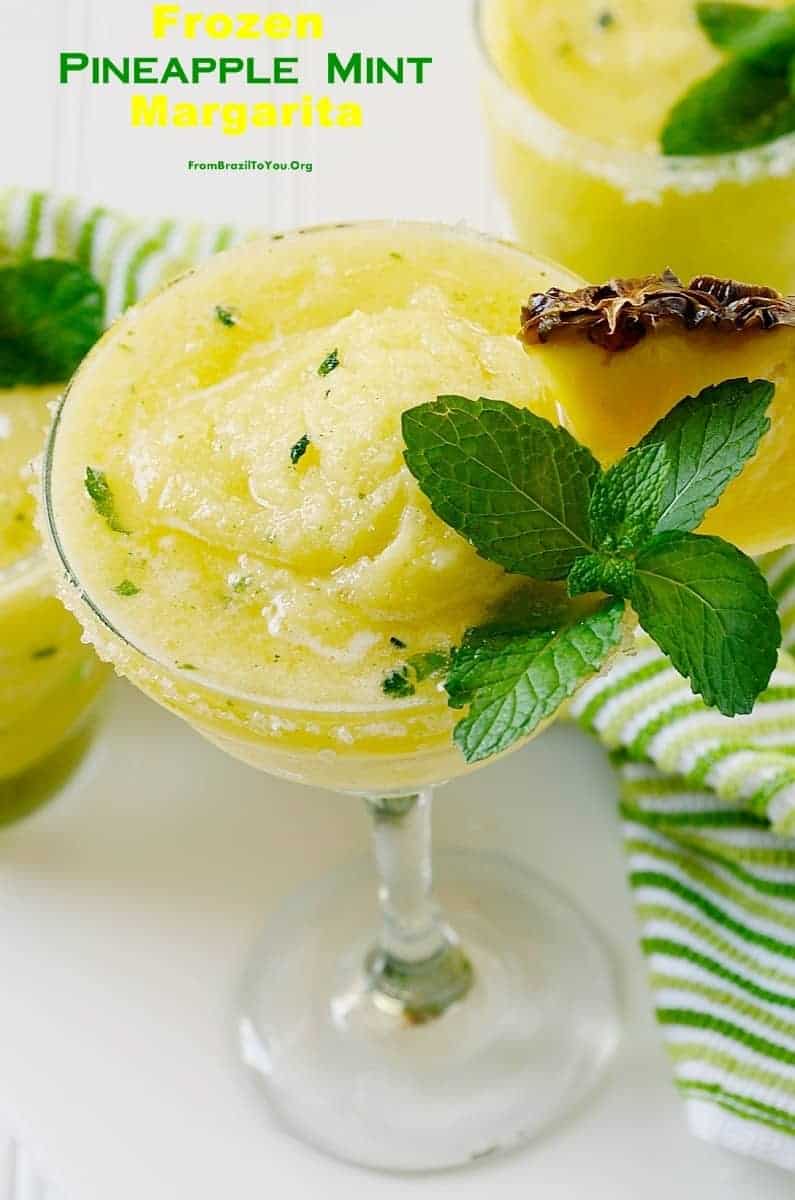 Because this Brazilian has joined the fiesta, I had to put something of Brazil in it: namely, the combination of flavors of pineapple and mint, which is very popular in Brazilian drinks, and of course, the green and yellow of the Brazilian flag.
I am celebrating with this SLUSHY Frozen Pineapple Mint Margarita made from frozen pineapple and limeade concentrate, fresh mint leaves, sugar, tequila, and lots of crushed ice -- all blended in a blender and festivel enjoyed. The contrast of sour/sweet from the drink and salt from the rim of the glass make this drink a real must-have...
... and this celebration is the perfect excuse to lift a glass full of goodness. Make it, take a sip, and experience a fiesta in your mouth.
So CHEERS!!! -- to Mexico, me, and you. 😉 Try also these Hawaiian Pineapple BBQ Meatballs.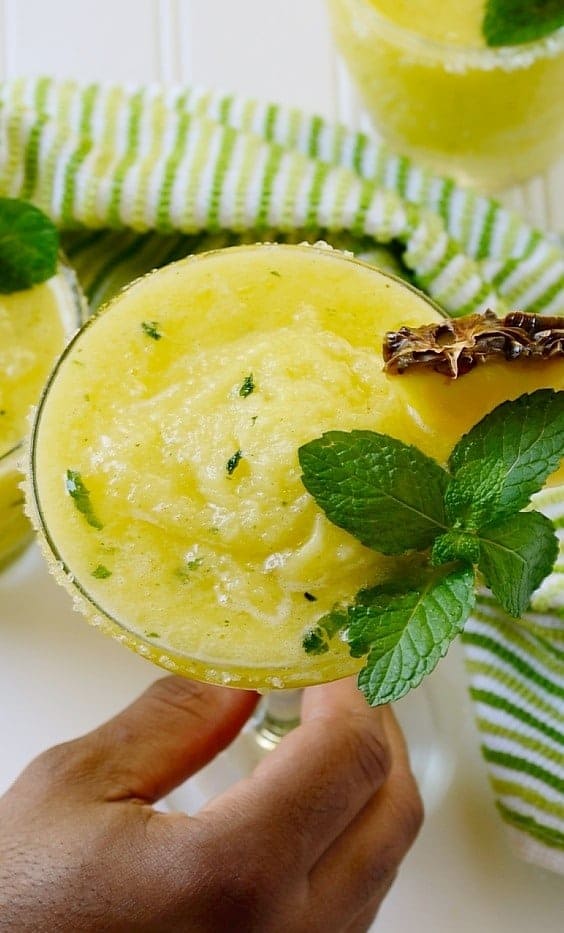 Frozen Pineapple Mint Margarita
A super refreshing and delicious slushy Frozen Pineapple Mint Margarita to celebrate 5 de Mayo in style. Cheers!
Ingredients
1

cup

frozen pineapple chunks

½

cup

frozen limeade concentrate

thawed

2-4

tablespoons

tequila

2-3

fresh mint leaves

2-3

tablespoons

sugar

Crushed ice
Instructions
In a blender, blend all ingredients together (except the ice) until obtaining a homogeneous mixture. Add the crushed ice and blend the mixture until it forms a slush. Set aside.

Pour into a glass with coarse salt around the outside rim (optional) and enjoy! It can be garnished with a quarter slice of pineapple on the rim of the glass and mint leaves. SERVES: 1-2 people depending on the size of the glass.

NOTE: To put coarse salt around the rim of the glass, pass a cut slice of lime around the rim, and then invert glass to dip and coat the moistened rim in a bowl of coarse salt. Make sure salt coats the rim well.
Recipe Notes
For a virgin version, use (flavored) sparkling water instead of tequila.
** Nutrition labels on easyanddelish.com are for educational purposes only. This info is provided as a courtesy and is only an estimate, since the nutrition content of recipes can vary based on ingredient brand or source, portion sizes, recipe changes/variations, and other factors. We suggest making your own calculations using your preferred calculator, based on which ingredients you use, or consulting with a registered dietitian to determine nutritional values more precisely.
Please note that health-focused and diet information provided on easyanddelish.com is for educational purposes and does not constitute medical advice, nor is it intended to diagnose, treat, cure, or prevent disease. Consult with your doctor or other qualified health professional prior to initiating any significant change in your diet or exercise regimen, or for any other issue necessitating medical advice.
DID YOU MAKE THIS RECIPE?
Comment and rate the recipe. Also follow us on Pinterest at @easyanddelish for more delish recipes.