Hello, my lovelies!!! I am so excited about these upcoming events: My birthday on the 6th and Brazil's independence day on the 7th. For celebrating important dates, there's nothing better than a "sweep me off my feet" treat, wouldn't you agree? No, it is not going to be a cake! It is better…much better — a Pineapple Delight Frozen Trifle, known in Brazil as Delícia de Abacaxi. Its name says all!!!
Some women don't celebrate or even mention their birthday after their 30's. Well, not me! I'll be proudly turning 41. Life is such a significant event that I believe it should be valued and celebrated every day, especially on one's special day. I also believe that every phase of our lives has its pro's. I for one have grown a lot as a person over these years and have learned many great life lessons…. There are so many wonderful people who have come into my life — my husband, my precious children, in-laws, and several friends. I have traveled, I have laughed, and cried as well. How could I be ashamed of my age? It would be like erasing part of my life. I thank God and His precious Son for the life and the many blessings that have been given to me.
I am also proud to celebrate the 191th anniversary of Brazil's independence from Portugal– a significant date for all Brazilians, no matter where they are on the globe. I have lived in the US for 11 years so far. I love this country dearly but I also love my mother country dearly, too. It gave me roots, access to a rich culture and cuisine, and most of all, a sense of belonging… it gave me identity!!! Yes, Brazil may be far-from-perfect, but it is my first home. My family is there, as well as most of my memories… Brazil lives within me!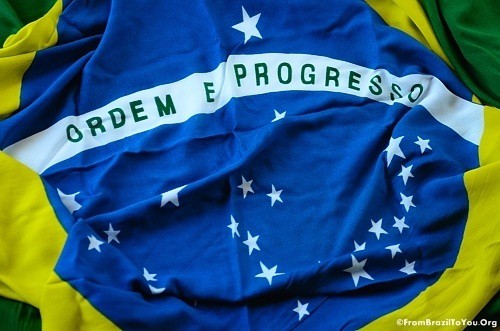 To celebrate both of these upcoming significant events in my life, I had to share with you something tropical and delightful… something very Brazilian: Pineapple Delight Frozen Trifle or Delícia de Abacaxi. Although fall is just a couple of weeks away on the calendar, there are many parts of the US where temperatures are still running high. My second home, Texas, is one of them. There's nothing like a frozen treat to refresh us, right? Well, in Brazil there are two ways to serve Pineapple Delight Trifle: 1) chilled (most often) or 2) frozen. I love both, but I do prefer the frozen trifle a little more because it is more refreshing, and all of its wonderful flavors are concentrated. Although frozen, the Pineapple Delight Trifle is still creamy.
Pineapple Delight Frozen Trifle is a celebration all its own. Make this trifle and you'll know exactly what I mean. Thank you for stopping by on these two days that are so special to me. I do appreciate it!!! Happy B-day to me, but most of all: Happy Independence Day, Brazil!
xx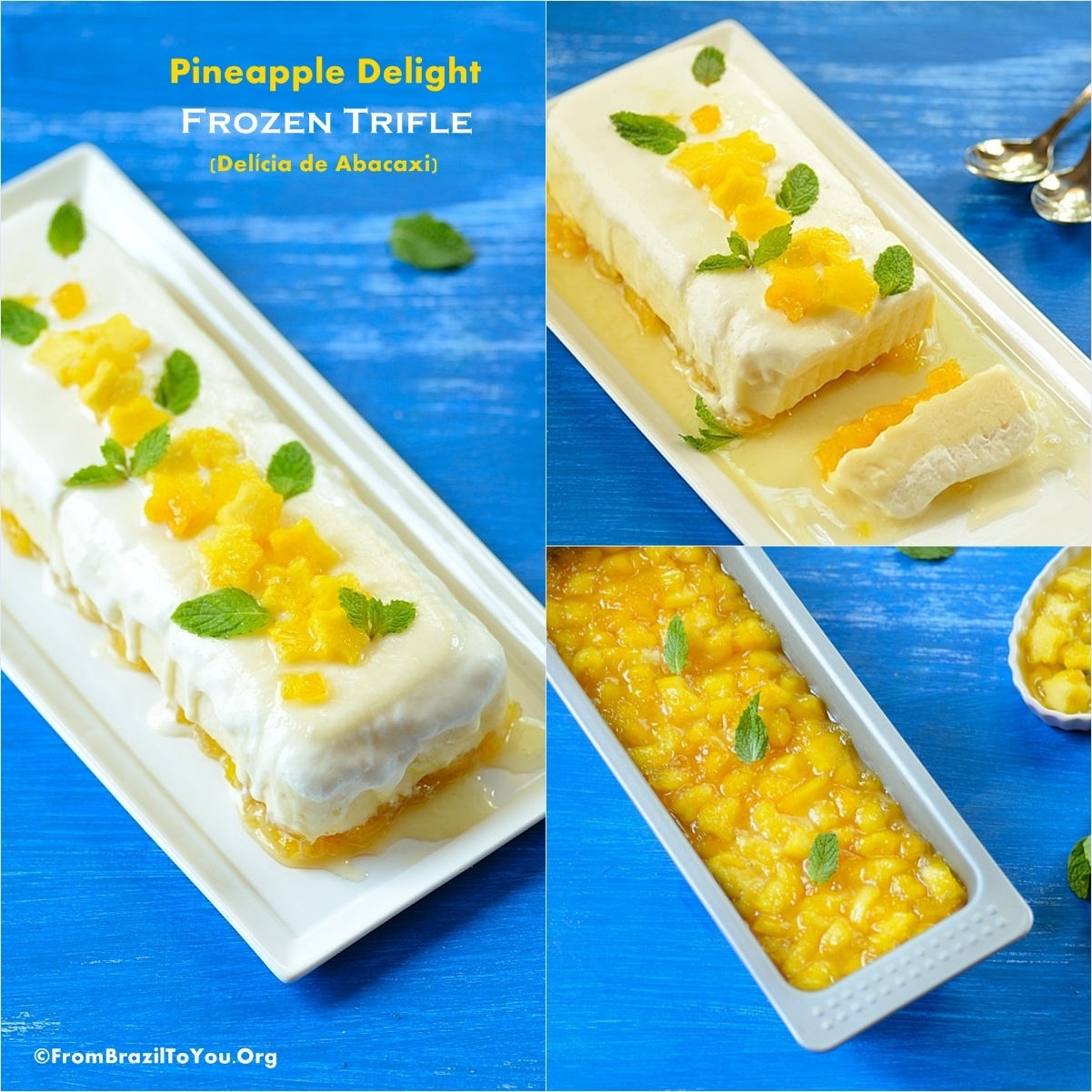 Pineapple Delight Frozen Trifle (Delícia de Abacaxi)
A gorgeous and refreshing tropical frozen trifle...Its name says all!
Ingredients
For the Pineapple Compote:

1

medium fresh pineapple

medium cubed

1-1/4

cups

granulated sugar or light brown sugar

I used granulated in mine

1-1/2

cups

water

1

cinnamon stick

For the Custard Cream:

1

can

sweet condensed milk

14 oz or 396 g

2

measures whole milk

use the condensed milk can to measure the milk

1

tablespoon

plus 2 teaspoons corn starch

3

large egg yolks

1

tablespoon

pure vanilla extract or 1 vanilla bean

split in half and seeds scraped out (I used vanilla bean in mine)

For the Chantilly Cream:

3

egg whites

1/4

cup

sugar

1/4

cup

heavy cream*

1/4

teaspoon

pure vanilla extract
Instructions
To make the pineapple compote:

Mix together cubed pineapple, sugar, water, and cinnamon stick in a medium saucepan, and cook over medium-high heat for about 30-35 minutes, stirring occasionally, or until pineapple becomes tender, lightly golden brown, and water nearly evaporates (my compote was prepared on the large stove-top burner. If you are cooking on a smaller burner, it will take about double the time mentioned above to fully cook). Near the end of the cooking process, keep a close eye on the compote to prevent burning, since the liquid will have almost evaporated (leave about 1/4 cup of liquid for use later in the recipe). Remove from heat and let cool completely.

To make the custard cream:

Dissolve the cornstarch well in about 3 tablespoons of whole milk. Fill the measuring can with the remaining amount of milk and pour the milk and dissolved cornstarch into a medium stainless steel saucepan. (Since the mixture will be whisked, please do not use an aluminum saucepan since the whisk will scratch the bottom of the aluminum pan, causing chemical contamination as well as altering the color of the mixture). Then, stir in the condensed milk, egg yolks, and vanilla bean seeds (if you are making yours with vanilla extract, add it to the mixture when it is cooked and just about to be removed from the heat). Whisk the mixture over medium heat for about 8-10 minutes or until it just starts to thicken. Then, reduce heat to medium-low and use a wood spoon to continue stirring the mixture for about 4-5 minutes, resulting in a creamy and thickened mixture (yet thinner than a typical cake batter). Again, my mixture was cooked on a large burner. If you are using a small burner to cook this mixture, it will take almost double of the amount of time given above. Remove from the heat, transfer custard cream to a glass container, place a sheet of plastic wrap right on the top of the custard cream (touching the custard), and let cool down on a rack (the plastic wrap will prevent a skin from forming on top of the custard). When mixture cools completely, its texture will be quite thick and creamy, similar to a pastry cream.

To make the chantilly cream

: Using the egg whisker of an electric mixer, beat egg whites on high speed until stiff, about 2 minutes. Add the sugar and beat for about 30 seconds on medium speed. Then, add both the heavy cream and vanilla extract, and beat for about 15 seconds on low speed.

To assemble the trifle:

In a standard-size loaf baking pan, pour in the Chantilly cream in an even layer. Freeze with the pan sitting on a even surface or shelf for about 45 minutes. Remove from the freezer, and pour custard cream on top in an even layer. Freeze for about 45-60 minutes. Then, remove from the freezer, take cinnamon stick out of the pineapple compote, and using a slotted spoon, spoon the cooked pineapple cubes evenly over the dessert, making sure that almost no liquid is spooned onto the loaf pan. Reserve about 1/4 of the liquid in the refrigerator. Cover pan with plastic wrap and freeze trifle for at least 24 hours. Right before serving, unmold frozen trifle and let soften for about 4-5 minutes at room temperature. Drizzle a little bit of the reserved refrigerated pineapple liquid on top of the trifle if desired, decorate as you wish, and slice to serve. Enjoy!
DID YOU MAKE THIS RECIPE?
Comment and rate the recipe. Also follow us on Pinterest at @easyanddelish for more delish recipes.