To me, nothing screams summer like thirst-quenching tropical drinks and grilled foods... "So why not to combine two of my faves into one?" I thought. 🙂 A super-refreshing and tasty Sparkling Pineapple Mint Juice garnished with Grilled Pineapple was exactly what I prepared and enjoyed with my family recently. We loved it so much that I had to share it with you. Folks, this is more than a drink... It's a drink with eats! 🙂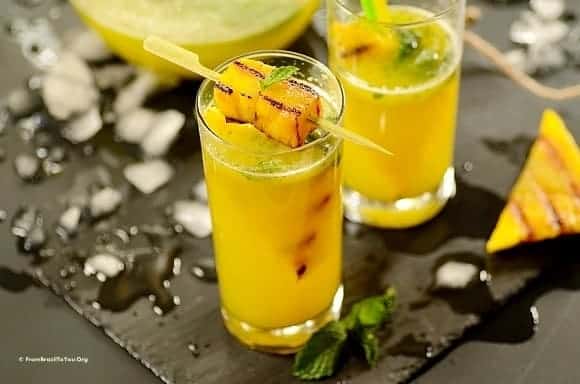 The combination of pineapple...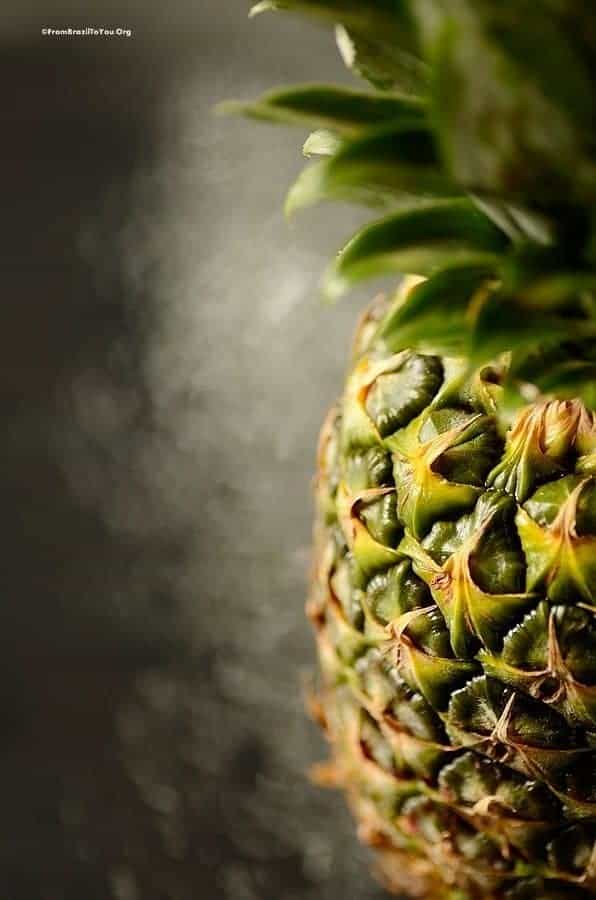 ...and mint is not new.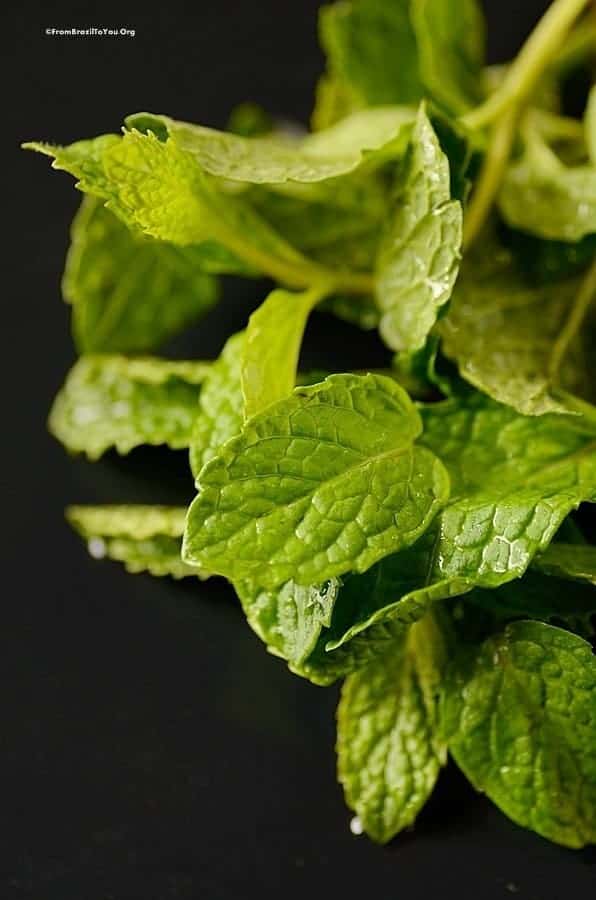 In Brazilian cuisine, it is commonly used in teas, popsicles and ice cream, beverages and alcoholic drinks, and the list goes on and on. In fact, I used this pineapple-mint combo of flavors as an inspiration for our beverage for today.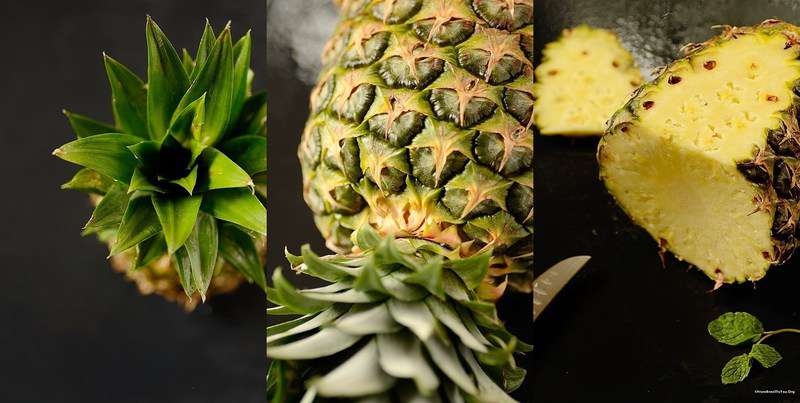 The difference is, I used sparkling water instead of regular water, and garnished our drink with grilled pineapple...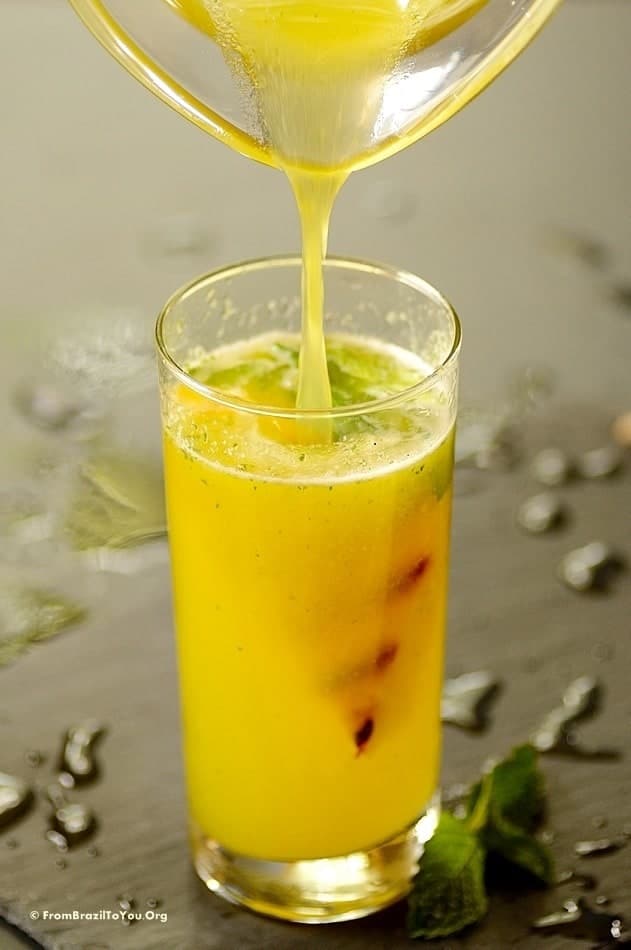 ... these few simple touches created a delicious summer drink with a creative presentation. You can have our sparkling pineapple mint juice as it is, or transform it into a cocktail drink by adding a bit of cachaça, white rum, vodka, or white wine. If you are not a fan of sparkling water, you can use regular water instead-- as we do in Brazil. It's really up to you.
Our sparkling pineapple mint juice is great for parties, get-togethers, BBQ's, and other casual events... or just to enjoy for no reason at all! It's something to drink and nibble on all at once.
Make it, enjoy, and have an awesome summer!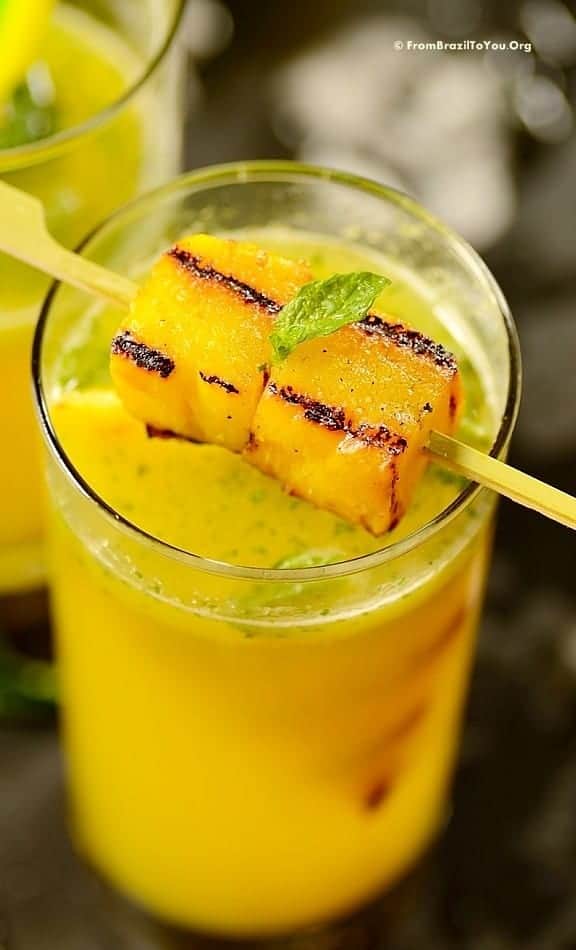 Sparkling Pineapple-Mint Juice with Grilled Pineapple
This sparkling pineapple mint juice is a refreshing and tasty summer drink that can be accompanied by grilled pineapple. A drink with eats!
Ingredients
1

large fresh ripe pineapple

peeled, cored, and cut mostly into chunks/cubes (reserve about 8 to 12 cubes and 4 to 6 small to medium triangles to garnish the drink)

6

cups

chilled sparkling water

(if desired, use regular water)

10

leaves

fresh mint

large leaves (plus more to garnish)

1½

cups

white granulated sugar

Crushed ice
Instructions
Reserve about 8 to 12 cubes and 4 to 6 small to medium triangles to grill and garnish the drink if desired. In a blender, blend together the remaining pineapple chunks, sparkling water or regular water, mint leaves, and sugar until obtaining a smooth mixture. Strain the mixture, place into a pitcher with as much crushed ice as desired, and garnish with mint leaves and grilled pineapple triangles. The grilled pineapple cubes can be inserted by two's onto picks to garnish the top of each of the 4-6 glasses, as shown in the pictures.

To grill the pineapple, brush a hot griddle with vegetable oil and grill both the reserved pineapple chunks and triangles on all sides until grill marks appear, about 1 ½ to 2 minutes per side. Let cool down and garnish the drink.
** Nutrition labels on easyanddelish.com are for educational purposes only. This info is provided as a courtesy and is only an estimate, since the nutrition content of recipes can vary based on ingredient brand or source, portion sizes, recipe changes/variations, and other factors. We suggest making your own calculations using your preferred calculator, based on which ingredients you use, or consulting with a registered dietitian to determine nutritional values more precisely.
Please note that health-focused and diet information provided on easyanddelish.com is for educational purposes and does not constitute medical advice, nor is it intended to diagnose, treat, cure, or prevent disease. Consult with your doctor or other qualified health professional prior to initiating any significant change in your diet or exercise regimen, or for any other issue necessitating medical advice.
DID YOU MAKE THIS RECIPE?
Comment and rate the recipe. Also follow us on Pinterest at @easyanddelish for more delish recipes.