The Olympic Games will take place between August 5 and 21 in Rio de Janeiro, Brazil! For two weeks, athletes from 207 countries from around the world will be competing for a gold medal in 28 different sporting events. And we will be cheering for our favorite team(s) with this super refreshing Creamy Pineapple Coconut Cocktail, known as a Batida de Abacaxi com Coco in Portuguese... a winning drink typical of the host state of this year's Summer Olympics.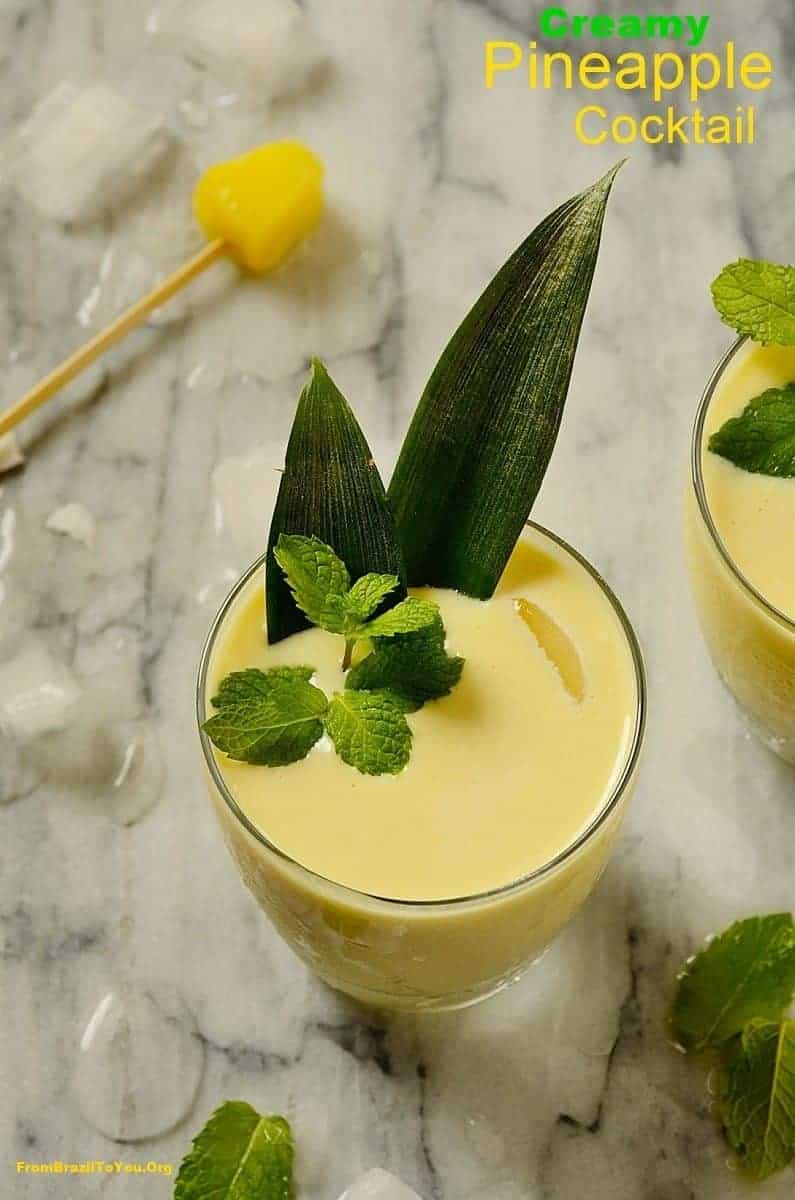 Batida means 'shaken' or 'milkshake' and is a Brazilian cocktail made from a blend of one or more fruits of your choice, sweetened condensed milk, ice, and cachaça -- Brazil's national distilled spirit. Our pineapple coconut cocktail incorporates frozen pineapple chunks, coconut milk, sweetened condensed milk, cachaça, and ice... all blended smooth in a blender. Vodka can be used instead of cachaça, which has limited availability outside of Brazil. In fact, if you prefer cocktails on the lighter side, use vodka to replace that Brazilian alcoholic spirit.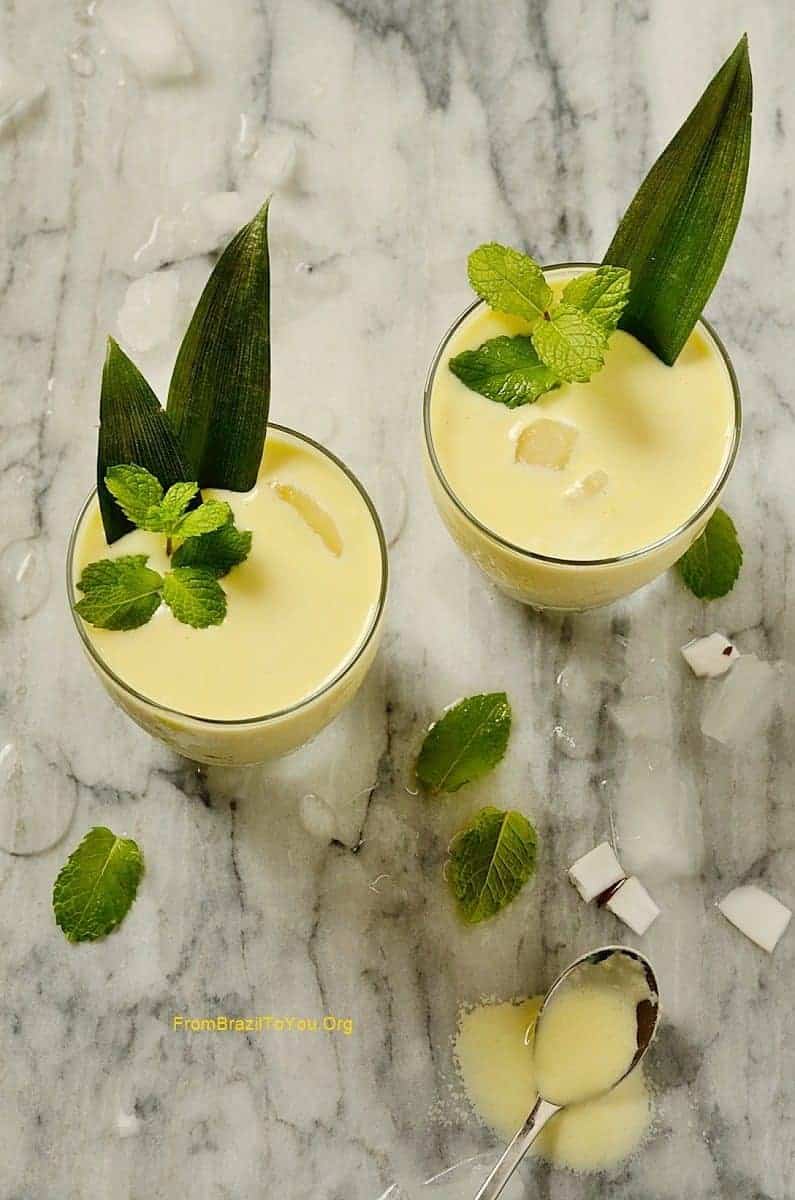 Sipping this pineapple coconut cocktail is like drinking an adult tropical milkshake. It is fruity, creamy, smooth, sassy, and so delicious! 😉 Batidas (plural for batida) are a staple in the bars of both Rio de Janeiro and São Paulo, and they are available in many different flavors -- such as lemon, passion fruit, coconut, guava, mango, and pineapple. Many exotic fruit combinations are served too -- such as pineapple coconut.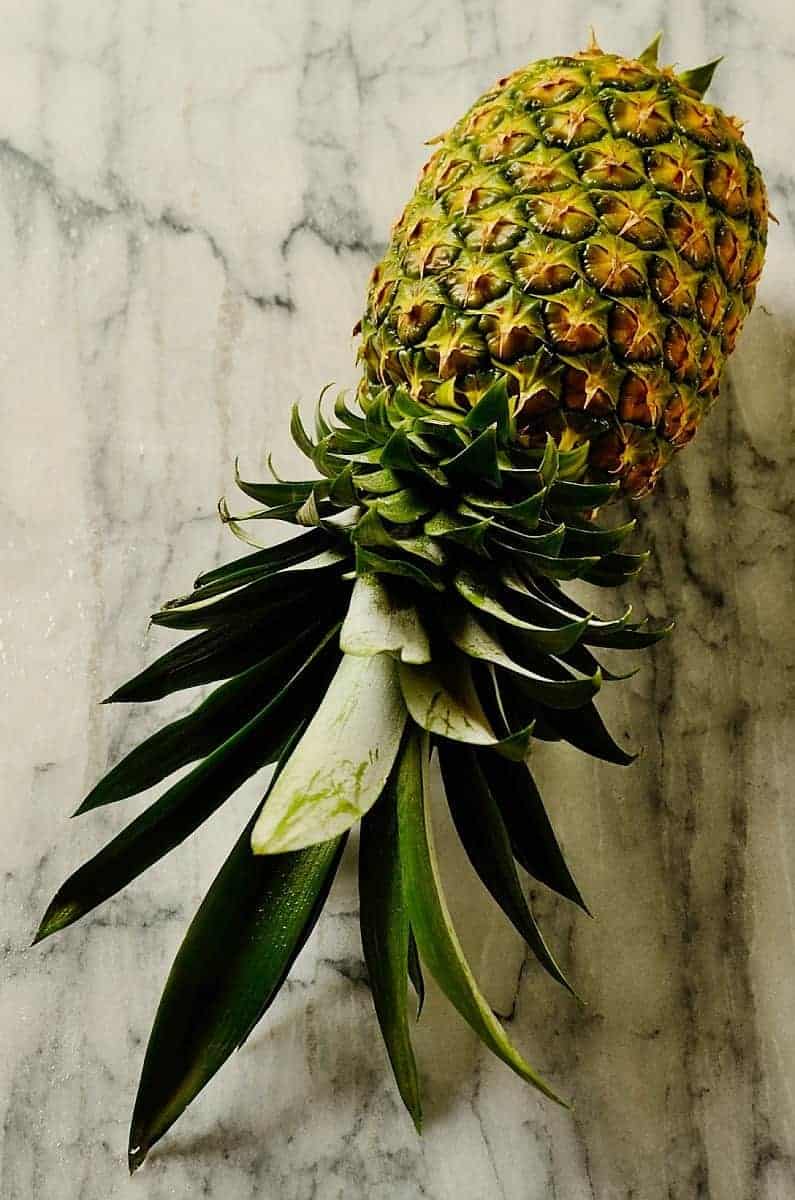 Batida has not spread in Brazil to the same extent as other drinks like the caipirinha but it is appreciated enough to sometimes replace caipirinha when serving feijoada, a black bean and pork stew considered Brazil's national dish.
One interesting thing is that the word batida also means a "crash," and is the usual term to refer to a car crash. The drink can be quite amazing, but due to its alcoholic content must be ingested cautiously -- it could make you crash on a bench or something worse. The word can also refer to a musical beat -- and the drink may get you shaking to its delicious tropical feel, too. 😉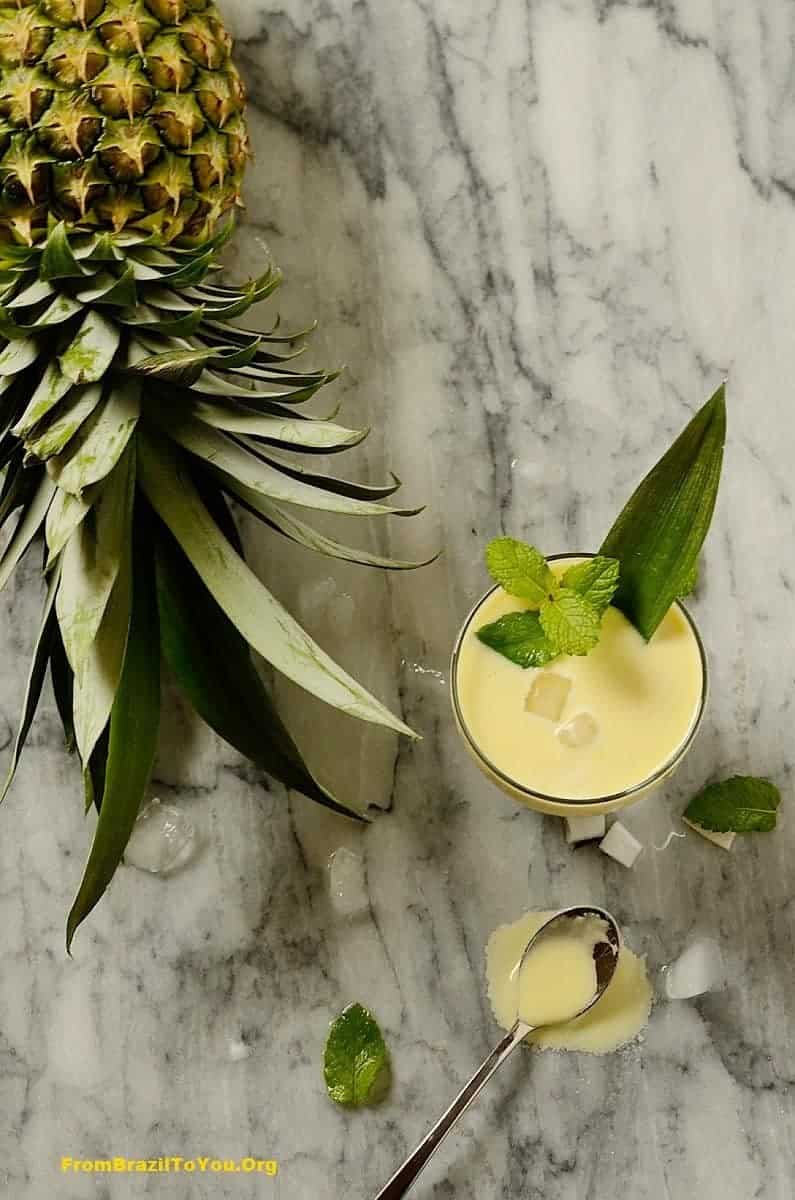 If you plan on traveling to attend this summer's Olympic Games in Rio,  while you are there you can't miss out on having this Rio de Janeiran (Carioca) special treat-- and if you aren't traveling to the Games, no worries! You can still raise your glass and celebrate your team with this happy pineapple coconut cocktail. Cheers!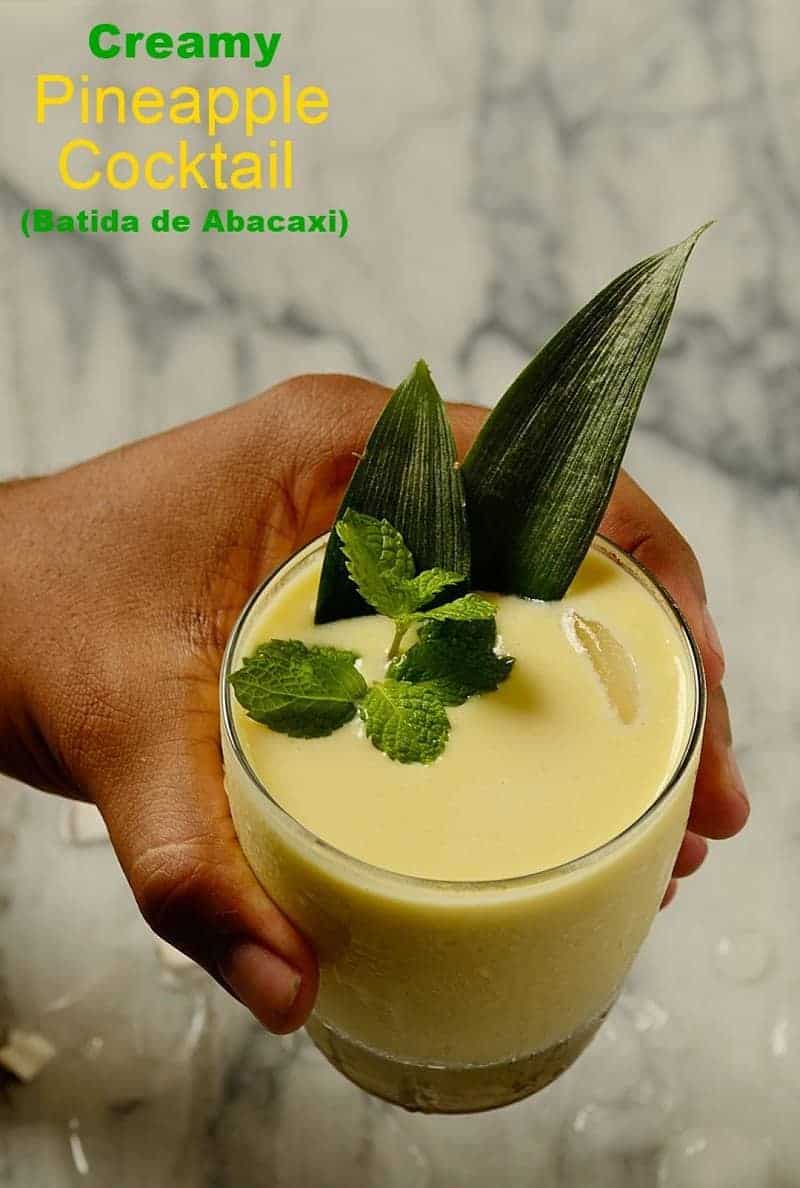 Creamy Pineapple Coconut Cocktail (Batida de Abacaxi com Coco)
A traditional Brazilian alcoholic milkshake-like drink made from a blend of pineapple chunks, coconut milk, sweetened condensed milk, ice, and cachaça ( or vodka).
Ingredients
2

cups

frozen pineapple chunks

½

cup

canned coconut milk

1

can

sweetened condensed milk

14 oz

¼

cup

cachaça

or vodka

Ice
Instructions
Combine all the ingredients in a blender and blend until smooth and creamy. Pour into ice-filled glasses and serve immediately.
Recipe Notes
If you would like to, you can add ¼ cup granulated sugar for more sweetness. It is very important for this pineapple coconut cocktail to be served immediately in order for it not to become bitter.
For a virgin version, replace the cachaça /vodka with sparkling water.
** Nutrition labels on easyanddelish.com are for educational purposes only. This info is provided as a courtesy and is only an estimate, since the nutrition content of recipes can vary based on ingredient brand or source, portion sizes, recipe changes/variations, and other factors. We suggest making your own calculations using your preferred calculator, based on which ingredients you use, or consulting with a registered dietitian to determine nutritional values more precisely.
Please note that health-focused and diet information provided on easyanddelish.com is for educational purposes and does not constitute medical advice, nor is it intended to diagnose, treat, cure, or prevent disease. Consult with your doctor or other qualified health professional prior to initiating any significant change in your diet or exercise regimen, or for any other issue necessitating medical advice.
DID YOU MAKE THIS RECIPE?
Comment and rate the recipe. Also follow us on Pinterest at @easyanddelish for more delish recipes.