Lately I have been trying to cool off the warm late spring days by drinking lots of water and healthy iced beverages. One of my definite favorites is Homemade Pineapple-Mint Iced Tea. Living in the southern US, iced tea appears on every single restaurant menu-- an absolute must.... and I've got my own version, inspired by a traditional combination of  flavors which is very popular in my home country, Brazil: pineapple and mint!!!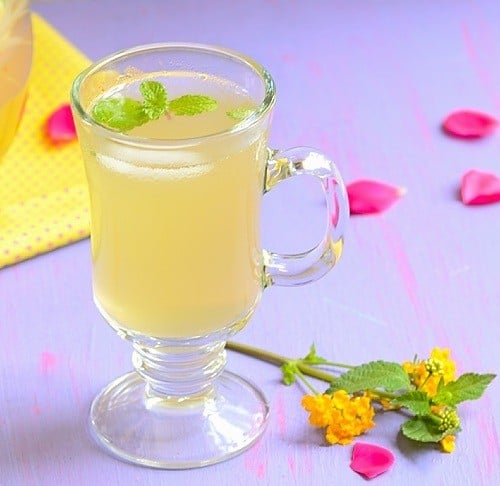 This flavor is widely commercialized in teas there. Since it is not so easy to find in prepared boxed teas here, I took matters into my own hands and came up with my own recipe, which can be enjoyed either hot or iced, depending upon the weather and/or  personal preferences.
This recipe is quite simple and very economical, since it is made mostly using pineapple peels. The pulp can be used to make such treats as Pineapple-Mint Popsicles, Tropical Salad , Piña Colada Cheesecake Smoothie, and Brazilian-Style Fruit Salad. This tea contains antioxidants and aids the digestive process.
All that you will need is to do is basically to boil a couple of pineapple slices, their peels, a few fresh mint leaves, and one cinnamon stick. It can be sweetened either with sugar or sugar substitute. How easy is that?!
I hope you make and enjoy this ultimate summer beverage!!!
xx
Homemade Pineapple-Mint Iced Tea
Yield: About 2 quarts (Almost 2 liters)
Segment: Brazilian cuisine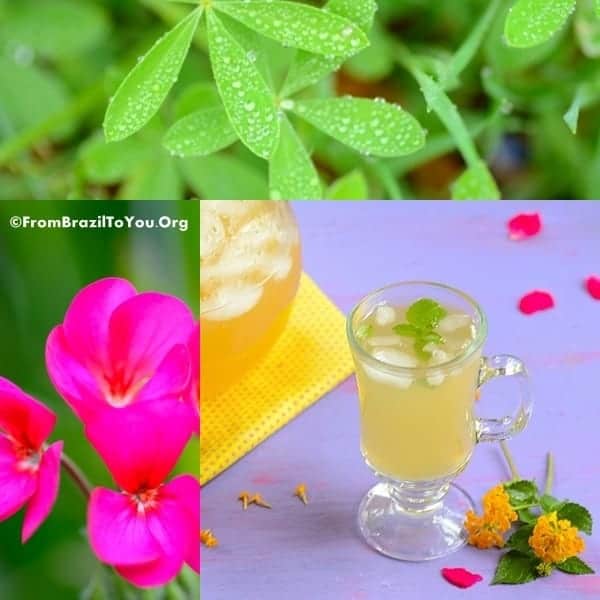 Ingredients:
Peels of one pineapple, washed
2 slices of pineapple, cut into chunks
2 quarts/liters of water
1 cinnamon stick
8 fresh mint leaves
Sugar, honey, or sugar substitute to taste
Directions:
1. Place both the pineapple peels and chunks, water, and cinnamon stick  in a saucepan and bring to a boil over medium-high heat. Let cook for about 25-30 minutes.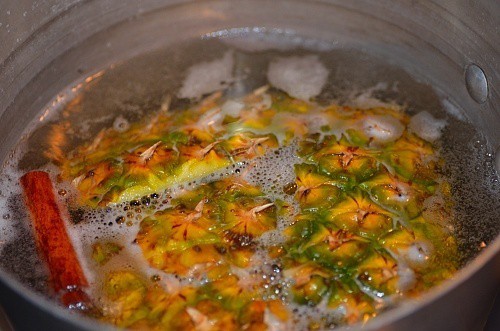 2. Then, turn off the heat and add the mint leaves. Cover and let sit for approximately 15-20 minutes. Strain the mixture. Discard everything except the pineapple chunks and boiled liquid!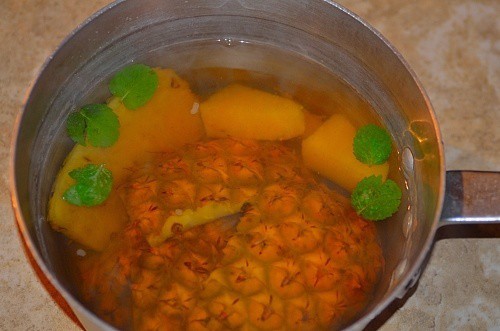 3. In a blender, blend the pineapple chunks with 1 cup of the boiled, strained liquid. Strain and stir it into the remaining boiled, strained liquid. Sweeten with sugar, honey, or sugar substitute to taste. Let cool down and refrigerate for at least 2 hours. Add ice and serve.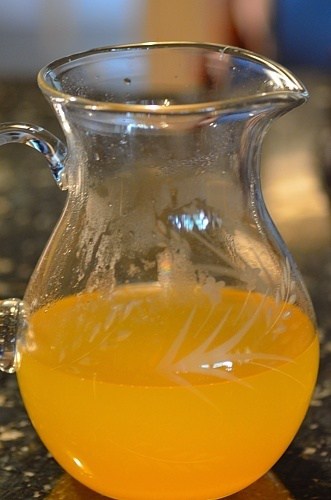 NEVER MISS A YUMMY RECIPE. SUBSCRIBE BY EMAIL: