It is SRC- Secret Recipe Club day, and also officially the first day of autumn, my favorite season…  As you can imagine, I am as happy as can be!!!  I will be sharing with you a seasonal, guilt-free yet mouthwatering recipe: Apple Cider Baked Donuts with Maple Glaze.  I have had these apple cider baked donuts for both breakfast and an afternoon treat… Oh, if you could only see the smile on my face — and my children's faces as well!!!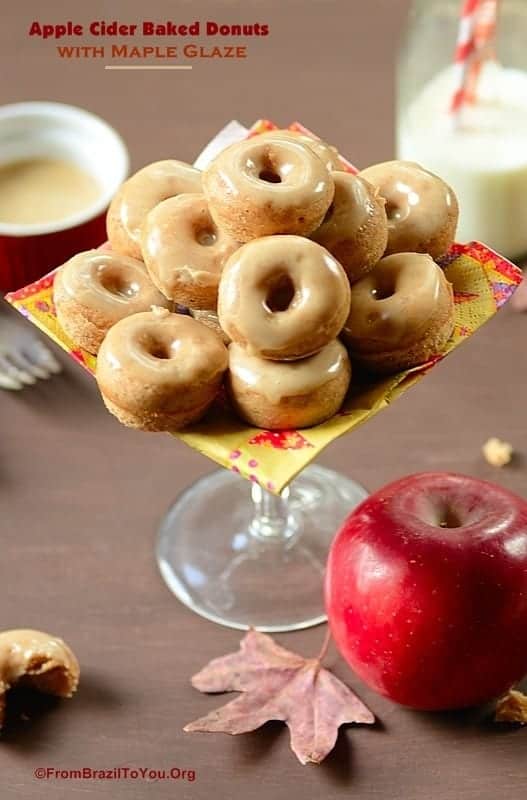 The recipe for these apple cider baked donuts has been adapted from Apple Cider and Cinnamon Baked Donuts by We Heart Vegan, the delicious vegan blog that I have been assigned for this month.  I confess that vegan cuisine is something that I only came to learn about in culinary school, not something that I live by day to day.  But the few vegan dishes that I have tried so far, I liked a lot.  How better to learn more about this diet and philosophy on life than with Brittany, author of  We Heart Vegan.  She has a bachelor of science degree in food and nutrition and a mission to educate others on how "good vegan food can not only be healthy but also cheap and appealing to everyone."  I highly recommend her blog!  It was a difficult task for me to choose only one from among so many superb recipes.
Because I did not have coconut flour, egg replacer, and vegan butter in my pantry and fridge, I had to replace them with all-purpose flour, real eggs, and unsalted butter.  Instead of  tossing these baked donuts in a premixed mixture of cinnamon and sugar as Brittany did, I drizzled them with maple glaze.  Of course, you are welcome to try both my apple cider baked donuts with maple glaze or Brittany's vegan apple cider and cinnamon baked donuts.  Although my donuts are not vegan, they are guilt-free (small and baked which means they are both lower in calories and less fattening). I'd love to have your feedback!! For many other treats, visit the blogs featuring our SRC recipes below.
Enjoy the marvelous autumn season and many of our fall goodies such as these Apple Cider Baked Donuts and our Candied Sweet Potatoes Cupcakes with Toasted Marshmallow Topping.
Happy Fall!!!
xx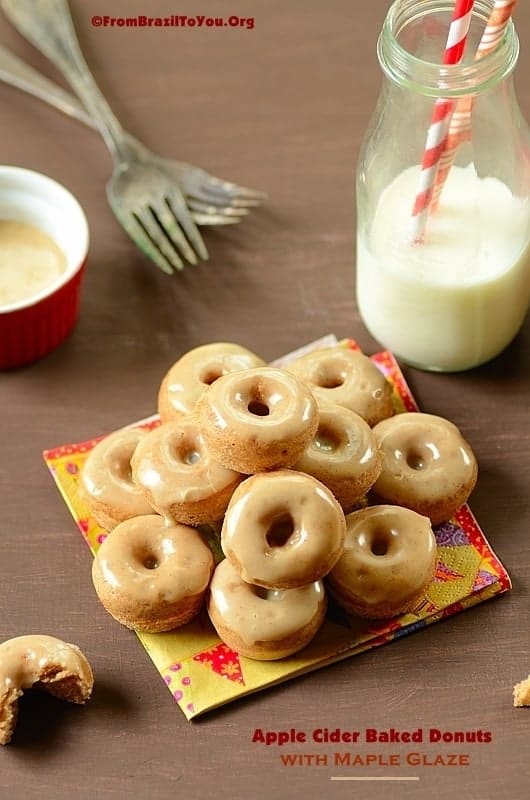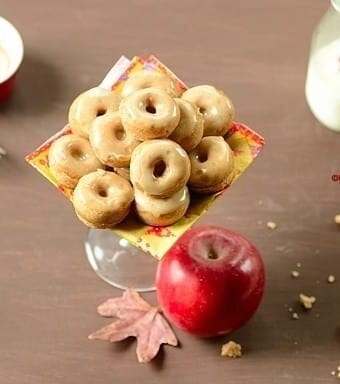 Guilt-Free Apple Cider Baked Donuts with Maple Glaze
Delicious, guilt-free mini baked donuts which are both easy and quick to prepare.
Ingredients
For the Apple Cider Baked Donuts:

1

cup

and 2 tablespoons all-purpose flour

1-1/2

teaspoons

baking powder

1/4 - 1/2

teaspoon

sea salt

2

teaspoons

ground cinnamon

1

large egg

at room temperature

1/2

cup

fresh apple cider

1/2

cup

sugar

1/2

teaspoon

apple cider vinegar

1

teaspoon

pure vanilla extract

4

tablespoons

unsalted butter

For the Maple Glaze:

1-1/4

cups

confectioner's sugar

3

tablespoons

pure maple syrup

1

tablespoon

dark corn syrup or Karo

1/2

tablespoon

water

1/4

teaspoon

ground cinnamon

1/4

teaspoon

maple flavoring

optional
Instructions
Preheat oven to 350 º F (177 º C).

In a medium mixing bowl, whisk together the flour, baking powder, sea salt, and cinnamon. In a small separate bowl, whisk the egg. Set both aside.

In a small saucepan over medium-low heat, combine the apple cider, sugar and butter, stirring continuously until butter has just melted. Remove from heat, let cool for 2 minutes, and stir in the apple cider vinegar, vanilla, and whisked egg. Slowly pour the wet ingredients into the dry; stir well with a whisker until combined and almost no lumps are visible.

Using a tablespoon or a cookie scooper, spoon/scoop batter into a donut pan (3/4 full). Bake in the oven for 12-14 minutes (standard-size, yielding about 6 donuts) or for 6-7 minutes (mini baked donuts, yielding about 26), or until light brown and cooked through. Let cool for 2-3 minutes on a rack. Then, remove baked donuts from pan and place them directly on a rack to cool completely before dipping into glaze.

For the Maple Glaze:

Whisk everything together in a small bowl until smooth. Set rack of donuts over a baking sheet lined with parchment paper. Dip the top of the baked donuts into the maple glaze, turning to coat well. Let baked donuts rest on rack until glaze sets.