Christmas breakfast is a tradition at my house...And this Emeril's Savory Bread Pudding is perfect for the occasion!
After opening our presents, we sit down together to enjoy the food and chat. I like to prepare our breakfast the night before and have it ready to bake while we open the presents. It saves me time and hassle so that I can enjoy my children's smile when they open their presents. This savory bread pudding is the breakfast casserole that I will prepare for my family. Every year, I try a different recipe but this time we will be enjoying this Savory Bread Pudding -- which will be the last Christmas recipe presented here for this year.
I tried the original version several months ago and got hooked. It was a huge success at a class breakfast at my church as well. I have to say that Chef Emeril Lagasse, who is also of Portuguese heritage,  did a phenomenal job on this savory bread pudding.
As always, I had to share it with you. But I have to confess that I have modified his original savory bread pudding recipe a bit in order to "brazilianize" it. 🙂   Yes, yes, you know... Brazil lives in my heart!!! Well,  I cut down the amount from 8 to 4 servings and exchanged a few ingredients. Instead of Canadian bacon and a simple hot sausage, I used regular bacon and a spicy Portuguese chouriço sausage, respectively. I also substituted mozzarella cheese for Gouda, and French bread for croissant. The seasonings were adapted as well.
Whichever version (the original or the new savory bread pudding recipe) that you choose, it's a win-win game. Trust me!!! This savory bread pudding  is the perfect recipe for your Christmas breakfast or simply for putting your ham leftovers to good use.
Enjoy our savory bread pudding and Merry Christmas!!!
xx
Savory Breakfast Pudding
(Loosely adapted from Emeril's Savory Breakfast Pudding)
Serves 4
Segment: From My Table To Yours
Ingredients:
2 tablespoons olive oil
½  medium yellow onion, finely chopped
½ medium green bell pepper, finely chopped
½  medium red or yellow bell pepper, finely chopped
1 garlic clove, minced
2 tablespoons fresh parsley or cilantro, minced
3-½ ounces (100 g) smoked bacon, chopped (or you can use your ham leftovers instead)
3-½ ounces (100 g) hot sausage (e.g. Portuguese hot chouriço), chopped
4 large eggs, at room temperature
1-½ cups whole milk
½ cup heavy cream
½ teaspoon salt
⅛ teaspoon freshly ground black pepper
⅛ teaspoon ground cumin
½ teaspoon Knorr Chicken Bouillon (powder)
4 cups stale French bread, cubed**
4 ounces (about 110 g) mozzarella cheese (about 1 cup), shredded
¼ cup fine dry breadcrumbs
¼ cup Parmesan cheese, freshly grated
1 tablespoon unsalted butter, melted
** For a gluten-free version, use a gluten-free bread instead.
Directions:
1. Preheat the oven to 350°F (180°C). Lightly grease a medium baking dish with butter (or non-stick cooking spray) and set aside.
2. In a medium skillet, heat 1-½ tablespoons of olive oil over medium-high heat. Add the onions and the green and red bell peppers; cook, stirring, until softened (about 3 minutes). Add the garlic and cook, stirring, until fragrant, approximately 30 seconds. Add the parsley, stir, and remove from the heat. Let cool.
3. In a medium skillet, melt the remaining ½ tablespoon of oil over medium-high heat. Add the bacon and cook, stirring, for 3 minutes. Drain on paper towels. Add the sausage to the skillet and cook, stirring, until browned, about 5 minutes. Drain on paper towels.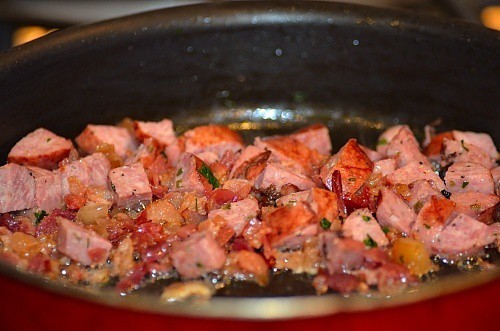 4. In a medium bowl, beat the eggs. Add the milk, cream, salt, pepper, cumin, chicken bouillon, and whisk to combine. Add the cubed bread and let sit for about 5 minutes.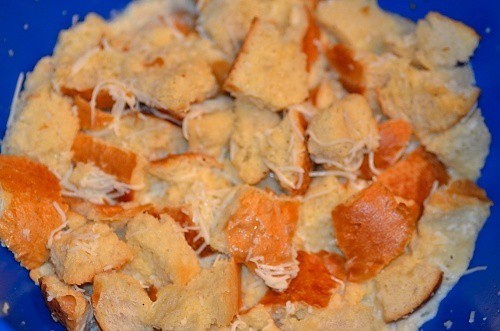 5. Add the cooked bacon and sausage, the onion mixture, and the mozzarella cheese. Stir to incorporate the ingredients. Pour into the prepared dish, cover with aluminum foil, and bake until almost completely set (about 35-40 minutes).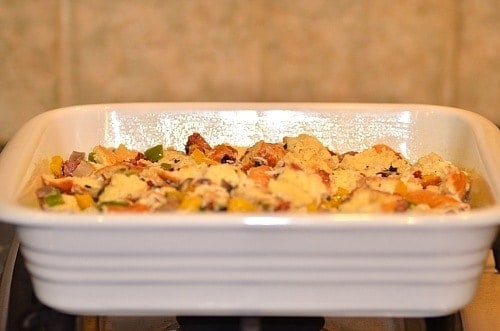 6. In a small bowl, combine the breadcrumbs, Parmesan, and the melted butter. Uncover the pudding and sprinkle the breadcrumb mixture evenly over the top.
7. Increase the heat to 375°F (190°F) .
8. Return to the oven and bake uncovered until the pudding is completely set in the center, puffed, and golden brown on top, about 8-10 minutes. Let savory bread pudding sit for 15 minutes before serving.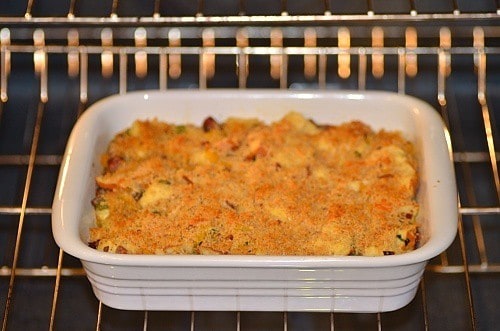 Note: This savory bread pudding can be prepared the night before, stored in the refrigerator, and baked the next morning.