Howdy, y'all! After stuffing myself with rich holiday foods, my body has been asking for a break. Perhaps yours has, too! 🙂 I thought our No Bake Tropical Energy Bars would be perfect for this. They are very quick to prepare, don't require any baking as you can see, and are loaded with fiber, vitamins, minerals, and antioxidants from the tropical dried fruit mix and cashew nuts. They are also both gluten- and dairy-free, yet loaded with flavor.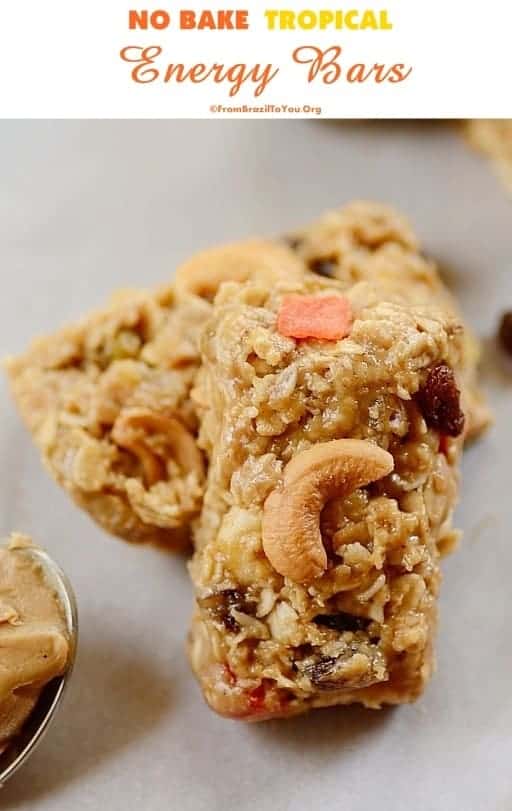 Our energy bars can be served both for breakfast and as a healthy snack. They can also easily be carried to work, school, or any other place. Don't you  love them already?
I bought my tropical dried fruit mix at a Walmart supermarket. It contains raisins, dried pineapple and papaya, and also coconut and banana chips... Tropical fruits from my Brazil! Of course, if you dislike any of these fruits, or simply want to use a dried fruit or fruit blend that you already have in your pantry, you can certainly make a substitution. You can also substitute your favorite nuts for cashew nuts, which are native Brazilian 'nuts.'  That is to say, you can personalize your energy bars -- using these as a guide.
You can also choose whether you would like your energy bars with or without coffee crunch. If you are a coffee lover, you gotta have THE CRUNCH. 😉  It's easy peasy to prepare!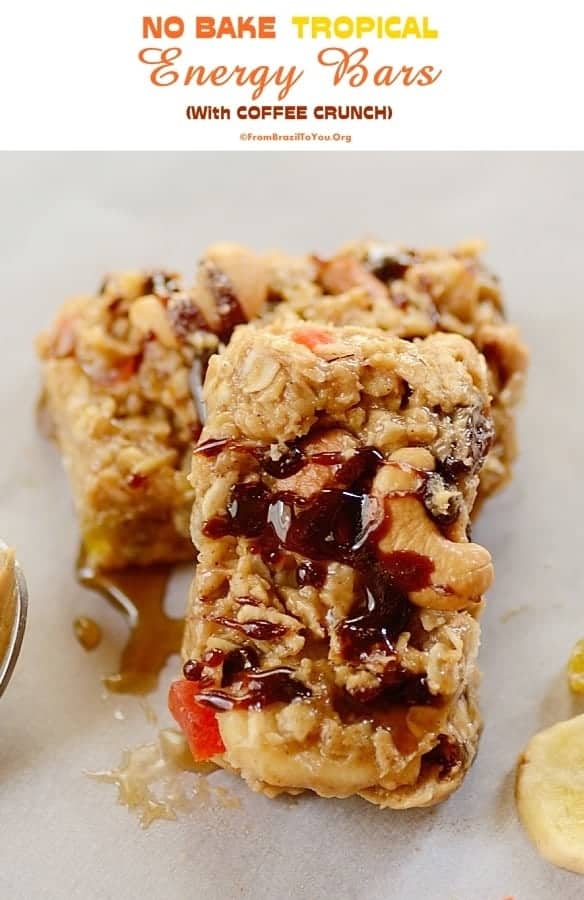 Well, take great care of yourself and enjoy our healthy energy bars -- with or without coffee crunch.
xx
P.S.: This is our new photo shoot which my girls insisted on sharing with y'all! 🙂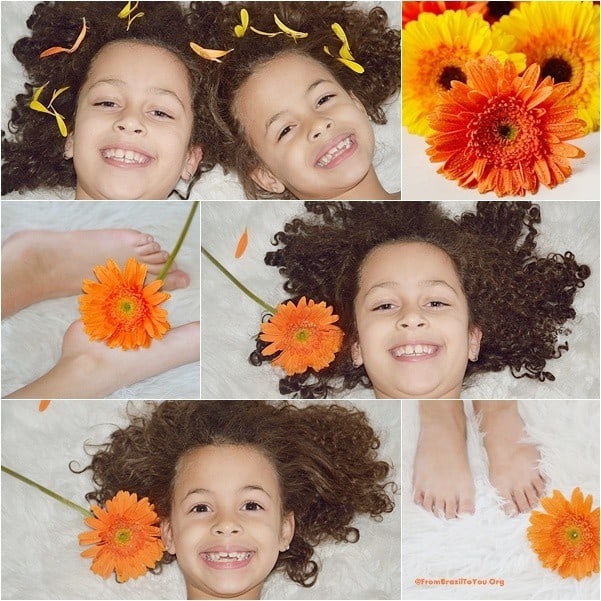 No Bake Tropical Energy Bars (with coffee crunch)
No Bake Tropical Energy Bars are made from rolled oats, tropical dried fruit mix, and cashew nuts. They're quick to prepare yet loaded with vitamins and antioxidants. They can both be served for breakfast and as a snack.
Ingredients
For the tropical energy bars:

2

cups

rolled oats

uncooked

1

cup

creamy peanut butter

¾

cup

honey

½

teaspoon

ground cinnamon

1

cup

Tropical dried fruit mix

(raisins, dried pineapple and papaya, coconut and banana chips) or other dried fruits of your choice

½

cup

roasted cashew nut halves and pieces

For the coffee crunch :

OPTIONAL

¼

cup

honey

2

teaspoon

instant coffee

dissolved into 1 teaspoon room temp water

¼

teaspoon

pure vanilla extract

optional
Instructions
To prepare the energy bars: Stir oats, peanut butter, honey, cinnamon, dried fruit mix, and cashews together in a medium bowl. Line a 8x8-inch baking dish with plastic wrap or parchment paper and press bar mixture into the pan. Using the back of a spatula, press into a flat, uniform layer. Freeze for 20 minutes.

If desired, with 8 to 10 minutes left to go, remove bar from the freezer, and prepare the coffee crunch. Stir in the honey and dissolved coffee into a small nonstick pan. Let cook, stirring occasionally with a wooden spoon, over medium-low heat for about 6 to 8 minutes. Remove from heat and stir in the vanilla if desired. Let cool for 1 to 2 minutes (being careful not to let mixture harden at this point).

Cut into 12 bars and serve! OR drizzle with the coffee mixture if desired. In the latter case, place energy bar pan back into the freezer for another 5 to 10 minutes or until coffee mixture has solidified (it should become like a hard coffee "toffee"). Serve and enjoy!

Energy bars can also be wrapped individually in plastic wrap for storage in the refrigerator (best) or at room temperature.
Recipe Notes
HOW TO CLEAN PAN AND SPOON (if making the coffee crunch): After drizzling the energy bars with the coffee mixture, fill pan with water and boil over high heat with wooden spoon in for about 5 minutes. Turn off the heat and let pan and spoon sit for about 10 minutes. Pour water out, rinse both pan and spoon with warm water, and wash both with detergent and a dish sponge.
** Nutrition labels on easyanddelish.com are for educational purposes only. This info is provided as a courtesy and is only an estimate, since the nutrition content of recipes can vary based on ingredient brand or source, portion sizes, recipe changes/variations, and other factors. We suggest making your own calculations using your preferred calculator, based on which ingredients you use, or consulting with a registered dietitian to determine nutritional values more precisely.
Please note that health-focused and diet information provided on easyanddelish.com is for educational purposes and does not constitute medical advice, nor is it intended to diagnose, treat, cure, or prevent disease. Consult with your doctor or other qualified health professional prior to initiating any significant change in your diet or exercise regimen, or for any other issue necessitating medical advice.
DID YOU MAKE THIS RECIPE?
Comment and rate the recipe. Also follow us on Pinterest at @easyanddelish for more delish recipes.