Chocolate fudge cookie bars (Palha Italiana) easily made with sweetened condensed milk, cocoa powder, butter, and store-bought cookies.It's to die for, folks!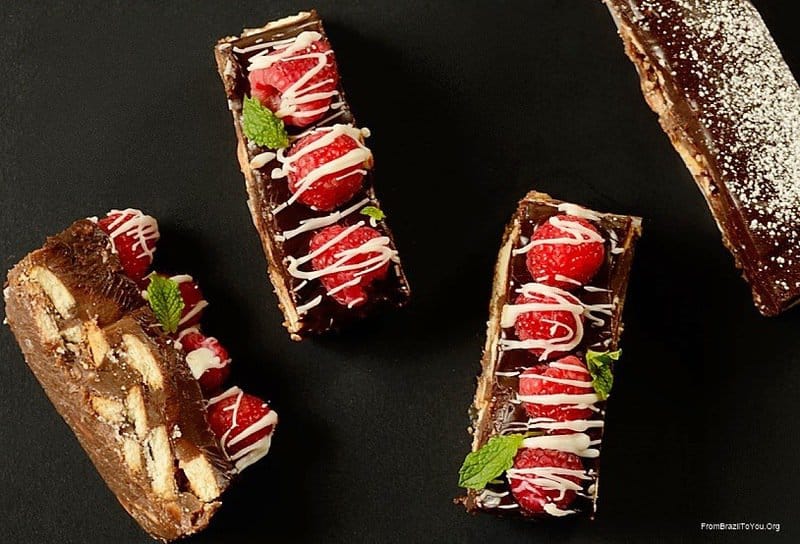 You can tell the love Brazilians have for brigadeiros by the number of treats that they make out of it.
These Chocolate Fudge Cookie Bars, known both as Palha Italiana (Italian Straw) or Palha Brasileira (Brazilian Straw) in Brazil, is part of the wide array of sweets made from brigadeiro.
The difference is, chopped cookies are added, resulting in one of the easiest and most delish fudgy-chewy-crunchy sweet treats. If you have never tried these, don't miss your chance.
Despite the name "Italian Straw," these chocolate fudge cookie bars are truly a Brazilian treat made with sweetened condensed milk, cocoa powder, unsalted butter, and chopped cookies...
...which we use Maizena cookies in Brazil but you can use animal crackers, vanilla wafers known as Nilla cookies, Maria cookies, or any other similar cookie of your choice.
HOW TO MAKE PALHA ITALIANA (CHOCOLATE FUDGE COOKIE BARS)
All one needs to do is to mix sweetened condensed milk with cocoa powder and butter, and cook until it reaches a fudge consistency. Then, mix in the chopped cookies, place the fudge and cookie mixture into a baking pan, and place in the fridge until set.
Before serving, cut into squares or rectangles, and sift powdered sugar on top-- at least that is the traditional way of finishing Palha Italiana.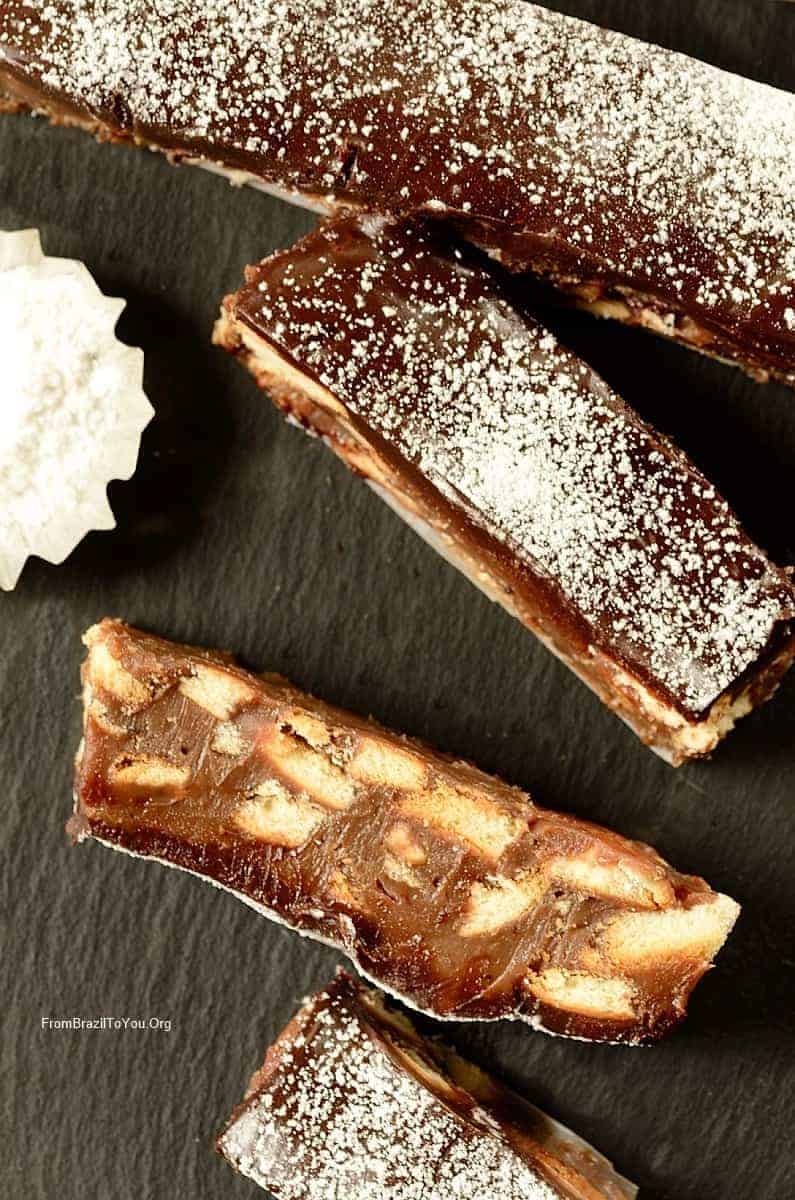 But because I enjoy adding my own special touch to things, I topped mine with chocolate ganache...
... a mixture of melted chocolate chips and heavy cream) and garnished with fresh raspberries and a drizzle of melted white chocolate instead of simply topping the bars with powdered sugar.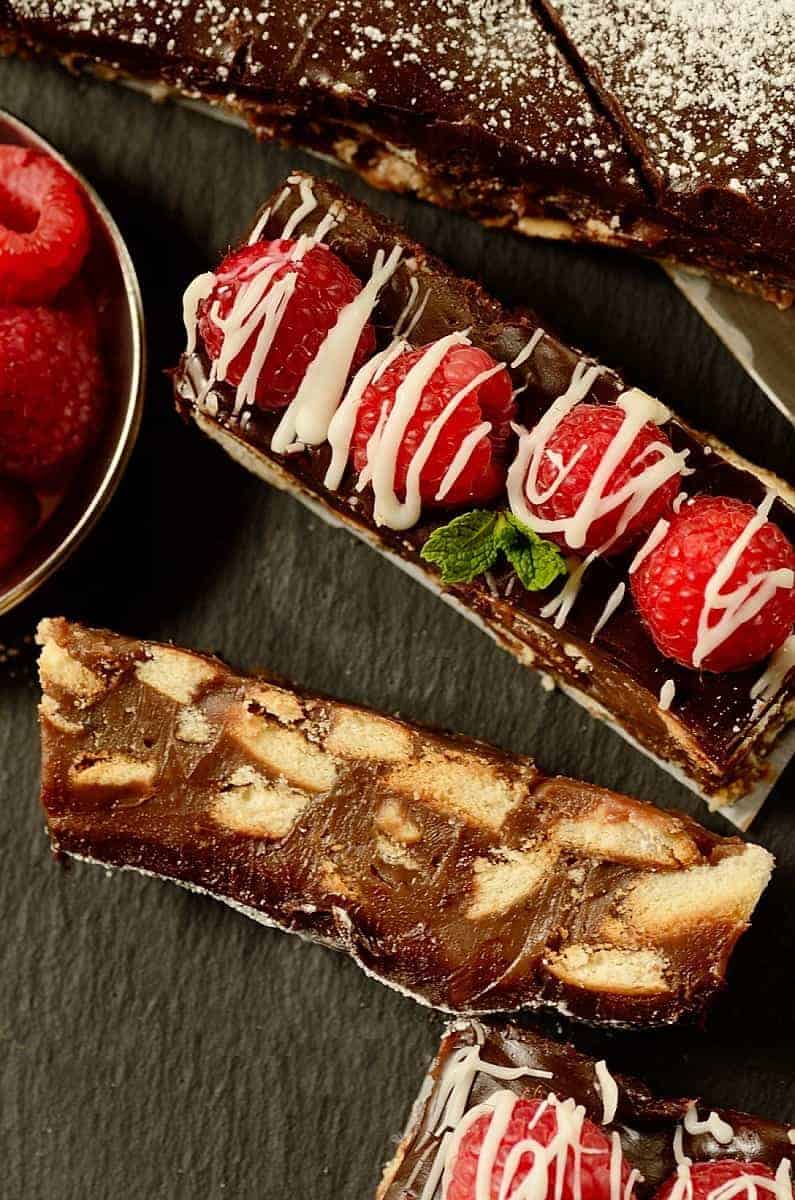 The reason why I put my own spin on this traditional treat is because of the season. I summered up my bars with fresh berries... and that made them even more yummy. The acidity of the berries goes well the richness of the fudge.
But as you can see, you can enjoy them both ways -- the traditional way topped with powdered sugar, or the modern way with berries. My advice is to try both and see what you like best.
ABOUT PALHA ITALIANA
You may still be asking why these bars were name "Italian" straw since there is no such treat in Italy. To tell the truth, no one knows.
We can only speculate that it might be because of its adaptation from a well-known Italian dessert, the salame di cioccolato (chocolate salami). Take a look at chocolate salami and you will understand their resemblance.
Of course, this wouldn't be truly Brazilian unless we adapted the recipe to our sweet tooth... and brigadeiro, a national passion, happened to be the perfect candidate for replacing melted dark chocolate, eggs, and liquor from the chocolate salami.
There is only one issue... Our palha Italiana are a fave of both adults and children. My husband and children could not refrain themselves... and neither could I.
We took care of this treat too fast. We became so addicted that we argued over the last piece. I am sorry but I am not ashamed to say that I won the dispute. 🙂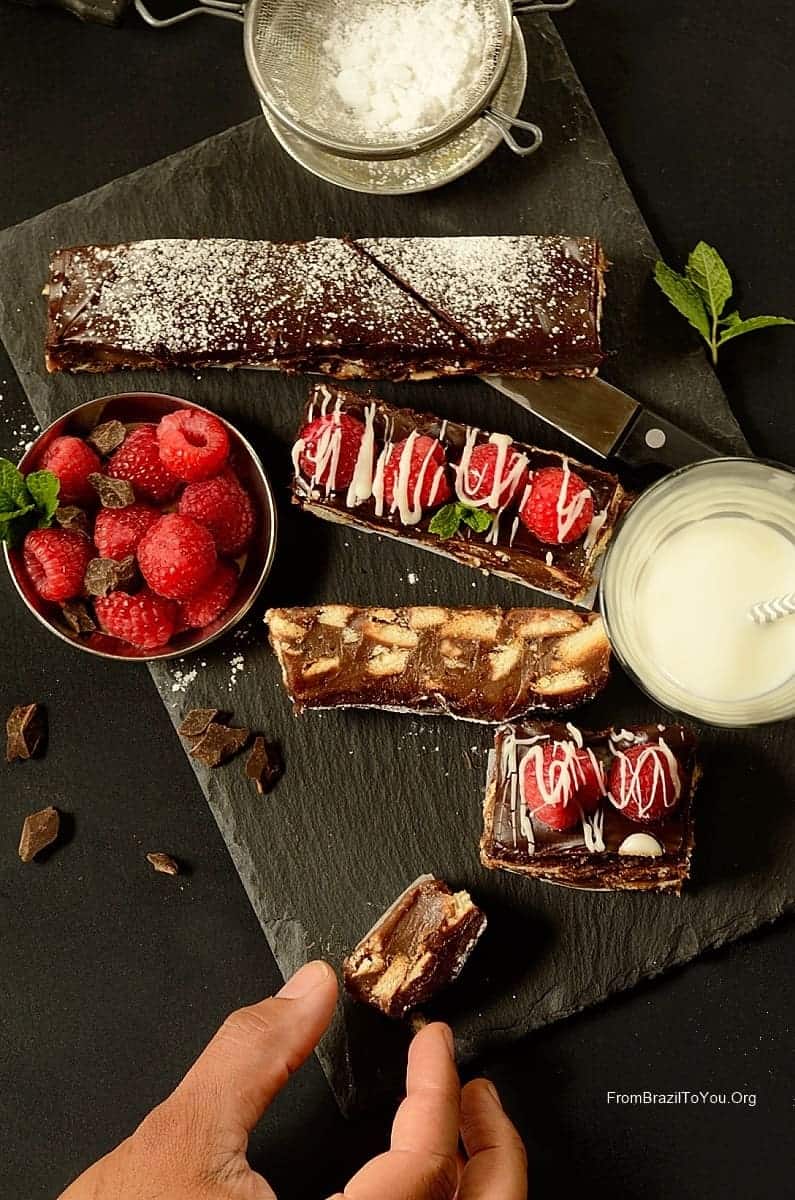 My advice is make them both ways, hide some, and enjoy them by yourself. Trying to contain yourself will be an act of pure bravery. 🙂
Please, don't forget to share the outcome with us. 😉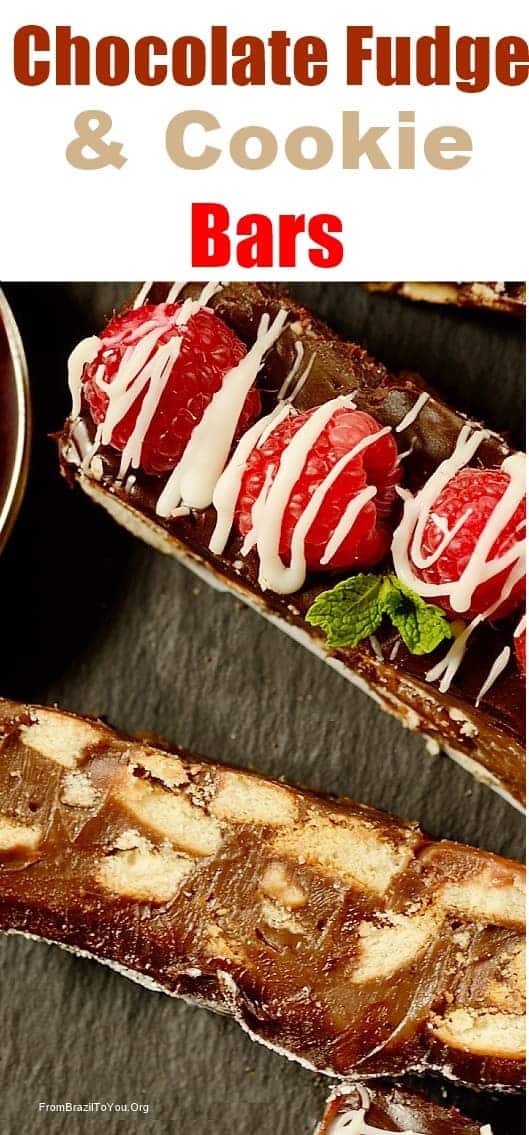 Chocolate Fudge and Cookie Bars (Palha Italiana)
Chocolate fudge cookie bars (palha Italiana) easily made with sweetened condensed milk, cocoa powder, butter, and store-bought cookies. It's to die for!
Ingredients
For the chocolate fudge and cookie bars:

2

cans

sweetened condensed milk

14 oz

6

tablespoons

unsweetened cocoa powder

2

tablespoons

unsalted butter

melted

1

teaspoon

pure vanilla extract

optional

160

g

vanilla wafer cookies or other of your choice

chopped, or 5.5 oz, Nilla cookies

For the topping :

optional

1

cup

semisweet chocolate chips

⅓

cup

heavy cream

36

fresh raspberries

⅓

cup

white candy melts or white chocolate

melted according to the package or powdered sugar only
Instructions
In a large non-stick skillet, whisk the condensed milk and cocoa powder together until obtaining a homogeneous mixture (without lumps of cocoa powder). Then, stir in the melted butter.

Cook mixture over medium-low to medium heat (large burner), stirring constantly, until the mixture thickens and starts to peel away or show the bottom of the pan when you scrape it with your wood spoon (about 10-15 minutes).

The chocolate fudge mixture should be thick enough to show you the bottom of the pan for a couple of seconds before the mixture levels out again. Mix in the vanilla extract if desired.

Remove pan from the heat, add the chopped cookies, and mix them together with a wooden spoon until cookies are completely mixed in the chocolate fudge mixture.

Line a 8 x 8-inch pan with a greased sheet of heavy duty aluminum or with plastic wrap, allowing it to overlap 2 opposite sides.

Place mixture into the lined pan and smooth the top with a spatula, making sure mixture is level. Cover and refrigerate for at least 12 hours or until set. Right before serving, lift the foil or plastic, place on a flat surface, cut into squares or rectangles, and sift powdered sugar on top of each bar. This is the traditional treat.

If you would like to top them with chocolate ganache and berries instead of powdered sugar, place the chocolate chips and heavy cream in a microwavable bowl and microwave on medium power for about 1 minute.

Stir together well and microwave again until chocolate has melted. Whisk well until obtaining a smooth mixture/ganache. Spread chocolate ganache on top of the fudge and cookie bars (without the powdered sugar), place raspberries on top, drizzle melted white chocolate, and refrigerate until ganache is set.
Recipe Notes
Serve chilled and enjoy! YIELD: 10 or more depending of the size of each bar.
STORAGE: Store in a clean airtight container in  the fridge for up to 3 days. Freezing is not recommended because cookie can become mushy once treat is thawed. 
Nutrition
Calories:
515
kcal
|
Carbohydrates:
70
g
|
Protein:
9
g
|
Fat:
24
g
|
Saturated Fat:
14
g
|
Cholesterol:
46
mg
|
Sodium:
175
mg
|
Potassium:
484
mg
|
Fiber:
3
g
|
Sugar:
58
g
|
Vitamin A:
405
IU
|
Vitamin C:
4
mg
|
Calcium:
256
mg
|
Iron:
1.7
mg
** Nutrition labels on easyanddelish.com are for educational purposes only. This info is provided as a courtesy and is only an estimate, since the nutrition content of recipes can vary based on ingredient brand or source, portion sizes, recipe changes/variations, and other factors. We suggest making your own calculations using your preferred calculator, based on which ingredients you use, or consulting with a registered dietitian to determine nutritional values more precisely.
Please note that health-focused and diet information provided on easyanddelish.com is for educational purposes and does not constitute medical advice, nor is it intended to diagnose, treat, cure, or prevent disease. Consult with your doctor or other qualified health professional prior to initiating any significant change in your diet or exercise regimen, or for any other issue necessitating medical advice.
DID YOU MAKE THIS RECIPE?
Comment and rate the recipe. Also follow us on Pinterest at @easyanddelish for more delish recipes.