Secret Recipe Club (SRC) day has arrived once again!  This time we will be making an exciting treat: Fried-Apple Cobbler Bars!!!!!!!  I will bet that you have never sampled such an unique treat… Well, neither had I!
My fried-apple cobbler bars were inspired by Sara's peach cobbler coffeecake, which in turn came from her Mom's cherry coffeecake.  Huh???  As you know, every month SRC members are assigned to prepare a recipe from a different blog.  This month I had the pleasure of being assigned to Cook with Sara, where that nice Midwestern gal, inspired by her Mom's ministry of hospitality, shares many delightful American recipes.  I hope you pay her a visit soon.
Although I am still feeling under the weather, my commitment to prepare an SRC recipe this month actually turned out to be a pleasure.  Browsing Sara's blog and finding this treat got me all enthusiastic.  Once again, I had to put my own spin on the recipe in order for it to become mine/ours.   For this reason alone, Sara's peach cobbler coffeecake became my fried-apple cobbler bars.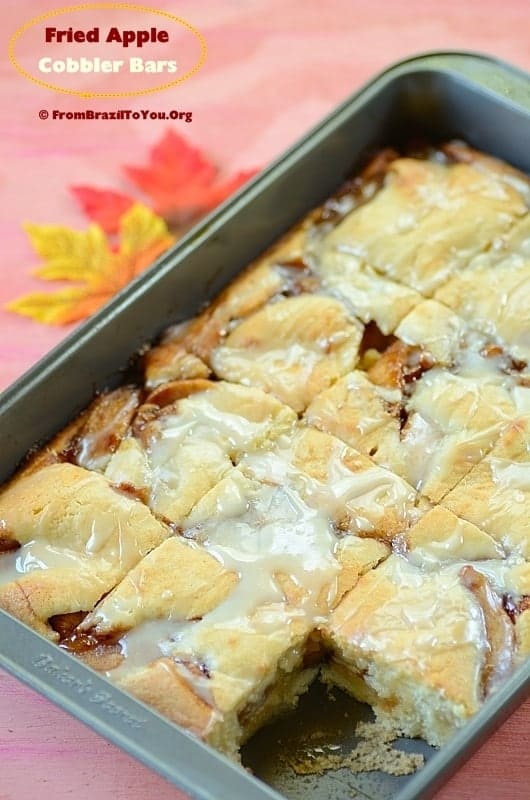 You are very welcome to try both my fried-apple cobbler bars and Sara's peach cobbler coffeecake.  In either case, you will get hooked on both treats. Because our fried-apple cobbler bars are mildly sweet, they can be served either for breakfast or as a dessert.  Wow, how cool  is that?!!!
For now, enjoy these scrumptious, autumn fried-apple cobbler bars.  See ya!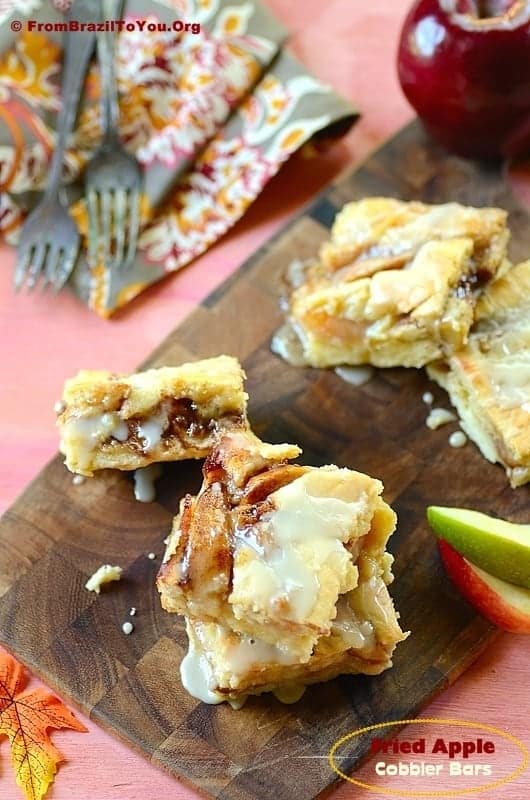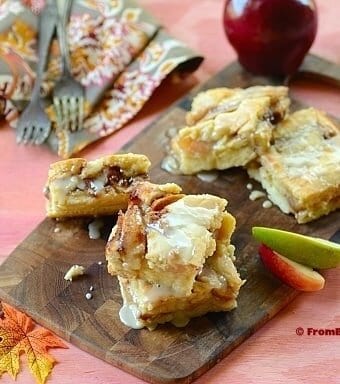 Fried-Apple Cobbler Bars...A Delightful Autumn Treat!
The most indulgent breakfast one will ever have (as well as a wonderful, mildly sweet dessert to serve with a cup of coffee or tea)!!!
Ingredients
For the Bars:

2

canned

fried apples **

15oz or 425 g, original

1

teaspoon

ground cinnamon

3/4

cup

unsalted butter

softened, or 1-1/2 sticks

2

cups

granulated sugar

4

large eggs at room temperature

1-1/2

teaspoons

pure vanilla extract

3

cups

all-purpose flour

1

teaspoon

salt

1

container

vanilla or plain yogurt

6oz or 170 g

For the Glaze:

1

cup

powdered sugar

1

teaspoon

pure vanilla extract

2

tablespoons

whole milk
Instructions
Preheat oven at 350° F (about 177 ° C). Grease both the bottom and sides of a 13 x 9-inch baking pan and set aside.

In a medium bowl, stir well the canned fried apples and cinnamon, and reserve. In a mixer with the paddle attachment, cream together butter and sugar at low speed. Add eggs, one at a time, beating at medium speed just enough to mix in. Beat in vanilla extract. Combine both flour and salt in a medium bowl. Alternate half of the flour-salt mixture and then half of the yogurt, beating each time at low speed until combined. Then, add the remaining flour-salt mixture and the other half of the yogurt, beating each time until combined.

Spread 2/3 of the batter in the prepared baking pan. Top with the fried apple mixture. With a spoon, dollop the remaining batter on top of fried apples. Bake for about 27-30 minutes or until toothpick inserted in the center comes clean.

Let cool for about 15-20 minutes on a wire rack and slice into 12 rectangles.

To prepare the glaze: Combine powdered sugar, vanilla, and milk, whisking very well until smooth. Drizzle over the fried-apple cobbler bars when they are still warm. Let glaze set and enjoy.