Recently I was catering this Crazy Gal Cake or Bolo Nega Maluca for a Brazilian friend's birthday. So I decided to double the batter to make one for my family, and at the same time to celebrate From Brazil To You's first birthday.
I cannot believe it... it seems that not very long ago at all I was writing my first post. It has been a year filled with high and lows but a blessed one for sure.
So much has happened during this time. Because of this blog, I have had the pleasure of getting to know lots of great people (both bloggers and readers)... have given many people an enticing glimpse of the one-of-a-kind cuisine of Brazil... have started contributing to a food column in Portuguese at Cia Brasil Magazine... and have created a menu and developed all of the recipes and plate presentations for a Spanish tapas restaurant that will be opening soon in Brazil. During this year I have also taught cooking classes, expanded my catering services, seen my recipes featured on great blogs and websites, had the honor of connecting with an ever increasing number of readers, and - most of all - have had the privilege of doing what I love most: cooking and writing. God is great!!!!!
It has been a busy year for sure, filled with lots of hard work and personal sacrifice. But I would not change it for anything.
Since I have been working on this blog the whole year for free, some people think that I am kind of crazy. Maybe because of this, I thought that this Bolo Nega Maluca would be the ideal treat to celebrate my blog's first year.
Our recipe for today is Bolo Nega Maluca which means Crazy Gal... Perhaps that is what I am for working for free, but like this delicious cake, I am anxious for the next bite-- for what is yet to come...
Thank you for stopping by, for your interest in the wonderful cuisine of my beloved country, for following the blog on social media, and for putting a smile on my face with your questions and comments. It means the world for me!
Happy Birthday, my dear baby, From Brazil To You. As your proud mother, I am happy to see you finally "walking" and starting to thrive. All of your guests (our dear readers) are here to celebrate with us and delight themselves with our Bolo Nega Maluca...
Cheers for many years to come!!!
Crazy Gal Cake with Brigadeiro Frosting
(Bolo Nega Maluca com Cobertura de Brigadeiro)
Serves 8 - 12 slices
Segment: Brazilian cuisine
(I can only guess that the name of this cake is on account of the warm water that is called for as one of its ingredients. Be careful with its temperature, because using truly hot water instead of warm can "poach" the eggs, spoiling the cake).
Ingredients:
For the Cake Batter: 
1-½ cups granulated sugar
2-¼ cups flour, sifted
A pinch of salt
1 cup chocolate powder, sifted
1 cup vegetable oil
1 cup slightly warm water (NOT boiling hot water, otherwise the eggs will be curdled. Remember: We're making a cake, not poached eggs)
4 large eggs at room temperature
1 tablespoon baking powder
¼ cup plain mayonnaise or apple sauce (to make the cake moister) *
For the Simple Syrup:
1 cup granulated sugar
1 cup water
For the Chocolate Frosting: 
1 (14 oz or 396 g) can condensed milk
⅓ cup chocolate powder, sifted
⅓ cup whole milk
1 tablespoon unsalted butter, softened
¼ - ½ cup chocolate sprinkles
* Mayonnaise is not part of the traditional recipe.
Directions:
1. Preheat oven to 350 ° F (180 ° C).
2. Grease a 9 inch round baking pan (23 cm) with butter/non stick cooking spray and flour the pan.
3. Using an electric mixer, beat the sugar, sifted flour, salt, and cocoa powder on low speed with the oil and then with warm water. Next, add the eggs one at a time, beating each addition just until the eggs have been incorporated into the batter (do not overbeat). Mix in the baking powder well and then the mayonnaise or applesauce by hand until batter is homogeneous. Put the mixture into the prepared baking pan.
4. Bake for about 30 to 40 minutes or until a toothpick inserted in the center of the cake comes out clean. Remove from oven and let cool on a rack. Run a knife gently around the edges of the pan to help unmold the cake and place on a clean surface. Using a large serrated knife, remove the top in order to level the cake (bolo nega maluca).
5. To prepare the simple syrup: Put ingredients in a small saucepan over medium heat and bring to a boil, stirring until sugar has dissolved. Once the mixture start boiling, let cook for another 3 minutes. Stir and remove from heat. Let cool for about 2 to 3 minutes. Then brush the entire cake or bolo nega maluca with just enough of the syrup to cover the cake. Let syrup dry on the cake for between 30 minutes to 1 hour-- surface will be slightly sticky. Next, proceed to frosting steps below.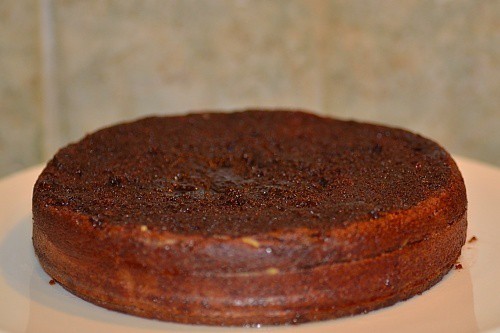 Note: The syrup is not part of the original recipe. It was added to the recipe by me in order to facilitate the process of covering the cake with the Brigadeiro frosting without causing crumbly pieces to pull off from the surface of the cake.
6. To make the chocolate frosting: In a saucepan, mix together well all of the ingredients except for the chocolate sprinkles. Then, cook mixture over medium-high heat, stirring until it has thickened (approximately 6-10 minutes). Let cool a bit and then frost the top of the cake or bolo nega maluca , letting mixture drip down the sides, as illustrated in the photo-- or, if you prefer, you may frost both the top and the sides. Mixture should be spread from the center to the sides with a metal spatula. Garnish the cake with the chocolate sprinkles and finish off the decoration however you please (as you can see in the picture, I decorated mine with chocolate bonbons that were drizzled beforehand with pink melted chocolate and allowed to dry before placing on the cake).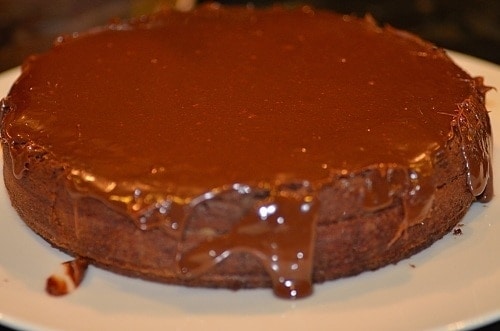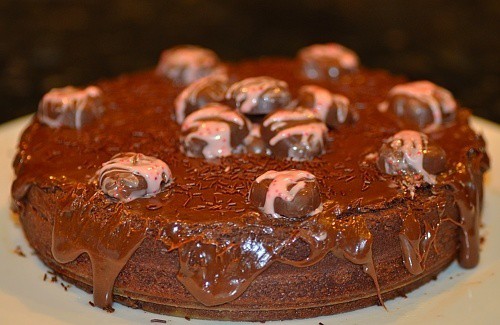 Extra picture (same cake, different shape):