Disclosure: This is a compensated campaign in collaboration with Soy Connection by United Soybean Board and Latina Bloggers Connect. As always, all the opinions are mine!
If you think the terms healthy and dessert don't go together, this super moist Flourless Choco Nut Cake (Bolo de Chocolate com Castanha do Pará) will change your mind. I know, its name is fun… but nothing compared to its decadent taste and all the good stuff that is in it! Don't believe me? Check it out!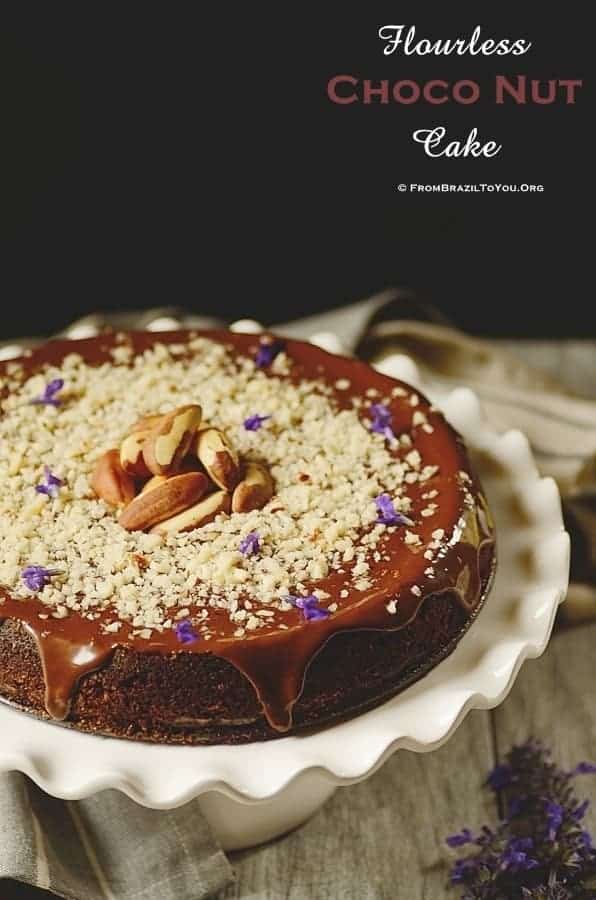 To begin with, our choco nut cake is gluten-free! Ground Brazil Nuts (or any other nut of your choice, which are great sources of protein) substitute for flour in this recipe. And not only that… unsweetened cocoa powder and dark chocolate (loaded with nutrients and antioxidants) combined with soybean oil make this cake a healthy yet scrumptious dessert.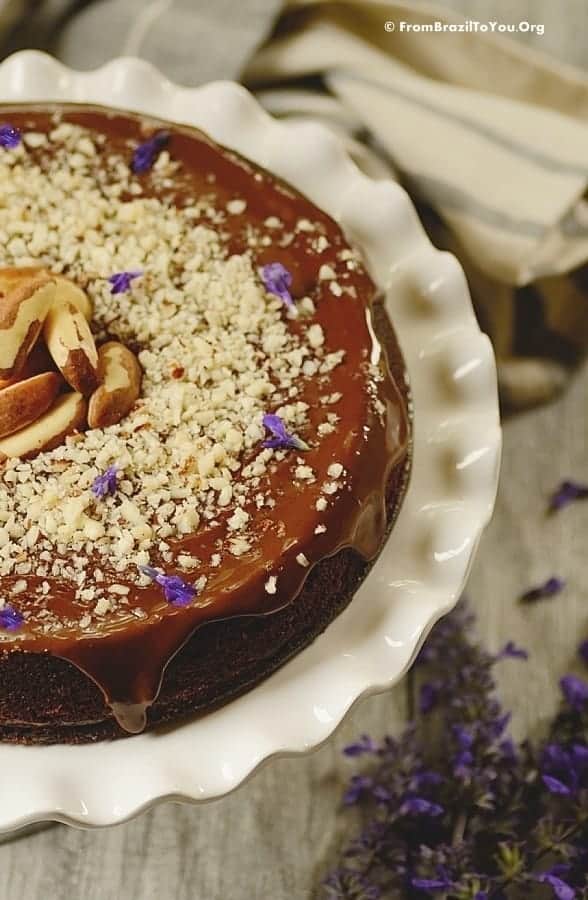 Why soybean oil? Yes, it does make this cake moist — as is any oil-based cake…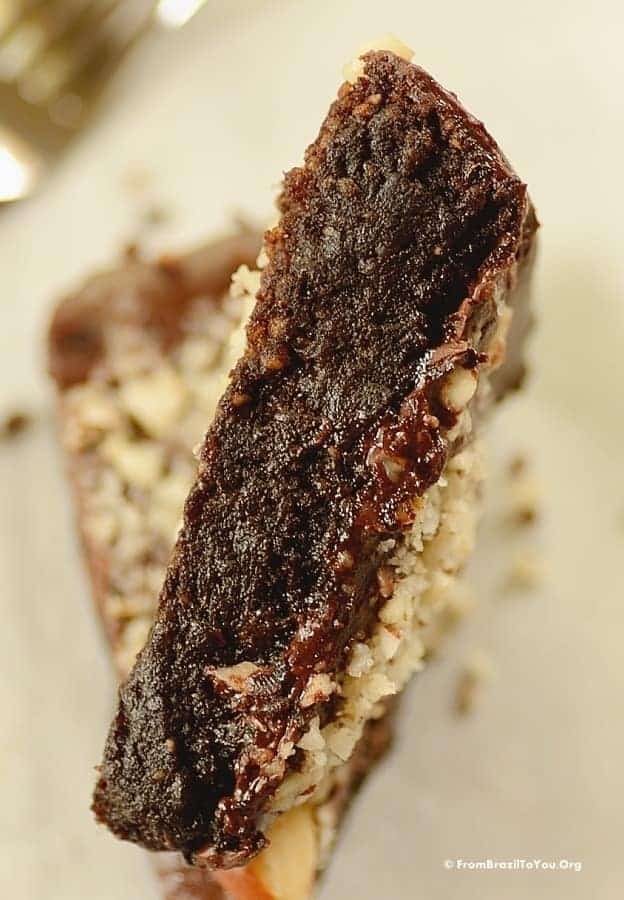 … the difference is really its benefits, which make it perfect for cooking and baking for the following reasons:
1. Soybean oil contains mostly unsaturated fats and 0g trans fats per serving, and when it replaces saturated fats such as butter, it may lower cholesterol. It is high in good fats, both monosaturated and polysaturated;
2. It's a great source of vitamin E which prevents cell damage that may lead to diseases such as cancer and heart disease;
3. Serves as a principal source of omega‐3s which can help reduce blood pressure and prevent heart disease;
4. Soybean oil has a neutral flavor that helps us create some of our favorite traditional meals without compromising taste;
5. Although you may not realize it, it's one of the most versatile ingredients in your pantry… it simply accounts for approximately 55% of vegetable oil used in homes! Just check the ingredient label to be sure. For more soybean oil information, click HERE.
As you can see, soybean oil is great for you! And as if that weren't enough, The United Soybean Board invites you to check your label and upload a photo of your oil ingredient label HERE , highlighting the soybean oil content, for a chance to win $100 gift cards. The contest is now open and will run until July 16th!
Here is mine…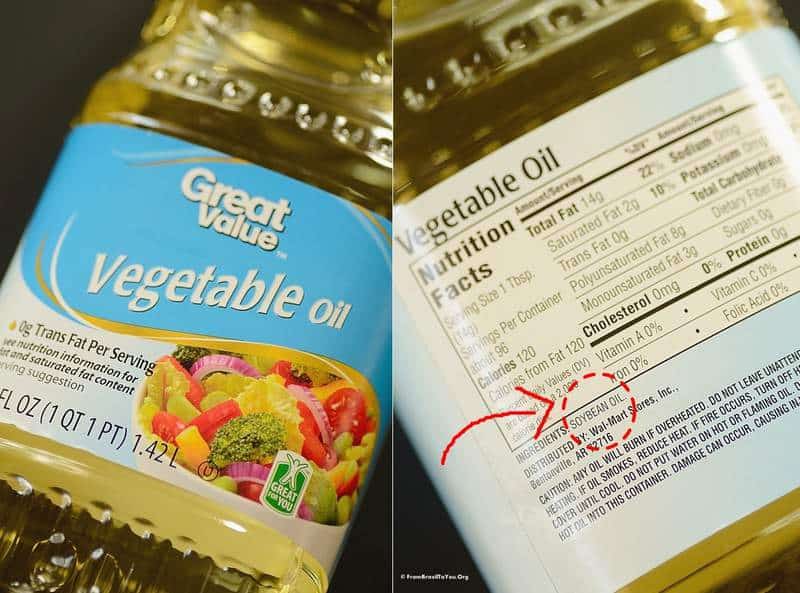 Enjoy our our flourless choco nut cake and all the benefits of soybean oil. Good luck in the giveaway/contest!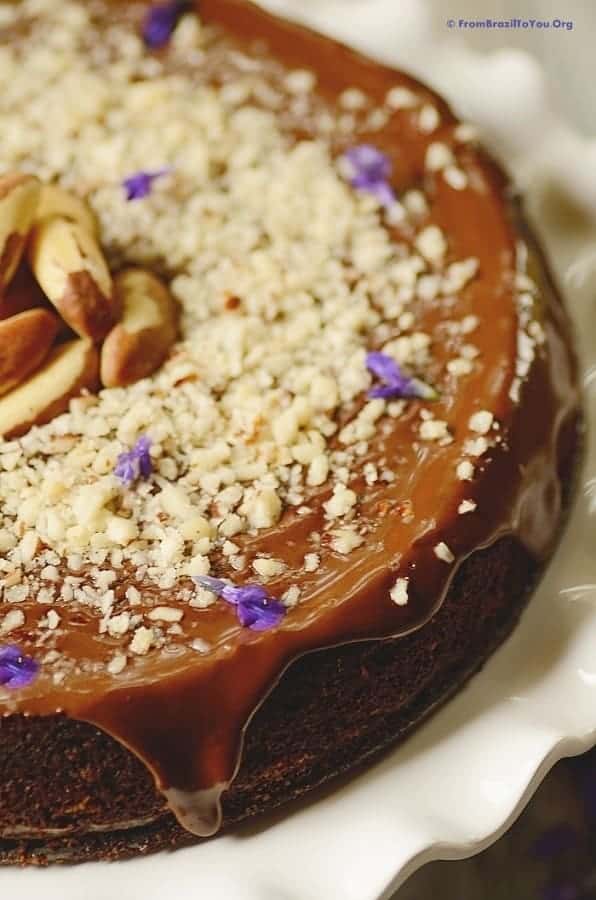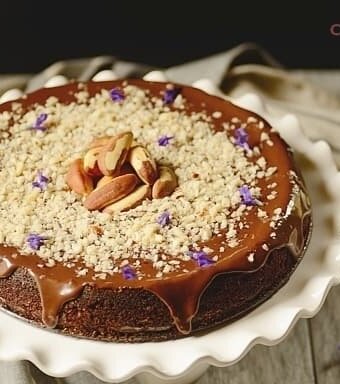 Flourless Choco Nut Cake
Our Flourless Choco Nut Cake is a gluten-free, healthy dessert that can be served warm with ice cream, or topped with chocolate glaze and Brazil nuts, or any other nut of your choice. If you are allergic to nuts, you can use flour.
Ingredients
For the choco nut cake:

5.07

soybean or vegetable oil

150 ml, plus more for greasing

1.8

oz

unsweetened cocoa powder

sifted, 50 g

4.2

fl.oz

boiling water

125 ml

1

tablespoons

pure vanilla extract

5.3

oz

ground Brazil nuts or any other nut of your choice

(150 g) or use 4.4 oz or 125 g flour if desired

½

teaspoon

baking soda

1/8

teaspoon

salt

7.05

oz

caster/castor/superfine sugar (you can buy it

or simply grind granulated sugar in the blender), 200 g

3

large eggs

at room temperature

For the chocolate glaze:

9

oz

dark or semi-sweet chocolate chips

255 g

3

tablespoons

soybean or vegetable oil

For garnishing:

Chopped and/or whole Brazil nuts or any other of your choice

optional
Instructions
To prepare the choco nut cake: Preheat oven to 325ºF (170°C). Grease a 9-inch (23 cm) springform pan with oil and line the bottom with parchment paper. Set aside.

In a small to medium bowl, sift the cocoa powder and whisk in the boiling water until obtaining a smooth chocolate paste. Whisk in the vanilla extract, setting aside to cool a bit. In another small bowl, combine together the ground nut, baking soda, and salt. Set aside.

In the bowl of a mixer with paddle attachment, beat together the sugar, soybean oil, and eggs at medium speed for approximately 2-3 minutes or until obtaining a pale mixture. Reduce the speed and pour in the cocoa mixture, beating just until combined. Add the nut mixture and beat just until combined.

Pour liquid mixture into the prepared springform pan, scrape down all the mixture. Bake for 40 to 45 minutes or until the sides are set and and a toothpick inserted in the center comes out clean but with a few sticky chocolate crumbs clinging to it. Don't worry about the damp center!

Place pan on a rack and let it cool for about 15 minutes. Run a knife around the edges to ease the cake and then spring it out of the pan. Serve while is warm with ice cream, or let it cool completely and top with chocolate glaze and nuts.

For the chocolate glaze: Set a heatproof bowl over a pan of simmering water, making sure water doesn't touch the bottom of the bowl. Melt half of the chocolate with the oil, stirring constantly until chocolate is just melted. Add the other half of the chocolate and stir until melted and smooth.

Pour over the cool, unmolded cake...

and sprinkle chopped nuts on top if desired. Enjoy!
This is a sponsored collaboration on behalf of United Soybean Board #SoyParaSoy and Latina Bloggers Connect. However, all opinions expressed are my own.