Christmas Day is almost here. I want to share with you this one-of-a-kind Chocolate-Prune Bundt Cake with Coconut Glaze recipe.
The presents are already under the tree. There are still so many ideas swirling around in my head about what to serve on that day, a few of which I have already presented here:
Christmas Fried Polenta as an appetizer, the cute Christmas Brigadeiros for the children (and adults, too) or simply to give as a present to friends, Corn Creme Brulée as an individual dessert, and now today, Chocolate-Prune Bundt Cake with Coconut Glaze (a cake inspired by this popular combination of ingredients in Brazil). But although I confess that I enjoy cooking and especially eating delicious food,  not everything in my mind is centered on cuisine.
Although we miss family (my husband's and mine) which are spread between the USA and Brazil, I can barely contain my enthusiasm about the reason for the party... If you are a Christian, you can understand exactly what I am talking about. If you are not, please let me explain...
It's not so much about the presents under the Christmas tree, which my little children cherish so much... It's not only about the food, which I personally love so much... It's about the giver of the party!!! Yes, as a Christian I celebrate the birth and life of Jesus Christ, my Savior. I celebrate Him, the true gift of love and mercy... I celebrate Him, the bread of life...
I cannot help but to think about that night in the little town of  Bethlehem. He (God in flesh) lying in a very humble "crib" being watched over by his loving earthly parents -- and all of the celebration that was taking place in Heaven... A celebration fit for a true King.
How I wish to have participated in that very first celebration. How I wish to have looked into His eyes, held his little hands, and tenderly kissed His tiny feet -- just as I did when my own children were born. Sorry, I cannot help the tears in my eyes.
(Pause)
Since I was not there, I try to remember what who is really important: The giver of the party, of course! The One that many people want to throw out nowadays, shamefully forgetting that they are simply guests at the party.
On that day, we open the presents in the morning, we sing/listen to Christmas songs as many people do. We enjoy our full table, as many people fortunately still do (thank the Lord). But most of all, we (my family and I) thank Him for having become flesh and lived among us, sinful creatures... We thank Him for showing mercy and the way to live and reach eternal life... We thank Him for the many, many blessings that were graciously given to us... And we pray, oh we pray that we can become unselfish, loving, and merciful -- just like Him....
(Pause)
From My Table To Yours, I am wishing for you to enjoy all the Christmas dishes that I have presented so far, and a few more to come by that important day of celebration.
From My Family to Yours, I wish you a very Merry Christmas (which means much more than simply Happy Holidays). Enjoy our Chocolate-Prune Bundt Cake with Coconut Glaze!
xx
" For unto us a child is born, to us a son is given... And he will be called
Wonderful Counselor, Mighty God, Everlasting Father, Prince of Peace."
(Isaiah 9:6)
Wonderful Counselor Video
Chocolate-Prune Bundt Cake with Coconut Glaze
Serves about 12
By Denise Browning
Segment: From My Table To Yours/ Brazilian Inspired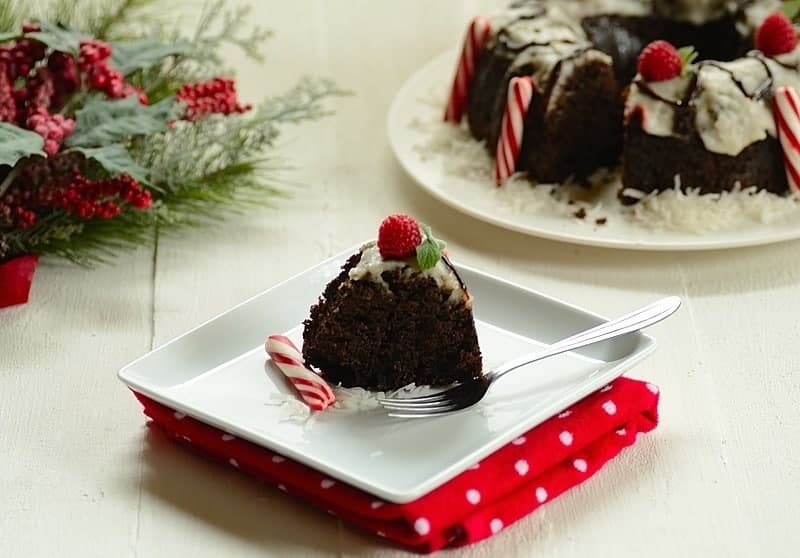 Ingredients:
For the Chocolate-Prune Bundt Cake Batter: 
1 (15.25 oz/ 432 g) box chocolate fudge cake mix (I used the Betty Crocker Super Moist one)**
1-¼ cups water
½ cup vegetable oil
3 large eggs, at room temperature
1 cup sugar (only if you want to add an extra sweetness to the batter)
1 tablespoon pure vanilla extract
1 cup pitted prunes
½ cup red wine (choose a fruity one)
Coconut glaze
For the Coconut Glaze:
1- ½ cup  unsweetened coconut milk
½ cup sugar
¾ tablespoon cornstarch
A dash of salt
½ teaspoon coconut extract
¼ teaspoon pure vanilla extract
¼ cup melted semisweet chocolate chips (for a dairy-free version, use dark chocolate instead or simply omit this ingredient)
2 tablespoons heavy cream (for a dairy-free version, simply omit this ingredient)
Raspberries, mint, and candy sticks to decorate
Sweetened coconut flakes to decorate
** For a gluten-free version, use a chocolate gluten-free cake mix.
Directions:
1. Grease the sides and bottom of one (9-inch) bundt cake pan. Reserve.
2. Preheat oven to 350° F (180° C) if using a shiny metal pan or to 325° F (about 160° C) if using a dark pan.
3. In a large bowl, beat cake mix, water, oil, eggs, sugar (if desired), and the vanilla extract on low speed for 30 seconds; then, on medium for 2 minutes, scraping the bowl occasionally. Reserve.
4. In the blender, liquidify well the pitted prunes with the wine. Pour mixture into the beaten cake batter and stir to combine. Pour batter into the greased bundt cake pan. Bake for 40-45 minutes or until a toothpick inserted in the middle comes out clean.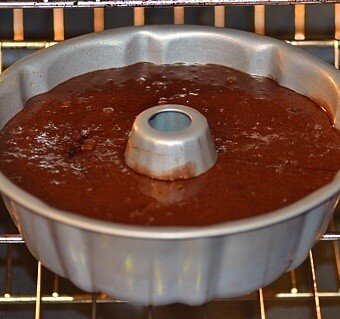 5. Let cool for 15 minutes, run a knife or metal spatula gently to loose the edges, unmold the cake, and let cool down completely.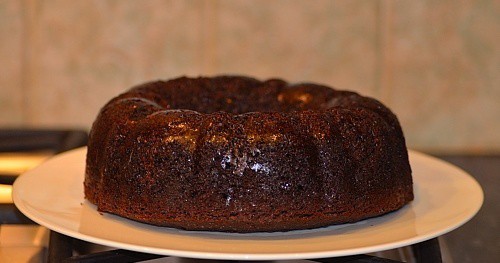 6. In a microwave-safe bowl, mix the chocolate chips and heavy cream, and microwave (50 % power) for 60-90 seconds, stirring halfway or until completely melted. Place into a clean " ketchup" bottle ( plastic bottle with a fine nozzle). Meanwhile, prepare the coconut glaze according to recipe below.
7. Spoon the warm coconut glaze over the chocolate-prune bundt cake. Let set; then, drizzle the melted chocolate on top of the cake (use a plastic bottle with a fine nozzle for this). Decorate with raspberries, mint, candy sticks, and coconut flakes. Enjoy!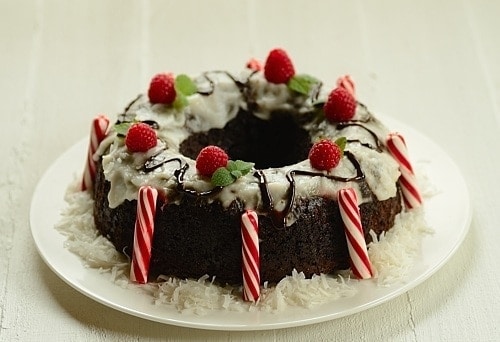 8. To prepare the coconut glaze: Mix the coconut milk, sugar, cornstarch, and salt in a medium saucepan. Cook over medium heat, stirring until thickened (about 5-10 minutes). Stir in both the coconut and vanilla extracts. Spoon the warm glaze over the chocolate-prune bundt cake and let set.