I do loooooooove corn -- and pretty much anything made from it. Our recipe for today is the amazing Corn Creme Brulee!!
Thanksgiving has passed, but I just cannot get enough dishes made from corn (e.g. corn pudding/casserole), including this corn creme brulee.
That is why the recipe that I am about to present to you today is made from corn. But instead of a savory corn dish, this one is sweet. That's right! Americans may not be as familiar with the wide range of Brazilian corn recipes-- especially sweet one-- that we have and cherish so much, but it's never too late to give them a try. Don't you agree?
In Brazil we have pamonha (which in Northeastern Brazil signifies a type of sweet yellow corn tamale), corn ice cream, canjica nordestina (a type of sliced corn pudding), munguzá doce (sweet corn-coconut pudding), cakes as bolo de fubá com coco (coconut-cornmeal cake), and cuzcuz de milho (cornmeal couscous), to name just a few. Corn creme brulee is more on the modern side!
Our recipe for today-- corn creme brulee-- is not part of that traditional list, but it's something new for me, and I am willing to try it. I must confess that its taste and creaminess remind me a bit of the canjica nordestina that I grew up eating during the June Festival every year in Brazil. It's also more upscale, gluten-free, and great for serving at dinner parties.
Just be aware that instead of the heavy cream and whole milk traditionally called for in creme brulee recipes, I used coconut milk and sweetened condensed milk, respectively, because both are ingredients commonly utilized in our sweet corn recipes. I have also added a few spices for the same reason. OK, I think it is fair to say that I have "Brazilianized" this corn crème brulée recipe pretty thoroughly. 🙂
Anyway, I hope you are eager to try today's corn creme brulee recipe...You won't regret it at all!! As for me, please excuse me because I just can't get enough of my corn creme brulee.
See ya soon... xx
Corn Crème Brûlée
Serves 8-12
By Denise Browning
Segment: From My Table To Yours/ Brazilian Inspired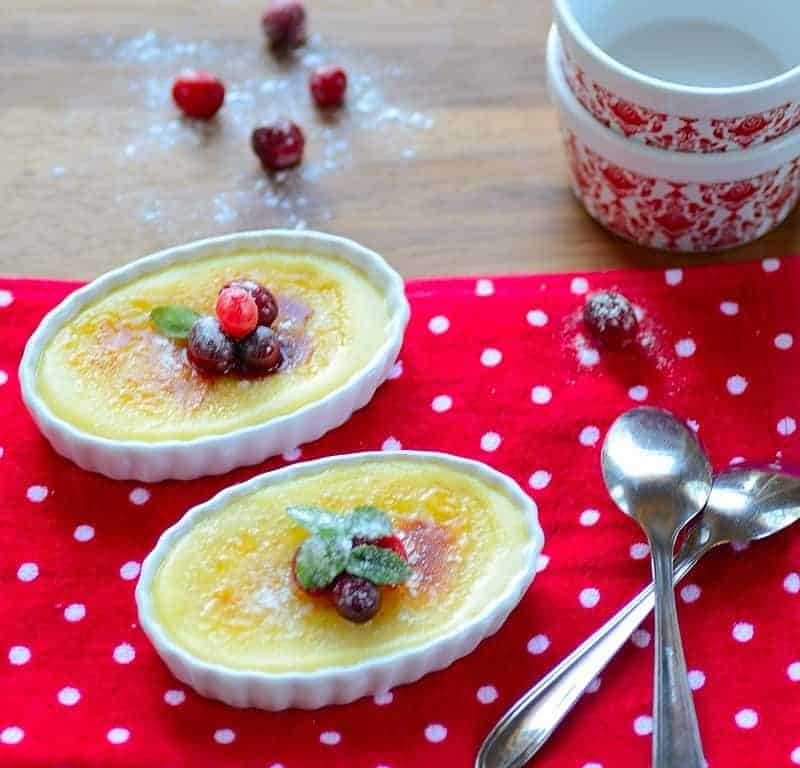 Ingredients:
2 ears sweet corn, husks removed and kernels cut off (about 1 cup corn kernels)
3 cups coconut milk
1 cup sweetened condensed milk
1 cinnamon stick
8 egg yolks
1 cup granulated sugar
½ teaspoon ground cinnamon
A dash of freshly ground nutmeg
Coarse sugar to sprinkle on top of the cooked custards
Directions:
1. In a medium saucepan, combine the corn kernels, coconut milk, condensed milk, and cinnamon stick together and heat over medium heat, stirring occasionally, just until it comes to a boil. Immediately turn off the heat and set aside to infuse at least 15 minutes. Discard the cinnamon stick and puree the mixture in the blender until smooth. Set aside.
2. Preheat oven to 325º F (about 160º C).
3. In a large bowl, whisk well the egg yolks with the granulated sugar, ground cinnamon, and nutmeg. Gradually pour in the warm coconut milk mixture, whisking constantly. Then, strain the mixture into a pitcher and pour into 8-12 ovenproof ramekins. Arrange the ramekins into a metal baking pan filled with enough hot water to come halfway up the sides of the ramekins.
4. Bake for about 30 to 40 minutes or until almost set but still a bit soft in the center. Baking time will vary according to the size of the ramekin, but the custard should tremble a bit when the ramekin is shaken gently. It will firm up more as it cools.
5. Remove ramekins from the water bath and let cool for 15 minutes. Tightly cover each bowl with plastic wrap, making sure the plastic does not touch the surface of the custard. Refrigerate for at least 2 hours to up to 24 hours.
6. Uncover the chilled custards. Sprinkle each custard evenly with about 2 teaspoons of sugar on top. Using a kitchen torch, caramelize the sugar. Alternatively, you can preheat the broiler, and broil for 1 to 2 minutes until the sugar melts and caramelizes, rotating the cups and watching closely to avoid burning. Let the corn creme brulee sit for at least 5 minutes before serving. Do not brulée the dessert more than 20 minutes in advance of serving. Decorate as desired. Enjoy!