Halloween has arrived early at FBTY. Although I didn't grow up celebrating this fun event, as an adult I have often dressed up in costumes and gone trick-or-treating with my daughters, who enjoy this celebration a lot. This year we are sharing a quick, ridiculously easy, and fun "recipe": Creepy Jello Cups!!!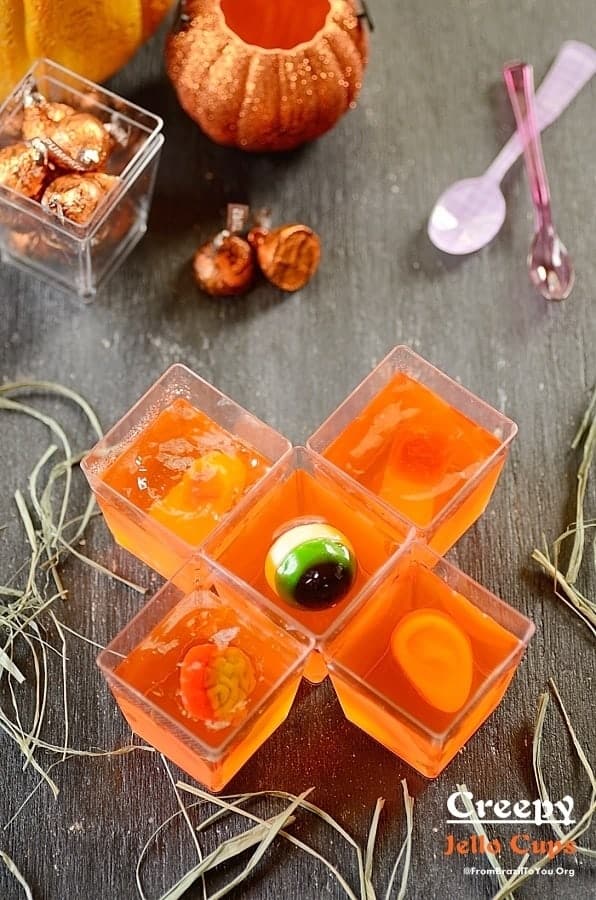 They are something that one can prepare in the blink of an eye, saving time for Moms so that they can take care of other stuff… and of course they are also lots of fun for the kiddos and TEENS, too. I mean, whose kid/teen doesn't love gelatin and candy? Both of them together in a mini cup is much, much better, don't you think?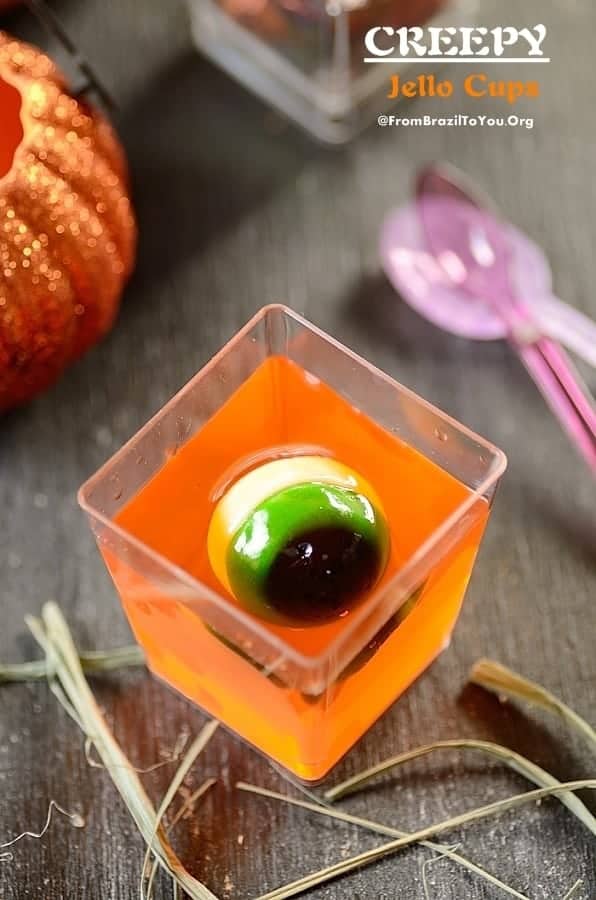 If you would like to celebrate the date with several different treats, here are 5 HALLOWEEN easy treats to make your party scrumptious and fun: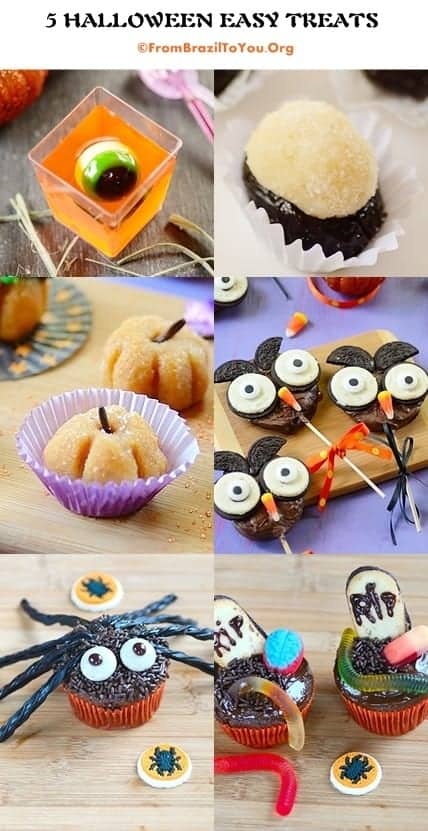 1. Creepy Jello Cups (quick)
2. Mother-in-Law's Eyes (gluten-free)
3. Pumpkin Brigadeiros (gluten-free)
4. Chocolate-Apple Halloween Owl (gluten-free)
5. Brigadeiro Cupcakes (Cute Spider, RIP, and Black Cat)
Happy Halloween!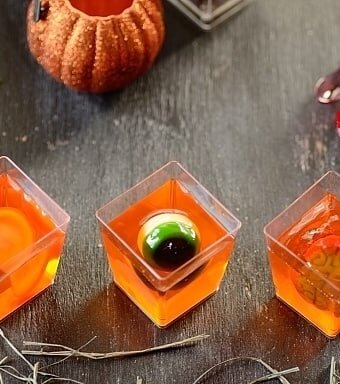 Creepy Jello Cups
Three-ingredient, ten-minute prep, and no cooking Halloween treat... These Creepy Jello Cups are a fun, tasty dessert that combines gelatin and candy into mini cups. Prepare for your kid/teen/adult party!
Ingredients
3

ounce

orange gelatin powder

85 g

2

cups

boiling water

Gummy body parts candy, available at local supermarkets
Instructions
In a heatproof glass pitcher, dissolve gelatin powder in boiling water, stirring very well until gelatin is completely dissolved. Pour mixture into 80 ml (about 3-ounce) plastic mini cups and refrigerate for about 1 hour, or until gelatin is semi-set (not liquid, but also not yet completely set...i.e. it is just starting to solidify, so that candy can still penetrate easily into the gelatin).

Remove cups from the refrigerator and place one gummy body part into each cup. Refrigerate for about 2 hours or until gelatin has completely set. Remove jello cups 10 to 15 minutes prior to serving ( so that candy can soften)... Enjoy!!!

These creepy jello cups can be prepared up to 2 days ahead.
Recipe Notes
Do not place gummy body parts candy into the hot dissolved gelatin, otherwise candy will melt.