October is the month when we celebrate Halloween… It is also time for our chocolate party celebration!  Yes, the day has arrived once again.  This time, our secret ingredient is candy.  Oh, how delightful!  Well, to commemorate both occasions, I made a special treat: Chocolate-Apple Halloween Owls!!!  Isn't that just the cutest little treat?  My children are as happy as can be.  I hope that yours will be also!
Our Chocolate-Apple Halloween Owl is much funnier and quicker to make than cupcakes.  I am telling you, kids go crazy for it.  Well, who wouldn't?  I am an adult, and am cuckoo-crazy for this delicious, easy Chocolate-Apple Halloween Owl.
This Chocolate-Apple Halloween Owl is also a great Halloween cooking project to get children involved in. Mostly all that you need is sliced apples, melted chocolate, oreos, and candies to decorate.  I don't know anything that could be easier to prepare than this Chocolate-Apple Halloween Owl.
At any rate, if you still wish to add cupcakes to your party, I have a great one for you: Our SPOOKY Brigadeiro Cupcakes — decorated three different ways.  I would also to encourage you to check out our other chocolate party treats below.  They are all to die for!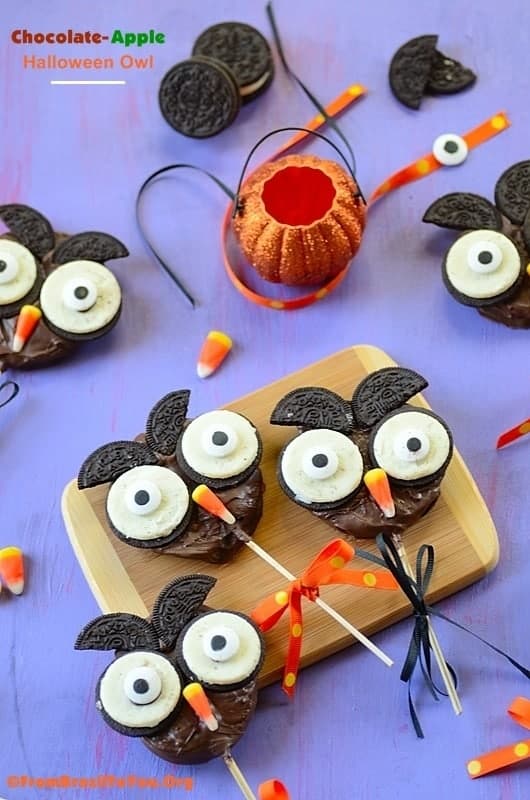 Have a wonderful month, and a fun Halloween!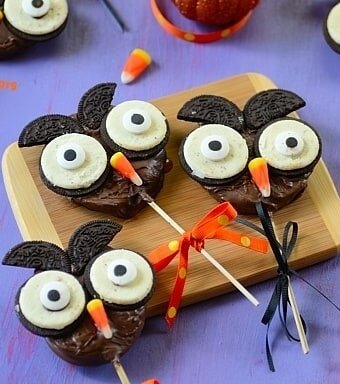 Cute Chocolate-Apple Halloween Owl
Easy, delicious, and super cute Chocolate-Halloween Owl -- a favorite of both children and adults.
Ingredients
2

apples **

I used Granny Smith

1

bag

semi-sweet chocolate chips

23 oz

8

wooden sticks

6-inch

1

bag

standard-sized Oreos

8

Candy Corns

for the nose

Wilton Candy Eyeballs

Ribbons
Instructions
Sit apples upright on a wood board and slice from top to bottom (about 4 slices per apple, 1/2-inch thick). Remove seeds gently. Then, line a large cookie sheet with aluminum foil and push the pointed end of each stick up into the bottom of each apple slice.

In a medium glass bowl, melt chocolate chips in the microwave according to the package directions, place bowl into a larger bowl filled with about 2-inch boiling water (this will help chocolate to not harden), and dip apple slices in chocolate using a spoon to help cover each slice if your bowl isn't deep enough to cover them.

Allow excess chocolate to drip off, then lay flat on the foil-lined baking sheet. Use the oreos to decorate both the eyes and ears of the owl and the candy corn for the nose while chocolate is still wet. Use a small dot of melted chocolate as a glue for the candy eyeballs. Place the baking sheet in the fridge for approximately 10-15 minutes, allowing chocolate to harden. If you wish, decorate the wood stick with a ribbon. Serve chocolate-apple Halloween owl and enjoy! Inactive Time: 10-15 minutes
How to participate (the rules): 1.) Blog about your chocolate treat.  Your recipe must include the two ingredients we choose.  It can be a simple no bake treat or a sophisticated layer cake, the complexity level of the recipe is totally up to you. 2.) Include a link back to the Chocolate party page.  Optionally, add the Chocolate Party logo in your blog post or on your sidebar. 3.) Your recipe must be published during the current month.  Please do not link old recipes, they will be deleted. -add the linky code at the bottom of your post. -have fun!!!