Don't freak out… No, these are not my/your mother-in-law's eyes (olho de sogra, OHL-yoo dee SOH-grah in Portuguese)… I mean, at least not literally! These are Brazilian bonbons consisting of BEIJINHOS (coconut kisses) nestled inside a dried plum (prune), and then rolled in granulated sugar.  The name is due to the shape of the candy, which is reminiscent of an eye. 🙂
I would say that this is Brazilian humor at its best!!! 🙂  Yes,  just as in America, Brazilian mothers-in-law don't have the best of reputations… But fortunately there are always exceptions!
So this can go two ways: If you have a wicked mother-in-law, these will remind you of her LARGE, EVIL eyes scrutinizing everything little thing that you do. Go ahead and serve these for Halloween!!!  But if you have a great one, like I do,  you will have a taste of her SWEET eyes. 🙂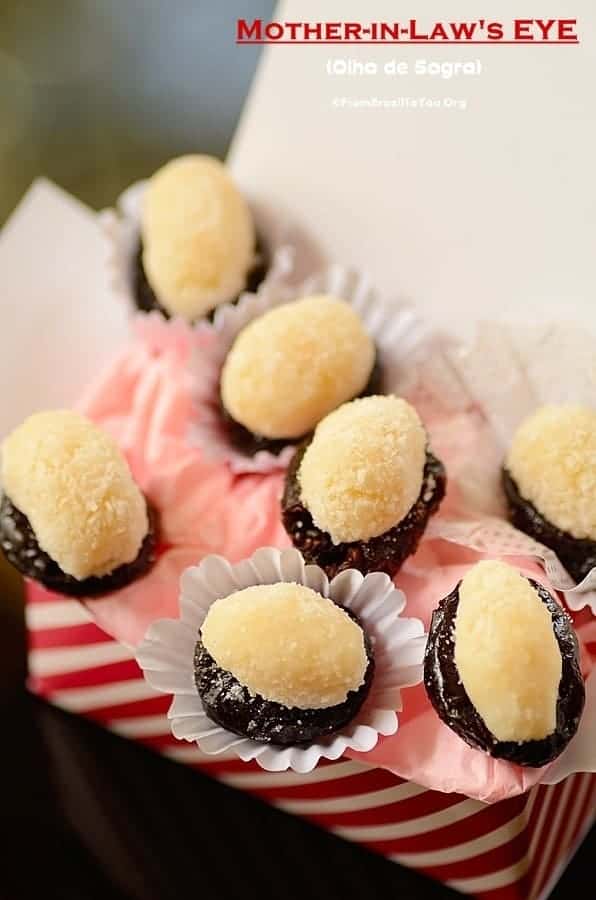 Olho de sogra (mother-in-law's eyes) are great to snack on (whether you are angry or happy), to serve at birthday parties and other events such as Halloween, and to give away as gifts. 😉 Yes, you can even give them to your mother-in-law if you wish!!!
Enjoy your rest of summer… serving and eating olho de sogra. You can also have a chuckle at her expense.
ENJOY THE CONVERSATION:
Will these will remind you of your EVIL OR SWEET mother-in-law's eyes (olho de sogra)?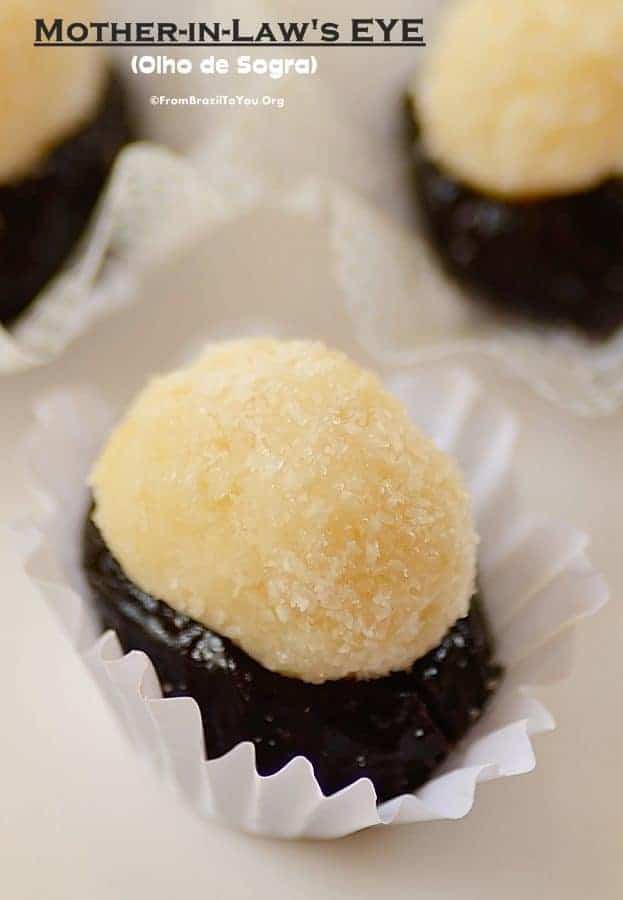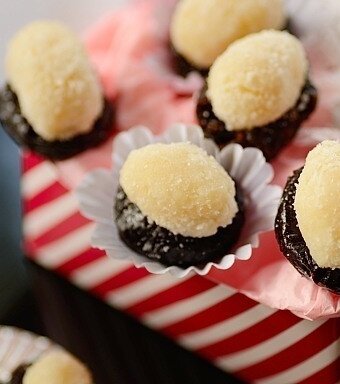 Olho de Sogra (Mother-in-Law Eyes)
These Mother-in-Law's Eye Bonbons (olho de sogra) -- consisting of dried plums stuffed with coconut kiss fudge balls-- are gluten-free and easy to make. They are a must-have for parties such as Halloween and birthday parties, and also great for garnishing cakes!!!
Ingredients
1

can

sweetened condensed milk

14-ounce or 396 g

1

large egg yolk

at room temperature

1

cup

sweetened coconut flakes

1

tablespoon

unsalted butter

softened (plus more for greasing a plate and your hands)

1

tablespoon

pure vanilla extract

optional

Granulated sugar to roll bonbons

28

dried plums (prunes)

choose the largest ones
Instructions
Mix well the condensed milk with the egg yolk. Stir in the coconut flakes and add the butter.

Cook in a medium size non-stick saucepan over medium heat (large burner), stirring constantly, until the mixture starts to show the bottom of the pan when you scrape it with your wood spoon (about 7 minutes). This coconut kisses mixture should be thick enough to reveal the bottom of the pan for a couple of seconds before the mixture levels out again.

When the coconut kisses 'dough' is ready, remove from heat, mix in the vanilla extract, and spread mixture onto a greased plate.

Let cool to room temperature. Use a 1/2 Tablespoon spoon as measurement and roll each measure into a ball with greased hands. Using thumb and index finger, mold each ball into a slightly elongated shape that will fit into the dried plums. Then, gently dredge each coconut kiss in the granulated sugar until totally covered. Set aside.

Place the dried plums on a cutting board, and using a paring knife, open a slit or cut into the center of each from the top to ALMOST reaching the bottom. But be careful to NOT split the dried plums in half all the way through the bottom. Nestle a coconut kiss into the cavity you have cut into each dried plum. Mold gently with fingers to ensure a good contact seal between the edges of the prune and those of the coconut kiss. Place into paper bonbon cups.
Recipe Notes
Store olhos de sogra (mother-in-law eyes) into a clean airtight container for up to 2 days at room temperature or in the refrigerator for up to 4 days. If storing olhos de sogra (mother-in-law eyes in the refrigerator, let them come to room temperature before serving.