Low carb, naturally gluten-free, and meatless Baked Caprese Zucchini Roll Ups that make dinner a delicious yet easy task.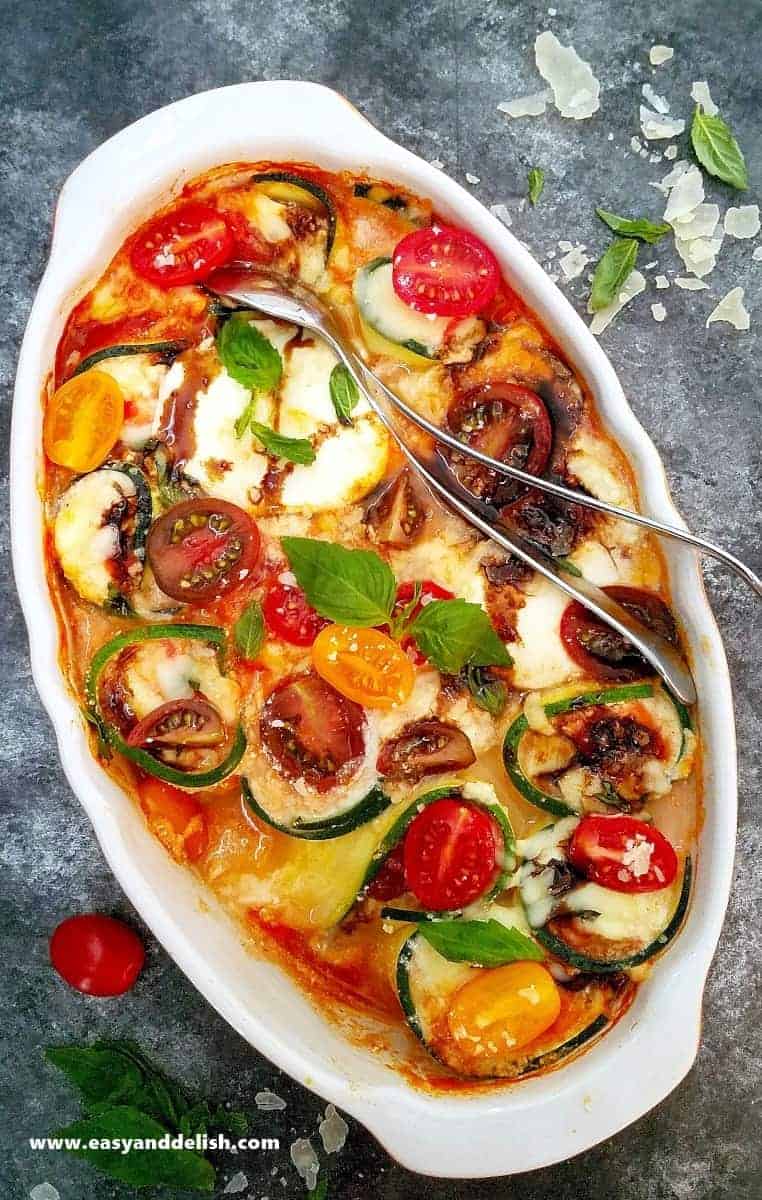 Are you a fan of Caprese salad?  How about zucchini?
I love both, and since I have been on a low carb diet, I have been looking for better alternatives for rice, pastas, and other carbs.
This "one-baking dish" Caprese Zucchini Roll Ups replaces lasagna pasta with zucchini, making dinner easy to prepare. with less dishes to clean, yet still healthy, nutritious, and delicious.  😉
How To Make Baked Caprese Zucchini Roll Ups
Grab a medium baking dish. Spread a bit of tomato sauce, arrange zucchini roll ups filled with a cheese mixture, tomato sauce, and basil, and then top with more cheese.
Cover with foil and bake at 400º F for about 20 minutes or so.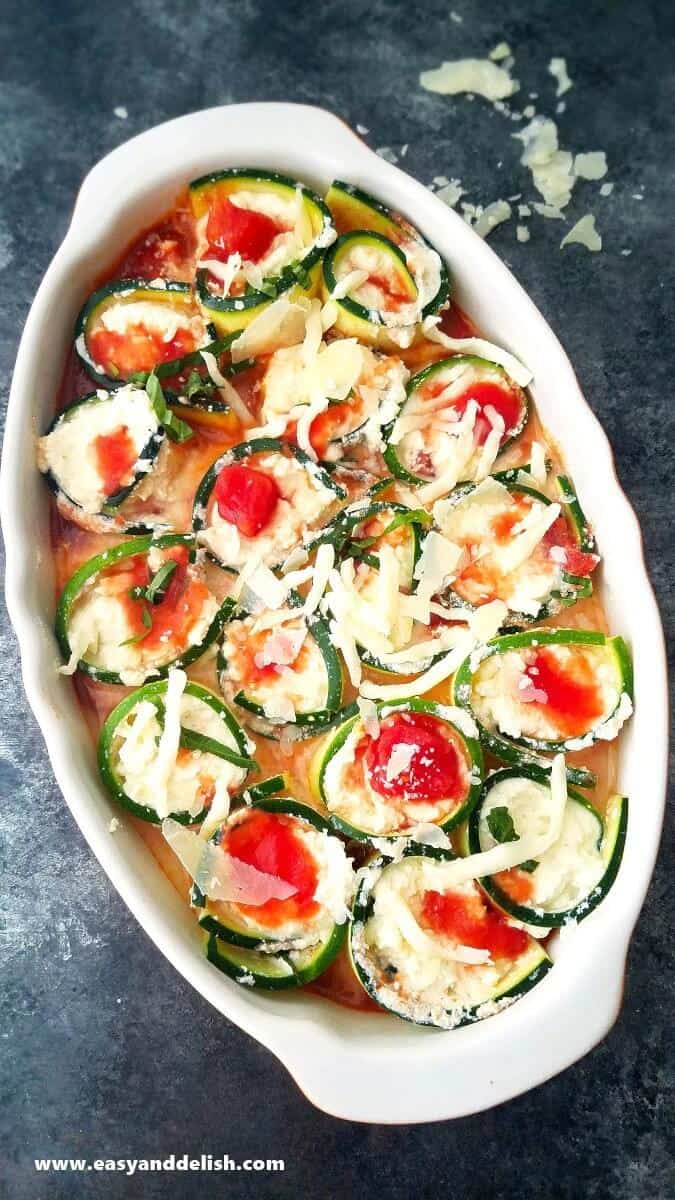 Meanwhile, browse the internet or read your favorite book/magazine. That's it! Dinner will be ready in the blink of an eye.
I know… This casserole has everything, including the taste of life made easier for busy moms/full-time workers like us.
Our Caprese Zucchini Roll Ups don't require any special skill from the cook. It's also a complete meal all by itself… and leaves your kitchen free from a load of dishes and kitchen utensils.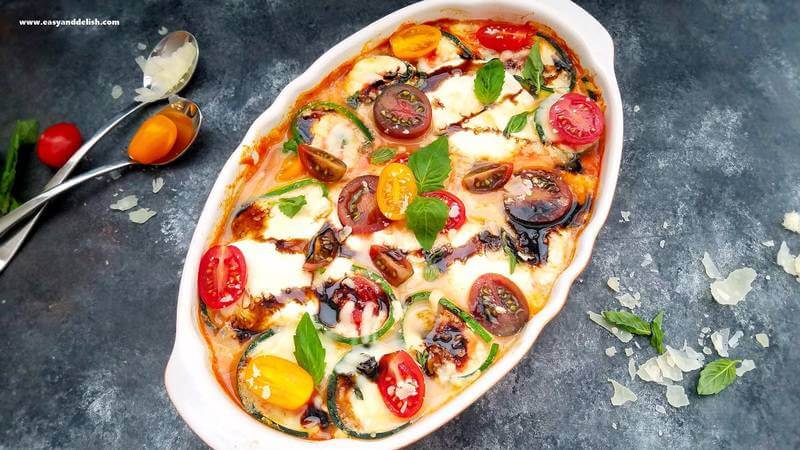 It may not have "one-pot" or "one-skillet" in its name, but it is definitely part of that same family.  It also makes the list of recipes that are naturally gluten-free, as I mentioned  earlier.
If you would like to add a GF starch, white rice would be a good option to serve along with it. If you are taking this dish to a potluck, garnish its top beautifully with grape tomatoes, basil leaves, and a drizzle of balsamic vinegar.
As you can see, simplicity here is a real plus!
I will leave you now with the formula for one hero of a dish that you can enjoy without stretching your waistline, and which is easy enough to prepare that you can get some much-deserved rest.
For more low carb weeknight meals, try our delicious Cauliflower Curry Soup.
Well, take care and stay healthy!
PIN & ENJOY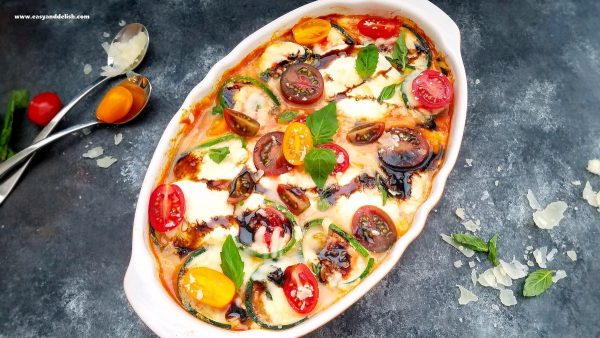 | | |
| --- | --- |
| | |
Preheat oven to 400° F. Spread marinara sauce onto a bottom of a medium baking dish and set aside.

Cut-off and discard zucchini ends and then slice each zucchini 1/8" thick lengthwise.

In a medium bowl, combine ricotta, 1 1/4 cups mozzarella, 3/4 cup Parmesan, and salt.

Taste and adjust salt if desired. Stir in the egg well. If you would like to, add a pinch of pepper.

On each slice of zucchini, spoon a thin layer of sauce, top with a thicker layer of the cheese mixture, and sprinkle a little bit of chopped basil.

Roll up and place in the prepared baking dish.

Sprinkle with remaining 1 1/4 cups mozzarella and then 1/4 cup Parmesan.

Cover with foil and bake for about 18-20 minutes or until zucchini is tender and cheese is melted.

If desired, garnish top with halved grape tomatoes, basil leaves, and a drizzle of balsamic vinegar. This casserole can be served by itself or with a side of white rice. Enjoy!