When life gives me lemons... I make cupcakes!!! 🙂 Yes, precisely: Brazilian-Style Lemon Meringue Cupcakes!!! Say what?
Do I hear you asking, "How are these cupcakes different from American lemon meringue cupcakes?"... Well, these Brazilian lemon meringue cupcakes are inspired by our torta de limão (or Brazilian lemon meringue pie), which consistes of a cookie crust, lemon mousse, and toasted meringue topping. So these cupcakes are filled with lemon mousse instead of lemon curd!! The lemon mousse is basically what sets the Brazilian lemon meringue cupcakes apart from the American ones. Another little detail: Although Brazilian lemon meringue pie is made from limes (which we call limão), I used in these lemon meringue cupcakes what we call in Brazil limão siciliano (or true lemon) -- a real favorite of mine. But you can use either limes, regular lemons, or Meyer lemons. It's really up to you!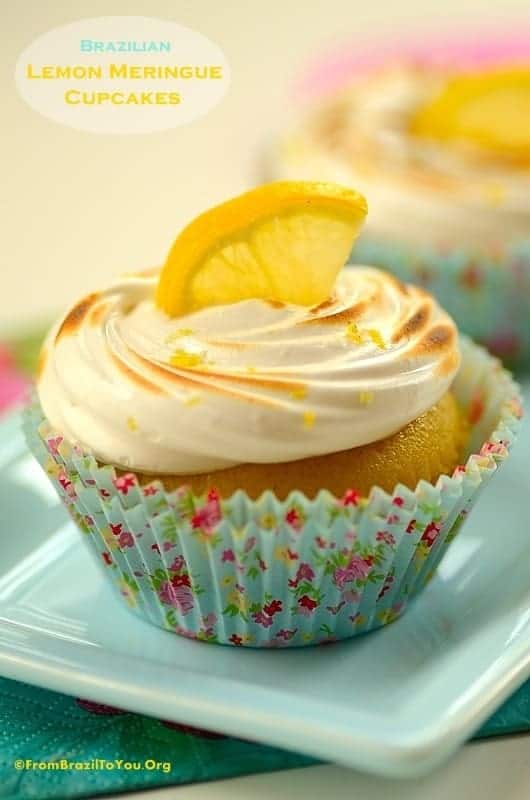 Besides flowers, nothing reminds me more of Spring than lemons, with their fresh, sharp flavor. I am really looking forward to its arrival. We are only a couple of days away, since the first official day of Spring in the northern hemisphere will be on March 20th. Yay!!!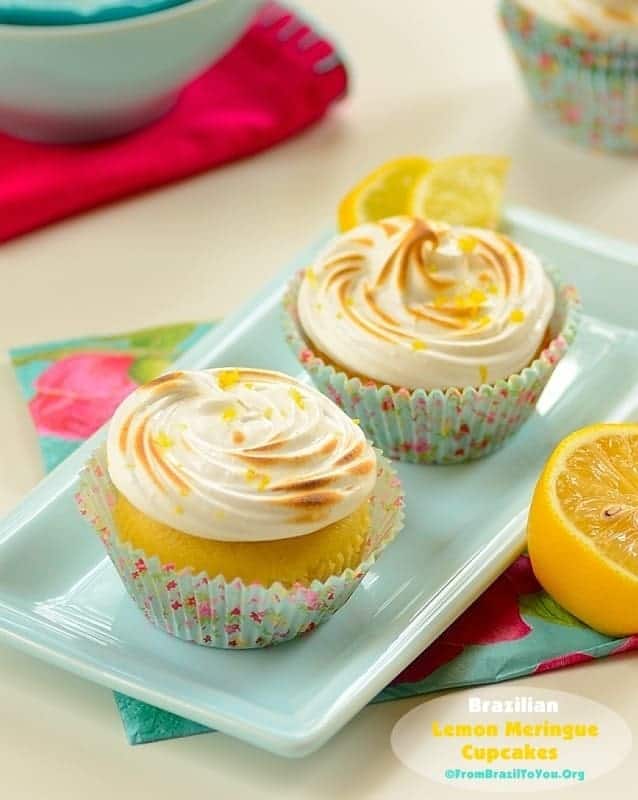 Another fave of mine for springtime is our Sunshiny Mango Upside Down Cake... remember that one?
As you can imagine, coming from a tropical country, I am sick and tired of long winter days. To joyfully welcome Spring, I have prepared for us these sweet and tangy, scrumptious lemon meringue cupcakes -- which are easy to prepare and real crowd-pleasers. I do hope you enjoy them as much as my family and I did!!!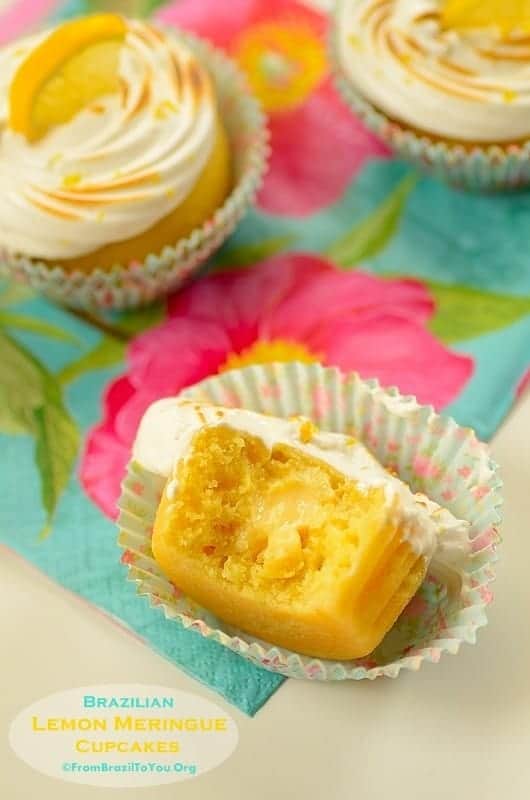 Happy Spring!
xx
Brazilian Lemon Meringue Cupcakes
Sweet and tangy lemon cupcakes filled with lemon mousse and topped with toasted meringue frosting.
Ingredients
For the Lemon Cupcake Batter:

2

cups

plus 2 tablespoons all-purpose flour

1

teaspoon

baking soda

½

teaspoon

baking powder

¼

teaspoon

salt

1

cup

whole milk

¼

cup

fresh lemon juice

(Meyer lemon, regular lemon, or lime)

3

Tablespoons finely grated lemon zest

(Meyer lemon, regular lemon, or lime)

½

cup

unsalted butter

at room temperature

1

cup

sugar

4

large eggs

at room temperature

For the Lemon Mousse:

½

cup

sweetened condensed milk

3

tablespoons

fresh lemon juice (Meyer lemon

regular lemon, or lime)

2

tablespoons

heavy whipping cream

For the Toasted Meringue Frosting:

8

large egg whites

2

cups

sugar

½

teaspoon

cream of tartar

A few drops of fresh lemon juice

(Meyer lemon, regular lemon, or lime)

Lemon zest

(Meyer lemon, regular lemon, or lime)
Instructions
To make the lemon cupcake batter

, preheat oven to 350 degrees F (178 degrees C). Line a cupcake tin and reserve.

In a medium-sized bowl, stir in together the dry ingredients: flour, baking soda, baking powder, and salt. Set aside.

In a small bowl, combine whole milk and both lemon juice and zest. Set aside.

In a large mixing bowl with paddle attachment, beat softened butter for about 1 minute on medium speed. Then add the sugar, beating at low speed until light and fluffy (about 3 minutes). Add eggs, one at a time, to the sugar mixture, beating well on low speed after each addition. Alternately, add the dry ingredients or flour mixture and also the reserved mixture of milk and lemon juice and zest to the egg mixture, beating well after each addition.

Using an ice cream scoop, fill cupcake liners ¾ full with the batter. Bake for 15 minutes or until cupcakes are puffy and bounce back when lightly touched. Let cool completely on a rack before filling with lemon mousse and meringue frosting.

To make the lemon mousse

, whisk all the 3 ingredients together until obtaining a homogeneous mixture. Fill cupcakes with lemon mousse by first cutting out a small plug in the center of each cupcake using a paring knife. The plug should be to about one half of the vertical depth of the cupcake. Reserve the cupcake plug. Pipe lemon mousse into each hole. Close the hole with the reserved plug -- this will require trimming off most of the bottom part of the plug so that when replaced in the hole the plug will be level with the rest of the top of the cupcake, and will not squeeze out the mousse. Place filled cupcakes in the refrigerator.

To prepare the toasted meringue frosting:

Place egg whites, sugar, and cream of tartar in the heatproof bowl of an electric mixer. Then, set the bowl over a saucepan containing simmering water. Whisk constantly for about 3-4 minutes or until sugar has dissolved and whites are warm to the touch.

Transfer bowl to electric mixer fitted with the whisk attachment. Beat mixture on low speed and then gradually increase to high until obtaining stiff, glossy peaks (about 5 minutes). Add a few drops of fresh lemon juice, mixing until combined. Using a large star tip or other tip of your preference, pipe meringue onto the cupcakes. Toast meringue with a blow torch and sprinkle lemon zest on top of the toasted meringue. Decorate as desired, serve, and enjoy!
** Nutrition labels on easyanddelish.com are for educational purposes only. This info is provided as a courtesy and is only an estimate, since the nutrition content of recipes can vary based on ingredient brand or source, portion sizes, recipe changes/variations, and other factors. We suggest making your own calculations using your preferred calculator, based on which ingredients you use, or consulting with a registered dietitian to determine nutritional values more precisely.
Please note that health-focused and diet information provided on easyanddelish.com is for educational purposes and does not constitute medical advice, nor is it intended to diagnose, treat, cure, or prevent disease. Consult with your doctor or other qualified health professional prior to initiating any significant change in your diet or exercise regimen, or for any other issue necessitating medical advice.
DID YOU MAKE THIS RECIPE?
Comment and rate the recipe. Also follow us on Pinterest at @easyanddelish for more delish recipes.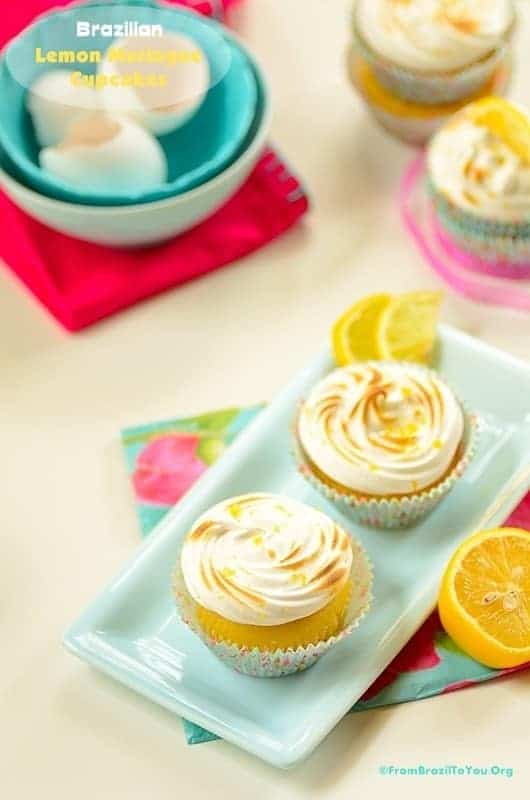 Lemon meringue cupcake, Brazilian-style are delicious and suitable for Spring! Enjoy these lemon meringue cupcakes and more...
These lemon meringue cupcakes are filled with lemon mousse and topped with toasted meringue frosting.