Who doesn't love mangoes? I am just crazy for mangoes and many other tropical fruits. From salads to desserts, mangoes deliver, big time. A great example is this gorgeous, sunshiny, mildly sweet and buttery, super duper delicious Mango Upside Down Cake -- a recipe adapted from Feast On The Cheap, the blog that I have been assigned to for this month. Huh? Oh, didn't I tell you? Today is SRC-- Secret Recipe Club day!!!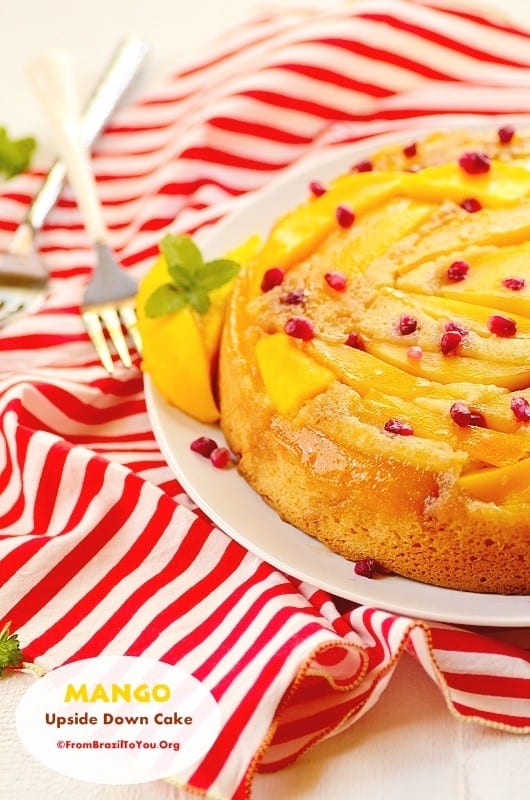 Browsing through Feast On The Cheap's recipe index, I bookmarked many great recipes. However, the Orange-Mango Upside Down Cake filled my eyes with its beauty and lusciousness to such a degree that I decided I just had to make a mango upside down cake. 🙂 I am also sick of these dark, cold winter days... I thought that bringing sunshine to my/our plate would be an awesome idea. Well, upside down cakes are highly esteemed in Brazil, with banana upside down cake and pineapple upside down cake being the two most popular. There, cafezinho (a small cup of our strong coffee) -- or sometimes tea-- is the preferred accompaniment to enjoy with coffee cakes such as this one. But if you would like to have yours warm, accompanied by a scoop of ice cream, go right ahead and enjoy! 🙂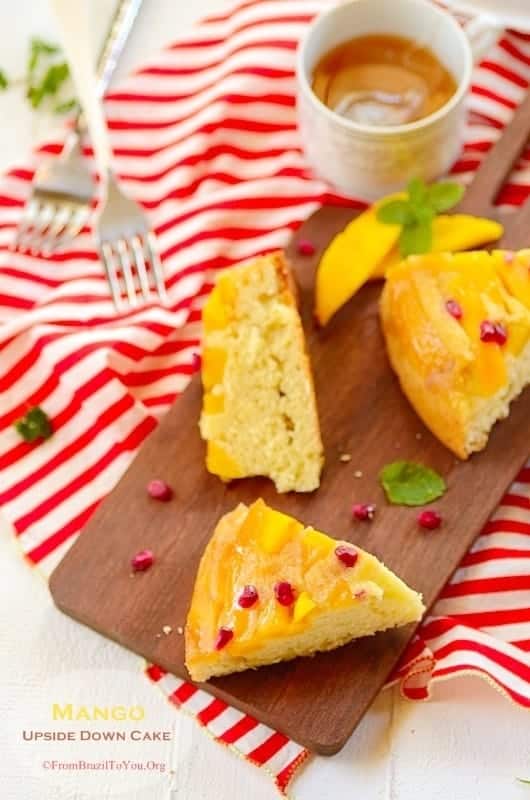 Feast On The Cheap is a blog co-authored by mother-and-daughter Mary Ann and Mariel who cook amazing budget-friendly dishes and treats. Reading their story made me smile because of the many things Mary Ann and I have in common. Like me, Mary Ann is a mother, caterer, blogger, a member of both the Epicurious community, SRC, and the BlogHer Network. 🙂 She also had another career before starting cooking on a professional level. It is interesting how two complete strangers have so many things in common. But the coincidences do not stop here! Mariel, her daughter and co-author of Feast On The Cheap, grew up in her mother's kitchen learning "the language of cooking at a young age." According to her, "While the neighborhood children were chowing down on hot dogs and burgers, she was taste-testing rack of lamb, Scotch broth and tea sandwiches." My two children are also growing up in my kitchen, and my six-year-old already shows great interest in cooking and appreciation for gourmet foods. Maybe my little girl will be my future co-author one day. 🙂
As always, I have to put my own little spin on the recipe in order to make it my own. For this reason alone, Mariel's Orange-Mango Upside Down Cake became simply a Mango Upside Down Cake garnished with pomegranate seeds on top and incorporating mango juice in the batter instead of orange juice. I also added yogurt to its batter recipe to make it more moist. Although I do love oranges, I thought perhaps exchanging the orange juice for coconut milk or mint tea might be a nifty idea-- but in the end winded up adding mango juice. I would prefer to savor the aphrodisiac taste of this tropical stone fruit, highly appreciated in Brazil, in both the batter and topping. In cooking, there is a principle: to really emphasize the taste of something, do not stray! So in order to really bring out the taste of the mangoes, I both used the fruit in the topping and mango juice in the batter. Of course, you are welcome to put your own personal touch(es) on yours, too.
For now, enjoy this sunshiny mango upside down cake. My smile is as large as my chubby face. 🙂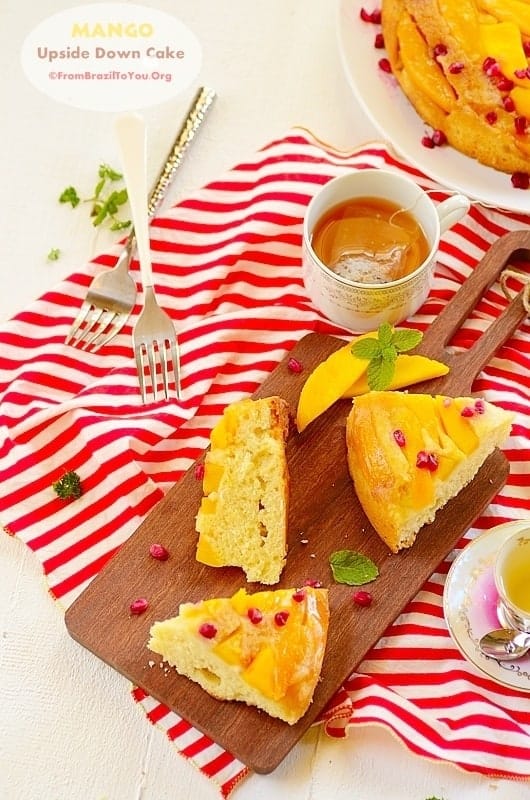 xx
Mango Upside Down Cake
A gorgeous, sunshiny, mildly sweet, and buttery mango upside down cake that can be enjoyed by itself, with a cup of coffee/tea, or with a scoop of ice cream.
Ingredients
For the Topping:

3-4

firm-ripe mangoes

peeled**

½

lemon or 1 lime

½

stick

unsalted butter

about 4 Tablespoons

½

cup

packed light brown sugar

For the Cake Batter:

1½

cups

all-purpose flour

1

teaspoon

baking powder

¼

teaspoon

salt

1

stick

unsalted butter

softened, ½ cup

¾

cup

granulated sugar

2

whole large eggs plus 1 large egg yolk

1

teaspoon

pure vanilla extract

⅓

cup

plain yogurt

½

cup

concentrate mango juice

mango nectar, or frozen mango pulp, thawed
Instructions
To prepare the mango topping:

Slice mangoes lengthwise. Using a spoon, remove flesh from the halves. Cut into half-inch slivers and place into a medium bowl. Sprinkle lemon juice (to give a touch of acidity to the cake and brighten the mango color) on top and set aside.

In a small sauce pan, melt butter over medium heat, then stir in brown sugar. Simmer, stirring, until sugar has dissolved. Without stirring, let cook a little bit more until bubbles start to form around the edges of the mixture (i.e.the sugar begins to caramelize). Spread mixture in the bottom of a buttered 9-inch round baking pan and arrange mango slivers on top in a rose pattern or any other that you wish (Note: It is very important to fill all or most spaces; otherwise topping will not look as pretty as it could (Mine did not have all the spaces filled because only 2 mangoes were used). Then, set aside.

To make the mango upside down cake batter

: Preheat the oven to 350 degrees F (177 degrees C). Whisk together the flour, baking powder and salt in a medium bowl and set aside. In the bowl of an electric mixer with a paddle attachment, beat the softened butter and sugar together at medium speed until light and fluffy (about 5 minutes). Add the 2 whole eggs, one at a time, and then the egg yolk -- beating after each addition. Beat in both the vanilla and yogurt.

Add half of flour mixture, beating at low speed until just combined. Mix in mango juice, then add remaining flour mixture, mixing until just combined.

Spoon the batter over the arranged mango slivers in the cake pan (Be careful not to disturb the mango pattern!!!) and then, spread the batter smooth and even. Bake for 33-37 minutes (dark pan) or 45 - 50 minutes (shiny pan) or until golden brown and a toothpick inserted in the center comes out clean.

Let cool on a wire rack for about 10 minutes. To unmold the mango upside down cake, run a thin knife gently along the edges of the pan, invert onto a platter, and continue cooling. If desired, garnish top of the mango upside down cake with pomegranate seeds (optional). Serve mango upside down cake slightly warm or at room temperature by itself or with ice cream.
** Nutrition labels on easyanddelish.com are for educational purposes only. This info is provided as a courtesy and is only an estimate, since the nutrition content of recipes can vary based on ingredient brand or source, portion sizes, recipe changes/variations, and other factors. We suggest making your own calculations using your preferred calculator, based on which ingredients you use, or consulting with a registered dietitian to determine nutritional values more precisely.
Please note that health-focused and diet information provided on easyanddelish.com is for educational purposes and does not constitute medical advice, nor is it intended to diagnose, treat, cure, or prevent disease. Consult with your doctor or other qualified health professional prior to initiating any significant change in your diet or exercise regimen, or for any other issue necessitating medical advice.
DID YOU MAKE THIS RECIPE?
Comment and rate the recipe. Also follow us on Pinterest at @easyanddelish for more delish recipes.
 _________________________________________________________________________________________