The Fourth of July, America's Independence Day, is just around the corner. Last year we celebrated with a refreshing, patriotic Chocolate Pudding Ice Cream Pie. But this year we will be celebrating the date with none other than a fun, Quick Chocolate Popcorn with Condensed Milk Drizzle and M&M's (Pipoca de Chocolate com Leite Condensado e M&M's)…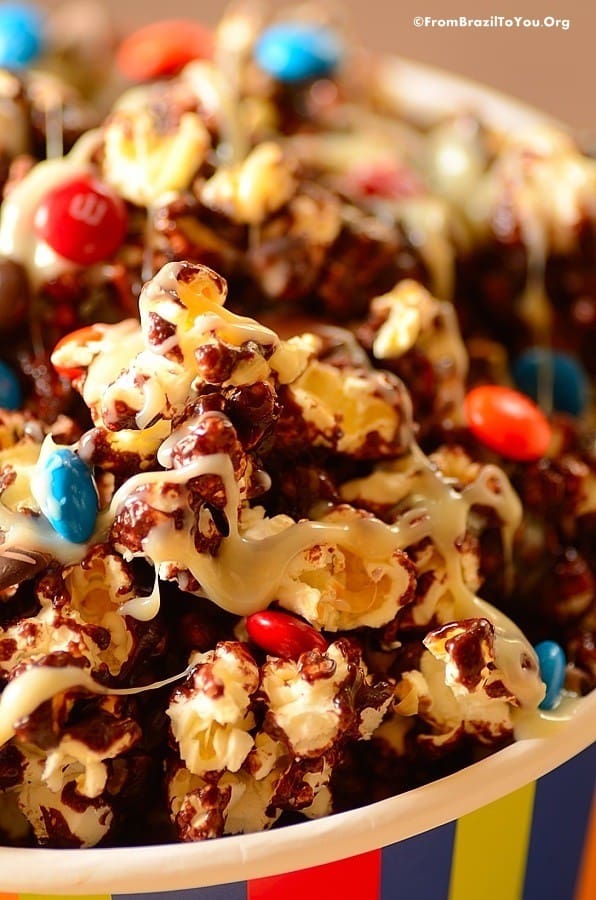 This chocolate popcorn is a great family dessert which virtually no child (or adult) will be able to resist… See the precise equation: Chocolate + popcorn + sweetened condensed milk + colorful M&M's = a HIT!!!!  It just doesn't get any better than this, does it?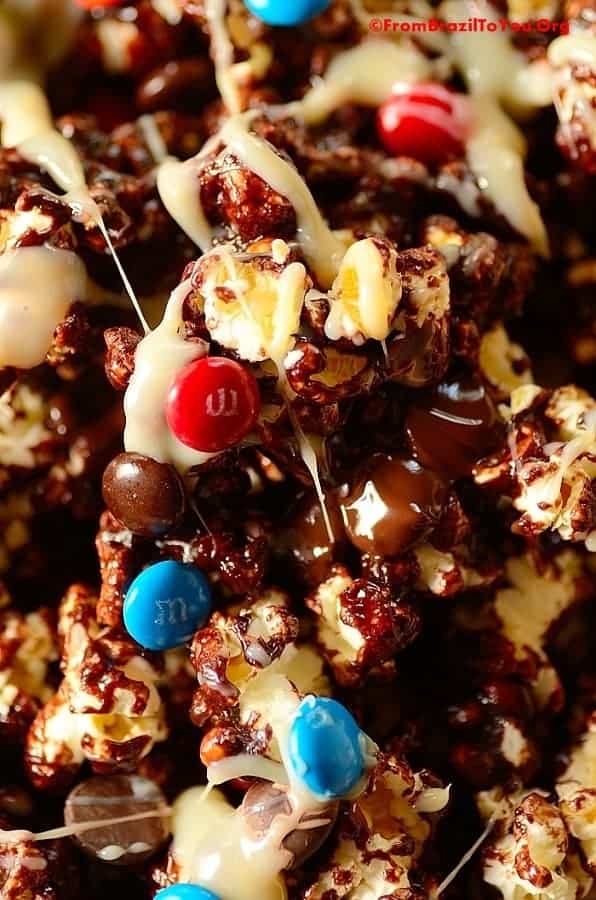 If you love grilling, these Grilled Chicken Legs wrapped in Bacon (churrasco de frango) accompanied by Grilled Corn on the Cob with Jalapeño-Lime Aioli and Parmesan Cheese will make your day! If you don't feel like firing up the grill, try these fall-off-the-bone barbecued Brazilian-Style Pork Ribs which are prepared in the oven and can be enjoyed all year round.
And, of course, this Strawberry Caipirinha or Berry Caipilé with Tangerine Popsicle (drink and dessert in a glass) can cool off any soaring temps.
Enjoy the day with your family and friends, watching the fireworks and celebrating such an important date for America! As for me, I cannot get enough of this chocolate popcorn — yes,  just like a kid in a candy store… oh, well, …
HAPPY
INDEPENDENCE
DAY,
AMERICA

!!!!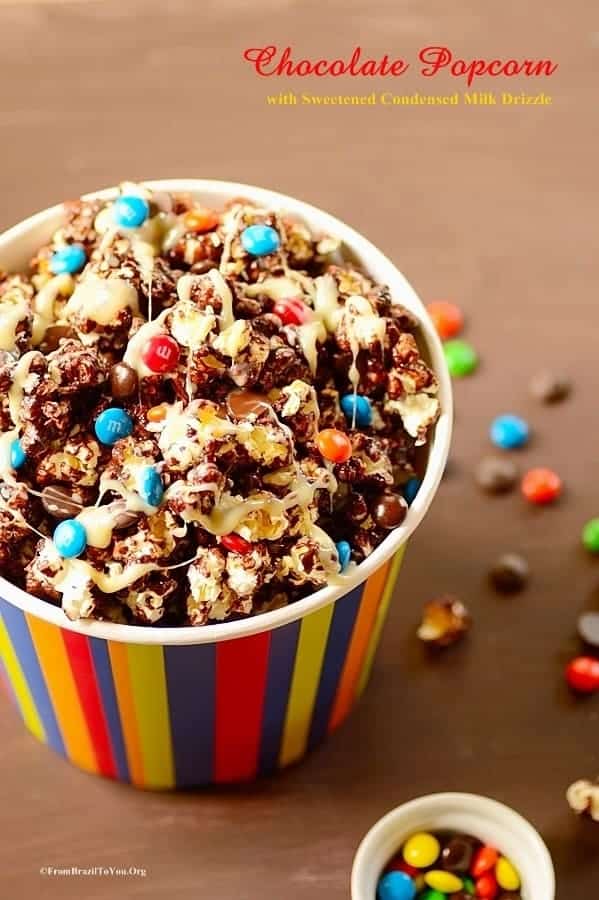 Quick Chocolate Popcorn with Condensed Milk Drizzle (Pipoca de Chocolate)
This Quick Chocolate Popcorn with Condensed Milk Drizzle and M&M's is a fun snack/dessert that combines bitter (unsweetened cocoa), sweet (condensed milk and M&M's), and salty flavors (salt).
Ingredients
3

bags

microwave popcorn

(1.12 ounce bags) or about 9 cups of popped popcorn

1/2

cup

sugar

1/3

cup

light corn syrup

1/2

stick

butter

or 4 Tablespoons

4

tablespoons

unsweetened cocoa

1

pinch

salt

1/8

teaspoon

baking soda

to prevent popcorn from becoming candied

1

teaspoon

pure vanilla extract

2 - 4

tablespoons

sweetened condensed milk to drizzle

M&M's to decorate (I used the milk chocolate ones)
Instructions
First, microwave the popcorn bags -- one at a time -- following the instructions on the package. Then, open the bags, place popcorn on a large baking sheet, and remove and throw away all

unpopped

kernels of corn. Set

popped

kernels aside to be folded in the chocolate mixture.

Over medium heat, using a medium non-stick pot, combine the sugar, corn syrup, butter, cocoa powder, and salt, stirring until it starts to boil. Let boil for about 1 to 2 minutes without stirring. Mix in baking soda and vanilla, stirring until thoroughly combined. Turn off the heat and let mixture cool for about 30 seconds before folding popcorn in (in order to prevent popcorn from becoming soggy).

Add the popcorn, folding it in the mixture until popcorn is very well coated. Spread chocolate popcorn onto a greased foil-lined sheet pan, separating the popped kernels from one another, and let cool enough to handle. Transfer chocolate popcorn to a container, drizzle sweetened condensed milk on top just immediately prior to serving, and decorate with M&M's. Enjoy!
DID YOU MAKE THIS RECIPE?
Comment and rate the recipe. Also follow us on Pinterest at @easyanddelish for more delish recipes.