What is for dinner tonight? Well, at my house it will be Brazilian-Style Pork Ribs... Oh, yes! I am counting the minutes with anticipation. It has been quite a long while since I last had Brazilian-style pork ribs -- or at least one of the several styles of ribs that exist in my home country.
There are a variety of ways to both marinate and cook costela de porco (pork ribs) in Brazil. The most famous is the costelinha de porco à mineira -- a typical dish from Minas Gerais state-- which is cut, seasoned, and stir-fried, and the subsequently mixed with a corn dish called canjiquinha (a course ground corn - called xerém in the Northeastern Brazil-- that is cooked like polenta). When not prepared Mineira-style, the pork ribs can alternatively be prepared in a pressure cooker, grilled, deep-fried, or braised in the oven.
Since we decided to leave ours whole and it is still cold outside, we'll be preparing these pork ribs in the oven instead of on the barbeque grill. In this way, these pork ribs can be enjoyed all year round regardless of the weather. We suggest to serve our pork ribs accompanied by polenta and couve à mineira. I can already envision the huge smile stamped on my hubby's face -- and on mine as well. Boy, how I love these pork ribs!!!
I hope that you love them as well.
Tchau, tchau!! xx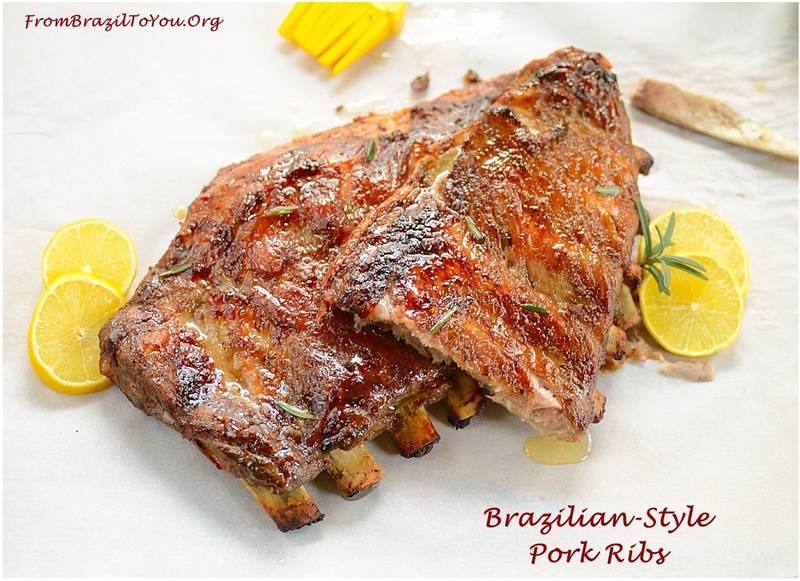 Brazilian-Style Pork Ribs (Costela de Porco Assada)
Ingredients
4

teaspoons

salt

1 teaspoon per pound or ½ kg

4

garlic cloves

minced

1

medium white onion

chopped

1

teaspoon

ground black pepper

1-½

teaspoons

Dijon mustard

1-½

teaspoons

Worcestershire sauce

1

teaspoon

dried oregano

¼

teaspoon

ground cumin

1

teaspoon

malagueta pepper or chili pepper**

optional

½

cup

apple cider vinegar

4

pounds

pork spareribs

about 2 kg, whole

Vegetable oil

only for brushing

Honey

optional

** If you do not like hot/spicy food, skip this ingredient.
Instructions
Process or blend the first 10 ingredients in a food processor or blender until obtaining a homogeneous mixture. Put the ribs in a large, deep rectangular baking pan, spread the mixture over the ribs and marinate for 1 hour at room temperature.

Preheat oven to 350º F (180º C).

Cover pan with aluminum foil, tightly sealing its edges so that steam will not escape (the ribs will braise in their own liquids and the marinade). Then, let ribs cook in the oven for approximately 1 hour and 50 minutes (25-30 minutes per pound or ½ kg). Reserve the drippings/remaining marinade from the bottom of the pan and then transfer ribs to another large baking pan . Brush top of ribs with the oil (and then, honey if desired) and increase oven temperature to 425º F (220º C). Leave the pan uncovered this time and roast ribs for 10-25 minutes or until golden brown. Brush/baste the ribs with the reserved drippings/marinade from the first pan and let sit for 10 minutes before serving. Serve pork ribs accompanied by

polenta

and

couve à mineira

.

NOTE: If you are not overly concerned about the visual appearance, you can leave the pork ribs braising in the liquids/drippings for an additional 10 or 15 minutes before caramelizing which will result in an even more tender cut of meat. Although in Brazil we don't use honey with meats, I love to brush my pork ribs with it because it gives a great balance of flavor to the pork ribs.
** Nutrition labels on easyanddelish.com are for educational purposes only. This info is provided as a courtesy and is only an estimate, since the nutrition content of recipes can vary based on ingredient brand or source, portion sizes, recipe changes/variations, and other factors. We suggest making your own calculations using your preferred calculator, based on which ingredients you use, or consulting with a registered dietitian to determine nutritional values more precisely.
Please note that health-focused and diet information provided on easyanddelish.com is for educational purposes and does not constitute medical advice, nor is it intended to diagnose, treat, cure, or prevent disease. Consult with your doctor or other qualified health professional prior to initiating any significant change in your diet or exercise regimen, or for any other issue necessitating medical advice.
DID YOU MAKE THIS RECIPE?
Comment and rate the recipe. Also follow us on Pinterest at @easyanddelish for more delish recipes.