Caipirinha cocktail is a famous thirst-quenching drink made of lime, sugar, ice, and a rum-like spirit, cachaça. It's Brazil's national cocktail... cheers to that!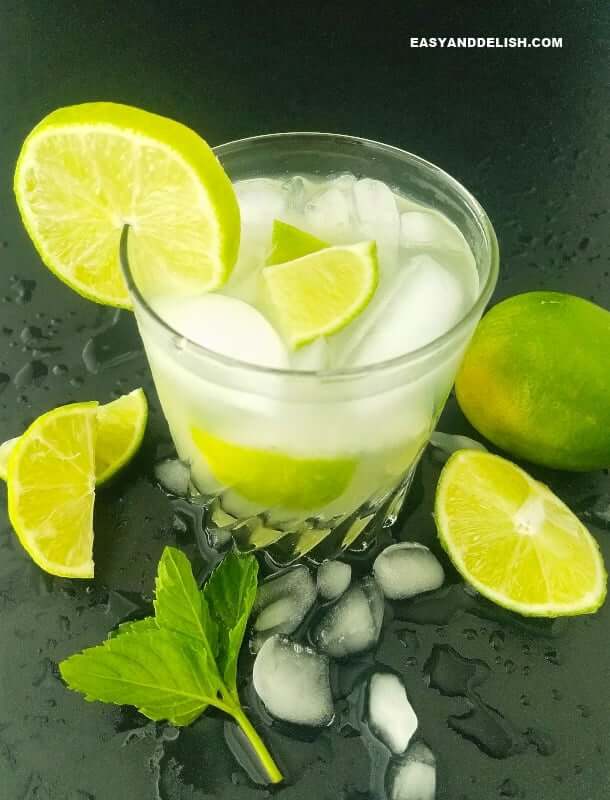 Just like Mexico with its Margarita and Cuba with its Mojito, Brazil also has a national cocktail drink: Caipirinha!
CAIPIRINHA RECIPE
This recipe is quite quick and easy to make.
It calls for mashing lime wedges with sugar using a pestle. This releases the lime oils and juices.
Then, fill the glass with ice and cachaça, a white rum-like spirit.
It is a refreshing fragrant cocktail drink, served all year round in Brazil.
WHAT'S THIS COCKTAIL MADE OF?
Caipirinha cockctail is made of mashed lime and sugar, ice, and a shot of cachaça.
Just like white rum, cachaça is a sugarcane-derived product, but it has a stronger flavor and aroma because its distillation process retains more impurities.
'

CAIPIRINHA' MEANING AND PRONUNCIATION
Caipirinha is the diminutive of caipira, which means "hillbilly". But the cocktail is most referred to as a 'little countryside drink' rather than the class of person.
In fact, its origin is still not certain yet related to cachaça.
INGREDIENTS
To make caipirinha cocktail, you'll need"
1 lime, quartered
1 tablespoon granulated sugar
Ice
3 tablespoon cachaça (or white rum if you prefer)
HOW TO MAKE CAIPIRINHA
To make this caipirinha recipe, first, add lime and sugar to a small glass.

Then, mash them together using a pestle

, muddler,

or a wooden spoon. Lastly, fill the glass with ice and add the

cachaça

.
DISHES THAT PAIR WELL WITH THIS CAIPIRINHA DRINK
One thing I know, caipirinha cocktail is perfect to accompany feijoada (black bean and pork stew)– Brazil's national dish.
Moreover, cod cakes (bolinho de bacalhau), churrasco (Brazilian barbeque), picanha (top sirloin cap), grilled pork chops and other meats like these barbecue pork ribs.
Caipirinha is such a big thing in Brazil that it is widely available in restaurants, bars, and many households… As well as its variations!
CAIPIRINHA VARIATIONS
Oh, yeah! There are many variations of caipirinha cocktail as follows:
Caipifruta – made of cachaça, crushed fresh fruits, sugar, and crushed ice. The usual fruits used are kiwi, passion fruit, lemon, grapes, mango, cajá, cashew fruit, açaí, pomegranate caipirinha, tomato basil caipirinha, and strawberry caipirinha

.

Caipisake

– it takes sake instead of cachaça. Berries or kiwi are the most used.

Caipiroska or Caipivodka – made with vodka instead of cachaça.

Caipiríssima – prepared with rum instead of cachaça.

Caipirão – made using a liqueur from Portugal, Licor Beirão, instead of cachaça.

CaipirItaly – Campari, from Italy, subs cachaça.

Caipinheger – made using Steinhager.
Because I do not drink, mine is made with crushed fruit(s), sugar substitute, crushed ice, and sparkling water. It is the light and virgin version of the drink.
CAN I MAKE CAIPIRINHA COCKTAIL WITH RUM OR VODKA?
If you don't find cachaça, use vodka or white rum. All 3 have a similar ABV.
WHAT TYPE OF SUGAR?
The traditional caipirinha recipe takes white sugar but you can use almost any sugar substitute.
CAN YOU MAKE IT WITH OTHER FRUITS?
Yes, you can replace lime with almost any fruit.
OTHER COCKTAIL RECIPES:
Caipirinha Cocktail
Caipirinha cocktail is a famous refreshing drink made of lime, sugar, ice, and a rum-like spirit, cachaça. It's Brazil's national cocktail drink.
Ingredients
1

lime

quartered

1

tablespoon

granulated sugar

(or brown if desired)

ice cubes

3

tablespoons

cachaça

or white rum as a substitute
Instructions
Place lime and sugar into a small glass. Mash the two ingredients together using a pastle, muddler or a wooden spoon. Fill the glass with ice and add the cachaça.
Recipe Notes
A wide variety of fresh fruits can be used in place of lime. In the absence of cachaça, vodka can be used, to make a caipiroska.
Nutrition
Calories:
170
kcal
|
Carbohydrates:
19
g
|
Protein:
1
g
|
Fat:
1
g
|
Saturated Fat:
1
g
|
Sodium:
2
mg
|
Potassium:
68
mg
|
Fiber:
2
g
|
Sugar:
13
g
|
Vitamin C:
20
mg
|
Calcium:
22
mg
|
Iron:
1
mg
** Nutrition labels on easyanddelish.com are for educational purposes only. This info is provided as a courtesy and is only an estimate, since the nutrition content of recipes can vary based on ingredient brand or source, portion sizes, recipe changes/variations, and other factors. We suggest making your own calculations using your preferred calculator, based on which ingredients you use, or consulting with a registered dietitian to determine nutritional values more precisely.
Please note that health-focused and diet information provided on easyanddelish.com is for educational purposes and does not constitute medical advice, nor is it intended to diagnose, treat, cure, or prevent disease. Consult with your doctor or other qualified health professional prior to initiating any significant change in your diet or exercise regimen, or for any other issue necessitating medical advice.
DID YOU MAKE THIS RECIPE?
Comment and rate the recipe. Also follow us on Pinterest at @easyanddelish for more delish recipes.