Just as Mexico with its Margarita and Cuba with its Mojito, Brazil also has a national cocktail drink: Caipirinha! It is made with lime, sugar, ice, and of course, cachaça.
Just like rum, cachaça is made from a sugarcane-derived product, but it has a stronger flavor and aroma because its distillation process retains more impurities.
The word caipirinha is the diminutive of the word caipira, an equivalent of the English word hillbilly. But caipirinha is most referred to 'little countryside drink' rather than the class of person. Its origin is still uncertain yet associated with that of cachaça.
One thing I know, caipirinha is perfect to accompany feijoada – a bean stew that is considered Brazil's national dish, cod cakes (bolinho de bacalhau), and churrasco – Brazilian barbeque- as well as being served on so many other occasions, especially on a hot day. Caipirinha is so popular in Brazil that it is widely available in restaurants, bars, and many households… As well as its variations!
Oh, yeah! There are many variations of this drink as follows:
Caipifruta

– consists of cachaça, crushed fresh fruits, sugar, and crushed ice. The most popular fresh fruits used to create this drink are tangerine, kiwi, passion fruit, pineapple, lemon, grapes, mango, cajá, cashew fruit, and most recently açaí.

Caipisake

– sake is substituted for cachaça. It is commonly made with strawberries or kiwi.

Caipiroska or Caipivodka

– made with vodka instead of cachaça.

Caipiríssima

– prepared with rum instead of cachaça.

Caipirão

– made using a liqueur from Portugal, Licor Beirão, instead of cachaça.

CaipirItaly

– Campari is substituted for cachaça. It is a variation from Italy.

Caipinheger

– variation made using Steinhager.
Because I do not drink, mine is made with crushed fruit(s), sugar substitute (granulated), crushed ice, and most important sparkling water. It is the light and virgin version of the drink.
Today wasn't one of those hot days where I live, but I craved the remembrance of its refreshness. This way, it was the perfect fit to celebrate the most special of the events: Life…
Cheers!!!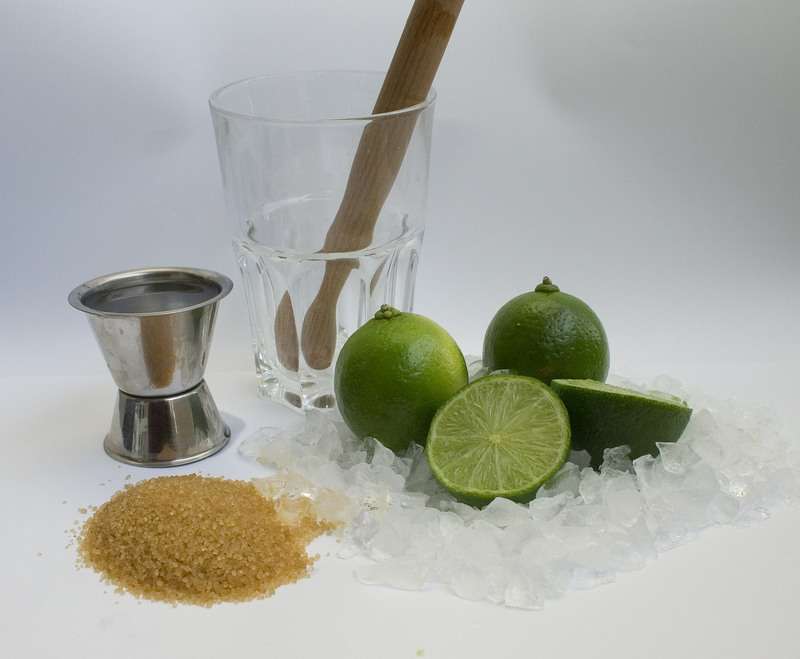 Caipirinha
Recipe of Caipirinha, Brazil's National Cocktail Drink!
Ingredients
1

lime

cut into 4 wedges

1

tablespoon

sugar

brown, refined or crystalized

ice cubes

3

tablespoons

cachaça
Instructions
Place lime and sugar into a small glass. Mash the two ingredients together using a pastle, muddler or a wooden spoon. Fill the glass with ice and add the cachaça.
Recipe Notes
A wide variety of fresh fruits can be used in place of lime. In the absence of cachaça, vodka can be used, making a caipiroska.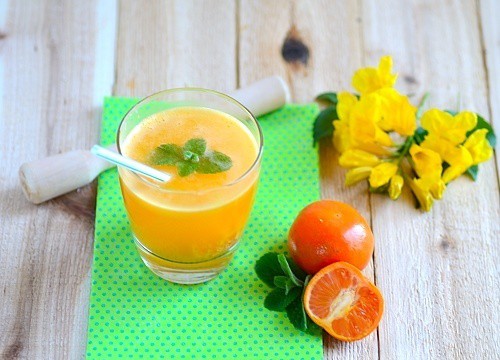 [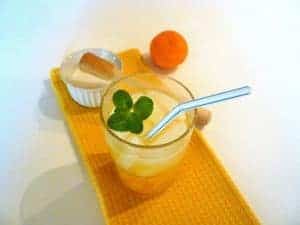 Tangiroska
Tangiroska is a refreshing variation of caipirinha made from tangerine and vodka.
Ingredients
1

tangerine

peeled

2

tablespoons

sugar

brown, refined or crystallized

2-3

leaves fresh mint**

ice cubes

3

tablespoons

vodka

for virgin version, omit the vodka and add 1/2 cup of sparkling water instead
Instructions
In a glass, mash together the peeled tangerine, sugar, and the mint using a pestle or a wooden spoon. Remove any seeds. Add crushed ice and vodka. Stir and enjoy!
Recipe Notes
** Mint is my touch to this drink. The sparkling water makes the virgin version.
Check out our caipirinha-flavored Baby Back Ribs here.
* Caipirinha with a sugar cane swizzle stick by David Catania is licensed under the Creative Commons Attribution-ShareAlike 3.0 License.
* Zutaten für einen Caipirinha by Christian "VisualBeo" Horvat is a file from the Wikimedia Commons.