As a Brazilian having lived in the United States of America for 10 years so far, I do celebrate its Independence on the 4th of July, just as I celebrate the Independence of Brazil every September 7th. I will be celebrating it with Churrasco de Frango com Bacon (Grilled Chicken Legs Wrapped in Bacon) this year.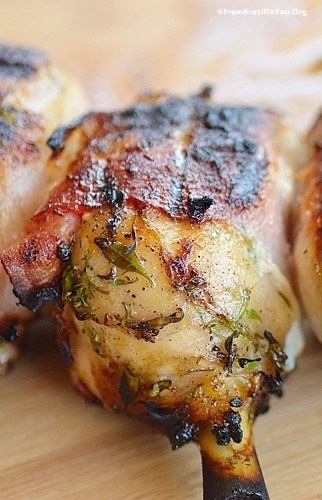 I was not born American, but I legally became one after a few years of living here. My husband is American by birth, as well as my 2 precious children. I have learned to love this country and to be grateful for the freedoms that we enjoy here every day. churrasco
On America's birthday, I like to watch the fireworks, and to enjoy all of the grilling involved– or at least to watch my husband grilling :). So this year, I chose a recipe to share with you: Grilled chicken drumsticks wrapped in bacon or churrasco de frango. This simple Brazilian recipe is a real crowd-pleaser and a very fitting one to celebrate the joyous occasion. Don't you agree?
Well, enjoy our churrasco, and best wishes for a happy Independence Day!
churrasco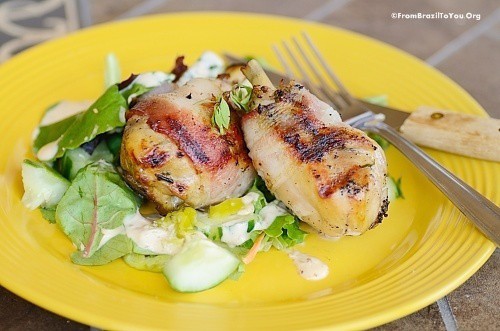 Grilled Chicken Legs Wrapped in Bacon (Churrasco de Frango com Bacon)
Grilled chicken legs marinated in beer and herbs, and wrapped in bacon (churrasco de frango com bacon). One of the best bbq one can ever have...
Ingredients
4.5

lbs

chicken drumsticks

skin removed, 2 kg

36

fl. oz

brown ale beer

1 liter and 65 ml

18

fl. oz

olive oil

not extra-virgin, 540 ml

2

tablespoons

salt

2

teaspoons

freshly ground black pepper

1

tablespoon

packed dark brown sugar

to balance the bitterness of the beer

8

garlic cloves

minced

1

tablespoon

garlic powder

2

teaspoons

onion powder

2

tablespoons

fresh Italian oregano

chopped

2

bay leaves

1

lb

smoked bacon

about 250 g, thick cut
Instructions
In a large bowl, mix all the ingredients together well, except the bacon. Place half into a 1 gallon heavy-duty ziploc bag and the other half into another ziploc bag. Remove the air, and zip. Refrigerate the bags inside a clean bowl and let the drumsticks marinate for at least 2 to up to 8 hours, flipping the bags at least once.

Remove drumsticks from bags with tongs and place on a baking sheet. Remove all the excess oregano from the surface of the drumsticks (this is to prevent the chicken from becoming bitter once grilled). Pour marinade into a separate container and reserve it to baste the drumsticks while grilling.

Wrap each drumstick with one slice of bacon.

If you do not have a long Brazilian barbecue skewer

, you can place drumsticks directly onto the grill and carefully monitor cooking times, basting occasionally while the meat is grilling.

If you do have a Brazilian barbecue skewer

, skewer the drumsticks one by one (crosswise), being careful not to cut yourself.

Please ensure that the length of meat on the skewers will not exceed the diameter of your grill. It is also important to allow enough room so that the handle of the skewer, which is traditionally made of wood, will lie at a distance well away from the flame and heat of the grill.

Before grilling, please be sure to scrape/clean any residual carbon from the metallic surface in order to avoid flame-ups. Start up the grill, which can either be a charcoal-heated or gas grill. If using a gas grill, set the temperature to medium and close the lid in order to allow it to heat up. If a charcoal grill is used, light the briquets, and then when they are fully heated and well ashed-over (about 30 minutes), evenly distribute over the bottom of the grill.

Place each skewer onto the grill. I would suggest placing skewers slightly away from the hottest, most central portion of the grill, in order to reduce the risk of burning the outside of the meat before the inside has fully cooked. Lower the lid on the grill, and let cook for about 5 minutes. Flip each skewer over in order to ensure even grilling on each side. Allow to cook for about 10-15 minutes more. Check to make sure the drumsticks are fully cooked (one can check with a meat thermometer to ensure a minimum temperature of 165 F has been achieved or, if needed, one drumstick can be sliced open to make sure the center has sufficiently cooked through).

The dish can be accompanied by a

tropical salad

, any other fresh salad, or grilled corn, and

caipirinha

or any other beverage or drink of your preference.
DID YOU MAKE THIS RECIPE?
Comment and rate the recipe. Also follow us on Pinterest at @easyanddelish for more delish recipes.
 Churrasco de frango com bacon or grilled chicken legs wrapped in bacon…Churrasco de frango is one of the best…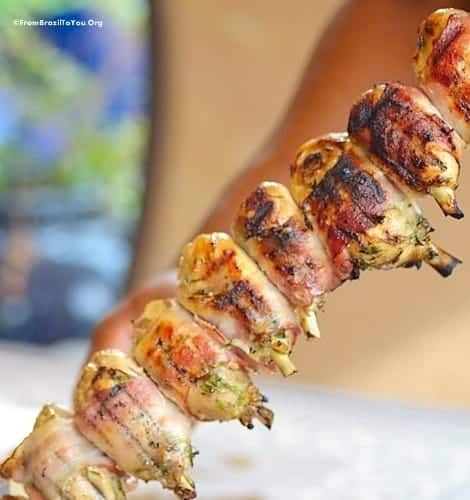 Churrasco brasileiro…Brazilian churrasco is the best bbq one can ever have! I love churrasco…