Call me crazy, but even in these chilly temperatures I still enjoy a super-refreshing and quick Brazilian Limeade (or Limonada Suíça, literally translated as Swiss Lemonade). It is as good as having ice cream in the winter! Limes (with the peel on), water, sugar, and ice are thrown into a kitchen blender, and combined to produce a pungent, quenching drink that is easier to prepare than regular lemonade. No simple syrup or squeezed limes are necessary, babe!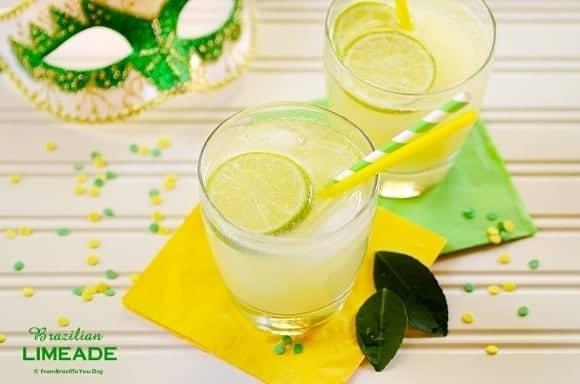 Since I won't get to be there in summery Brazil celebrating Carnival this year, I will sip my Brazilian limeade while  listening to my favorite Carnival rhythms: the contagious frevo, axé, and samba!
When you think Carnival, Rio de Janeiro may come to mind…But actually, one of the best places to celebrate Carnival is in my hometown, Recife.  Galo da Madrugada is simply named in the 'The Guinness Book of World Records' as the biggest Carnival parade in the world, joining together more than 2.5 million participants — dressed in typical costumes and dancing frevo and other rhythms in the streets of downtown Recife, where gigantic dolls are displayed.
During these festivities many beverages are consumed, including Brazilian limeade — actually known  in Brazil as "Swiss lemonade." I am not sure exactly why it is called Swiss lemonade — perhaps because in some areas of Brazil sweetened condensed milk from Nestlé, a Swiss company, is added to the drink. Although I am a fan of sweetened condensed milk, I personally prefer my limeade without it. Brazilian limeade is one of those quenching beverages that is perfect just as it is,  in my humble opinion.
In addition, limes are actually called lemons in Brazil. This is why back home Brazilian limeade is actually a lemonade — known as "Swiss" Lemonade or Limonada Suíça. 🙂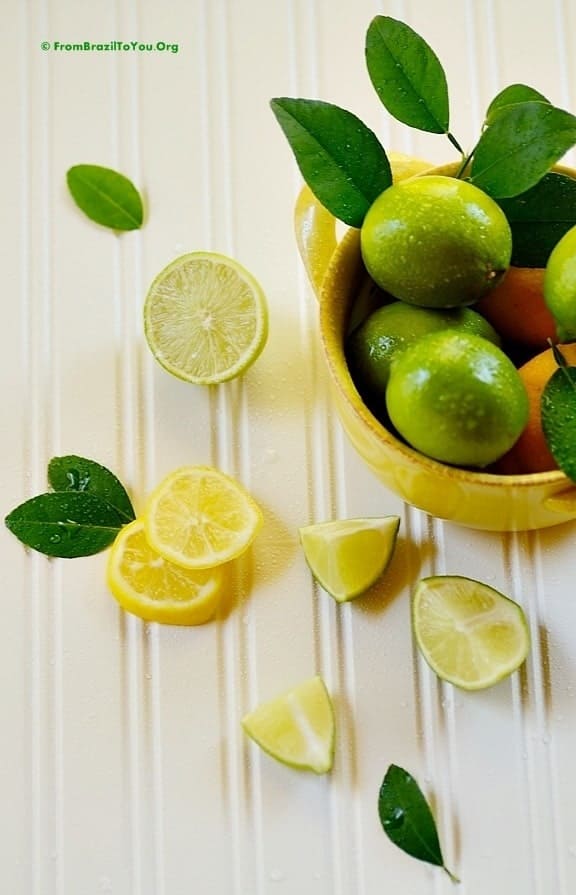 Whether Brazilian or Swiss, Limeade or Lemonade, the thing is DE-LI-CIOUS! Cheers!!!!
xx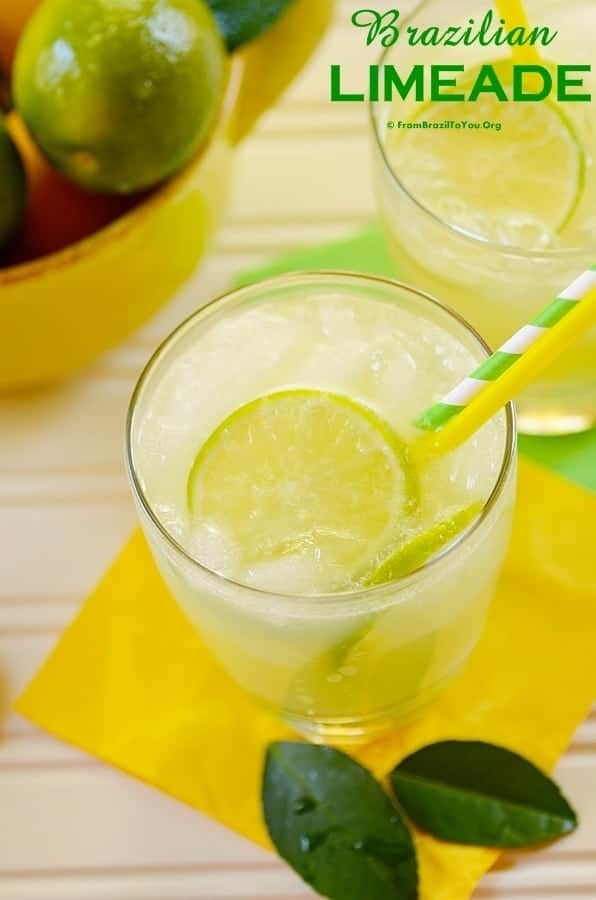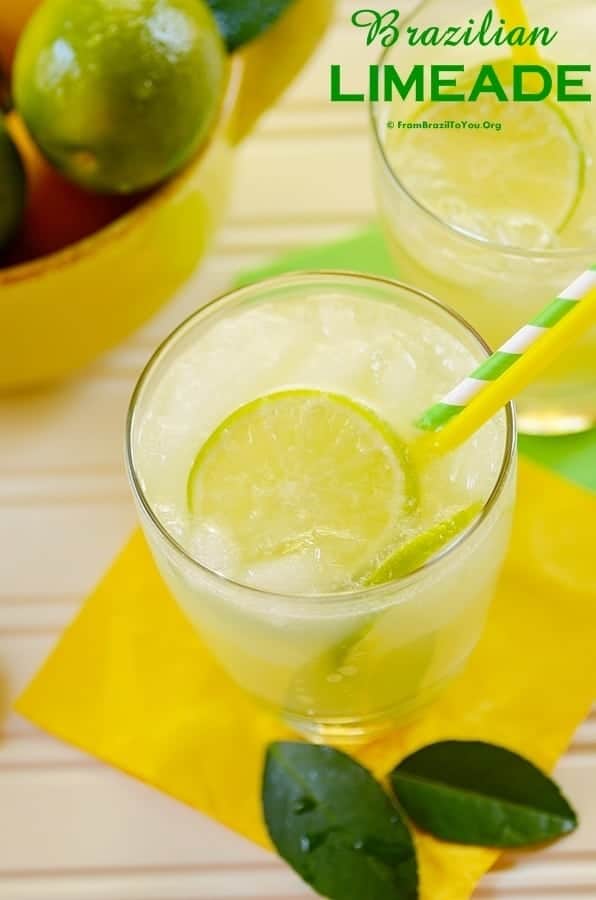 Brazilian Limeade (Limonada Suíça)
Brazilian Limeade is prepared with 4 ingredients thrown in the kitchen blender, producing the most simple and quenching lime drink ever. NO simple syrup or squeezed limes are necessary!
Ingredients
3

limes

washed, quartered, and seeds removed, skin on

5

cups

cold water

1

cup

granulated sugar or another sweetener of your choice

or more

Ice cubes
Instructions
Place the limes, water, and sugar in a blender. Blend for about 1-2 minutes or until fairly smooth. Strain limeade into a pitcher to remove the bits of skin and pith. Place ice into medium glasses and pour limeade. Serve immediately to avoid the drink from becoming bitter.
Recipe Notes
1. If desired, you can stir in 2-4 Tablespoons of sweetened condensed milk after straining the limeade. I personally prefer mine without it!
2. Some recipes call for removing both lime skin and pith, using only the pulp. Others call for substituting soda lemonade for water.
DID YOU MAKE THIS RECIPE?
Comment and rate the recipe. Also follow us on Pinterest at @easyanddelish for more delish recipes.
A special thanks to Diário de Pernambuco for permitting me to use their gorgeous Carnival photo montage! (Obrigado, Diário de Pernambuco, por nos permitir usar a sua linda foto montagem neste artigo!)