Get the exclusive inside scoop – with some 'behind-the-scenes' – on my brand new THE COMPLETE 5-INGREDIENT COOKBOOK RIGHT HERE!
Disclosure: "As an Amazon Associate I earn from qualifying purchases."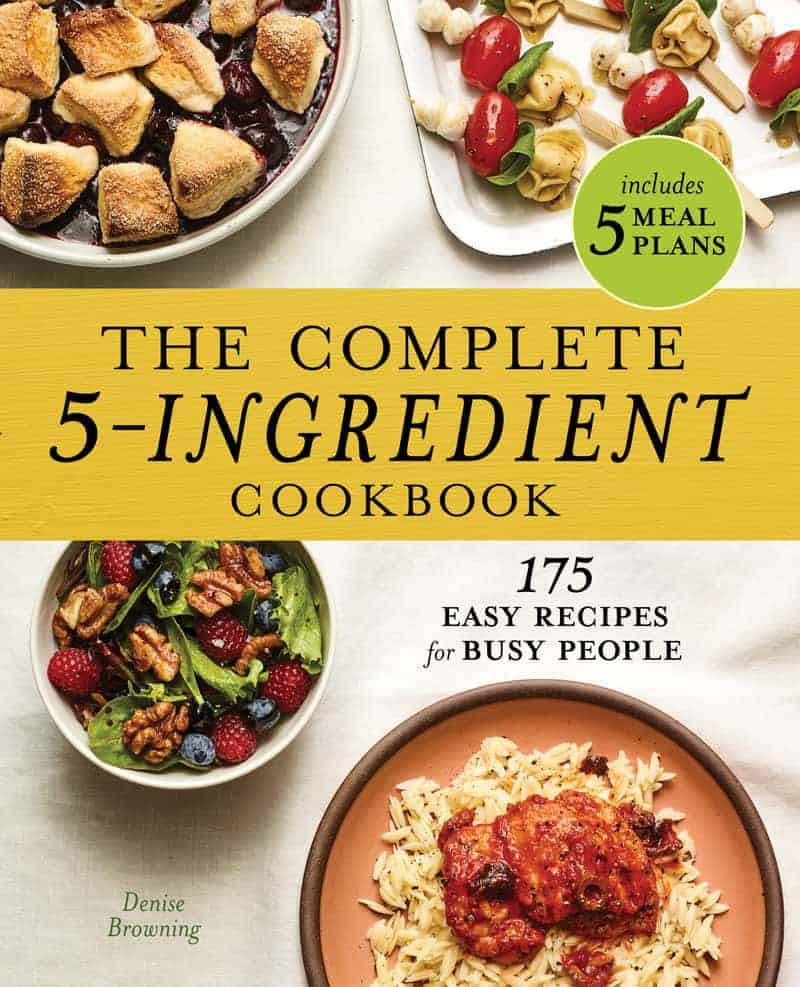 The SECRET that I have been keeping for months is finally out: I wrote a cookbook! Yay!!! And it's coming out next month (but you can PRE-ORDER NOW!) #comissionedearned
Check it out >>> MY COOKBOOK (our Amazon affiliate link)
You may be asking: "Why is it called 'the complete cookbook'?
Well, the answer involves multiple reasons:
First, for the price of one, you are getting nearly as many recipes as what is typically found in two full cookbooks. Not just 75 or 100 recipes as in most cookbooks, but 175 recipes. But note that these are not ordinary recipes: they are prepared with 5 main ingredients, helping you save both time and money!
It contains global recipes for everyday cooking and entertaining that are so easy to prepare you can even cook along with your kids and have lots of fun! Think of American, Mexican, Italian, Indian, Mediterranean, Brazilian recipes (of course), as well as a whole bunch of other popular cuisines.
It includes all meals and courses: breakfasts, drinks, appetizers, snacks, dinners, and desserts. About 25% of the recipes are adapted for the slow cooker and pressure cooker. Sweet, right?
But that's not all! It comes with useful tips and tricks on how to stock up your pantry and freeze meals properly. And it even comes with ingredient substitutions so that you can cook with what you already have in your pantry!
BONUS: Five complete 1-week meal plans with their respective shopping lists to suit different diets and lifestyles: low carb, vegetarian, global feast, gluten-free, and quick and easy.
Writing of The Complete 5-Ingredient Cookbook
The process of writing a cookbook was a new experience for me since this is my first cookbook ever! But the familiar part was developing easy recipes and meal plans. That is truly my cup of tea as a trained Chef, food blogger for the last 8 years, and busy Mom of two who, just like many of you, struggles to put delicious meals on the table day after day.
My editor, as well the entire team at Callisto Media, made everything easier by sharing their expertise with me and keeping up good communication.
I started writing the book a little after Thanksgiving and finished nearly 3 months later. While my family and friends were shopping for the holidays, I was locked in my office, intensely focused, brainstorming ideas, choosing recipes from around the world that I could make with 5 main ingredients while not compromising on flavor, then taste testing them, and so on.
I have to confess that I looked like a busy bee… but a happy one too! Not many knew about the book, except for my husband, 2 children, and my Callisto team. It was hard not to spill the beans and share my happiness with all of you on social media!
Well, I am sure if any friend of mine had stopped by, they would have witnessed a very funny scene: me looking bedraggled, in my pajamas with messy hair and dark circles under my eyes.
I looked like an elf at Santa's workshop. LOL
Yep! I can't deny that I have been obsessed with every single detail in this cookbook. I felt like a first-time Mom! (if you have even been one, I am very sure you know what I mean).
Above all, I hope you feel the LOVE in every single recipe… in every bite!
Tell ya what, if you are a busy bee in everyday life… This. is. THE. COOKBOOK. for. you!
Just as much as our other 5 ingredients or less meals and these 130 easy 5-ingredient or less recipes. Take also a look at the review of our cookbook by Tara's Multicultural Table!
I guarantee: it will simplify your life, and save you time and money, all without compromising quality and flavor!
To all those who have been part of my journey as a food blogger, as well as to all who will support us by cleverly acquiring The Complete 5-Ingredient Cookbook (a.k.a. The CLEVER cookbook) a very special thanks! You are the reason that my dream came true.
Now, I can't wait to share it with you!!!
SIGN UP HERE to stay up-to-date on the book launch and view recipes from the book when we share them. PLUS we'll be hosting giveaways!