A mind-blowing list of 130 easy 5-ingredient or less recipes, featuring healthy and tempting dishes that will make your eyes dance and your mouth water while saving you time and money. They are comfort food at its finest, without the hassle! Take also a look at our book, The Complete 5-Ingredient Cookbook with 175 easy recipes for busy people.
Don't you love the convenience of 5-ingredient recipes that you can count on, especially on busy days? Me too! We are here to make your life easier with these 130 easy 5 ingredient recipes from around the world . They include delicious options for breakfast, snacks, quick lunches, dinner, sides, appetizers, desserts, and drinks-- all of them stress-free.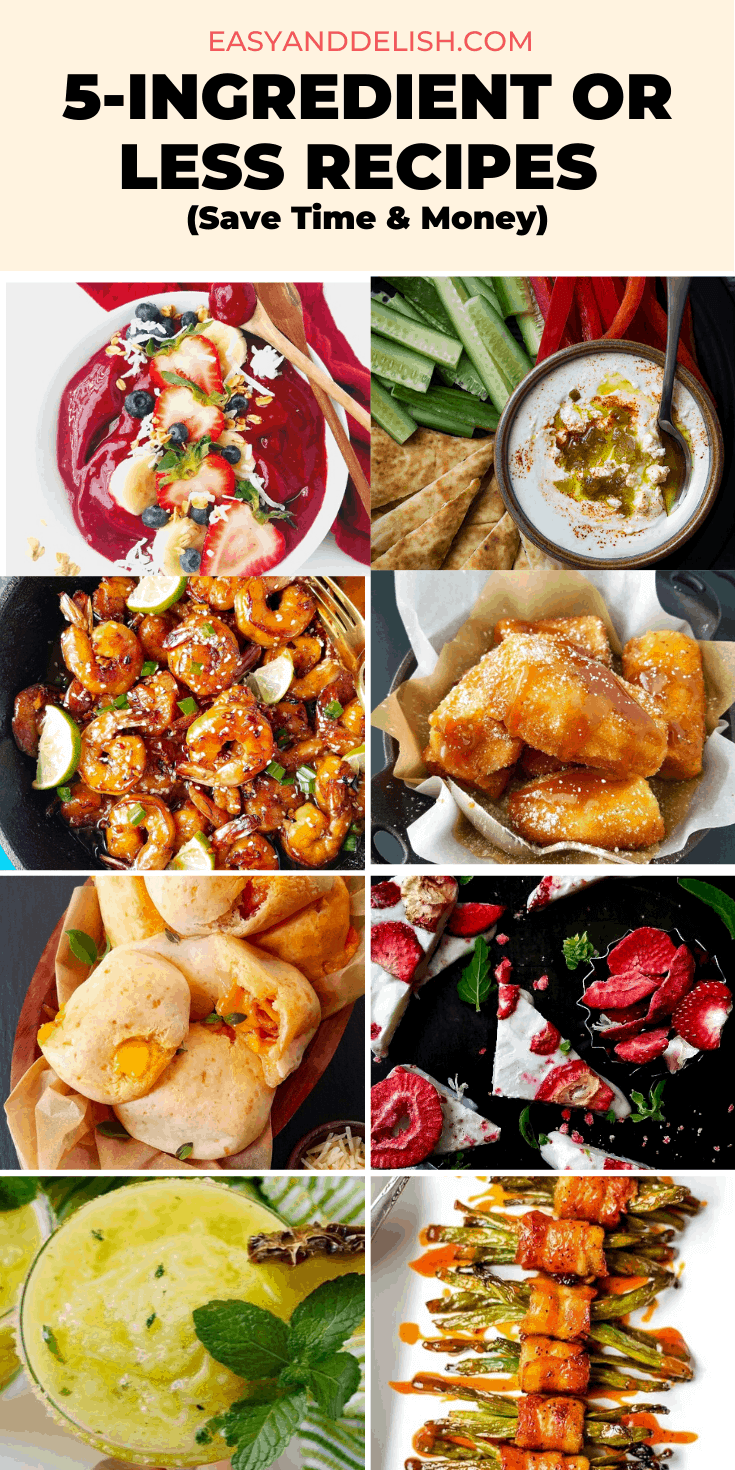 I ain't kidding! This complete list of quick and easy recipes will save you time and money while tantalizing your taste buds with incredible flavor. Some are everyday recipes and others are great for entertaining, too.
There is a variety of dishes to fit a wide range of dietary needs and lifestyles: low carb, keto, vegan, vegetarian, Paleo, Whole30, gluten-free, dairy-free, sugar-free, and more. Some are made in the slow cooker, Instant Pot, or stovetop, while others are grilled, fried, baked, or require no cooking at all.
BENEFITS OF 5-INGREDIENT RECIPES
Less ingredients: Most 5-ingredient recipes or fewer use a combination of fresh, frozen, and/or pantry staples to get the job done with less effort. That gives you less fuss to deal with for one or more meals during the day or the week, saving you time. And we could all use that, right?!
Faster meal prep: Since you have less ingredients to handle, the prep itself tends to be quicker than usual.
Easy cooking: This type of recipe has simple directions with less cooking steps, which is ideal for beginners and busy cooks.
Most cost effective: If you have fewer items needing purchase on your shopping list, you'll be able to spend less -- except for when you want to splurge on a pricier ingredient (e.g. lobster or brisket).
Less time spent in the kitchen and shopping for ingredients: 5-ingredient recipes or less are designed to save you time. They demand less time in the grocery store and less time cooking.
Less stress and dishes to clean: Simplicity and efficiency are the hallmark of this type of recipe! Besides less fret over planning, shopping, prepping, and cooking, there is another added plus: less dishes to clean! Wouldn't you love to have more time to spend with your family instead?
These recipes with 5 ingredients or less serve as a guide for easy comfort food! Enjoy each one!
5-INGREDIENT BREAKFAST RECIPES OR LESS:
Most of these breakfast recipes can be prepared in less than 30 minutes and require no cooking. They are portable as well. You can either prep them ahead or right before going to work/school.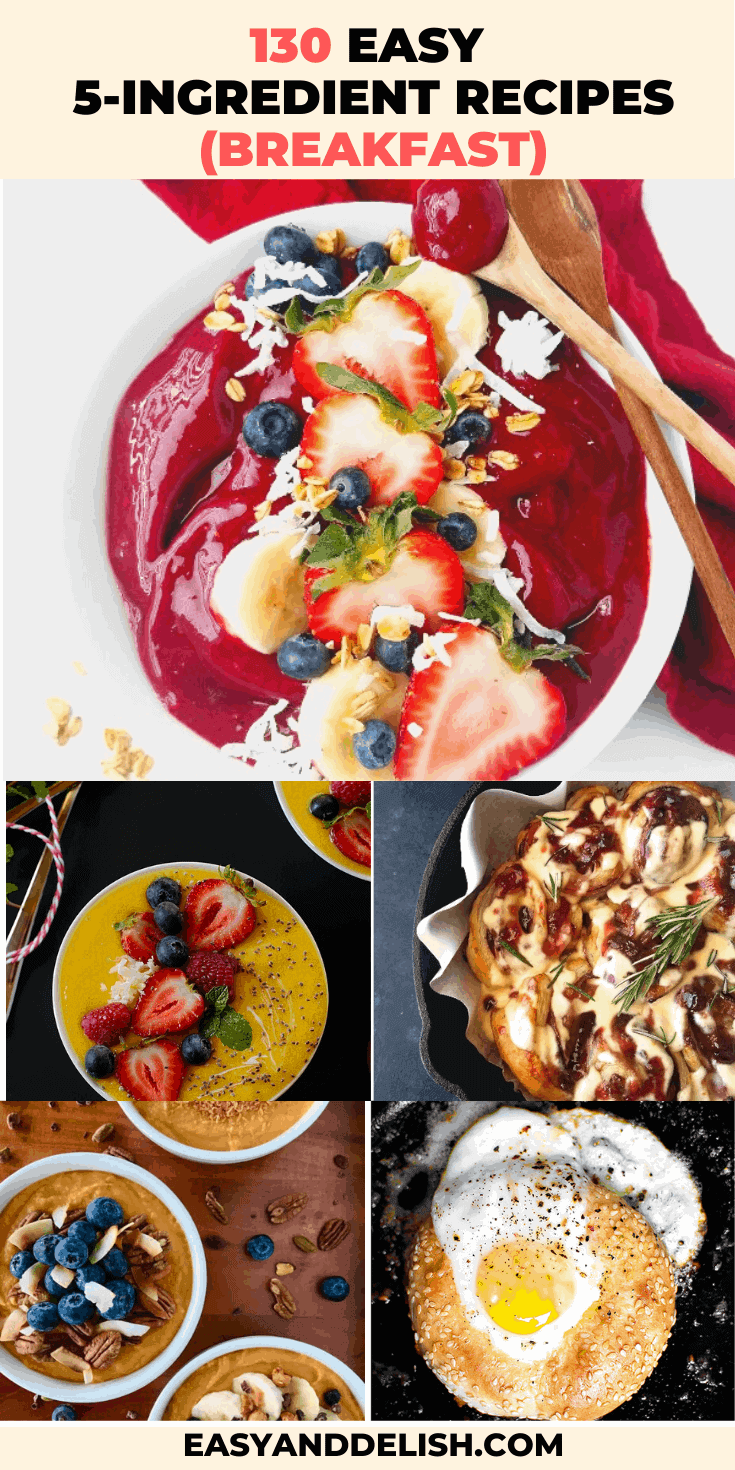 5-INGREDIENT SNACKS OR FEWER
These are the type of snacks that you can make ahead and munch on during the day. They will fill you up in between the main meals without guilt.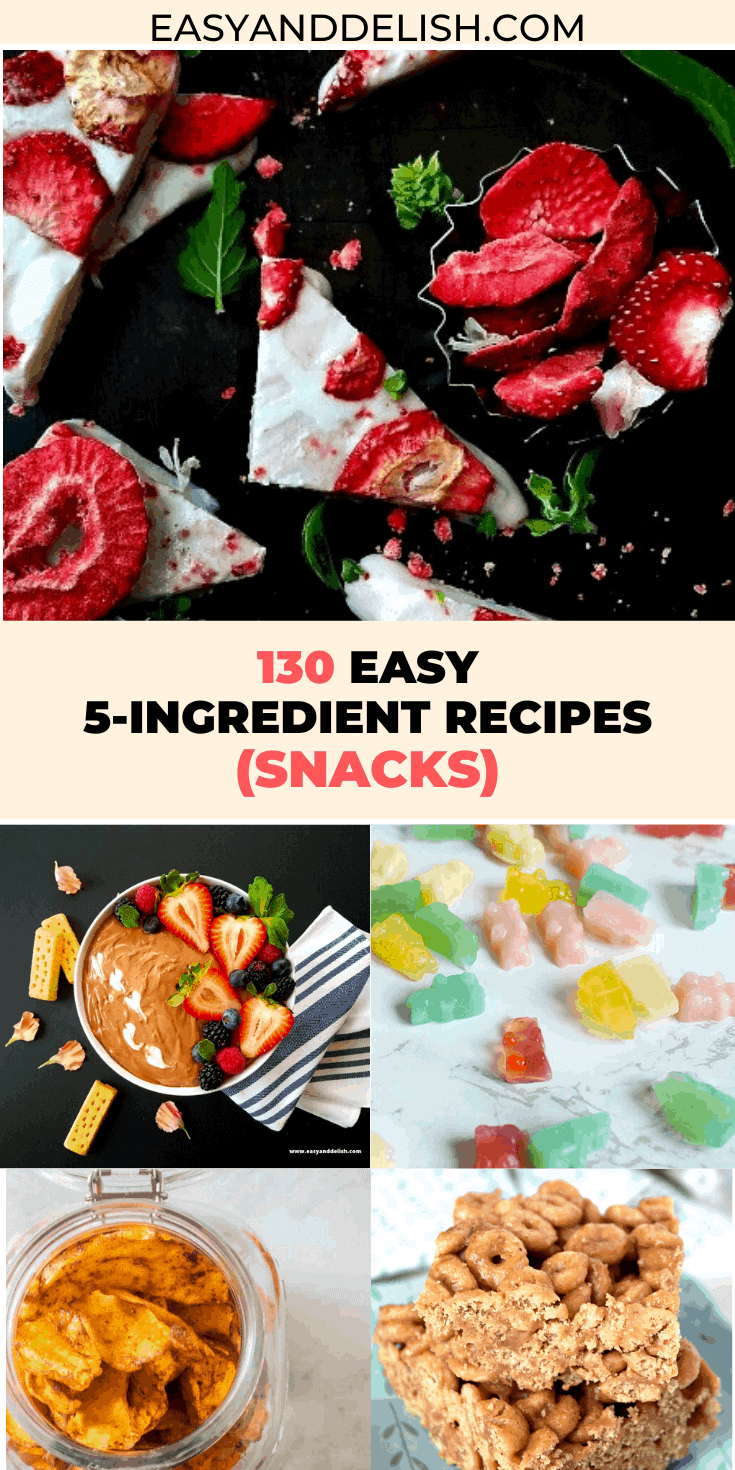 13. Grilled Peach S'mores Sticks
14. Strawberry Frozen Yogurt Bark
15. Nutella Dip
17. Kale Chips
20. Oatmeal chocolate chip cookies
21. Watermelon Strawberry Popsicles
23. Tajin Mango
24. Black Bean Chips
5-INGREDIENT QUICK LUNCHES
To this list add soups, salads, and sandwiches that you can prepare in less than 30 minutes and transport anywhere you go.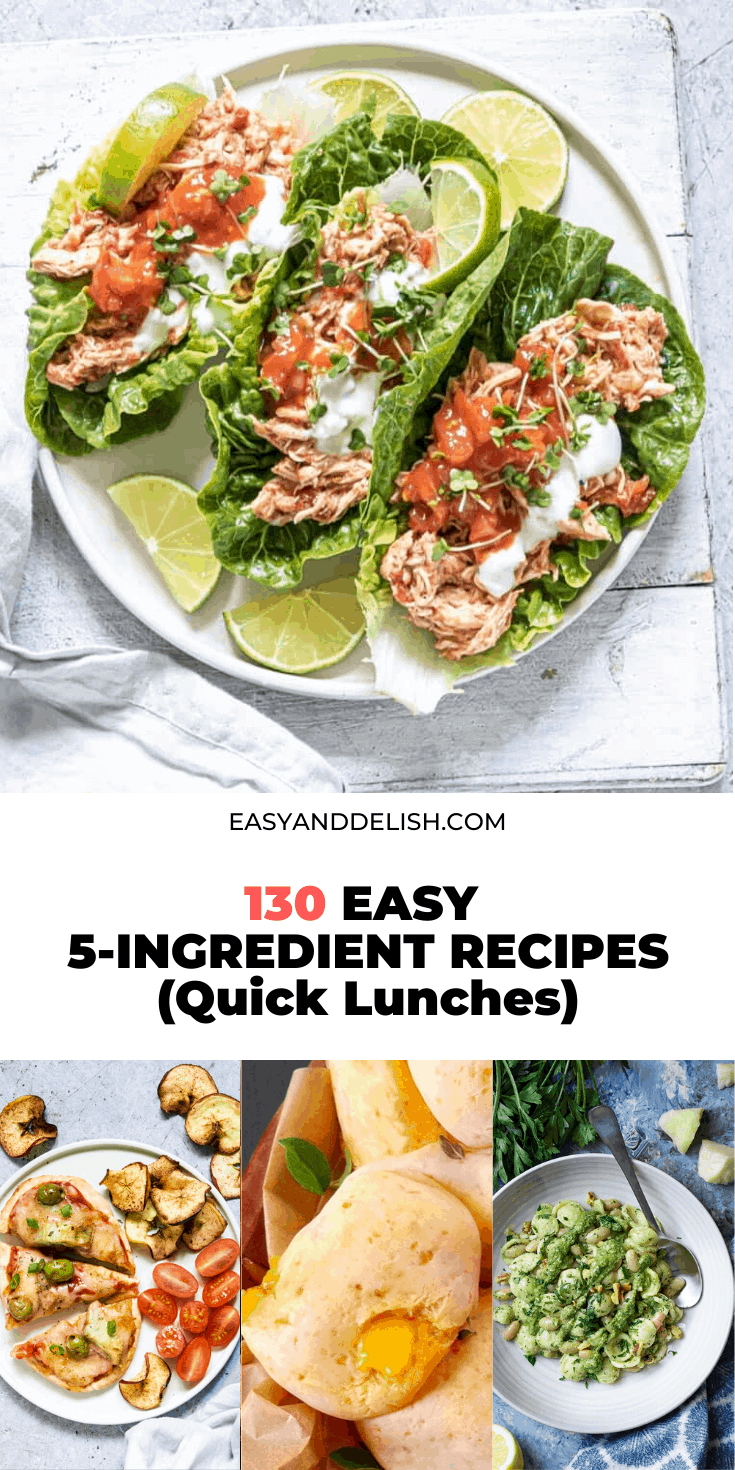 25. Grilled Cheese Tomato Naan
26. Salsa Chicken Lettuce Wraps
27. Air Fryer Pita Bread Pizza
28. Zucchini Alfredo
29. Bacon and Cheese Hot Pockets
5-INGREDIENT DINNER RECIPES
After a full day of work or school I'm sure the last thing you'd like to do is to trudge through a lengthy recipe with a bunch of ingredients. That's when these 5-ingredient dinners truly come handy. You can take full advantage of them without compromising one bit on flavor.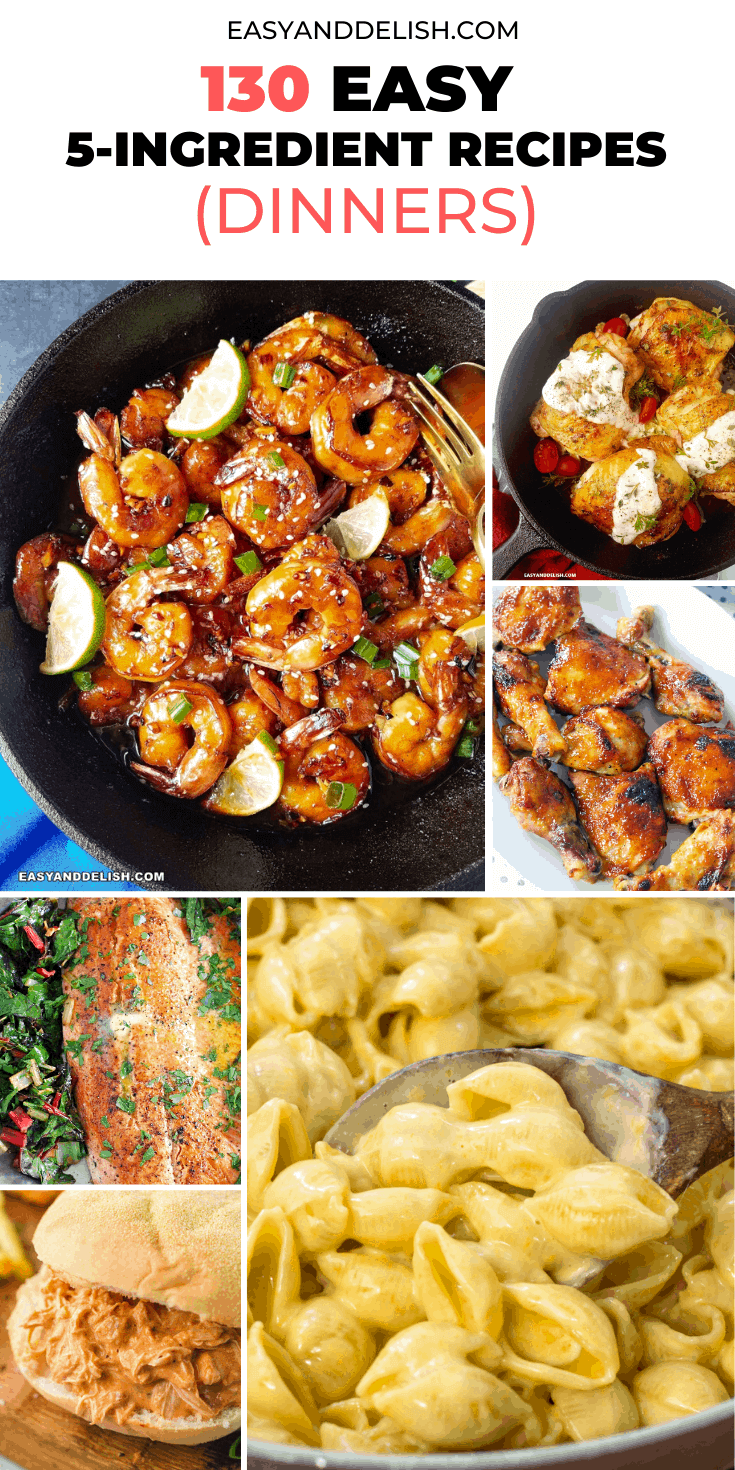 32. Pesto Pasta with White Beans
34. Goulash
35. Roasted Carrot Ginger Soup
37. Crock Pot Mushroom Chicken
40. Miso Salmon
41. Garlic Noodles
42. Grilled Bacon Wrapped Ribs
45. Garlic Butter Salmon and Swiss Chard
49. Sweet Chicken
5-INGREDIENT APPETIZER RECIPES
Planning a party or get-together? No worries! Make one or a few of these appetizers with next to no hassle at all. Enjoy the moments with your guests, all without having to slave away in the kitchen or break the bank.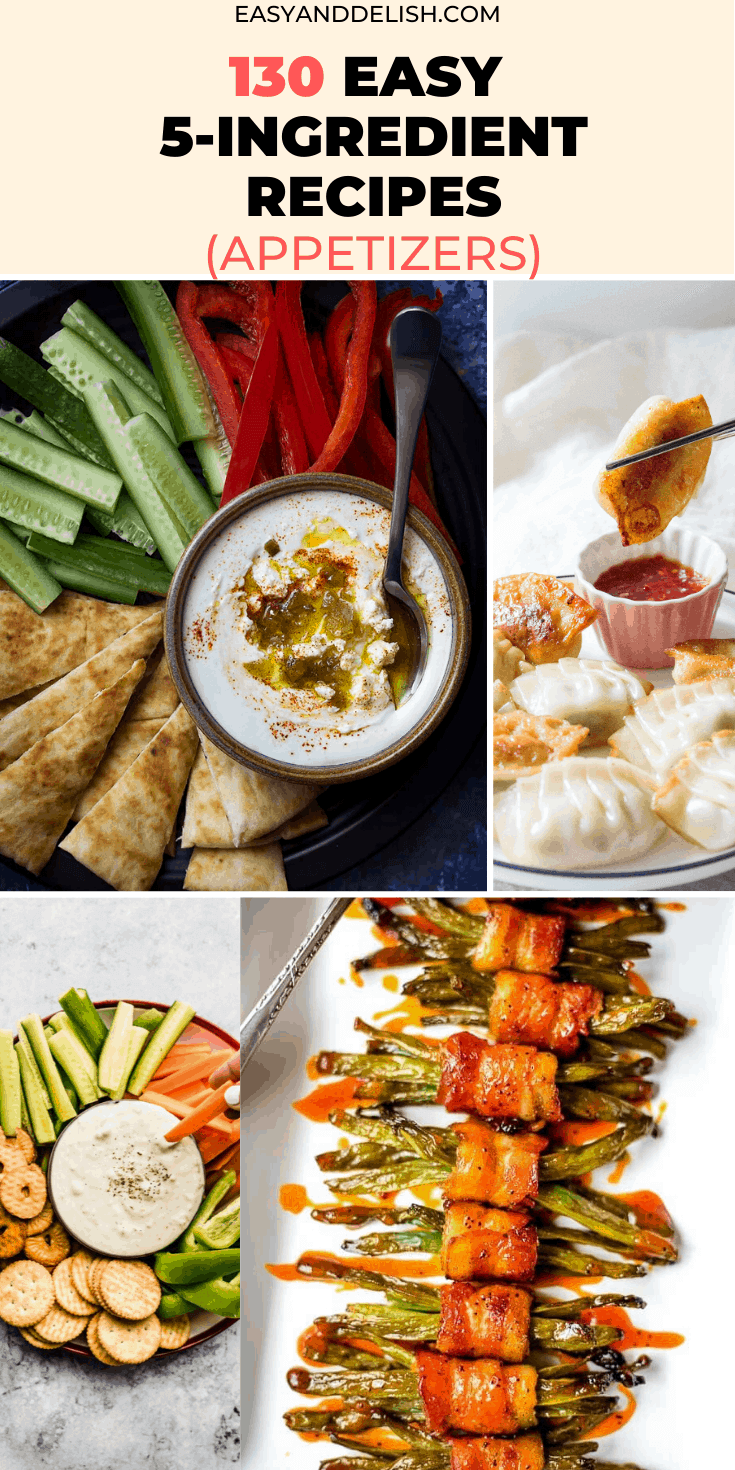 56. Cheese Bread
59. Honey Pistachio Baked Brie
60. Bagel Mini Pigs in a Blanket
61. Bacon Ranch Dip
62. Baked Pears with Gorgonzola
65. Bacon Wrapped Green Bean Bundles
67. Lebbaneh Dip
68. Pork Potstickers
5-INGREDIENT SIDE DISH RECIPES
Happen to buy a roast chicken or some other protein and need a side dish to go along with it? Well, you're in luck. There is a variety of yummy and filling go-to sides in this list that you can easily make to serve it with.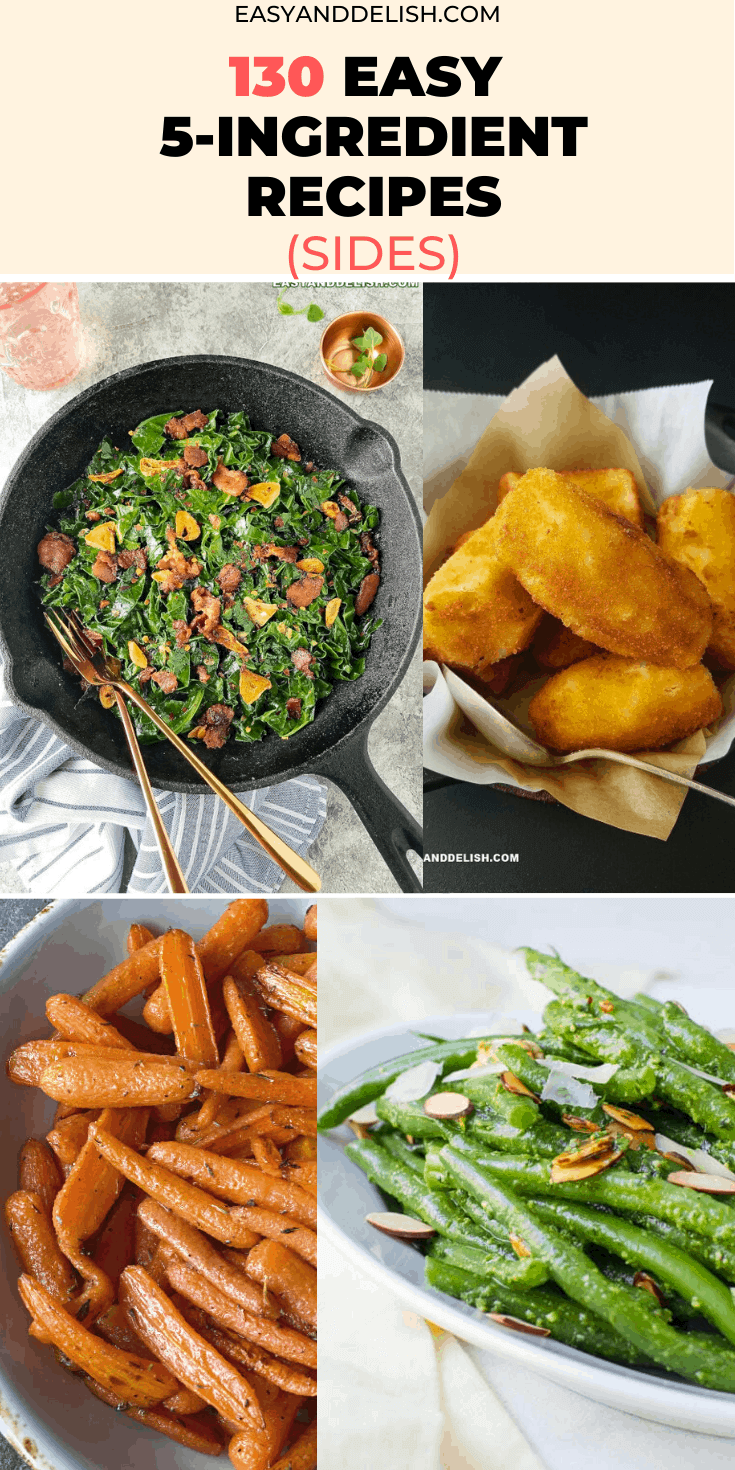 74. Oven Roasted Broccoli with Parmesan
76. Simmered Kabocha
77. Fried Cabbage
78. Bacon Ranch Smashed Potatoes
5-INGREDIENT DESSERT RECIPES
After a long day at work, if you want to reward yourself with an easy yet luscious treat, say no more. Make any of the desserts below and you'll be smiling like a kid in a candy store. Go on, you deserve it! 🙂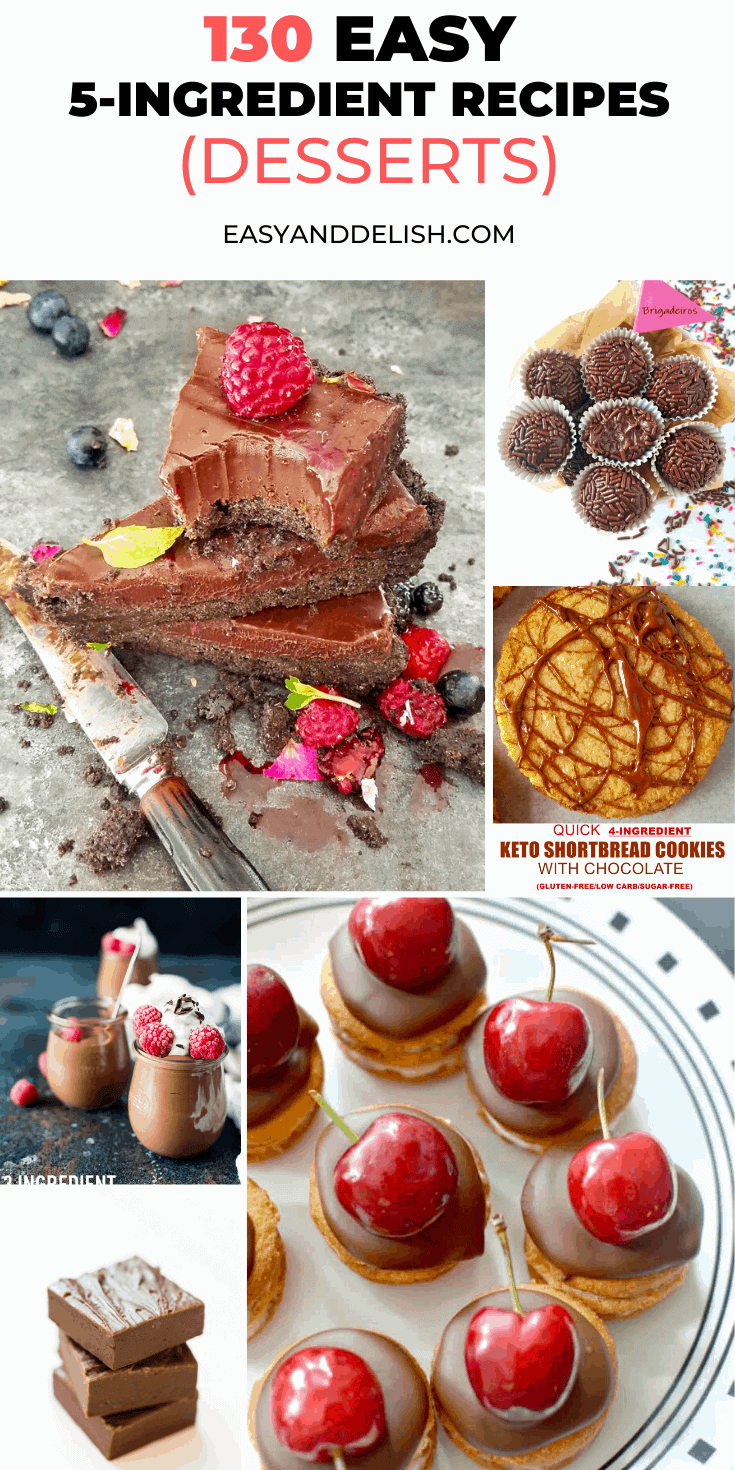 80. Brigadeiros
81. Queijadinha
82. Cocada
85. 3-Ingredient Shortbread Cookies
87. Keto Shortbread Cookies with Chocolate
88. Orange Tarts
89. Sugar-Free Peanut Butter and Jelly Cookies
90. Avocado Mousse
98. Vegan Chocolate Covered Oranges
100. Vegan Ice Box Cake
101. DF Chocolate Coconut Pudding
103. 3-Ingredient Sugar Cookies
104. GF Rice Krispies
105. DF Toasted Coocnut Truffles
106. Red Velvet Cake Mix Cookies
107. Reese Fudge Bars
108. Strawberry Sorbet
110. Churro Bites
111. Banana Spring Rolls
112. Matcha Green Tea Ice Cream
113. Eclair Cookies
114. Mango Graham Cake
115. Coconut Biscuits
5-INGREDIENT OR LESS DRINK RECIPES
Unwind and celebrate the end of a long day, your weekend, or your next party with one of the drinks below. Whether you prefer a cocktail or a mocktail, each one makes happy hour the chillest hour of the day.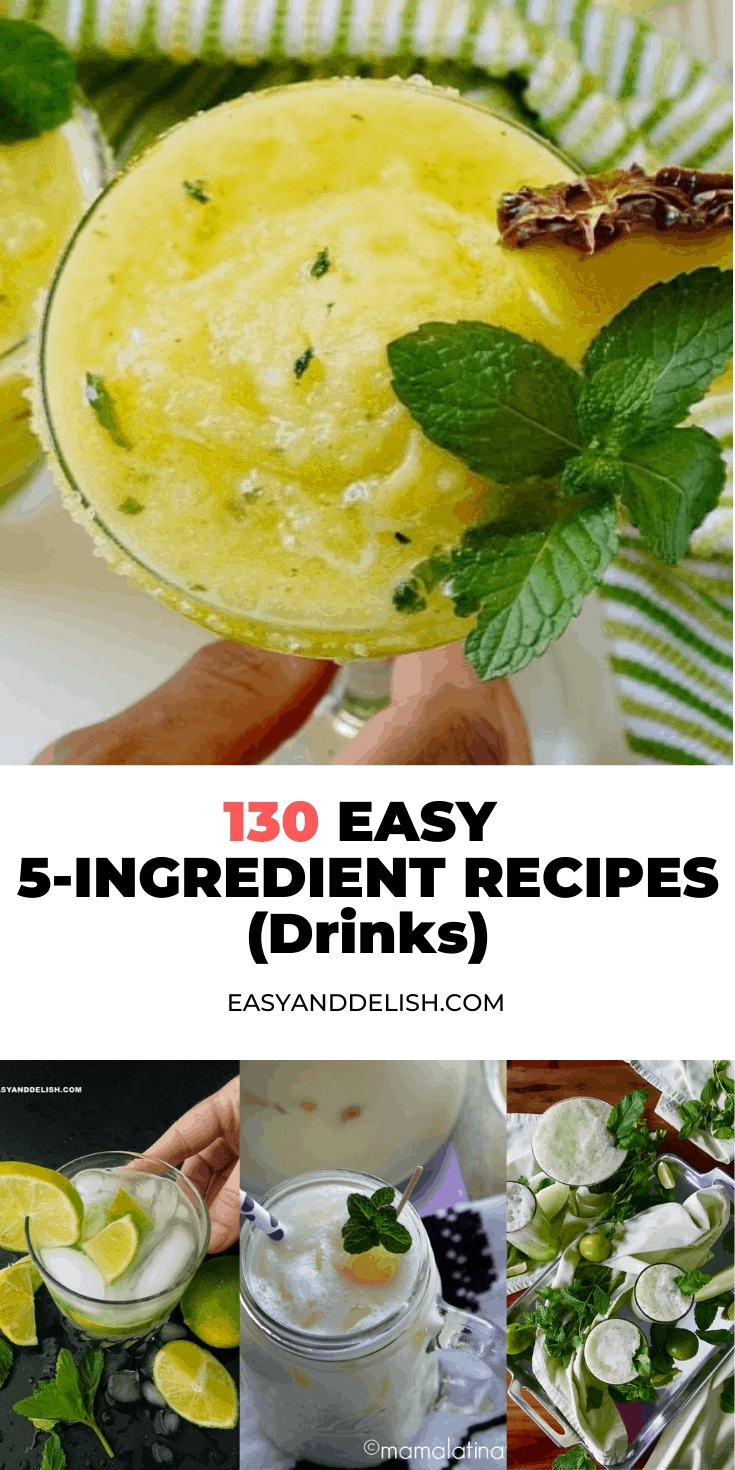 116. Caipirinha
117. Pineapple Mint Juice
118. Pineapple Coconut Agua Fresca
119. Honeydew Mint Cooler
120. Frozen Pineapple Mint Margarita
121. Hibiscus Tea
122. Cranberry Passionfruit Cocktail
123. Pineapple Coconut Cocktail
124. Batida de Coco Light
125. Champagne Cocoktail
127. Mojito
128. Classic Margarita
129. Prosecco Cocktail
130. Aguas Frescas
PIN & ENJOY!