Valentine's day is almost here…. Who is going to be your Valentine? Mine "helped me" to make these easy yet super cute Love Letter Brownies. But not before filling my ears with many, many questions.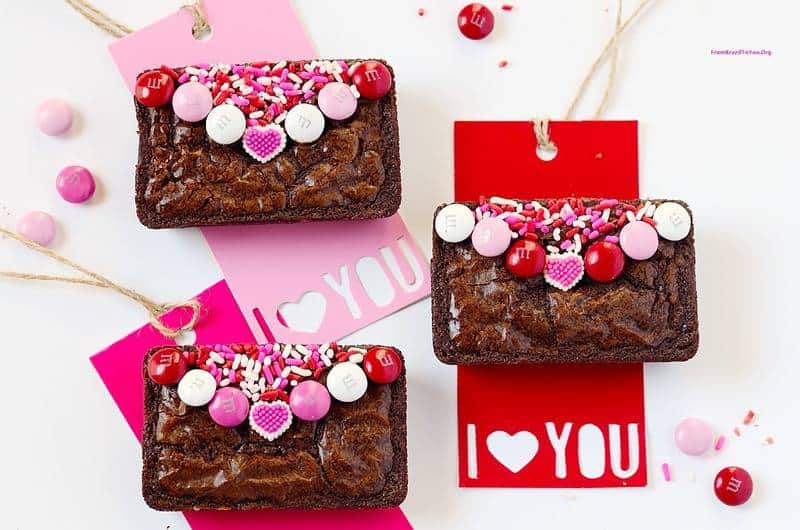 My children: Oooohhh, brownies! Mommy, can I help you make them?
Me: Sure! What would you like to do exactly?
My children: Everything! Mixing, baking, decorating… and licking the bowl (yep, gotcha honeys).
Me: Oh really? 🙂 Wash your hands and come to the kitchen.
My children: Sure! But mommy, can we play a little bit more before helping?
Me: Yes! I will grab all the ingredients and see you in about 10 minutes from now.
(after calling them several times without hearing any answer I decided to make these brownies by myself)
My children: Mommy, why didn't you call us to help you?
Me: I did — several times.
My children: OK. But can we help you lick the bowl now? 🙂
They were phenomenal bowl lickers and of course, M&M and brownie eaters. Almost too good– I barely had enough of these love letter brownies to photograph.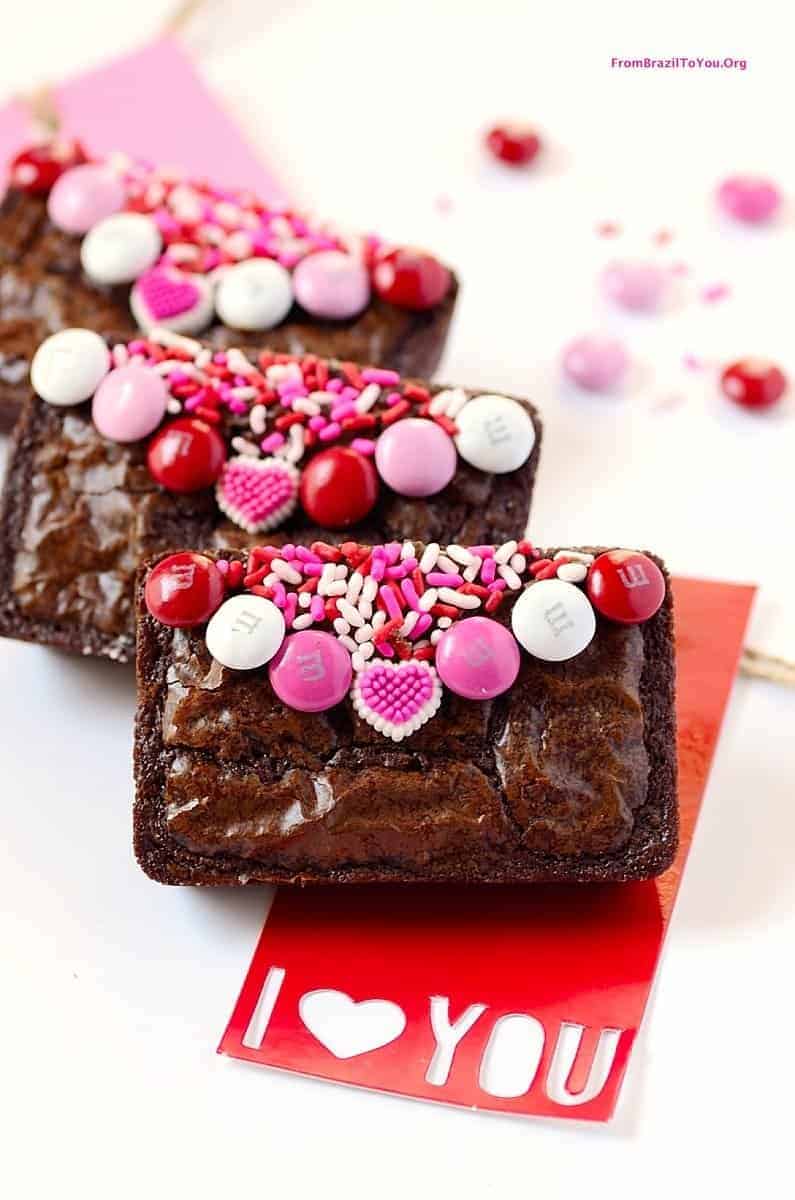 Do you think they stopped there? Well, milk was awaiting to accompany the remaining brownies…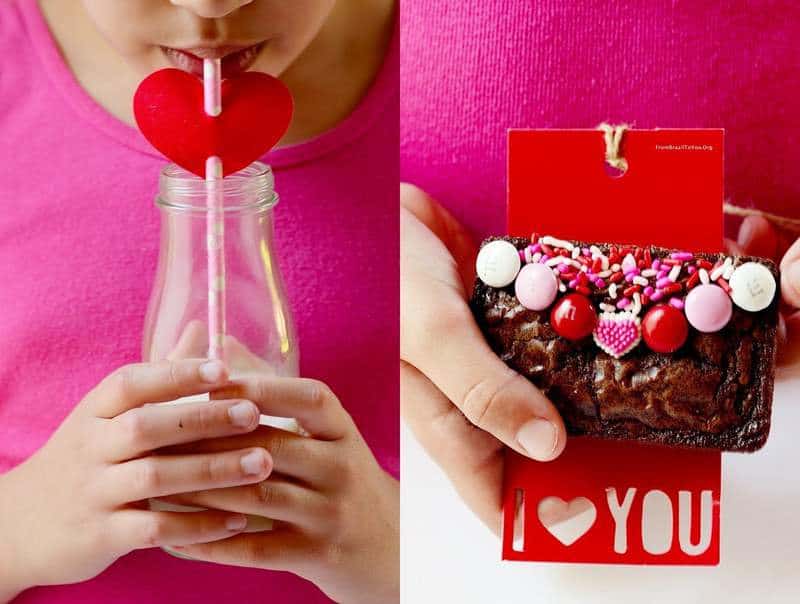 Whether your Valentines are your children, your partner in life, or a friend, this is a treat that sends him/her/them a clear message: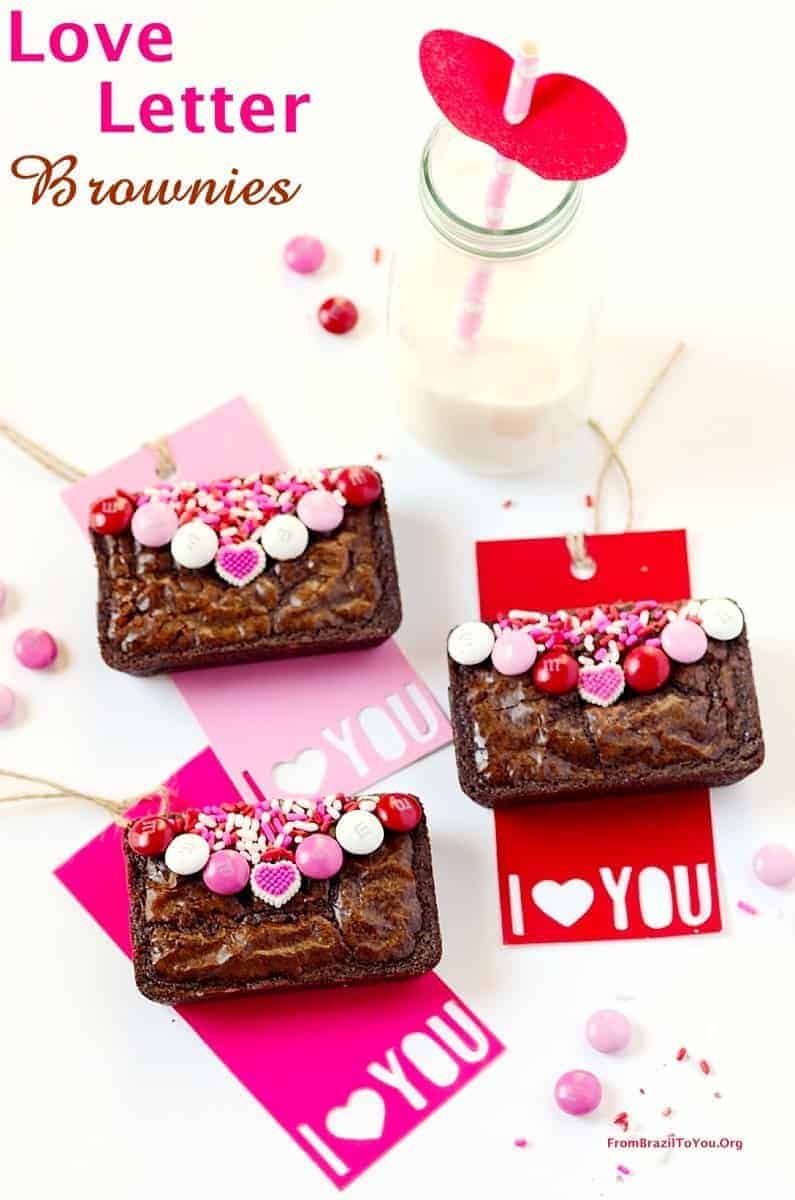 So why not make them and wrap these love letter brownies in plastic bags with bows to declare your love for your Valentine.
As for us, we wish you a very…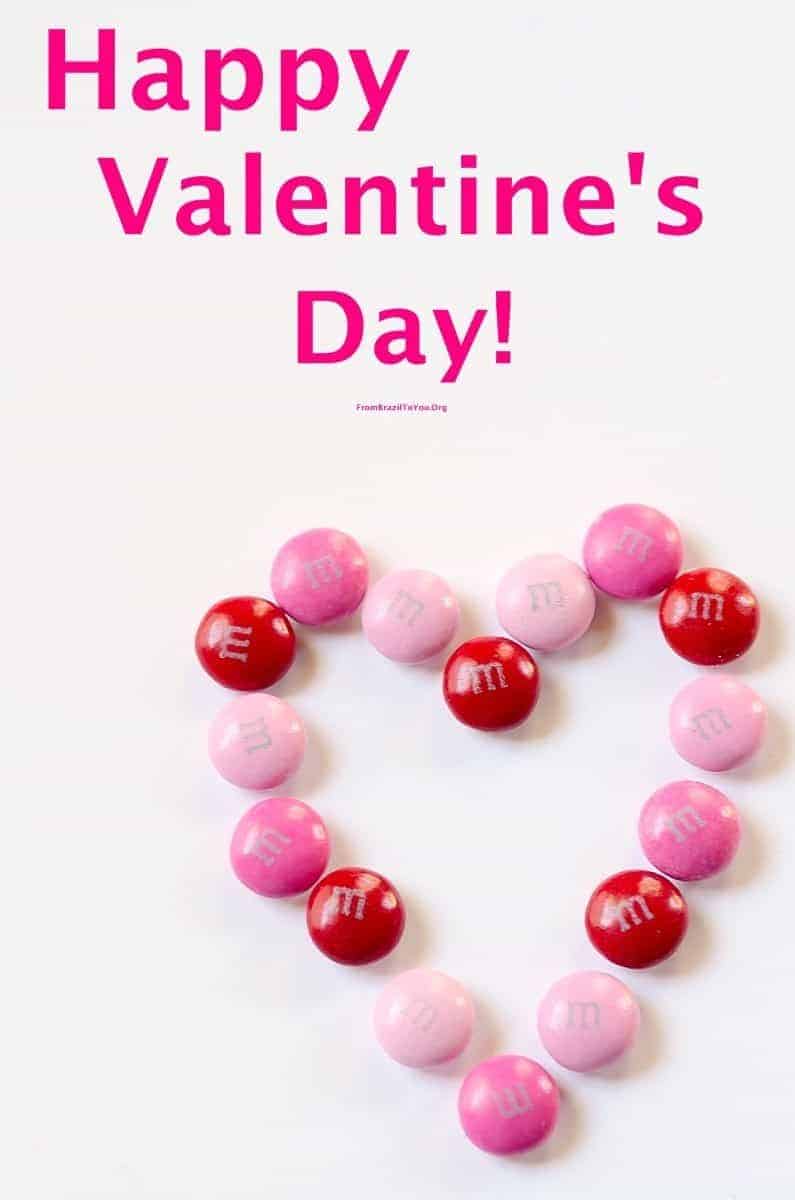 Love Letter Brownies
Love letter brownies are made from fudge brownie mix, decorated with M&M's and sprinkles for Valentine's Day. They are easy to prepare and rich... the ideal treat to say 'I love you!'
Ingredients
1

fudge brownie mix

18.3 oz, I used Betty Crocker

1/4

cup

water

2/3

cup

vegetable oil

2

eggs at room temperature

1/2

cup

semisweet chocolate chips

Wilton's Decorating Sugar Hearts

Milk Chocolate M&M's to decorate

Sprinkles to decorate
Instructions
Preheat oven to 325 degrees F (dark pan), or follow temperature stated on the package for your type/size of baking pan.

Stir brownie mix, water, oil, and eggs in a medium bowl until well blended (or prepare the brownies according to the instructions in the package). Distribute batter evenly into brownie/mini loaf baking pan previously greased with cooking spray. Bake for about 20-25 minutes, or for the time stated in the package. Let brownies cool over a rack and then remove from the pan.

In a microwavable bowl, melt chocolate chips in 30-second intervals, stirring after each interval, until completely melted and smooth. Using a toothpick, place a bit of melted chocolate under a sugar heart and press over the center of each brownie. Place a bit of chocolate on one side of each M&M and press to glue on the brownies, forming the V-shaped edge of the "flap" of the envelope. Still using a toothpick, spread melted chocolate over the triangular area outlined by the edge of the envelope "flap," and then place sprinkles on top. Let chocolate harden for about 10 minutes and then serve.
Recipe Notes
Leftovers should be stored in a clean, covered container at room temperature for up to a couple of days.
DID YOU MAKE THIS RECIPE?
Comment and rate the recipe. Also follow us on Pinterest at @easyanddelish for more delish recipes.