Red wine tapioca pudding is an easy, ruby-like dessert made with red wine, tapioca pearls, spices, and sugar, It can be served with a vanilla bean sauce. So delicious!
Valentine's Day is around the corner – at least in the U.S. and some other countries, where it is celebrated on February 14th.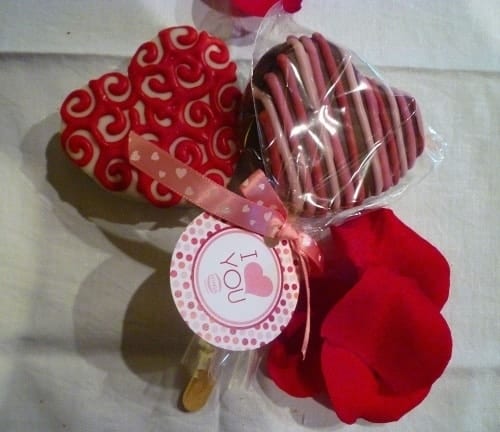 But not in Brazil.
Yes, you read that right. Not in Brazil!!!
In Brazil, the Dia dos Namorados (literally translated as "Lovers' Day" or "Boyfriends/Girlfriends Day") is celebrated on June 12, which is the eve of the feast of Saint Anthony, well known as a patron saint of marriage. On this day very "interesting" rituals called simpatias traditionally are performed by many single women in order to find a good husband or boyfriend (more a thing from the past than from these mordern days). One popular simpatia is to turn the image of this saint upside down in a glass of water– or to separate the saint from the baby Jesus that he carries, among a multitude of other examples. :):):)
As in many other countries, couples in Brazil exchange gifts, chocolates, cards, and bouquets of flowers. Reservations in fine restaurants are common, as well as romantic dinners at home for two.
As a Brazilian living in the U.S. for almost 10 years, I have the sweet opportunity to celebrate twice a year – on both February 14th and June 12th. Indeed, it's a divine present to compensate all those years without a valentine. Could it get any better than this? 🙂
Well, escaping a bit from the inevitable exchange of boxes of chocolates and whatever other treats that might be made from this tantalizing ingredient, I have chosen to share with you a different and exciting dessert for this special occasion–Red Wine Tapioca Pudding with Vanilla Bean Sauce (Sagu de Vinho com Creme de Baunilha). Enjoy!
HAPPY VALENTINE'S DAY!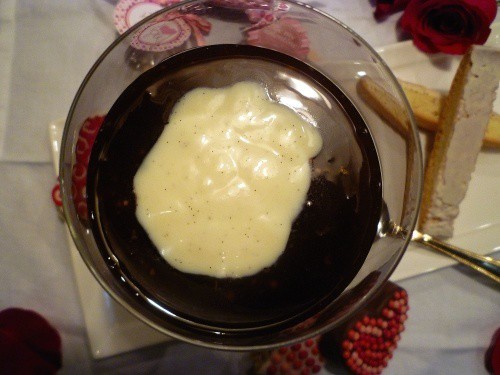 Red Wine Tapioca Pudding (Sagú de Vinho)
Red wine tapioca pudding is an easy, ruby-like dessert made with red wine, tapioca pearls, spices, and sugar, It can be served with a vanilla bean sauce. So delicious!
Ingredients
For the red wine tapioca pudding:
2

cups

red wine

(preferably a good-quality red Bourdeaux Cabernet Sauvignon, or Merlot)

1

cup

red grape juice

1/2

cup

tapioca pearls

it's naturally gluten-free

3/4

cup

sugar

1

cinnamon stick

*A

pinch

ground fresh nutmeg

*A

pinch

ground cloves

*1

zest

orange

(my preference) or lemon

*1

tablespoon

either fresh orange juice or lemon

according to the zest of the fruit used
For the vanilla bean sauce:
1

tablespoon

cornstarch

1-1/4

cups

milk

divided (for a dairy-free version, use a lactose-free milk)

1/4

cup

sugar

2

egg yolks

1

teaspoon

vanilla bean or 1 vanilla extract

split lengthwise
Instructions
In a medium bowl, pour both the wine and juice. Stir the tapioca pearls into the liquids and let rest at room temperature for about 1 hour. Meanwhile, prepare the vanilla bean sauce according to the recipe below.

Next, pour the tapioca/liquids mixture into a medium pan, and stir in the sugar and spices. Let cook for about 35 minutes over medium-low heat, stirring occasionally or until the tapioca is translucent and the pudding is thick. Add the zest as well as the juice. Stir.

Transfer to wine cups, let cool, cover, and store in the fridge. Serve red wine tapioca pudding cold topped with warm vanilla bean sauce and a citrus biscotti.

For the sauce: Whisk the cornstarch with 1/4 cup of the milk until dissolved. Add the sugar and egg yolks and whisk well.

In a heavy-bottomed medium sauce pan over low heat, simmer the remaining 1 cup of milk and the vanilla bean. Remove the bean, scrape the vanilla seeds into the milk, and discard the bean.

Little by little, whisk the egg yolk mixture into the milk.

Let cook, whisking often, until the sauce comes to a full boil ( about 3 to 4 minutes). If using vanilla extract, this is the right time to stir it in. Strain through a wire sieve into a bowl and serve warm.

Tip: The sauce can be prepared 1 day ahead, cooled, covered, and refrigerated. In this case, use a double boiler to reheat the sauce in its top part over simmering water.
Recipe Notes
*These ingredients are my personal touch to the traditional recipe.
DID YOU MAKE THIS RECIPE?
Comment and rate the recipe. Also follow us on Pinterest at @easyanddelish for more delish recipes.