Ah, summer... The perfect time for ice cream, frozen yogurt, sorbet, popsicles, and other frozen treats, wouldn't you agree? These refreshing Coffee & Cream Popsicles (Picolé de Café com Leite) are not only easy and quick to prepare but also the ultimate comfort food. Trust me, you will get hooked on them!
This is a recipe from my talented Italian fellow blogger and friend Manuela Zangara, author of Manu's Menu. If you didn't know yet, she has written a must-have cookbook, The Cool Side of Summer, with 25 recipes... 18 of them have never been published on her blog -- including these Coffee & Cream Popsicles. Ice cream, gelato, frozen yogurt, semifreddo, sorbet, granita, popsicles… She's got them all on this eBook.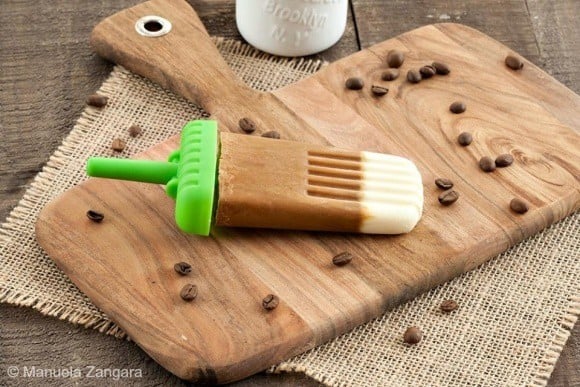 And that is not all... The eBook also contains tips on how to make the recipes with or without an ice cream maker. There are eggless and dairy-free recipes. Some are fruity, others are creamy. Some are even low fat! There is basically a treat in there for everyone!
As she explains, "I grew up in Italy, where gelato plays a very important part at social gatherings and friends get-togethers. During the hot summer months, it's very hard to resist the urge to enter one of the innumerable gelaterie and get out of it with a delicious ice cream cone (or cup… or brioche!) in your hands. And with a big smile on your face!"
I can already envision your smile when you taste an Italian classic such as Lemon Sorbet, an international flavor like the scrumptious Chai Banana Ice Cream, the salty-sweet combo of Salted Caramel Gelato... or these comforting Coffee & Cream Popsicles, a flavor that both Brazilian and Italian cuisines share in common. For me, they even go above and beyond... as they bring back fond memories of my childhood.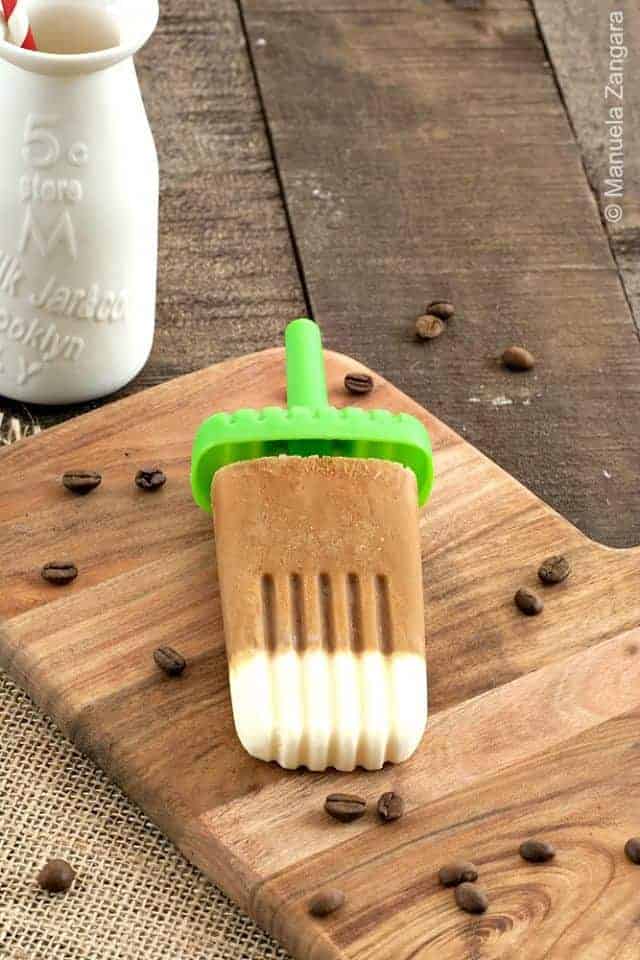 Her eBook is now on sale for only $9.99. If you would like to find out about all her 25 irresistible recipes and acquire this must-have eBook via Paypal, click on the link below.
For now, enjoy for free these quenching Coffee & Cream Popsicles, and stay cool!
Coffee & Cream Popsicles
Easy and refreshing Coffee & Cream Popsicles... The perfect summer treat!
Ingredients
240

ml

espresso

– 1 cup

120

ml

heavy cream

– ½ cup

Sugar to taste

120

ml

heavy cream

– ½ cup

3

tablespoon

honey
Instructions
Mix 120 ml – ½ cup of cream with coffee and add sugar to taste. Chill.

Slightly warm the remaining 120 ml – ½ cup of cream and mix it with the honey until melted.

Pour the cream and honey mixture into the popsicle moulds and freeze until solid.

When the cream has hardened, add the chilled coffee mixture to the moulds and freeze overnight.

When ready, unmould and serve immediately. Makes 6 x 80 ml – ⅓ cup popsicles
Recipe Notes
To unmould, run the moulds under warm water for a few seconds.
** Nutrition labels on easyanddelish.com are for educational purposes only. This info is provided as a courtesy and is only an estimate, since the nutrition content of recipes can vary based on ingredient brand or source, portion sizes, recipe changes/variations, and other factors. We suggest making your own calculations using your preferred calculator, based on which ingredients you use, or consulting with a registered dietitian to determine nutritional values more precisely.
Please note that health-focused and diet information provided on easyanddelish.com is for educational purposes and does not constitute medical advice, nor is it intended to diagnose, treat, cure, or prevent disease. Consult with your doctor or other qualified health professional prior to initiating any significant change in your diet or exercise regimen, or for any other issue necessitating medical advice.
DID YOU MAKE THIS RECIPE?
Comment and rate the recipe. Also follow us on Pinterest at @easyanddelish for more delish recipes.