Fall has arrived... This is usually known as baking season in my household. But this year I decided to break this old habit a bit by introducing a variety of recipes, including this fresh and quick Fall Salad (Salada de Abobrinha)... and that is going to be the way we will welcome my favorite season this year.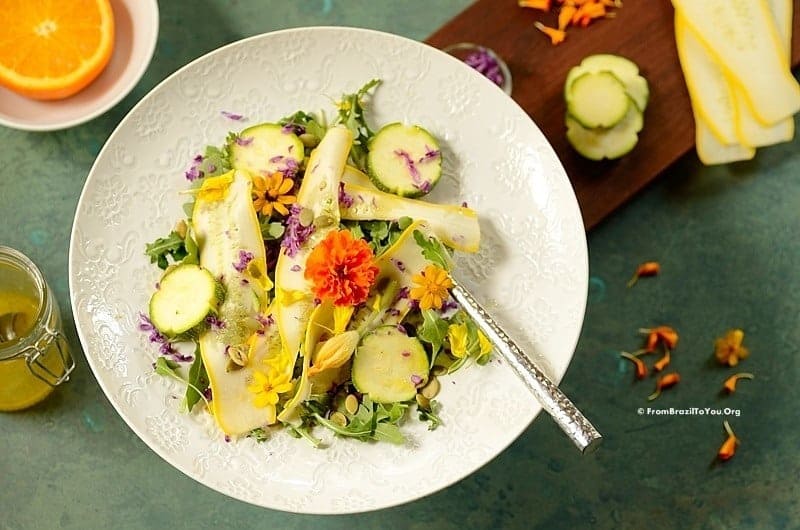 This fall salad is a souped up, fresh version of the Brazilian salada de abobrinha -- which is typically prepared with cooked zucchini tossed in lemon vinaigrette.
Our version is prepared with fresh zucchini and yellow squash, baby arugula, shredded purple cabbage, edible flowers (optional) and pepitas... and dressed with an orange vinaigrette. It is loaded with vitamins and antioxidants while combining different textures, flavors, shapes, and colors in one plate. Does that sound good to you?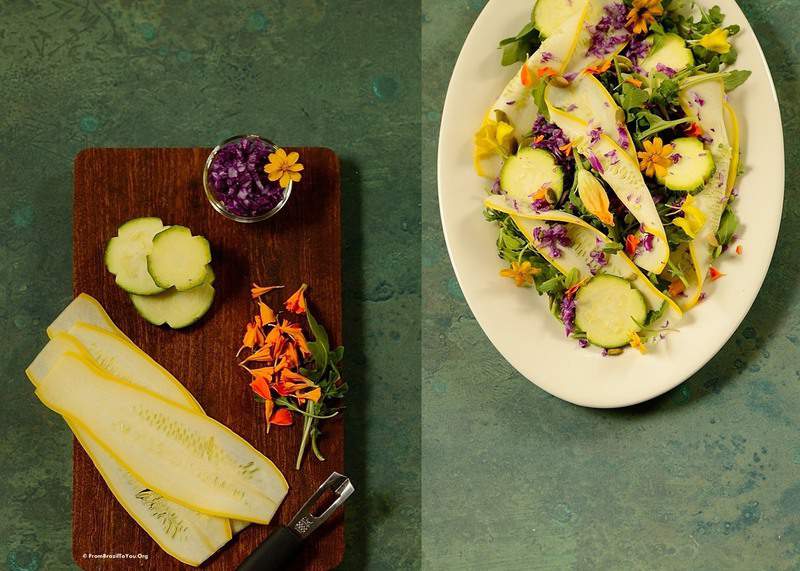 It is so easy and quick to prepare that I still had time to play around a bit with its beautiful ingredients.
Folks, this is love at first bite! Its ingredients are seasonal, tasty, and you won't have to cook a single thing. Of course, if you aren't a fan of fresh uncooked zucchini and yellow squash, you can easily cook them in boiling water for two to five minutes or until al dente and then blanch them in ice water... Yes, it's that easy!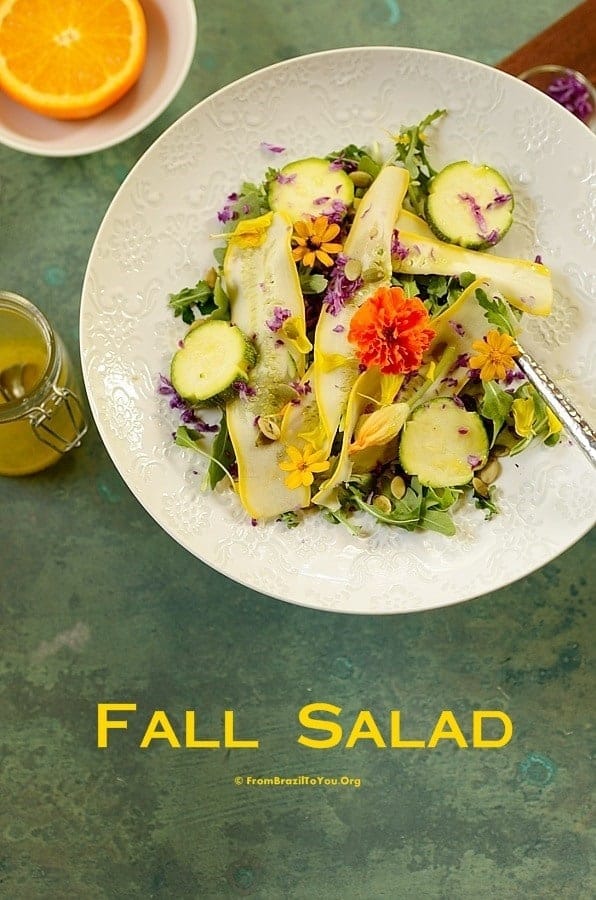 This fall salad works well as a main dish for vegetarians, or as a side accompanied by any type of meat. If you love eggs, they also make a great addition to the salad. It's really up to you!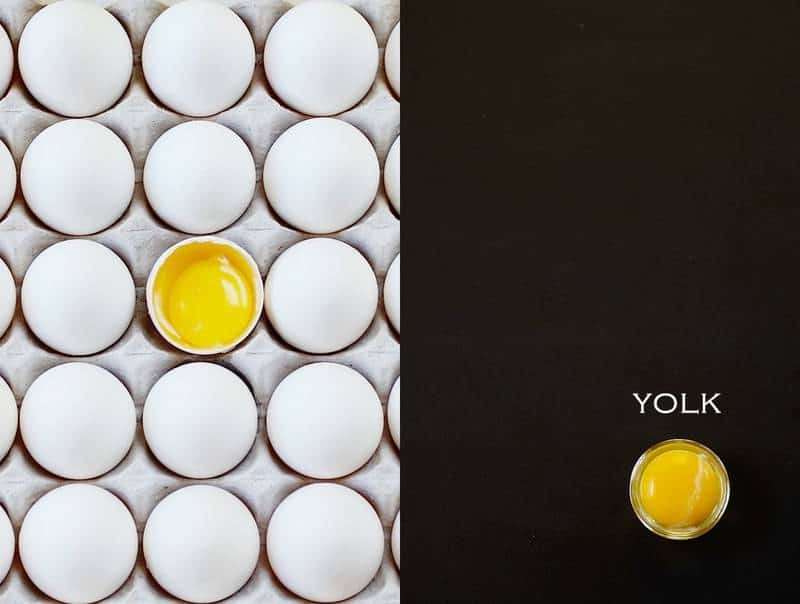 Well, enjoy healthy happiness on a plate and have a marvelous fall season!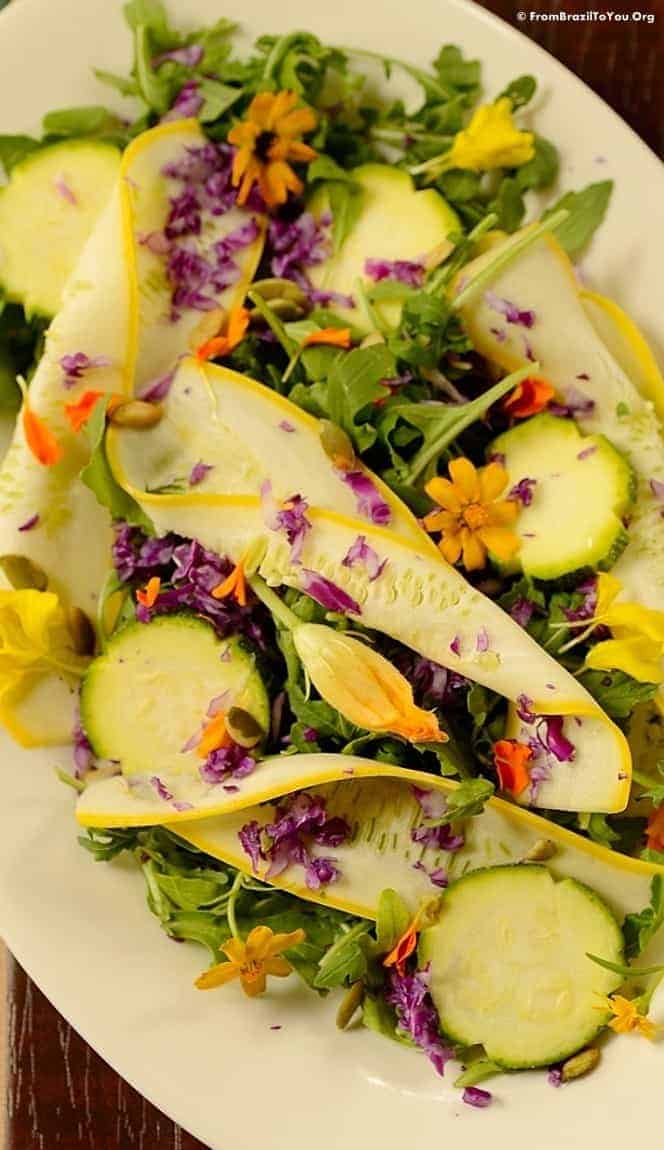 Fall Salad (Salada de Abobrinha)
A fresh, tasty, and quick Fall Salad made from arugula, yellow squash, zucchini, edible flowers (optional), and pepitas (pumpkin seeds), dressed with orange vinaigrette.
Ingredients
For the Salad:

2-3

cups

baby arugula

washed and dry

1

summer squash

unpeeled, washed and dry, ends cut off, known as yellow squash

1

zucchini

unpeeled, washed and dry, ends cut off

¼

cup

shredded purple cabbage

A few edible flowers such as calabaza flowers

marigolds, or zinnias (optional), gently washed and pat dry

2-3

tablespoons

dry roasted pepitas

pumpkin seeds

For the Orange Vinaigrette:

2

tablespoons

olive oil

2

tablespoons

fresh orange juice

1

pinch

salt

1

pinch

sugar

(or 1 teaspoon of honey, or sugar beets for a VEGAN version)

1

pinch

ground black pepper

(if you like spicy, you can also add a bit of red pepper flakes)
Instructions
To prepare the salad

, place baby arugula into a large bowl and set aside. Working with a mandolin or sharp knife, thinly slice squash lengthwise/ horizontally and place into the bowl. Then, slice the zucchini crosswise or into rounds and place into the bowl. NOTE: If you prefer to eat the squash and zucchini cooked instead of raw, you can put both sliced vegetables into a medium to large pan filled with boiling, salty water and let cook for about 2 minutes. Drain in a colander and then place cooked vegetables into a large bowl filled with ice water for about 30 seconds. Drain and shake to remove excess water before placing into the bowl with the baby arugula. Mix in the shredded cabbage, and flowers (if using them)... and also the pepitas. Set aside and prepare the orange vinaigrette.

For the orange vinaigrette

, place all ingredients into a mason jar, tightly close the lid, and shake vigorously until mixture is homogeneous. Open the jar, taste and adjust the seasonings if necessary, and dress the salad, mixing in until combined. Serve immediately as a side dish and enjoy!
** Nutrition labels on easyanddelish.com are for educational purposes only. This info is provided as a courtesy and is only an estimate, since the nutrition content of recipes can vary based on ingredient brand or source, portion sizes, recipe changes/variations, and other factors. We suggest making your own calculations using your preferred calculator, based on which ingredients you use, or consulting with a registered dietitian to determine nutritional values more precisely.
Please note that health-focused and diet information provided on easyanddelish.com is for educational purposes and does not constitute medical advice, nor is it intended to diagnose, treat, cure, or prevent disease. Consult with your doctor or other qualified health professional prior to initiating any significant change in your diet or exercise regimen, or for any other issue necessitating medical advice.
DID YOU MAKE THIS RECIPE?
Comment and rate the recipe. Also follow us on Pinterest at @easyanddelish for more delish recipes.