Howdy! Thanksgiving is knocking at the door… Soon, many of us will be preparing starters, turkeys, side dishes, and desserts… and of course, welcoming family and friends into our homes from different parts of the country, right?  Well, it is always great to have in hand a few simple recipes that allow us to spend more time preparing the main dish. Our savory Mashed Pumpkin or Purê de Abóbora, a gluten-free side dish, is so simple that all that you have to do is cook the pumpkin and then blend it in a blender with a few other ingredients. Easy peasy!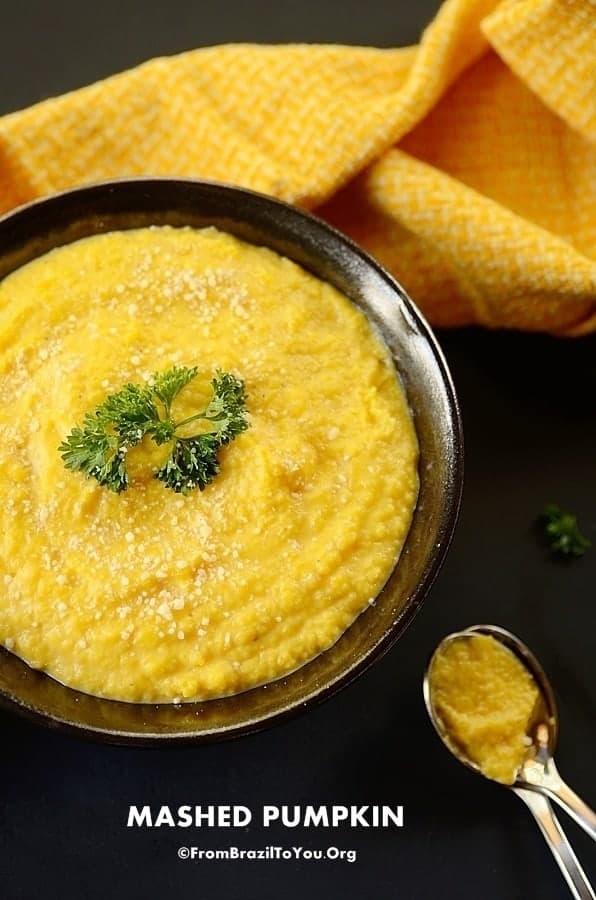 What makes our savory mashed pumpkin a good side for Thanksgiving?  Although I know that mashed potatoes are the most popular side, it can be handy to have an alternative dish for those who are not fond of mashed potatoes.  I personally am a big fan of mashed potatoes, but you might be surprised how many people dislike them, or would really prefer a different dish if available… I can count my hubby and children among the haters. 🙂
This mashed pumpkin, as well as our famous mashed sweet potatoes, are hassle-free yet comforting alternatives for your holiday table.  They are more nutritious than mashed potatoes, too.  I hope that you try both of them this year!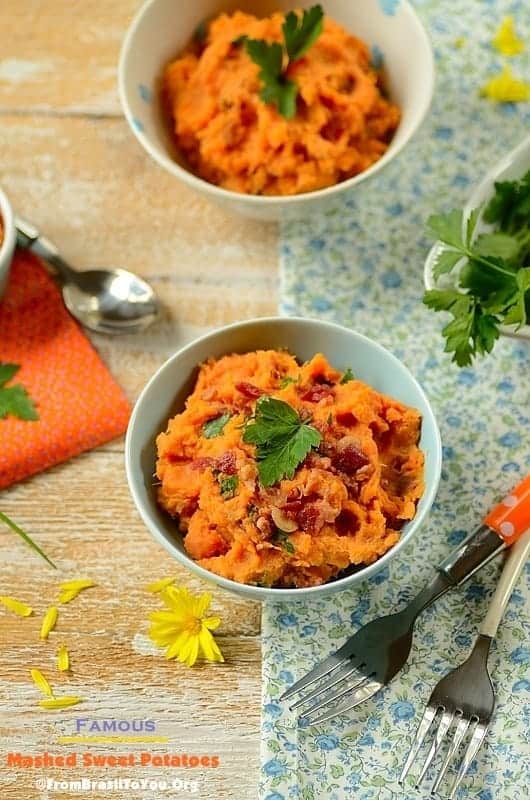 This mashed pumpkin is also an excellent way to introduce pumpkin to your little ones… much, much better than pumpkin purée from a jar or can. Of course, this dish is not just good for Thanksgiving only!  You can make mashed pumpkin whenever pumpkins are in season. I  sure do!
From my family to yours, HAPPY THANKSGIVING!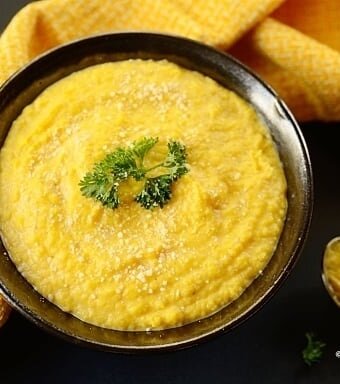 Easy Mashed Pumpkin (Purê de Abóbora)
An easy side dish that can be served as an alternative for mashed potatoes. It is also a great way to introduce pumpkin to children.
Ingredients
4½

cups

peeled

de-seeded, and cooked pumpkin

2-3

Tablespoons unsalted butter

melted

1½

cups

heavy cream or plain yogurt

Salt and ground black pepper to taste

Grated Parmesan cheese to sprinkle

optional
Instructions
You can peel and cook pumpkin ahead of time-- learn how by clicking on link above. In a blender, blend warm, cooked pumpkin with melted butter, heavy cream or yogurt, salt, and pepper until smooth. NOTE: You can also use a ricer to process the pumpkin or mash it, following the same preparation as for mashed potatoes. Mashed pumpkin can be prepared up to 2 days ahead and refrigerated.

Right before serving, heat mixture thoroughly in a medium, non-stick saucepan, stirring often, over medium-low heat. You may or may not need a little touch of yogurt or heavy cream to soften. Place on a serving plate or bowl and sprinkle Parmesan cheese on top, if desired.
Recipe Notes
You can mix in or garnish with fresh parsley.