It's time for a worldwide dessert: the timeless, creamy, smooth flan or pudim. Since pumpkins are in season, and Thanksgiving is fast approaching, today we'll be preparing a scrumptious Pumpkin Pie Flan, known in Brazil as Pudim de Abóbora. Is your mouth watering yet?  Well, mine is– big time!!!!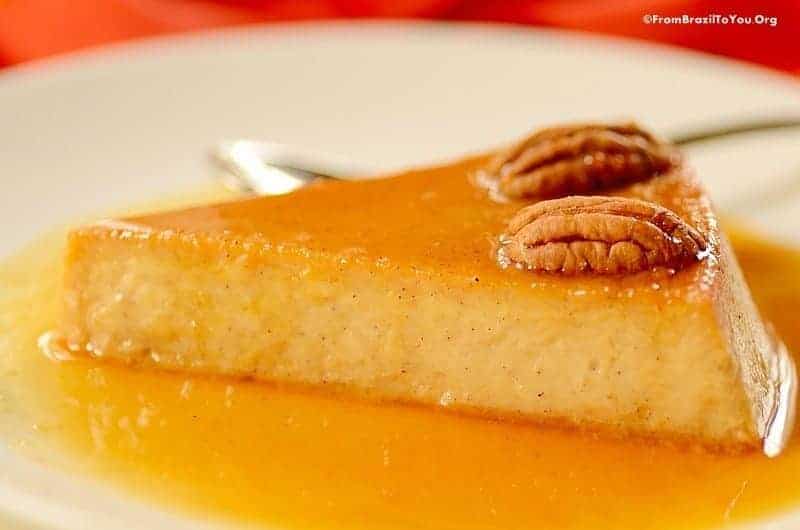 I get super excited just thinking about this pumpkin pie flan. Why is that? Well, this is one of those treats that has the power to transport me home… It is all that one could ever hope for from a treat and more… It's rich and very, very comforting!!! My maternal grandmother used to make one of the best flans ever.  I grew up eating both the traditional version (crème caramel) and flavored ones such as coffee, chocolate, dulce de leche, yucca, corn, and of course, pumpkin pie flan.
I am telling you, this is a great fall dessert, and also a happy surprise for Thanksgiving. It is like having pumpkin pie but without the crust — and by the way, a great alternative for those who are gluten-intolerant.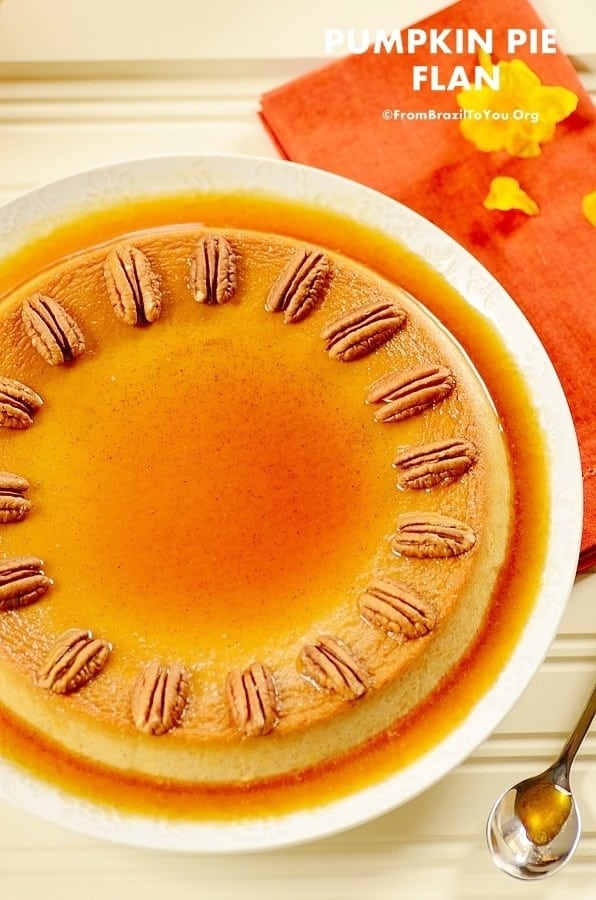 Ah, one more thing… Don't you be worried or intimidated.  Contrary to what some may say, flan is an easy dessert to prepare — just follow the step-by-step instructions and you will be just fine… really!!!  All you have to do is prepare the caramel sauce (place ingredients in a pan and let them take on color) , blend all the flan ingredients in a blender, skim off the bubbles, and bake.  There is no mystery!!! The most important thing is to NOT OVERBAKE. This is why the recipe includes the time and temp… See?  Easy peasy!!!
For more THANKSGIVING RECIPES, check out our 35 Thanksgiving Recipes post, which includes suggestions ranging from breakfast to the main meal, and even leftovers!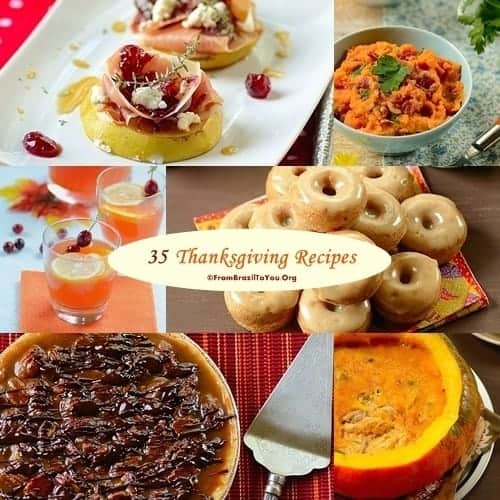 For now, enjoy our pumpkin pie flan… I sure will!!!!
xx
Pumpkin Pie Flan (Pudim de Abóbora)
A step-by-step, delicious Pumpkin Pie Flan recipe (pudim de abóbora) infused with spices, to celebrate the season.
Total Time
1
hour
15
minutes
Ingredients
For the caramel sauce:

1

cup

granulated sugar

½

cup

water

Fresh juice of ½ lime

2

tablespoons

light corn syrup

For the pumpkin pie flan:

1

can

Sweetened Condensed Milk

14 oz., Nestlé or other brand

1½

cups

whole milk or evaporated milk

12 fl.oz.

1

cup

100% canned pure pumpkin

Libby or other brand

5

large eggs

1

teaspoon

pure vanilla extract

1

teaspoon

ground pumpkin pie spice

you can use only ground cinnamon if desired

¼

cup

roasted pecan halves

optional
Instructions
Preheat oven to 325° F.

To prepare the caramel sauce: Have a 9-inch round, dark, deep baking pan ready to pour the sauce in, once the caramel is done.

Place all the caramel sauce ingredients in a small saucepan and let them dissolve together over medium-high heat, without stirring. If sugar crystals form on the sides of the pan, brush the sides with a pastry brush dipped in a little water.

Now and then, gently swirl it around to lightly mix it. It will start turning color in approximately 8 to 10 minutes. Once it reaches a dark amber color, remove from heat. Working quickly and carefully, pour enough caramel to thoroughly coat the bottom of the baking pan. Using kitchen gloves (pan will be hot), swirl around bottom and sides to coat evenly. Set aside to cool and harden.

Meanwhile, prepare the pumpkin pie flan: Place sweetened condensed milk, whole milk (or evaporated milk if you are using it instead), pumpkin, eggs, vanilla, and spice in a blender and cover tightly. Blend mixture well until smooth. Skim off bubbles from the blender mixture and then gently pour the flan mixture through a fine sieve and into a separate, empty bowl. Please, be careful when pouring to avoid creating bubbles. If necessary, use a spoon to help mixture pass through the sieve. Bits from the pumpkin purée and spices will be trapped on the sieve -- preventing them from interfering with the smoothness of the flan.

Skim off bubbles and pour mixture on top of hardened caramel (pie plate will be almost full). Place a large roasting pan in the preheated oven, position flan baking pan in the center of the roasting pan, and then, pour hot water into the large roasting pan to about halfway up the height of the flan pan.

Bake pumpkin pie flan 40-45 minutes, or until only slightly jiggly. NOTE: Mine was ready in 40 minutes!

Using kitchen gloves, remove flan from water and place on wire rack to cool completely.

Cover with aluminum foil and refrigerate for at least 2 hours to up to 2 days.

Before serving, run a thin knife gently around the edges, place a serving plate (one that can hold the caramel) on top of the flan pan, and invert the pan onto serving dish.

Pumpkin pie flan can be garnished on top with roasted pecan halves, if desired. Enjoy!