Christmas is already ringing its bells... And we will be preparing both traditional and innovative favorite treats to celebrate this meaningful holiday!! I am sharing with you today my new fave American treat: No Bake Chocolate Candy Cane Cheesecake Cookies... Yummmm!!!!
These cheesecake cookies are my new favorite because they don't require baking, the flavors are Christmasy, and they are festive and quick to prepare. Do you get it? It is not every day that you find a treat like this... Hon, they are the ultimate treat! 😉
Above all, there is a meaning behind the German candy cane, a red and white cane-shaped hard candy stick flavored with peppermint, and associated with Christmas. Its shape resembles the canes of the shepherds who visited the baby Jesus, while its colors resemble both the sacrifice of Jesus on the cross (red) and his sinless life (white). The candy cane tradition started in 1672, and then spread from its origins in Germany to other parts of Europe, and subsequently, to the United States.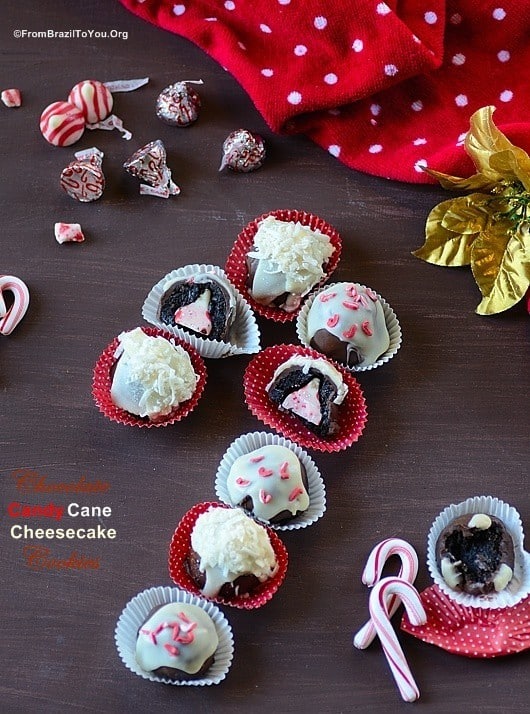 Our cookies, as our chocolate cookie roll ups and this peppermint chocolate cake, are a great holiday cooking project for children! Mine had a lot of fun mixing, rolling into balls, and decorating them while learning about the candy cane tradition. I am sure that yours will, too.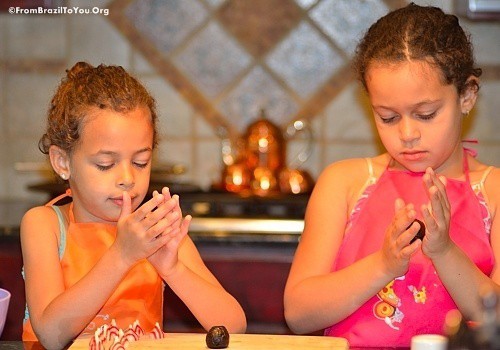 With these chocolate candy cane cheesecake cookies, we are also commemorating Roxana's Chocolate Party this month. As you can see below this post, our group prepared many fantastic Christmas cookies especially for you.
Later, I also intend to present a typical Brazilian cookie recipe that is a favorite of mine. I will withhold its name for now because it will be a beautiful surprise for you!
What are your favorite cookies? I'd love to hear about it...
See ya soon in the kitchen!
No Bake Chocolate Candy Cane Cheesecake Cookies
The ultimate Christmas cookies: No bake, scrumptious, and festive!
Ingredients
For the Chocolate Candy Cane Cheesecake Cookies:

20

chocolate sandwich cookies with cream filling (such as Oreo) or any other chocolate cookie of your choice

4

ounces

cream cheese

softened, half of an 8-oz. package

3-4

tablespoons

finely chopped candy cane

20

Hershey's candy cane flavored kisses

For the Dark Chocolate Glaze:

2

cups

dark, milk or semisweet chocolate chips

(according to your preference)

1-¼

tablespoons

vegetable oil

½

teaspoon

pure vanilla extract

For the White Chocolate Glaze:

½

cup

white chocolate

2

teaspoon

shortening

¼

cup

heavy cream

heated

To Decorate:

Sweetened coconut flakes

Candy cane sprinkles (red)
Instructions
Line a baking sheet with parchment paper and set aside.

In a food processor, pulse the cookies until obtaining fine crumbs (texture of flour). Add the cream cheese and continue pulsing until the mixture is well combined.

Using your hands, shape the cookie mixture into 1-inch balls. Then, make a hole in the center of each ball and insert one candy cane kiss into the middle. Roll the cookie again to reshape into balls. Arrange them in rows on the prepared baking pan and place in the freezer for about 20 minutes.

To make the dark chocolate glaze:

Place both the chocolate and oil into a medium microwavable bowl. Melt the chocolate in the microwave in 30-second intervals (100% power), stirring between each interval, until fully melted. Stir in the vanilla. Using a spoon, dip the cookie balls in the melted chocolate, remove, and let them rest on a baking sheet on a rack in the freezer for about 20 minutes or until dark chocolate glaze solidifies.

After this,

prepare the white chocolate glaze:

Place white chocolate and shortening in a small microwave-safe bowl, heating in 30-second intervals and stirring. Repeat process until chocolate is completely melted. If you want a thinner glaze, stir in ¼ cup of heated heavy cream to thin the mixture.

Using a teaspoon, spoon melted white chocolate glaze on top of each cookie ball, place coconut flakes on top of half of the cookies and decorate the other half with candy cane sprinkles, or any sprinkles of your choice. Let chocolate candy cane cheesecake cookies rest in the freezer for about 20 minutes until white chocolate glaze sets. Place chocolate candy cane cheesecake cookies carefully into bonbon cups and serve.
** Nutrition labels on easyanddelish.com are for educational purposes only. This info is provided as a courtesy and is only an estimate, since the nutrition content of recipes can vary based on ingredient brand or source, portion sizes, recipe changes/variations, and other factors. We suggest making your own calculations using your preferred calculator, based on which ingredients you use, or consulting with a registered dietitian to determine nutritional values more precisely.
Please note that health-focused and diet information provided on easyanddelish.com is for educational purposes and does not constitute medical advice, nor is it intended to diagnose, treat, cure, or prevent disease. Consult with your doctor or other qualified health professional prior to initiating any significant change in your diet or exercise regimen, or for any other issue necessitating medical advice.
DID YOU MAKE THIS RECIPE?
Comment and rate the recipe. Also follow us on Pinterest at @easyanddelish for more delish recipes.
chocolate candy cane cheesecake cookies
Chocolate Candy Cane Cheesecake Cookies
Chocolate candy cane cheesecake cookies