Butter tart with a twist is a Brazilian-Canadian version of the classic butter tart. Ours takes, prunes, coconut flakes, and cashew nuts. So good!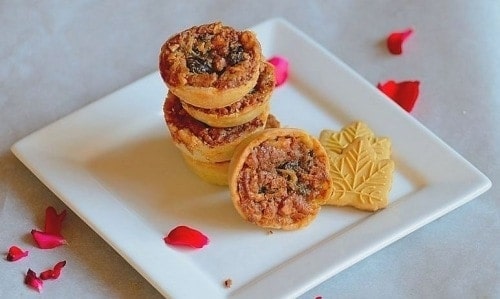 Hi there!
I had the pleasure of visiting Canada several years ago with my husband... A country that hosts approximately 20,000 expatriate Brazilians -- mostly living in Toronto, Montreal, Vancouver, and Calgary.
At that time we lived in Northern California, from which we drove all the way to Vancouver, passing through Oregon and Washington. If I remember well, it took us about 15 hours to get there. Yes, it was a long drive but also a very pleasant one too.
In Vancouver, we visited several tourist attractions e.g. downtown, Chinatown, and the Capilano Suspension Bridge, where I almost had a heart attack. If you are not a fan of heights, like me, then the Capilano Suspension Bridge is one place to cross off your list (my husband loved it). The city of Vancouver is an attraction in and of itself, with its cosmopolitan feel, clean streets, tree-lined, beautiful parks, good restaurants, and of course shopping-- especially on Robinson Street. 😉
From Vancouver, we took a ferry boat to the cozy Victoria, where we visited the exquisite Butchart Gardens, the Parliament Buildings, the Inner Harbour close to the Parliament, downtown, Craigdarroch Castle, among other places.
With the exception of the Capilano Bridge, I came back to the USA with a great impression of the country and its people. Ah, and the food? Excellent!
There is one dish -- or more precisely, a dessert-- in particular that I would like to share with you, or at least its Brazilian fusion version: the famous Butter Tart... but with a twist. Just saying these two little words makes my mouth water. This precious culinary jewel is so popular and delicious that is considered by some as Canada's national dish, along with another dish called Poutine.
As is well explained by one of my favorite Canadians, Ms. Stephanie Jaworski from Joy of Baking:
"Butter tarts are unique to Canada and consist of pastry shells that are filled with a sweet mixture of butter, brown sugar and eggs. Some say Butter Tarts descend from the American Pecan Pie or even the British Treacle Tart, but history neither confirms nor denies these claims. So proud are we of our Butter Tarts that Marie Nightingale tells us in her book 'Out of Old Nova Scotia Kitchens' that "even today at County fairs there are special awards for the best butter tarts, and this award is vied for and coveted by the winner."
Now, there are many opinions as to what makes the perfect Butter Tart. What is the best pastry crust? Should the filling be firm or runny and should the filling have raisins or nuts? What I do know is that Butter Tarts are always small, not to be eaten daintily with a fork, but picked up and eaten in a few delicious bites. For me, I like a Butter Tart with a crisp and crumbly tart shell made with a pie crust pastry called Pate Brisee, which is a short crust pastry. I like a filling that is soft but not runny, which means no corn syrup is added and all the ingredients are simply beaten together. I waiver on whether I prefer raisins (currants) or nuts and sometimes I simply use both. As far as the raisins go both the California and Thompson varieties are excellent. If nuts are desired Canadians tend to favor walnuts but Americans may want to use pecans to emulate the pecan pie. These little gems are baked in a fairly hot oven until the crusts have nicely browned and the filling has set. They are excellent warm from the oven, at room temperature, or even chilled."
Since she is Canadian-born, a great baker, and used a trustworthy source (Best of Bridge Publishing. "The Best of Bridge - Royal Treats for Entertaining". Best of Bridge Publishing. Calgary: 1999.), my fusion version had to be based upon her Butter Tart recipe.
The pie crust recipe was not changed one bit. Its ingredients are common to both Brazil and Canada. But the filling was adapted in order to create our fusion version. We exchanged the half-and-half for coconut milk; the raisins for both dried prunes and coconut flakes, and the walnuts for cashew nuts, because those ingredients are ever-present in Brazilian cuisine. There is even a Brazilian candy called mother-in-law eye or olho de sogra made of the combination of coconut and prunes.
I do really hope that you enjoy our butter tart version!
Butter Tart with a Twist
Butter tart with a twist is a Brazilian-Canadian version of the classic butter tart. Ours takes, prunes, coconut flakes, and cashew nuts. So good!
Ingredients
For the Pie Crust Pastry:

1-¼

cups

all-purpose flour

6.2 ounces or 175 grams

½

teaspoon

salt

1

tablespoon

granulated white sugar

½

cup

cold unsalted butter

cut into 1 inch (2.5 cm) pieces, 4 oz or 113 grams

¼

cup

ice water

2 fl. ounces or 60 ml

For the Butter Tart Filling:

⅓

cup

unsalted butter

softened, 2.5 oz or 70 grams

7.4

oz

light brown sugar

or 210 grams

2

large eggs

at room temperature

1

teaspoon

pure vanilla extract

¼

cup

light coconut milk

6

in

dried prunes

cuthalves

2

tablespoons

shredded coconut

¼

cup

cashew nuts

chopped
Instructions
For the crust: In a food processor, place the flour, salt, and sugar and process until combined. Add the butter (distribute equally on the sides) and process until the mixture resembles coarse meal, about 15 seconds. Pour in the ¼ cup of water, distributing equally in circles, and process again until dough just holds your fingertips together when pinched. If necessary, add one or two tablespoons of water to the dough.

Turn the dough onto your work surface and gather into a ball. Flatten into a disk, cover with plastic wrap, and refrigerate for about 60 minutes before using. This will chill the butter and relax the gluten in the flour.

After the dough has chilled, place on a lightly floured surface, roll out the dough and cut into 12 - 4 inch (10 cm) rounds (to prevent the pastry from sticking to the counter and to ensure uniform thickness, keep lifting up and turning the pastry a quarter turn as you roll -- always roll from the center of the pastry outwards). Gently place the rounds into a 12-cup muffin tin. Cover with plastic wrap and place in the refrigerator for approximately 30 minutes to firm the dough.

For the filling: Preheat oven to 375º F (190º C). In the electric mixer, beat the butter and sugar until creamy and smooth. Beat in the eggs, one at a time, and then the vanilla extract. Stir in the cream. Place half of a dried prune in the bottom of each tart shell and a spoonful of the cashew nut and coconut mixture. Then, fill the unbaked tart shells with the filling (2 to 3 tablespoons per shell). Bake for about 15 - 20 minutes or until the pastry has nicely browned and the filling is puffed and set. Remove from oven and place on a wire rack to cool. Serve at room temperature or chilled.
** Nutrition labels on easyanddelish.com are for educational purposes only. This info is provided as a courtesy and is only an estimate, since the nutrition content of recipes can vary based on ingredient brand or source, portion sizes, recipe changes/variations, and other factors. We suggest making your own calculations using your preferred calculator, based on which ingredients you use, or consulting with a registered dietitian to determine nutritional values more precisely.
Please note that health-focused and diet information provided on easyanddelish.com is for educational purposes and does not constitute medical advice, nor is it intended to diagnose, treat, cure, or prevent disease. Consult with your doctor or other qualified health professional prior to initiating any significant change in your diet or exercise regimen, or for any other issue necessitating medical advice.
DID YOU MAKE THIS RECIPE?
Comment and rate the recipe. Also follow us on Pinterest at @easyanddelish for more delish recipes.
Video (How to make the pie crust pastry)
You might also like:
Prestígio Cheesecake
Romeo and Juliet Stuffed French Toast Casserole